Not only does the Albanian Riviera have some of the best beaches in Albania, but the country as a whole has an amazing coastline.
You'll find both picturesque pebbled and sandy beaches, with the most vivid turquoise waters that can rival that of Greece and Italy.
I recently spent over two months seeking out the most beautiful beaches in Albania while enjoying the coastal towns of the Riviera. I was staying in an Airbnb in Saranda working as a digital nomad and really enjoyed my time there.
Best Beaches in Albania
There are so many incredible beaches in Albania, whether you're interested in lazing on a chair with a good book or joining in some fun.
Of course, you'll want to see the sights in Tirana, but make sure to save some time for the beach!
Here are the 15 best beaches in Albania, based on my personal experience traveling around the country for two months.
1. Mirror Beach, Saranda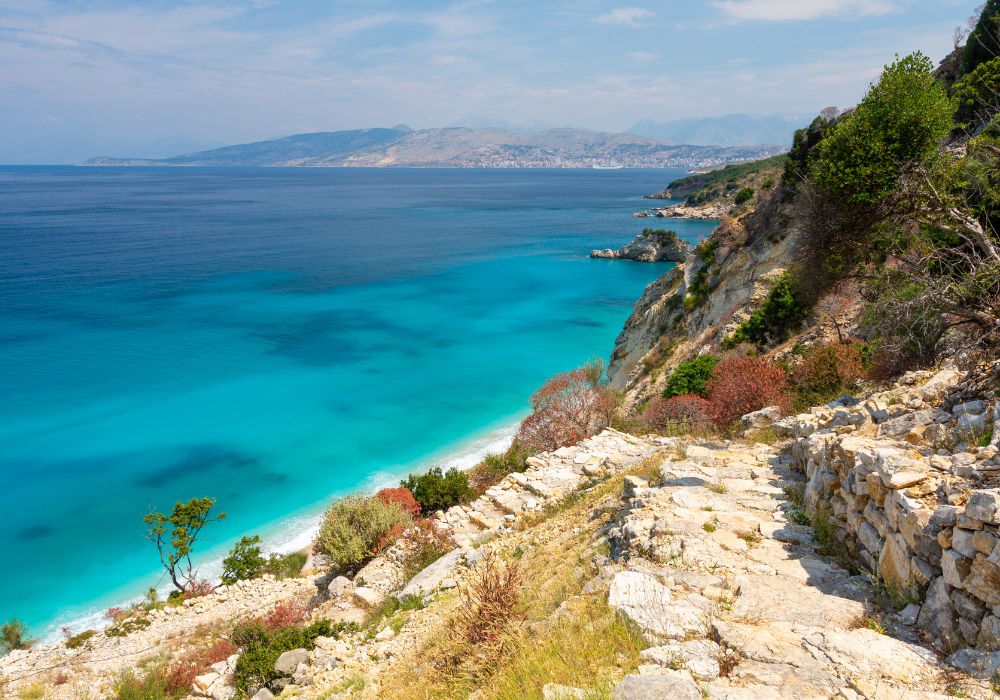 Mirror Beach is one of the best beaches in Albania. It's real name is Pasqyra Beach, but it's more commonly known as Mirror Beach due to the reflection of the sun on the calm turquoise water, which makes it look like a mirror.
Located in a secluded covered bay between the popular destinations of Saranda and Ksamil, it really feels like an escape from the crowds here.
You'll need a car or scooter to make it over the cliffs that separate Mirror Beach from the highway between Saranda and Ksamil. When you arrive, you'll be met with a beautiful sandy/pebbly beach with breathtaking blue waters.
This beach in Albania is surrounded by tall white cliffs, making it feel very intimate. There are loungers all along the beach so you won't struggle to find the perfect space. A pair of loungers and an umbrella will cost around 800 LEK (about $7).
You can rent loungers from the adjacent restaurant Pasqyra, which serves food and drinks all day long.
This lovely secluded spot is one of the most beautiful beaches in Albania and a hidden gem of the Albanian Riviera. You can find Mirror Beach here on the map. A visit to this beach is one of the best things to do in Saranda.
2. Dhermi Beach
Dhermi Beach is one of the top beaches in Albania, both in terms of looks and popularity.
It's located between Vlora and Saranda in the Albanian Riviera and stretches around 1 kilometer along the coast.
Incredible blue waters stretch towards the horizon while the beach itself is made up of fine white pebbles, giving Dhermi Beach a picture postcard look.
To the rear, is a long promenade packed with bars, restaurants, and beach clubs. It's big enough that you can enjoy the party at one of the beaches, or escape the crowds and head further along to find a little privacy and some space for yourself.
You'll find plenty of loungers here, which are a little more affordable than in other places on the coast. A pair of loungers and a parasol will cost around 500 LEK here (around $4).
Dhermi is certainly one of the most beautiful beaches in Albania and one of the most popular too.
Click here to see Dhermi Beach on the map.
3. Gjipe Beach (One of the Best Beaches in Albania!)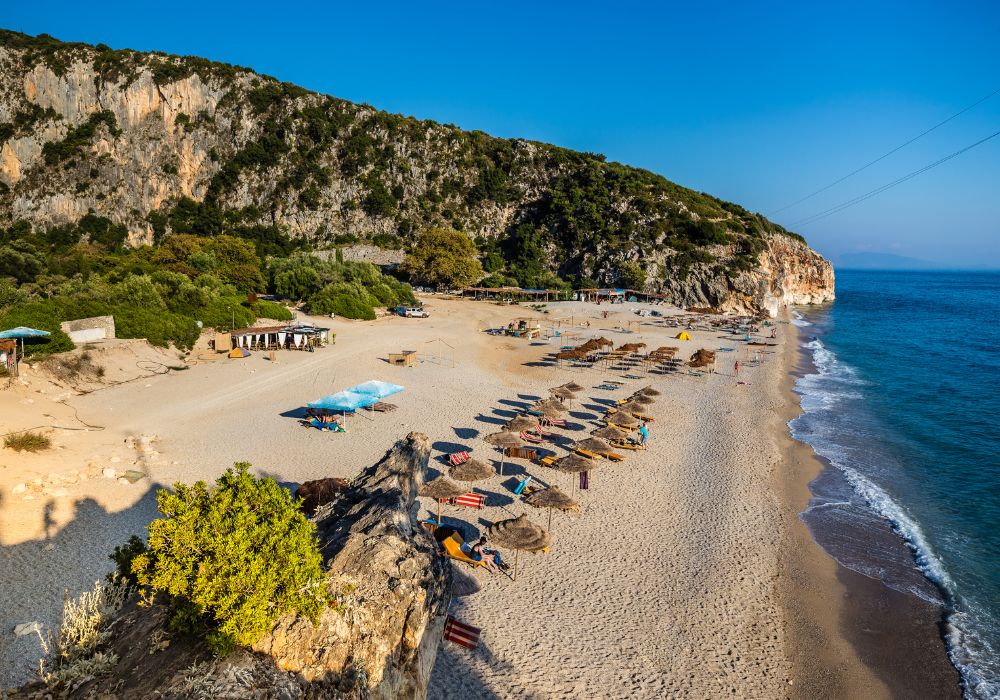 Gjipe Beach is a real hidden treasure along the Albanian coast. It's a small beach with the beautiful waters of the Ionian Sea lapping at its sandy, gravelly shoreline.
You'll need to be a little adventurous to get to Gjipe Beach, as it's located at the end of a dirt road. You can best reach the beach in a 4×4, but if you have a smaller car, I recommend that you park and walk down the road which will take around 20 minutes. Be sure to avoid the midday sun!
Alternatively, for a more relaxing journey, you can take a boat trip from nearby Himara to reach this remote beach. Despite being secluded, there are a few sun loungers and umbrellas here, as well as some pretty cool sea caves to explore nearby.
Restaurant Rrapi Gjipe is located right on the beach and is great for grabbing a spot of lunch or a few drinks throughout the day to keep up the hydration levels. Alternatively, there's a little wagon selling snacks and drinks that you can stop by.
Given its secluded and unspoilt nature, this hidden gem is one of the most beautiful beaches in Albania.
You can find Gjipe Beach here.
4. Borsh Beach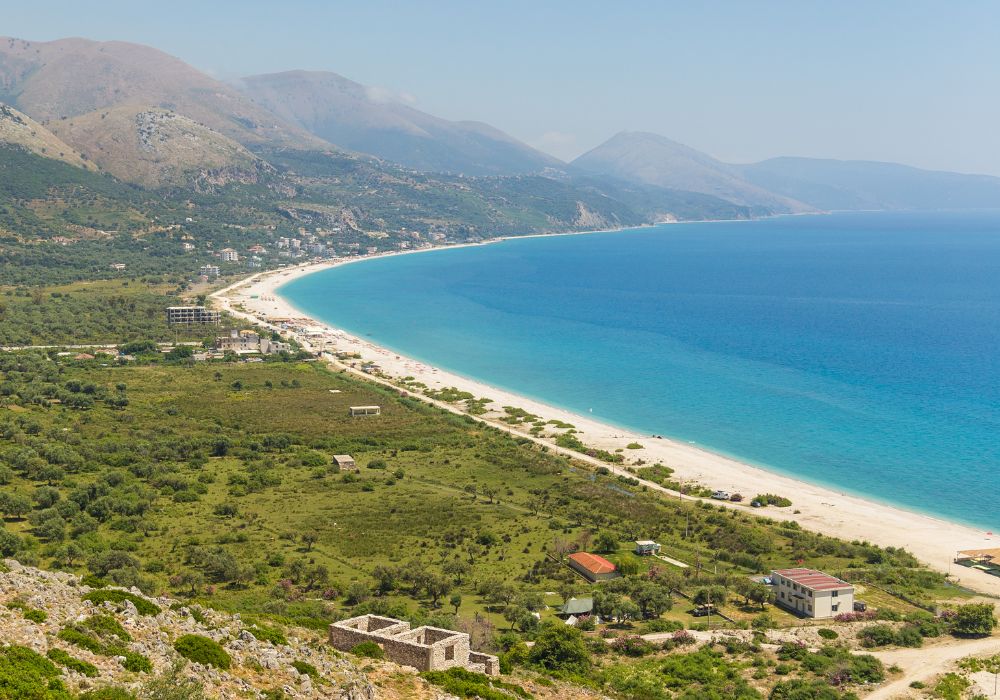 Borsh Beach is another sprawling beach on the Albanian coast. It's nestled in green foothills and features incredibly clear waters.
Its picture-perfect location makes this one of the best beaches in Albania, and for a good reason. For me, it's one of the best beaches in Albania as it's a long, beautiful beach that avoids being over-commercialized. At over 7 kilometers in length, it never feels crowded here.
There are lots of bars and restaurants here to keep you going throughout the day. I particularly liked Luna Mare for lunch because they served amazing fish.
You can rent loungers and water sports equipment such as canoes, kayaks, and jet skis. You can also find private sections of the beach where you'll feel as though you have the whole place to yourself.
As with many of the beautiful beaches in Albania, the 'sand' is actually fine white pebbles that give the sea its crystal clear appearance. Borsh Beach is located between Dhermi Beach and Saranda, and can be reached by car, public transport, or by taking a tour.
This tour is a great way to visit lots of different beaches along the coast as it allows you to choose which beaches you'd like to visit.
Borsh Beach can be found here on the map.
5. Golem Beach
Golem Beach is just south of the city of Durres and around an hour from Tirana, making it one of the top beaches in Albania for those staying in the capital.
It's one of the most popular beaches amongst Albanians, and as such, retains an authentic feel. The road through the town runs alongside the beach and so access is easy.
When you arrive, you'll find fine golden pebbles and a long coastline stretching several kilometers. The water is shallow, and you can walk out some way before having to swim. It's an ideal place for families and kids.
You'll find a lot of hotel options along the beach, as well as bars and restaurants here. With plenty going on, it definitely has the feel of a holiday beach.
It's one of the best beaches in Albania for those staying in Tirana and wanting to escape to the coast for a day. Find Golem Beach here on the map.
6. Ksamil Beach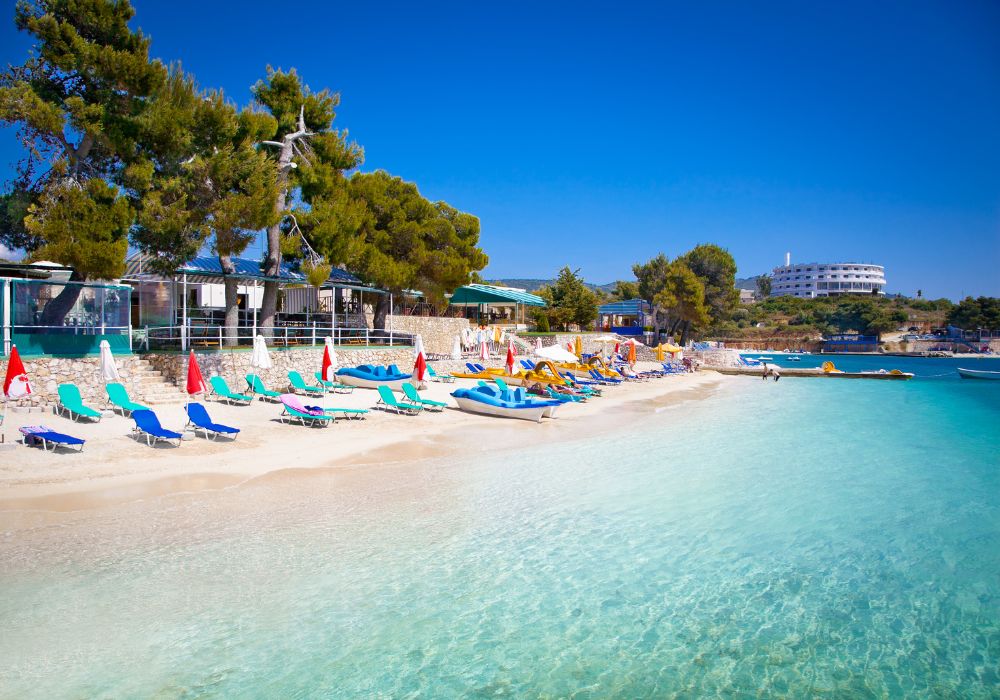 Hands down, Ksamil offers the best sand beaches in Albania. If you've seen photos of the Albanian Riviera then chances are they've been taken from Ksamil Beach.
It's hard to explain how beautiful the beaches are here. The sand is pure white, and there are three small islands offshore which you can reach and explore by boat or by swimming – if your front stroke is strong enough!
Stand-up paddleboarding is a great way to experience the islands, particularly in the morning before everyone has reserved their lounger as it's so quiet and relaxing. Check out this tour, where you can practice your balance on some paddleboards.
Beach bars and restaurants are in abundance here, and nearly every patch of sand is occupied by loungers running alongside. The cost of sun loungers varies along the coast but you should expect to pay between 1,000-1,500 LEK for a pair of beds and a parasol ($8-13).
One of my favourite restaurants for lunch and a couple of cocktails was Korali. The drinks were amazing and I recommend that you try the delicious mussels.
There's music in beach bars for partygoers, jet skis, kayaks, and paddleboards for water sports enthusiasts, and inflatable obstacles for kids (and adults) alike.
Ksamil beaches are some of the most beautiful beaches in Albania – I definitely recommend seeing them for yourself. Expect crowds in the peak summer months (August in particular), as locals and tourists alike flood this slice of paradise.
Ksamil is one of the best places to visit in Albania if you're looking to laze on the beach.
You can find Ksamil Beach here.
7. Drimadhe Beach
Drimadhe Beach lies directly across the sea from Italy and is distinguished by the rock formation which splits this epic beach in half. On one side of the rock formation is a pebbly beach, and on the other is one of the best sand beaches in Albania.
It's backed by rugged mountains and boasts stunning turquoise blue waters as far as the eye can see. The beach isn't overpopulated with bars or restaurants, and is much quieter than nearby Dhermi Beach.
As day turns to dusk, Drimadhe Beach becomes the best beach in Albania for sunset, with incredible colours that spread across the sky, and a glow that'll stay with you long after the sun has set. I recommend ordering a drink at Bacaro Beach Bar and soaking up the evening sun and ambiance.
Click here to find Drimadhe Beach on maps.
8. Narte Beach
If you're staying in Vlora then I highly recommend a trip along the coast to the incredible Narte Beach. It's only a 15-minute drive by car or scooter, or you can cycle if you're feeling energetic.
Narte Beach is a beautiful sandy lagoon with a beach stretching on for several kilometers. It's much less commercialized than some of the popular tourist beaches further south, but it does offer bars and restaurants along its length to keep you fed and watered.
Loungers are available but there's plenty of space to pitch up with your own towel if you prefer. I love how laid back the beach is here and the calm, clear waters are perfect for bathing and swimming.
This is a great beach for families as there's plenty of space, and the water is shallow. The beach itself is covered in fine brown sand making this one of the best sand beaches in Albania.
You'll find Narte Beach here.
9. Buneci Beach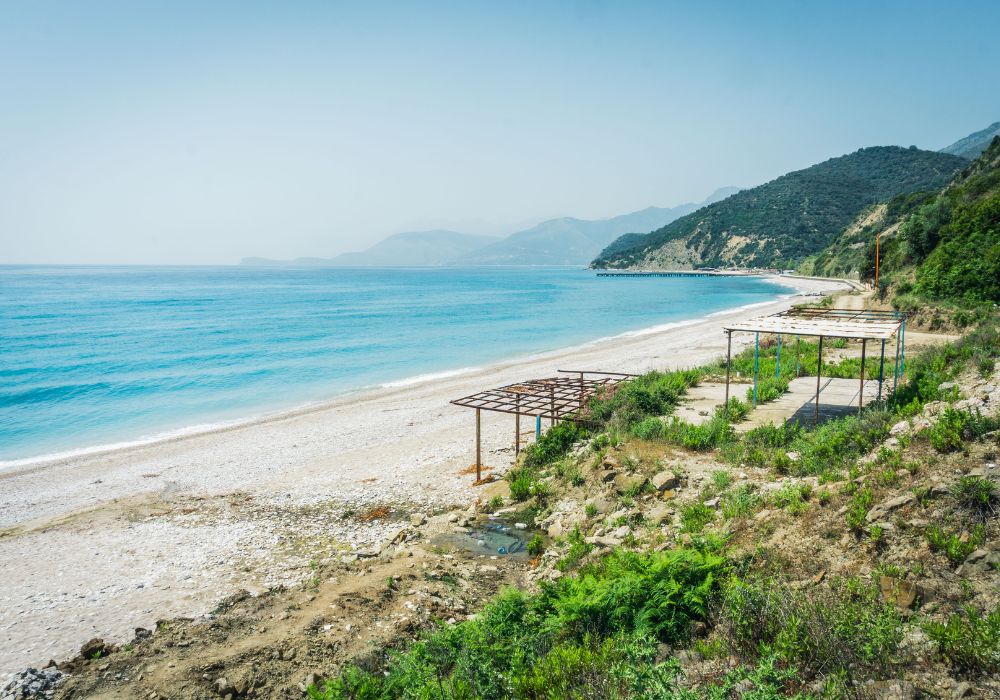 Buneci Beach lies a little further on from Himara and Borsh Beach. It features a long stretch of white pebbles and bright turquoise water which is impossible to become bored of.
What makes Buneci one of the top beaches in Albania is that it has a relatively untouched feeling and has all the amenities you need for a beach day.
There are sun loungers available to rent and a couple of basic cafes close by for refreshments. Other than that, it's a quiet and relaxing oasis away from the main tourist towns. Even in the high season, it won't feel as busy as the main beaches in Ksamil, Saranda, or Himara.
Set in a bay surrounded by mountains, it has a secluded feel and is a beautiful place to swim. Buneci also has a long pier that juts out into the water – jump into the sea below or skip the splashing and stay to watch the sunset from the pier instead.
Buneci Beach is around a 45-minute drive from Saranda and is often overlooked by tourists eager to reach the shores of Ksamil. However, Buneci is one of the best beaches in Albania and shouldn't be missed. Consider a day trip from Borsh or Saranda to get here.
Click here to find Buneci Beach on the map.
10. Spille Beach
Spille Beach is not only one of the best sand beaches in Albania but one of the best in the north too. It's located around an hour from Tirana, which makes it a great place to visit to escape the heat of the city.
This beach has a long stretch of gorgeous golden sand and clear water. The water isn't as vibrant as it is further south, but it's really clean, warm, and enjoyable to swim in. One of the best things about this beach is that you can play beach games here as it's soft underfoot.
If you visit out of season, you'll find the beach to be very quiet. In the summer, you can expect it to be busier. It's a popular beach with locals, which is always a great sign, although not as popular as the neighbouring beaches in Durres.
The beach is divided into different areas that belong to each of the different restaurants, hostels, and bars which line it. The cost of loungers varies depending on location but you can expect to pay around 500-800 LEK (around $4-7).
You're spoilt for choice on Spille Beach when it comes to refreshments and activities – just walk along until you find one that suits you best.
You'll find Spille Beach here on the map.
11. Thrown Sand Beach
Located north of Tirana and close to the border of Montenegro, Thrown Sand Beach is, in my opinion, the best beach in northern Albania.
Rana E Hedhun (which in English means "thrown or poured sand") is named because of the distinctive sand dunes which run from the mountains to the sea. It looks like sand has been poured from a height creating the dunes and the resulting beaches.
Thrown Sand Beach is untouched and rugged, which makes it an excellent beach in the north to explore and get away from the crowds. It's around 8 kilometers in length and is surrounded by a pine forest which is a great place to take a long walk.
There are a few restaurants that line the beach but I enjoyed Sarda best for the seafood pasta dishes. Alternatively, Thrown Sand Beach is an ideal spot to pack a picnic and bring your own drinks to sip on.
Thrown Sand Beach is about 70 kilometers north of Tirana so you'll need a car to get there. It's a great stop off on the way to or from Montenegro, and one of the best beaches in Albania.
You can find Thrown Sand Beach here on the map.
12. Krorez Beach
Krorez Beach is a beautiful virgin beach just north of Saranda. It combines pristine blue waters with a long beach of mixed sand and shingle.
Krorez is only accessible by boat from Saranda or Ksamil. If you're really adventurous you can hike 5 kilometers from nearby Lukove Beach. I would recommend opting to visit by boat in the high season due to the hot temperatures.
This is one of the most beautiful beaches in Albania thanks to its stunning combination of wide-open sand, crystal clear water, and lack of commercialization.
You'll discover rock pools, and a couple of local eateries including Il Mare for food and drink, but nothing else. No loungers, no music, no water sports.
That said, whilst the beach is quiet, the water can be a little crowded in the high season due to the number of tours that stop here. I never found it overbearing, but if you want to escape the crowds then hire a private boat and head here either early, or later in the day.
Click here to find Krorez Beach on the map.
13. Jala Beach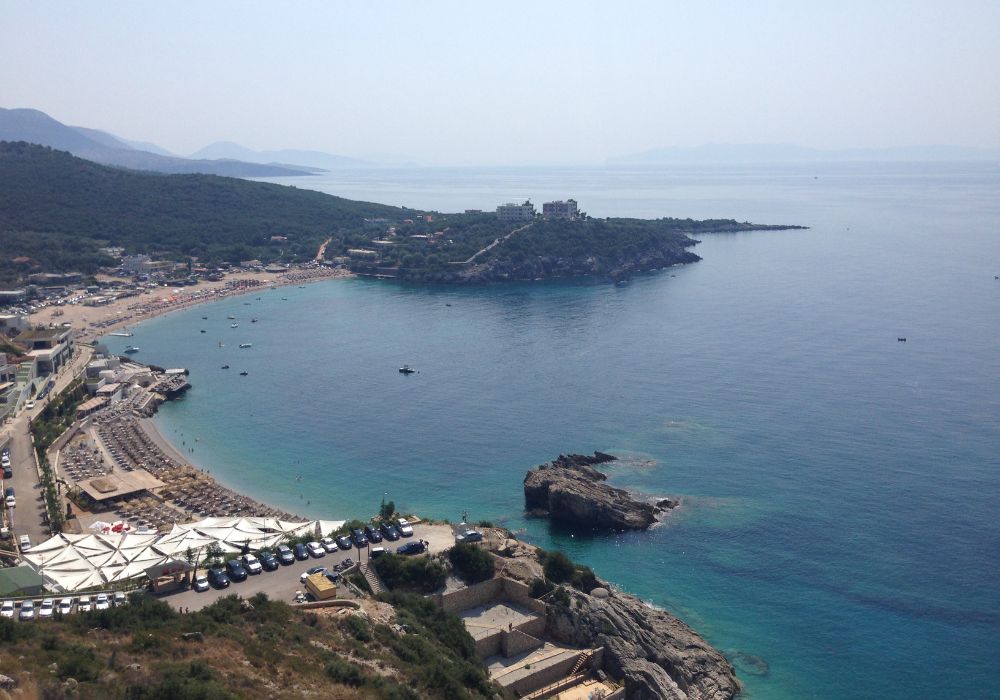 Jala Beach is nestled in a half-moon-shaped bay surrounded by pristine waters just south of the town of Dhermi.
It's somewhat of a party beach with a number of beach bars and clubs. You can expect to find reasonably priced loungers here, along with lots of food and drink options.
This is one of the top beaches in Albania for a younger crowd looking for a good time during the summer.
It's also a great place to camp, with a campsite set up amongst the olive groves. Tents can be rented, and there are activities organized by the hosts. You can even book a tour to nearby Gjipe Beach to continue your tour of the best Albania beaches.
You can find Jala Beach here.
14. Grama Bay
Grama Bay is a bright white pebbly beach located in the Karaburun Peninsula. It's a beautiful cove with a narrow passage out to sea. You feel almost entirely enclosed by the mountains and the water here ranges from minty green to bright turquoise and blue.
It's often used as a safe place for ships escaping storms, and it's certainly one of the best beaches in Albania.
This beach is great for adventurers and those wanting to explore off the beaten track. While it's one of the top beaches in Albania, it's a bit of a challenge to get here. The easiest way is to take a boat trip from the Himare or Dhermi, where you'll find a few businesses offering trips to Grama Bay.
It's possible to reach Grama Bay on foot, but it's quite a challenging hike and will take around 4 hours one way.
Grama Bay is the perfect beach to sunbathe, relax, and enjoy scenic views. There are umbrellas for rent on the beach, and also a restaurant where you can enjoy a spot of lunch.
Click here to find Grama Bay on the map.
15. Pulebardha Beach
Pulebardha Beach means seagull's beach – don't let the name put you off! It's one of the most beautiful beaches in Albania. It's a pretty and secluded bay with extremely clear water that has the added bonus of being a little quieter than the beaches in Ksamil and Saranda.
Located between Ksamil and Saranda, it's easy to get to by taking the bus that runs between Saranda and Butrint once an hour. From the bus drop-off, it's a 20-minute walk to the beach.
For lunch, I'd recommend Restaurant Pulebardha, which is located on the rocks. From here you can gaze down at the beautiful blue water and enjoy views of Saranda's bay in the distance. There are plenty of sunbeds and umbrellas to rent on the beach, and a beach bar for refreshments.
Be mindful that the road leading to the beach isn't in great condition. I wouldn't recommend driving a hire car here. One of the best ways to visit Pulebardha is by boat. You can book a boat tour from the many businesses advertising along the Saranda embankment or by Ksamil beach.
It's so easy to spend the whole day soaking up the sun and atmosphere here. Click here to find Pulebardha on the map.
FAQs About the Best Beaches in Albania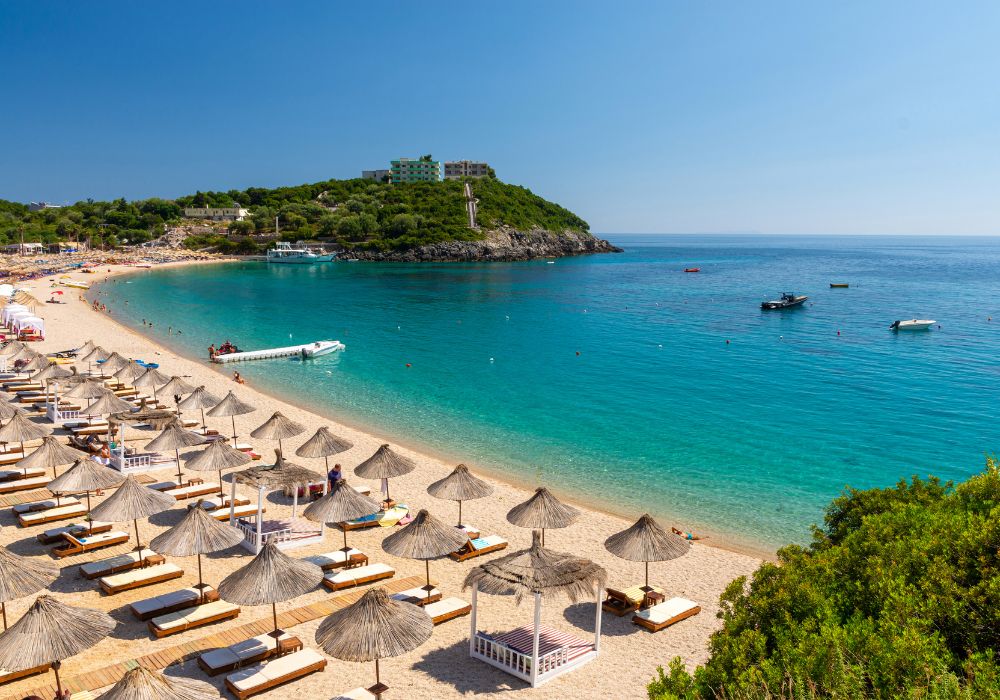 Here are answers to some commonly asked questions about visiting the beautiful beaches in Albania.
What is the most beautiful beach in Albania?
I'd say the glorious water and unspoiled nature of Gjipe Beach make it one of the top beaches in the country. This is a tough question because the Albanian Riviera is home to some of the most beautiful beaches in Albania.
Are there any sandy beaches in Albania?
Yes, although the majority are pebbly. It's hard to find a real sandy beach as most are fine pebbly beaches, if anything. If it's specifically sand you're after, Narte Beach (north of Vlore) is a great option.
What is the best beach in north Albania?
Thrown Sand Beach is one of the best beaches in north Albania. Its sand dunes and rugged feel make it completely different from the rest of the coast, and it's fun to run and slide down the dunes.
Which part of Albania has the best beaches?
Although north Albania has nice beaches too, I believe the best beaches in Albania are located in the south, especially on the Albanian Riviera. Some other nice beaches are around Ksamil in the far south.
Are Albania beaches clean?
Largely, yes. However, it's more common to see trash on beaches in Albania than in other countries around Europe. The infrastructure for waste disposal in Albania in general isn't as good, and it often falls to the bars and restaurants to clean up their area. Beaches with facilities are often much cleaner. It's at the more remote beaches, or during the off-season when the restaurants are closed, that you may see more rubbish.
Now You Know About the Best Beaches in Albania
I was completely taken by surprise by the Albanian coastline, and I loved exploring the best Albania beaches.
The rugged scenery, white sand, pebbles, and striking turquoise and green waters have left me speechless. The water is so clear and vibrant that you could be mistaken for thinking you're in Asia or Central America.
These are just a few of the best beaches in Albania, but look hard enough and you're guaranteed to find some hidden gems just waiting to be discovered.
Like This Article? Pin It!