There are so many great things to do in Saranda. It's the perfect place for exploring the best of the Albanian Riviera.
Saranda is not only within a stone's throw of the Greek island of Corfu, but it's surrounded by some of the best attractions, beaches, and nature that Southern Albania has to offer.
I spent one month exploring the best places to visit in Saranda. As as a digital nomad in Albania, I loved the relaxed cafe culture, stunning beaches, and its accessibility to the rest of Southern Albania, which is absolutely beautiful.
15 Best Things to Do in Saranda
If you're wondering where to go in Saranda, this guide will help you plan your trip. This beach town truly is one of the best places to visit in Albania.
Here are the 15 best things to do in Saranda, Albania.
1. Take a Stroll Down the Saranda Embankment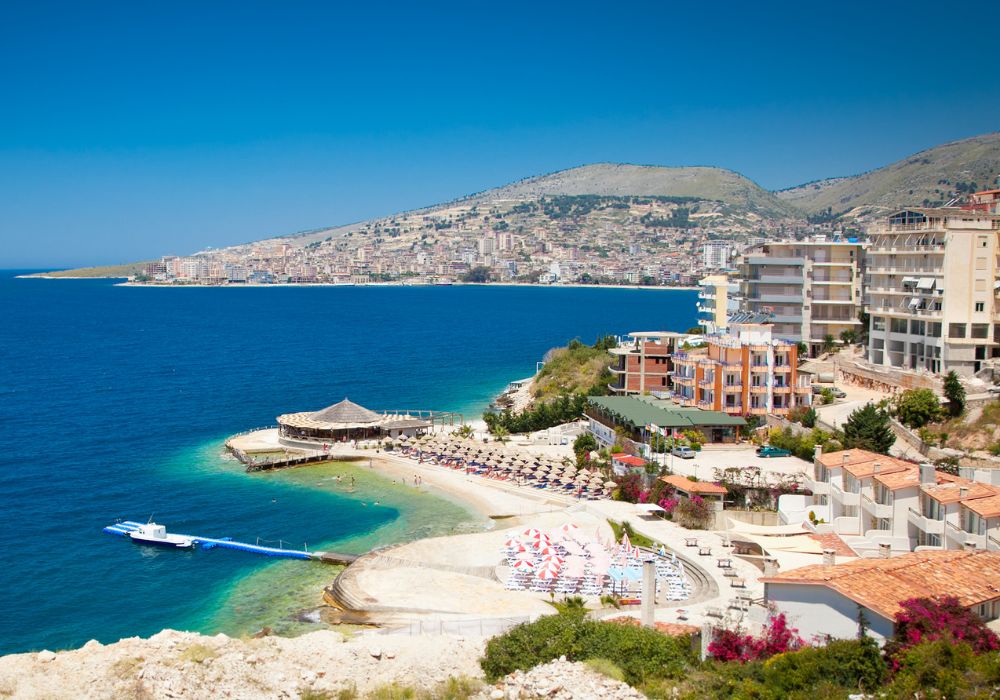 One of the first things you should do when visiting Saranda is to walk along the Saranda Embankment. The embankment links the neighbourhoods in Saranda, so a leisurely stroll is an excellent way to get your bearings upon arrival.
Here is where you'll see lots of local businesses offering boat trips, which is one of the most fun things to do in Saranda. It's a great place to get some activities planned.
At the port end, you'll see that there are swimming lanes where you can get your exercise in for the day, followed by a coffee in one of the cosy cafes. Despite being the place where boats set off, the water is incredibly clear and great for a dip.
The embankment runs parallel to Saranda Beach and has some of the best restaurants, cafes, and restaurants alongside it. I recommend trying New Space for a coffee with a view, or No Name Bar for a cheeky cocktail.
2. Visit the Mystical Blue Eye (One of My Favourite Things to Do in Saranda)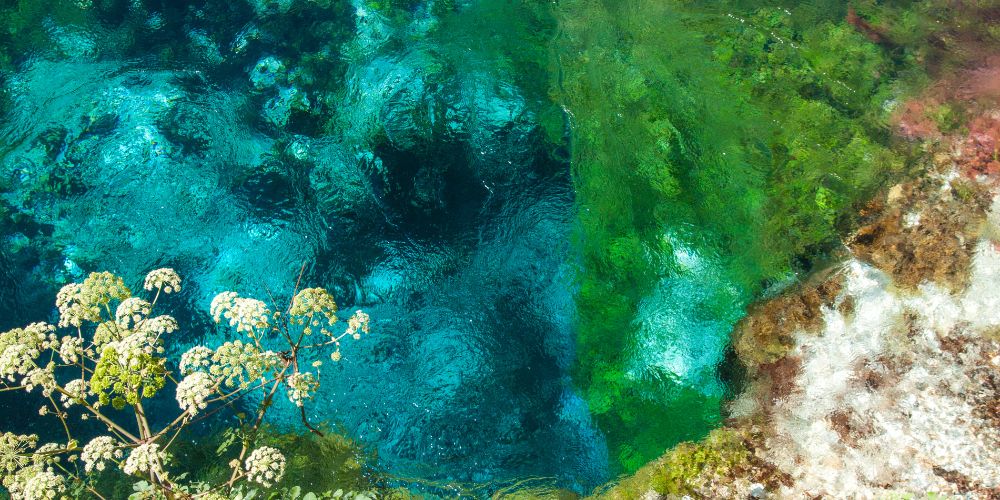 The Blue Eye is a must see in Saranda. It was one of the highlights of my trip and it shouldn't be missed. The Blue Eye is around 20 km from Saranda so many people take a tour from Saranda to visit.
The Blue Eye, or Syri i Kalter in Albanian, is a natural spring and phenomenon. The deep, dark middle and clear blue water surrounding the centre resembles a pupil and iris. It's at least 50m deep, but the high-pressure water has made it impossible to explore further.
On this tour, you'll be picked up from Saranda and a private guide will take you to and around the Blue Eye National Park. Here, you'll have plenty of time to explore and swim in the pools before heading back to Saranda – beware, the water is a cool 10°C all year round.
The Blue Eye should be at the top of your list of things to see in Saranda. It's a truly unique experience.
3. Eat Some Incredible Seafood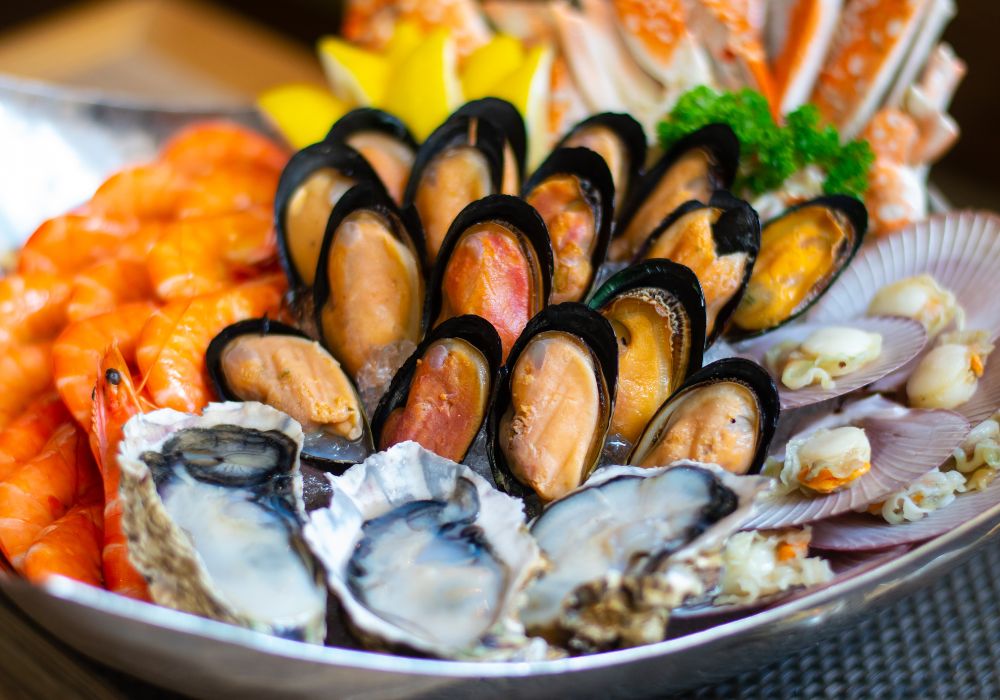 Saranda's close proximity to the sea, rivers, and lakes makes it the perfect place for foodies who love seafood.
Mussels and trout can be found on most restaurant menus; you should be sure to try these. Both are often from Lake Butrint, which surrounds the Butrint National Park also featured on this list, and fresh and tasty dishes to try.
Saranda's location on the Mediterranean Sea means that there's always a vast selection of seafood on offer and many restaurants do it really well. My favourite spots include Haxhi (you have to have their seafood spaghetti) and Fish Filipi for a fresh and local experience.
Eat your way around the lovely tavernas and sample the freshest seafood in Saranda. See also: Must Try Albanian Foods
4. Visit Beautiful Ksamil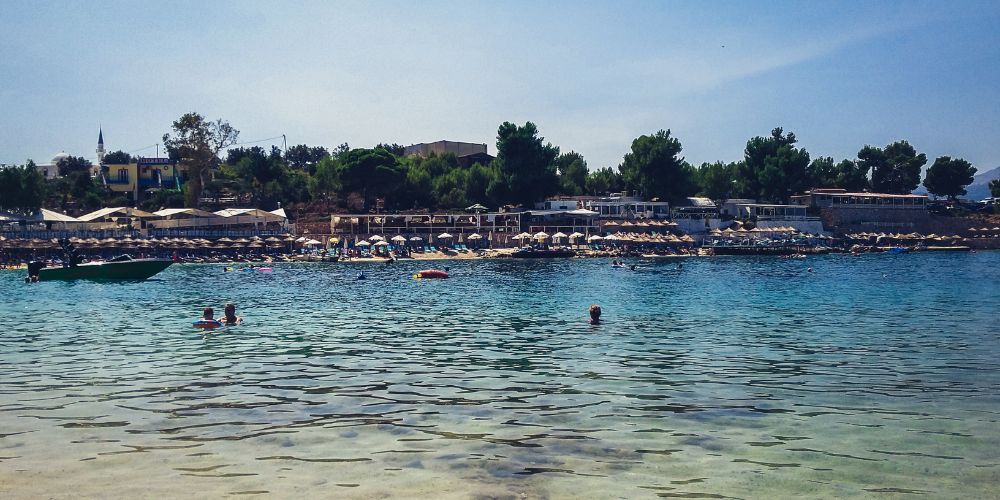 Ksamil is one of the most beautiful places to visit in Saranda. It's just a 20-minute drive further south along the coast where you'll pass a lot of stunning beaches on the way. Ksamil's coastline attracts thousands of tourists from all over the world for good reason.
The beaches are home to the clearest, most beautiful turquoise water. Split into bays, the beaches are both pebbly and sandy, and the colours change from bay to bay. Every single one is so clear and serene.
Ksamil can't be missed as it's one of the best places to see in Saranda. This tour, led by a local guide, will take you to islands and beaches in Ksami as well as the Butrint Archaeological Park – great Saranda attractions featured on this list.
You'll gain a glimpse of the best of southern Albania, whilst exploring some hidden gems you might not find alone. You can read more about the highly rated experience here.
☞ SEE ALSO: 10 Best Airbnbs in Tirana, Albania
5. Go to Mirror Beach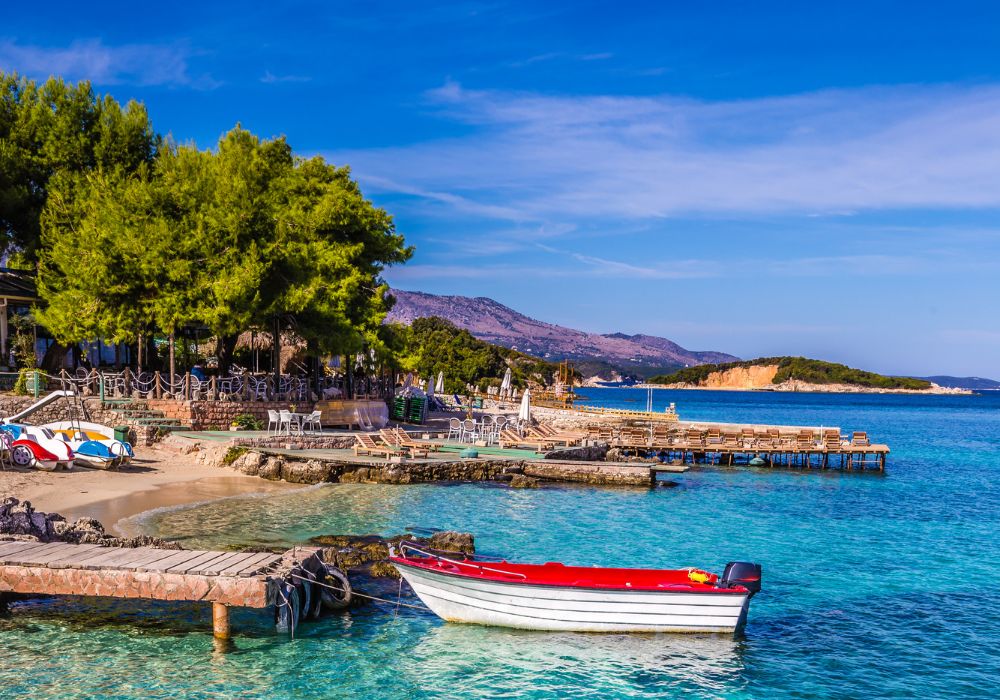 Pasqyra Beach, or as it's more commonly known, Mirror Beach, is one of the best places to visit in Saranda. It's called Mirror Beach because the sun reflects into the clear blue water like a mirror, which according to locals, gives it a magical effect.
I have to agree. The water was a bright blue colour and it reminded me of the water in Mexico. It has to be seen to be believed. The beach is accessed by a one-track road which leads to a car park. I'd recommend that you get a taxi here, or hire a scooter.
There's a restaurant on the beach where you can grab some refreshments and lunch to make a full day of it. There are also sun loungers for you to relax on, have a snooze, or get stuck into your latest read.
6. Visit Butrint National Park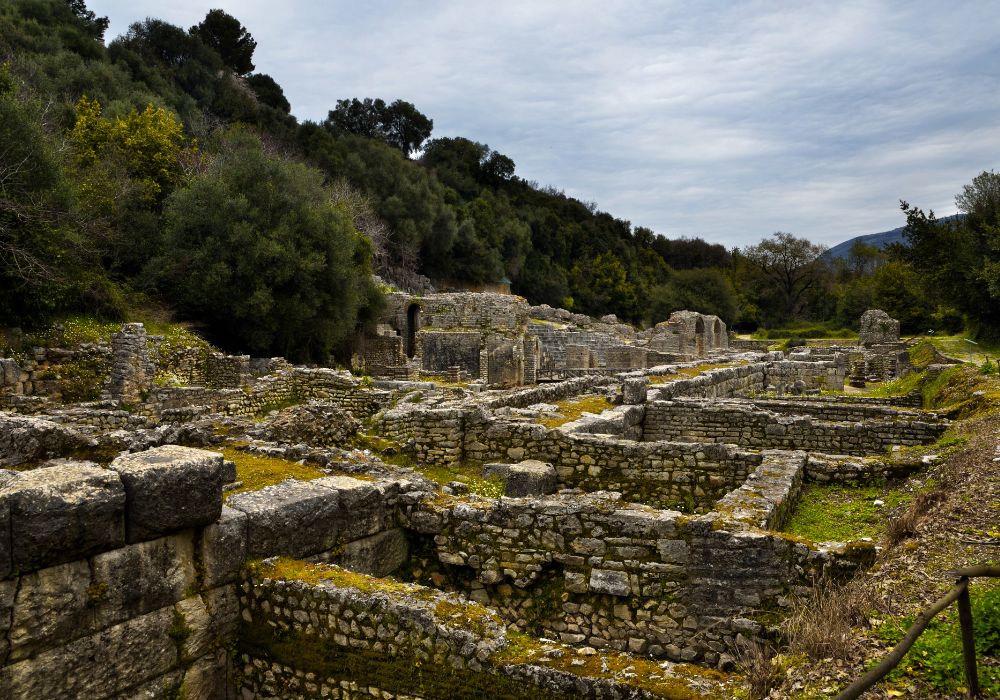 Butrint is one of the best things to see in Saranda for history buffs. This ancient city is the most visited UNESCO World Heritage Site in the country.
It's got a real mix of influences, having been occupied by the Greeks, Romans, and Venetians throughout its long history. You'll see a Roman Theatre, Temple, and Forum which are really well preserved.
Its beautiful surroundings make it one of the most picturesque of the Saranda attractions, based on Lake Butrint and the wetlands which complete the National Park.
Entrance costs 1000 LEK ($9) per person, or you can take this tour. This includes your transfer to and from Saranda, entrance fees, and also includes a guide which is really useful if you're interested in learning more information as you explore the site.
7. Take the Ferry to Corfu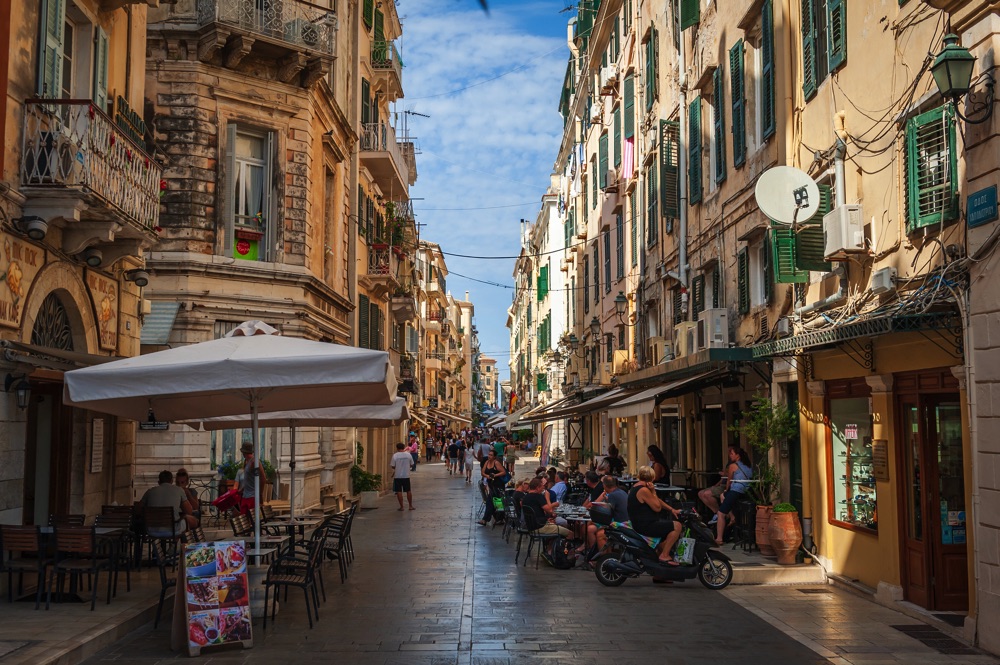 One of the best things to do in Saranda is to visit the Greek Island of Corfu. You can see Corfu just across the water when at Saranda beach or walking along the embankment.
In the high season, ferries go from the port to Corfu town regularly. The fast ferry runs three times a day and takes around 30 minutes. The slower ferry runs later into the evening until 7 pm, and takes a little over an hour. You can buy tickets from both boats at the offices next to the ferry terminal.
The ferry will land just up the coast from the Corfu Old Town. There are shuttle buses into the heart of Old Town, or you can walk down. Head into the Old Town and explore the cobbled streets with boutique shops, local restaurants, and cool bars.
Take a trip around the Old Fortress with incredible views over the Town. The Church of St Spyridon is worth a look for the impressive decoration inside, and the iconic Liston Street is a great location for a drink.
You can take in the whole of Old Town in a day; grab an early ferry from Saranda and head home on the 7 pm ferry back to Albania. This was one of my favourite trips. Don't miss it.
8. Enjoy the Sunset at Lekuresi Castle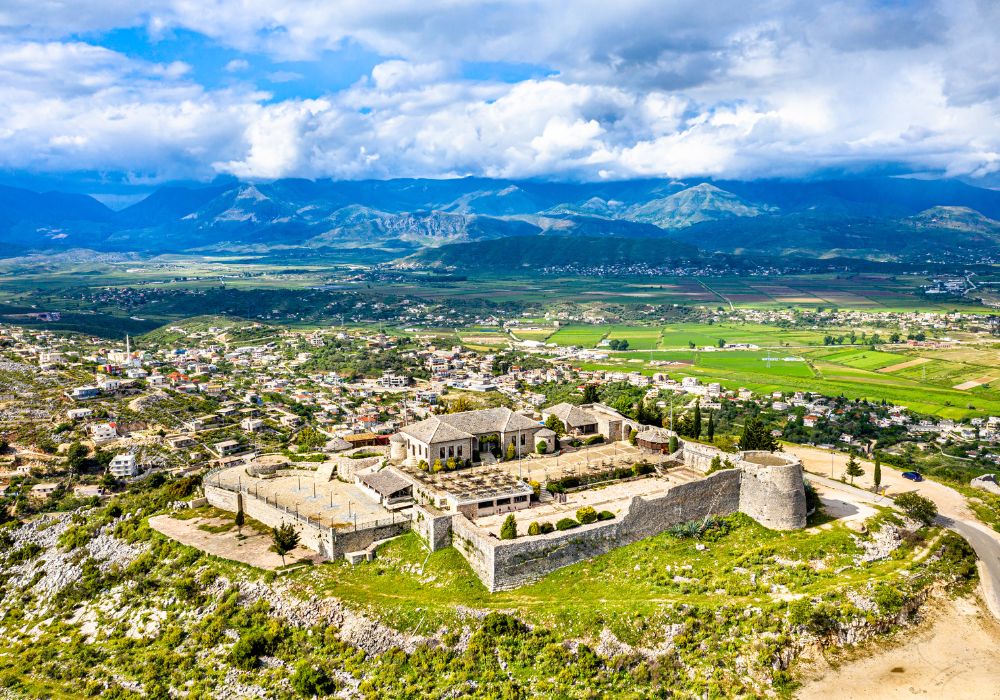 A trip to Saranda is not complete without seeing Lekuresi Castle at sunset. It's here that you'll get the best view of Saranda and the bay. It's one of the most romantic and pretty places to visit in Saranda.
Situated on the top of Lekuresi Hill, it has an iconic view of Saranda and Corfu, and also the valley and mountain range on the other side of the hill. The castle was originally built in 1537 by the Ottomans to control the Saranda harbour and Saranda-Butrint road during an attack on Corfu.
Today it's abandoned, and houses a restaurant and bar, the terrace of which overlooks the bay. It's a must see in Saranda.
In terms of getting there, you can walk, but it's around 3-4 kilometres from the centre, and all uphill which can be a challenge in the summer heat.
Alternatively, you could take this tour which not only takes you to see Lekuresi Castle, but a few of the best highlights in Saranda, including the Blue Eye, Ksamil, and Gjirokaster.
9. Take a Boat Trip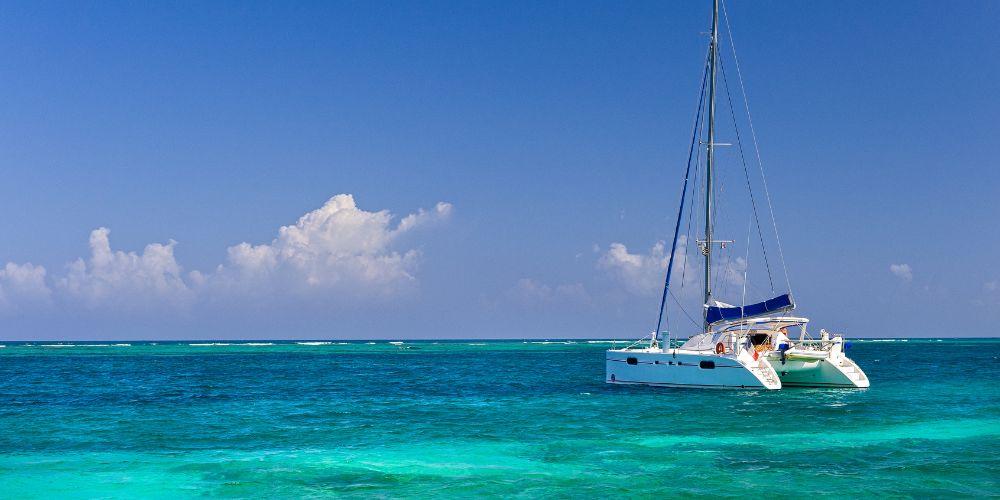 One of my favourite activities in Saranda is to take a boat trip. There are many local businesses offering tours. Some head south and explore the beaches on the way to Ksamil, and some head north toward Himara.
The entire coastline is beautiful and I love exploring the coves, bays, and beaches — many of these beaches can only be reached by boat.
To the north, you can visit the beautiful beaches of Krorez and Kakome beaches. To the south, you'll see Monastery Beach and Pulebardha, both equally stunning. You're spoilt for choice when it comes to beaches in Saranda.
You have the choice of taking a group trip on one of the larger catamarans or a pirate ship boat, both of which can be seen easily along the promenade. Usually, drinks are included, and the vibe is a lot more lively. One even had a foam party on board!
Alternatively, you can book a private boat with a skipper to take you to the beaches. I did this and it cost €150 for a 6-hour trip. If you're with a few friends, this is a really fun, relaxing, and cost-effective way of exploring the coast.
If you prefer to take a boat trip over the fresh water of Butrint Lake, take a look at this tour on a traditional boat to a mussel farm. Besides learning about mussel cultivation, you'll also experience Butrint National Park in a different way – from the water.
10. Go Quad Biking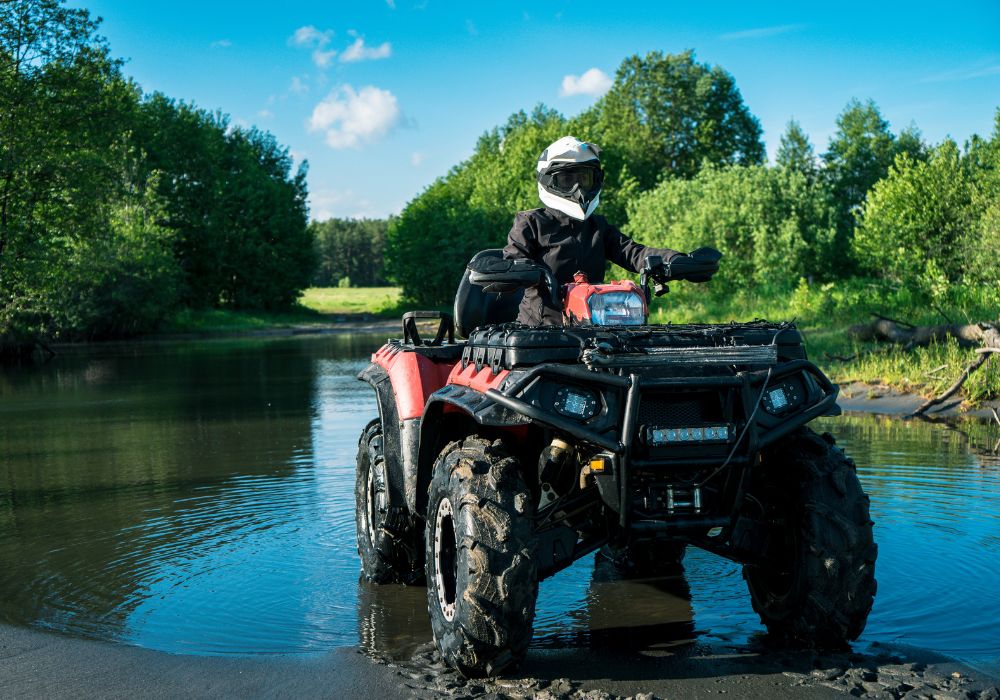 You'll likely spend most of your time in Saranda soaking up the sun on the many beautiful beaches. But, if you want to do something adventurous, taking a jeep tour is one of the most fun things to do in Saranda.
On this full-day tour, you'll be shown some unspoilt scenery and local villages. You'll go off-road and explore some hidden gems of the Albanian countryside and coast, see some of the best Saranda attractions, and be guided to the Blue Eye.
Led by a local guide, you'll learn all about Albania and the best places to see in Saranda, and you'll stop for lunch in a local village to enjoy cuisine with a view.
Seeing Saranda by jeep is a fun way to explore the south coast. You can read more about the tour here.
11. Soak Up Some Sun on the Saranda Beaches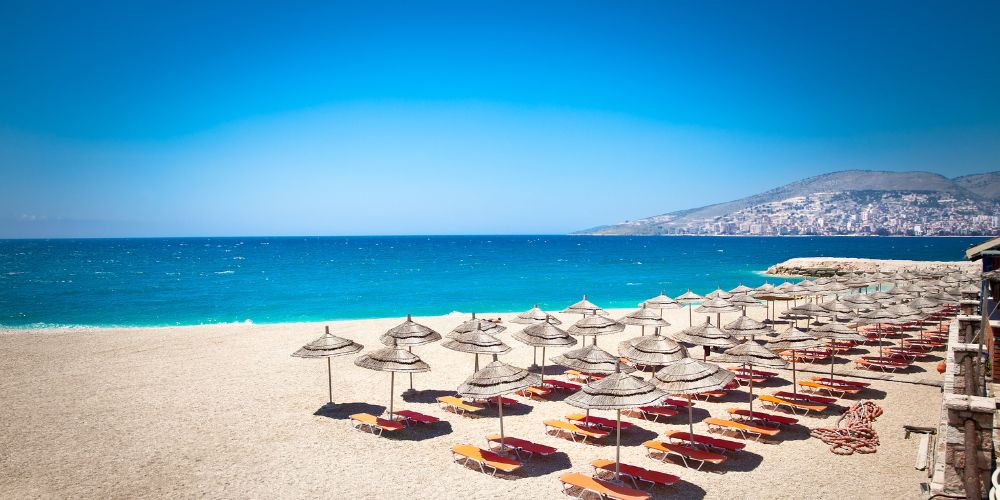 If you want to have a relaxing day in the sun without having to travel far, then you're in luck. There are plenty of beaches in Saranda which are absolutely beautiful, and likely just steps from your front door.
The public beach, Saranda Beach, which runs alongside the promenade is a great option, particularly if you're staying in the centre. It's just a few minutes' walk and there are plenty of cafes and bars to keep you refreshed throughout your day.
In the Kodrra area, there are some lovely 'private' beaches, which you can enjoy by paying for a sun bed. The cost for two, with an umbrella, is around 500 LEK ($4.50). The water here is crystal clear and it's a very chill and relaxing area. I would recommend Shemo Beach Bar for a good lunch – they also have sunbeds to hire.
On the Rruga Butrinti road, there are some lovely beaches too. Flamingo Beach and Mango Beach are both pebbly beaches with lots of sunbeds and fun beach clubs for music and drinks.
12. Visit the Himara Beaches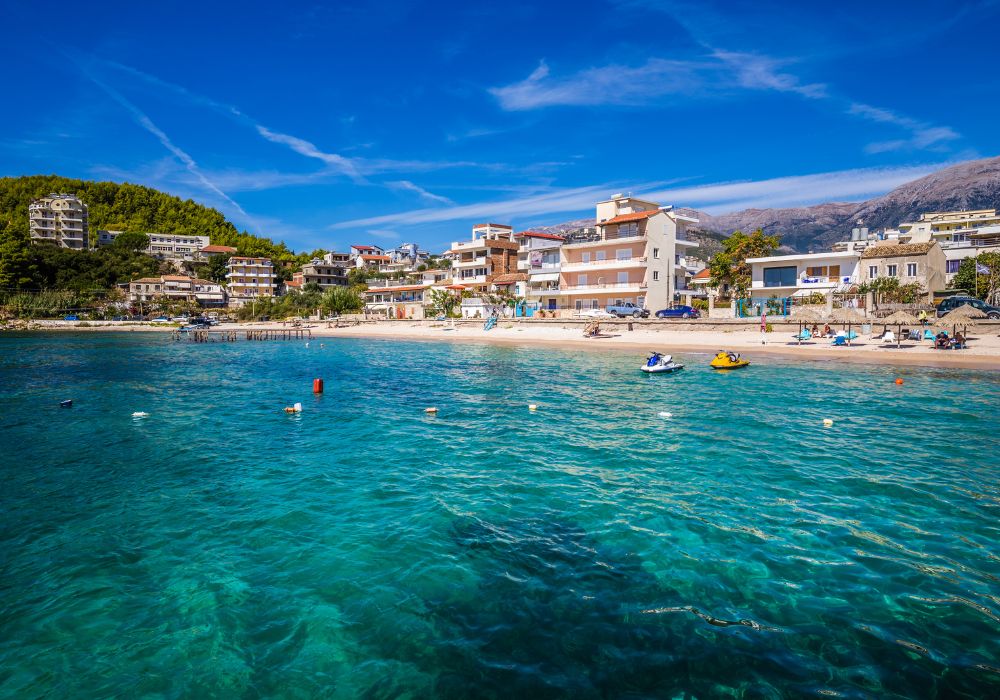 Himara is north of Saranda and its attractive beaches, charming promenade, and town make it a good day trip from Saranda. It's a really popular town in the summer for good reason. The bright, pebbly beach and the glittering water here is spectacular.
Himara is located around 50 km north of Saranda but it's easy to take a bus or a tour from Saranda to visit the lovely beaches here.
This tour leaves from Saranda and you'll spend some time at one of the best beaches in Himara. You'll also visit the beautiful Borsh Waterfall, and the village of Qeparo which has gorgeous architecture and pretty churches.
13. Enjoy a Cocktail with a View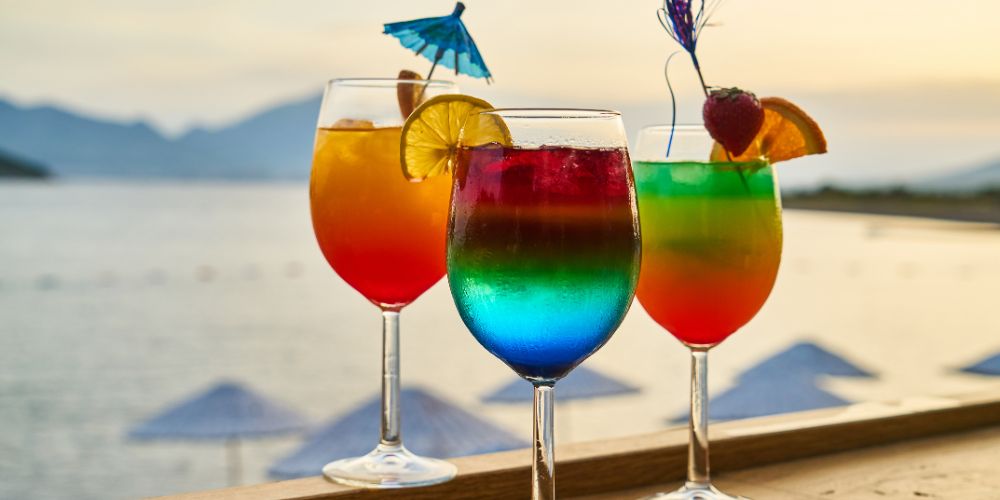 One of the best things to do in Saranda at night is to enjoy a drink in one of the many great cocktail bars.
The best thing about the cocktails is that they're so affordable. Usually, a cocktail is around 500 LEK ($4.50). There are so many bars to choose from, and most are along the Saranda embankment offering fantastic views of the bay.
Some of my favourites are Tipsy Bar, for delicious frozen fruit daiquiris and a nice place to soak up the evening sunshine. No Name Bar for the best Aperol spritz with a view of people enjoying the splash park, and Rooftop for excellent music, cocktails, and a view of the harbour.
14. Visit Gjirokaster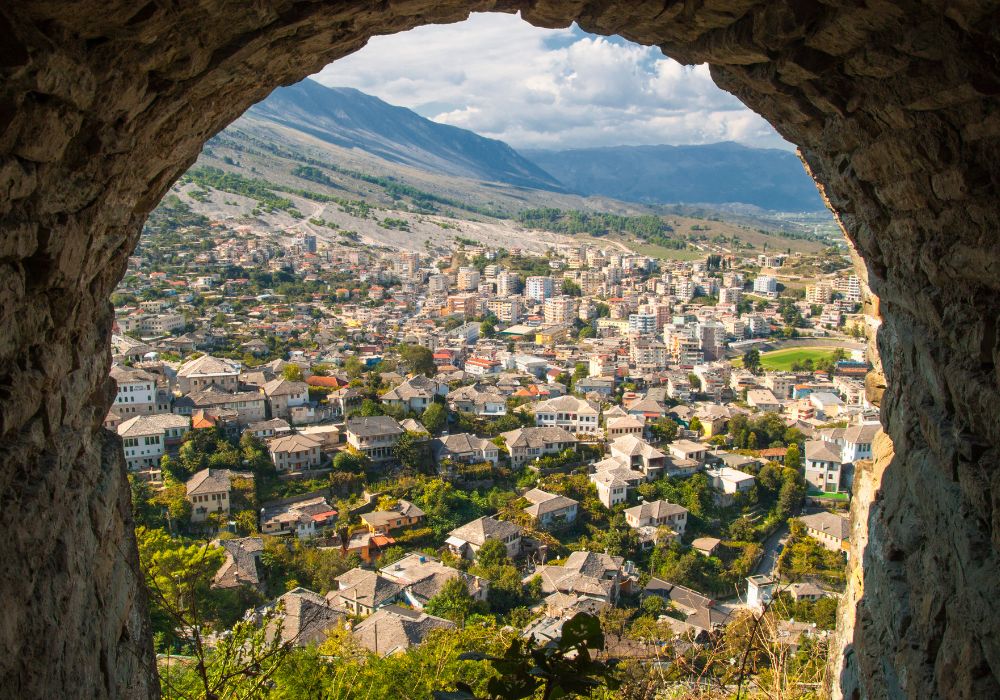 Gjirokaster is Albania's best-kept secret. It is an ancient Ottoman town that's so well preserved it's earned UNESCO World Heritage status. It should definitely be on your list when planning where to go in Saranda.
Gjirokaster is dominated by the Fortress where you'll see amazing views of the city, the Gjere mountains, and the Drino River. Inside, you'll find a museum holding many interesting and important artifacts, including a US Air Force Jet which crashed and landed in WWII.
In the Old Town, you'll find lots of sweet artisan shops selling handmade goods, and souvenirs. You'll certainly feel like you've stepped back in time when walking the cobbled streets.
Whilst it's not in Saranda, it's very close. Many people stay in Saranda to be by the coast, as well as within close proximity of Gjirokaster and the other best attractions in Albania.
This tour leaves from Saranda and you'll benefit from a knowledgeable local guide to tell you all about the Castle and the town. They'll also take you to the Blue Eye so you can tick off two of the main Saranda attractions in one day.
15. Have Fun in the Splash Park
If you've got children, the Splash Park can buy you at least an hour of entertainment. But if you, like me, also want to try it out, you absolutely can. It isn't just for kids and adults are more than welcome to join in.
The splash park is an inflatable obstacle course in the middle of Saranda Beach. Think of a tame Total Wipeout and you're pretty much there.
It's one of the most hilarious things to do in Saranda for sure. You pay in time increments and there's a kiosk set up for payment on the beach opposite the park. You can also store your things here and grab a life jacket if needed.
Charge around, jump in, and attempt to survive the inflatable kingdom!
Where to Stay in Saranda
There are three areas to stay in Saranda: Qender (the Centre), Kodrra, and Rruga Butrinti. Each neighbourhood offers something a little different.
Qender
Qender is the best place to stay in Saranda if you want to be in the middle of things. The great thing about this neighbourhood is that it's within walking distance of the other neighbourhoods, as well as the beach.
I recommend staying in Qender. There are lots of accommodation options here and you're close to some of the best restaurants, bars, and things to do in Saranda. It's a great place to base yourself all year around.
The First Hotel Saranda is an excellent option if you want to stay in Qender. It has a pretty garden and a terrace with a view, and it's only a 3-minute walk from Flamingo Beach.
Rruga Butrinti
Rruga Butrinti is very close to Mango and Flamingo beach, and the bars and restaurants which line the main road between Saranda and Ksamil. It's very quiet here out of season.
Koddra
Koddra is the most affordable neighbourhood, and popular with budget backpackers. It's close to many beach bars, including Shemo, but also feels a little more local and away from the tourist crowds in the centre, and on the embankment.
FAQs About the Activities in Saranda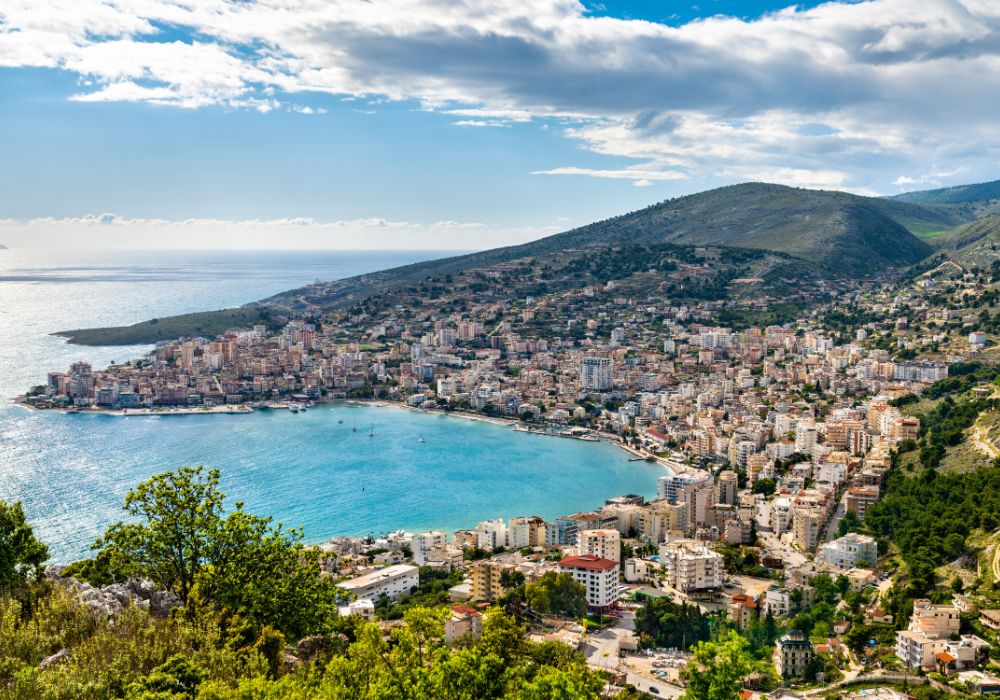 Still wondering what to do in Saranda? Here are some answers to commonly asked questions about visiting Saranda, Albania.
Is Saranda worth visiting?
Absolutely. Not only does it have great bars, restaurants, and beaches, but it's the perfect base for exploring the other towns and attractions along the Albanian Riviera. As Saranda is a city with around 30,000 inhabitants, it's a good place to experience local life, making it much more than just a tourist destination. Once you've enjoyed all of the activities in Tirana, I recommend visiting Saranda to enjoy some time on the beach.
Where is Saranda?
Saranda is based on the Ionian Sea Gulf which is a bay within the Mediterranean Sea. It's encircled by Southern Italy, the west coast of Greece, and the Greek Ionian Islands. This includes Corfu which can be seen from Saranda embankment and accessed easily by ferry.
Is Saranda Albania safe?
Yes, Saranda is safe to visit. In high season, it's packed with tourists and feels very safe.
Albania as a whole is a safe country. When travelling anywhere, you should be cautious of petty theft/pickpockets by being mindful of your personal belongings.
What is Saranda known for?
Saranda, like many of the other towns on the Albanian Riviera, is known for its crystal clear, azure waters. It's the coastline that it's famous for, but there are so many places to visit in Saranda that makes it an unforgettable destination.
How do you spend a day in Saranda?
There are many fun activities in Saranda to choose from. You can go to the beach, go paddleboarding, or visit some of the main attractions in Saranda such as the Blue Eye, Lekuresi Castle, and Butrint National Park.
Now You Know What to Do in Saranda
There are so many great places to visit in Saranda for all types of travellers. It offers beautiful beaches, nature and culture, whilst also being a good base for exploring the rest of the Albanian Riviera.
I hope this blog post helps you plan your travels to Saranda and create the best itinerary for your trip.
Like This Article? Pin It!