There are so many fun things to do in Tirana, it's no wonder it's become so popular with travellers and tourists alike.
A perfect location for digital nomads, budget backpackers, friends looking for a fun city break, or a couple looking for a getaway. There are so many amazing places to visit in Tirana for everyone.
One of the best things about the city is that all the different neighbourhoods are close enough to walk between. There are some excellent things to do in Tirana in each of these neighbourhoods, so it doesn't really matter where you stay.
I spent one month exploring the city, enjoying the top Tirana attractions, and experiencing many fun activities. If you're wondering where to go, what to see, or what to do in Tirana, you're in the right place.
15 best things to do in Tirana, Albania
Tirana is one of the best places to visit in Albania, and for good reason. Learn more about the fun activities and experiences in Tirana in this list.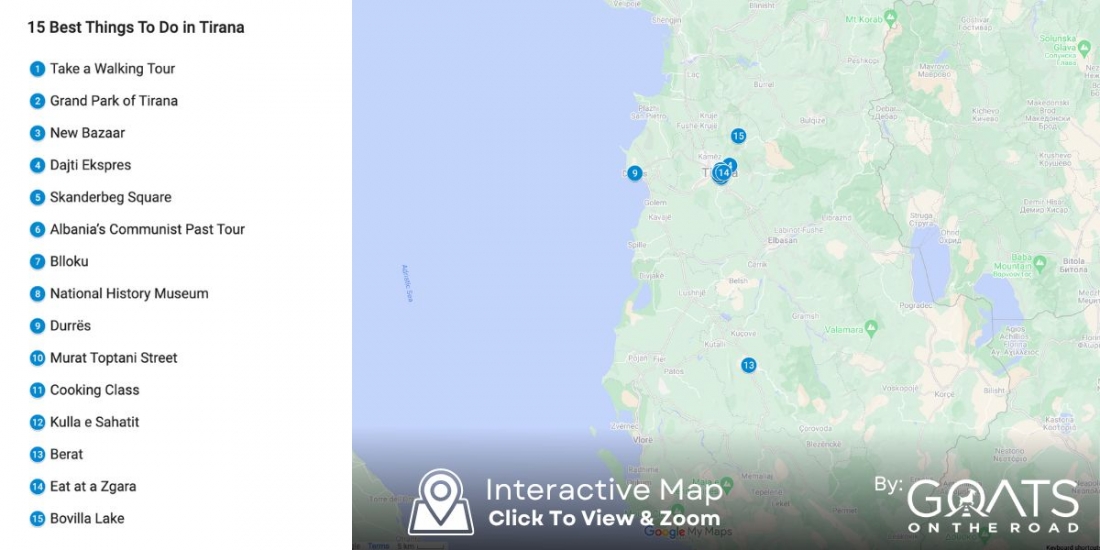 1. Take a Walking Tour of the City
One of the first things to do in Tirana is to take a walking tour. A walking tour will help you make sense of the city. Not only in terms of direction, but it will give you a great understanding of its people, culture, and history.
Albania has an interesting and complex past. Many of the guides on the walking tours are locals and it's completely fascinating to hear stories of communist Albania.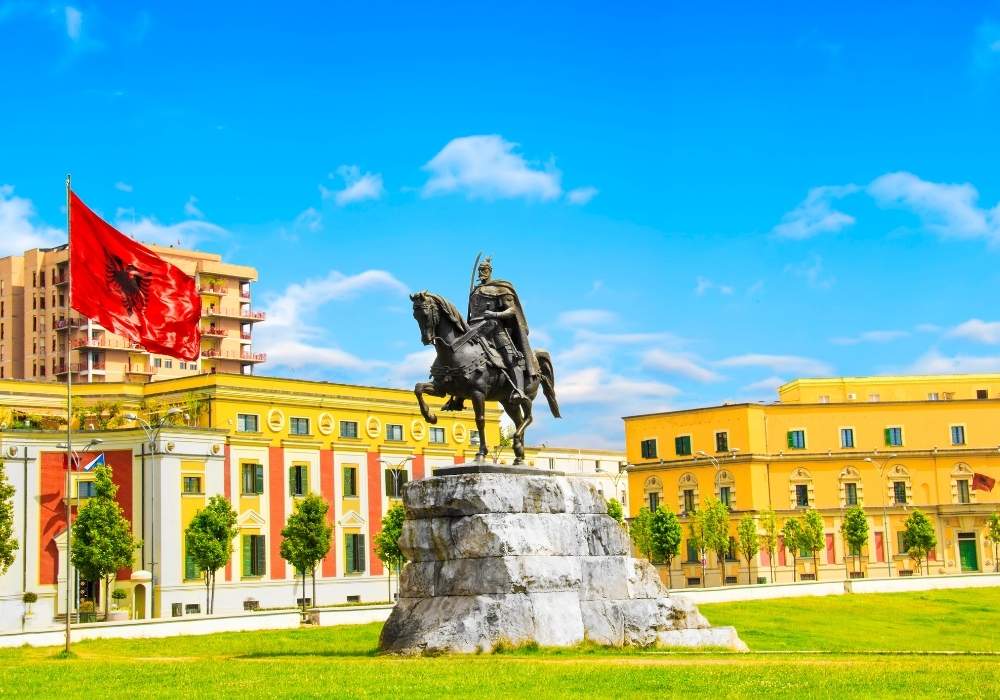 The tour will begin at Skanderbeg Square, which is the main boulevard. You'll visit some of the top Tirana attractions, including the Skanderbeg Statue – a national hero, the history museum, and the Et'hem Bey Mosque.
You'll take a walk through Blloku, the neighborhood where members of the communist party used to exclusively live. Here, you'll enjoy a coffee break in one of the cafes, and see the villa of Enver Hoxha, the former dictator of Albania.
The tour lasts for 3 hours, and it includes the time of your qualified guide, and the entrance fee to the history museum. You can read more about the tour here.
☞ SEE ALSO: 10 Best Airbnbs in Saranda, Albania
2. Stroll Around the Grand Park of Tirana
One of the best places to visit in Tirana is the Grand Park and Artificial Lake located within.
This is a must-see in Tirana. Get your daily dose of exercise with a walk around the park, or grab a coffee in one of the many shaded cafes. Alternatively, visit one of the numerous bars or restaurants that line the lake. There's so much to do!
As well as being one of the most beautiful places to see in Tirana, you'll also find some great Tirana attractions and landmarks here. This includes the Presidential Palace and Royal Gardens to the east, and the Zoo and Botanical Gardens to the west.
One of my favorite restaurants in Tirana, Mullixhiu, is also located right by the lake. It's one of the best places to visit in Tirana for foodies. Give their tasting menu a try, you won't regret it!
3. Embrace Cafe Culture at New Bazaar
One of my favorite things to do in Tirana was to pull up a chair at one of the lovely cafes in the New Bazaar and partake in some people-watching with a coffee.
The New Bazaar was originally built in 1931 and was recently renovated in 2017, making it one of the most popular Tirana attractions.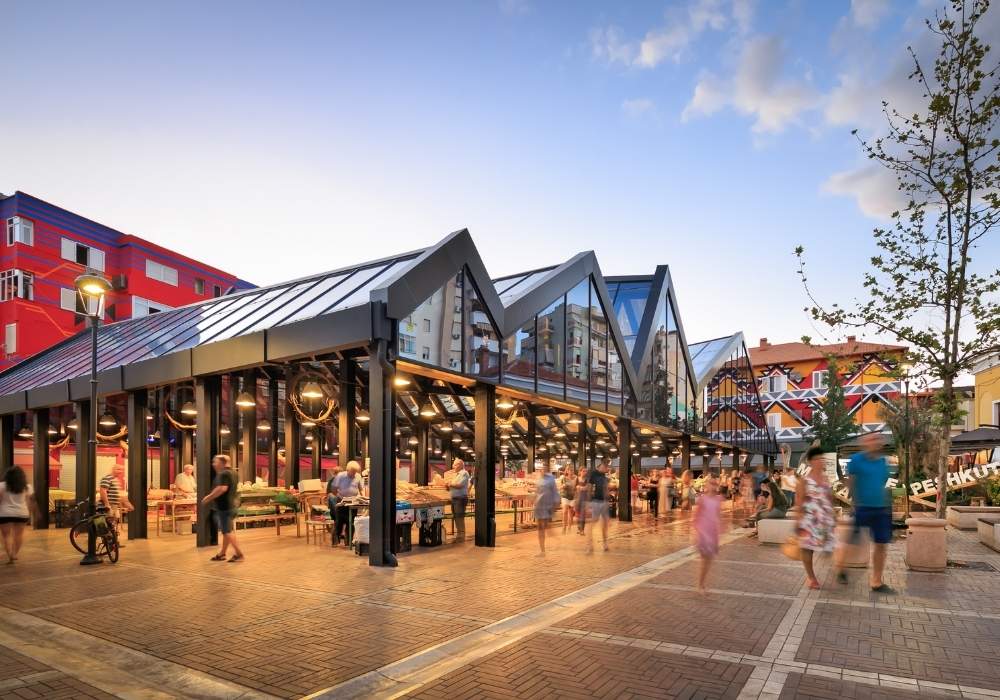 In the center sits a covered market selling locally grown, fresh fruits and vegetables, meat and fish, as well as Albanian wine, oil and raki.
Surrounding the market are bakeries, cafes and restaurants, all housed in beautiful buildings. If you're wondering where to go in Tirana to experience local life, this is it.
☞ SEE ALSO: 15 Best Things To Do in Saranda
4. Take a Ride on the Dajti Expres (One of The Best Things to Do in Tirana)
One of the most fun things to do in Tirana is to take the Dajti Expres cable car. The views from the cabin are absolutely spectacular.
On this tour, you'll discover the Dajti National Park which is 1,613m above sea level. You can hike to the highest part of the mountain to enjoy panoramic views over the city, and the Bovilla Lake.
After the hike, you'll visit Bunk'Art2- my favorite museum in Tirana. If you can only visit one museum in the city, make it this one. It's a must-see in Tirana and you'll learn all about the history of communism in Albania.
The tour includes transport to the Dajti mountain, which is located outside of the city center, as well as a local guide, and your cable car ticket. You can read more about the tour here.
5. Visit the Main Tirana Attractions at Skanderbeg Square
Skanderbeg Square is named after a national hero who led a rebellion against the Ottoman Empire in Albania and many other Balkan Countries. He is honored today in Albania, with the main plaza taking his name, and a huge statue paying homage to him in the center.
The Square is now part of the biggest pedestrian zone in the Balkans. It hosts many spectacular events throughout the summer months, including Summer Festival, and America Week. If there's a European football tournament on, it's likely it'll be shown here too.
Many of the best things to do in Tirana are situated in, or around, the square. This includes the National History Museum and Palace of Culture.
Local performances are often held here, so grab a drink in one of the cafes and enjoy the show.
Wondering where to stay in Tirana? Have a look at these Tirana Airbnbs – modern, boho, lofts, luxury, mountain views and sunset views, whatever you're looking for, you'll find it in Tirana! Check out our list of the best accommodation in Tirana, here.
6. Learn About Albania's Communist Past
One of my favorite things to do in Tirana, and when visiting any city, is to learn about its past. Tirana certainly does not disappoint in this department.
On this communism tour of Tirana, you'll learn all about the people who shaped Albania's history and visit some of the main Tirana attractions of the era.
As part of the tour, you'll explore Bunk'Art2, (the sister museum to Bunk'Art1), which provides fascinating stories from communist times, as well as information about the secret police – the Sigurimi.
It's a city that completely owns its sometimes dark and gruesome past, to ensure that the same mistakes are not repeated. This is the main message of Bunk'Art2 and it's utterly captivating.
You can read more about the tour, which includes a delicious grilled lunch, here.
7. Explore the Foodie Scene in Blloku
Exploring Blloku is definitely one of the most fun things to do in Tirana at night. It's the time when this neighborhood really comes alive. There are so many lively bars in this area, you'll definitely find one to suit the vibe you're looking for.
For a communist-inspired bar, head to Komiteti, which has some of the best raki available in the city, along with amazing artifacts from the era. Radio Bar is one of the most unique places to visit in Tirana for cocktails with a funky retro feel and great music.
Blloku is also home to some of the best restaurants in Tirana too. Try Era for traditional food with a modern twist, or Artigiano at Vila for some of the most delicious Italian food.
If you're traveling on a budget, you can't go wrong with Opa, which serves superb Greek street food. The food in Albania is really good! For more recommendations on the best places to eat in Tirana, click here.
8. Take a Walk Through History
The National History Museum, located in Skanderbeg Square, is one of the best places to visit in Tirana to learn about the full history of the country.
The museum is divided into eight different pavilions which cover different periods of time. For example, Antiquity, Middle Ages, Renaissance, and Anti-fascism. They even have a pavilion dedicated to Mother Teresa.
For history buffs, this will be one of the best things to do in Tirana. Whilst it does cover the communist era, it's a good place to understand the broader history of the country.
I would recommend spending 2-3 hours in the museum to comfortably allow time to explore all eight pavilions. A ticket costs around 500 Lek, ($4 USD), or you can visit the museum on the walking tour of Tirana.
9. Go Wine Tasting
Take a trip to the port city of Durres, Albania's most ancient city, and second largest in the country.
A trip to this city is one of the best things to do in Tirana, with many tours and trips leaving from the capital city.
You will spend time exploring the modern and ancient features of the town, including the city walls, a Byzantine Forum, and Roman thermal baths. You'll also visit the amphitheater, which is the largest amphitheatre in the Balkan Peninsula; once having a capacity of 20,000 people!
On this tour, you'll also enjoy Durres's famous street art scene, and stop for coffee on the top of the Venetian Tower before heading out to the vineyards.
Lalzi bay is around 25km from Durres, and is home to the Duka Winery and Vineyard. Stroll around the vineyards and winery, learn about the production process, and taste three different varieties of wine and raki here.
One of the best things about this Tirana attraction is the boat trip on the Greek Lake which follows the wine tasting. You'll get to see the winery from the water, as well as the spectacular surrounding scenery.
For more information on this tour, click here.
10. Go Shopping on Toptani Street
Toptani Shopping Centre is one of the best places to visit in Tirana if you love to shop, or to explore if the heat gets too much in the city.
It's based right in the city centre and has 8 floors of shops; it's a great place to wander around and spend a couple of hours. Featuring both global brands and local sellers, from clothes to cosmetics, homeware to jewellery shops – there's something for everyone here.
On the top floor, you'll find coffee shops and eateries with superb views of the city – a must see in Tirana.
11. Take a Cooking Class
Albanian cuisine is very Mediterranean, but the cooking traditions are diverse. This is because nearly every kind of herb, vegetable and fruit used in most dishes is grown here! It's a great place to learn to cook.
The Albanian people live by the code of besa. It dictates their generosity and hospitality and when visiting Tirana you'll experience this in full force. Expect free raki, welcoming faces, and invitations to join locals for a meal or drink.
One of the best ways to understand besa, therefore, is through food. For foodies and those looking to meet new people, taking a cooking class is one of the best things to do in Tirana.
On this tour, you'll meet your host at a local market to gather ingredients before heading to the kitchen. For lunch, you'll prepare three traditional Albanian dishes, and learn about Albanian culture through their cuisine.
You can learn more about the tour here.
12. Climb the Clock Tower
One of the things to do in Tirana that simply must be ticked off, is to climb the clocktower. It offers the most beautiful views of Skanderbeg Square and the Et'hem Bey Mosque.
The clock tower was built in 1822, by Haxhi Et'hem Bey, who also finished the construction of the mosque next door. Inside, you'll find 90 spiral steps which lead to the viewing platform at the top.
The clock tower stands at 35m tall, and until 1970 it was the tallest building in Tirana. If you stand in the centre of Skanderbeg Square today, you will see skyscrapers all around you which demonstrates the rate at which Tirana has developed over the last 50 years.
13. Day Trip To Berat
Berat is one of the main cultural centres of Albania and is a UNESCO World Heritage Site. It's known for its historic Ottoman houses which descend the slopes of the mountains. Each has evenly spaced openings cut into its walls, and takes the name of "The City of 1000 Windows".
It's really easy to get to Berat from Tirana, with buses departing regularly from the Bus terminal every hour or so. Most buses stop at Durres too, if you wish to tick off the ancient city on the way. The journey to Berat takes around 2.5 hours, and is definitely one of the best things to do in Tirana.
Whilst you can absolutely take a solo trip to Berat, this tour is an excellent option if you want company. The cost includes transport, a guided city tour, and entrance fees for many attractions in Berat. You can check it out here.
14. Eat at a Local Zgara
Zgara means 'grill' in Albanian, and these local grill houses are dotted around all over the city. Whilst they often don't look like anything special, they're a great place to pick up delicious food at local prices. A good option for budget travellers.
My favorite options are the homemade qoftes, (Albanian meatballs), which can be picked up for around 35 lek each, ($0.30 USD), and the chicken and pork shish kebabs.
Whilst the zgaras are mostly equipped to feed meat eaters, there are also some choices for vegetarians too. I would recommend the tzatziki, (the best I have ever tried!), and the stuffed vegetables are always tasty from zgaras too.
A visit to a zgara is one of the best things to do in Tirana to sample local life.
☞ SEE ALSO: 10 Day Road Trip Around Albania
15. Take a Tour of the Bovilla Lakes
Around an hour's drive from Tirana city centre lies Bovilla Lake. The lake is in a stunning location, with scenic views, and is an excellent place for spotting wildlife. It's one of the most beautiful things to do in Tirana, and perfect for keen hikers.
There's a choice of an easy or more challenging trail. The 'easy' trail takes you to the Balcony of Bovilla, where you can enjoy scenic views of the forest, valleys, and the lake. The more challenging trail will take you to the peak of Mount Gamti.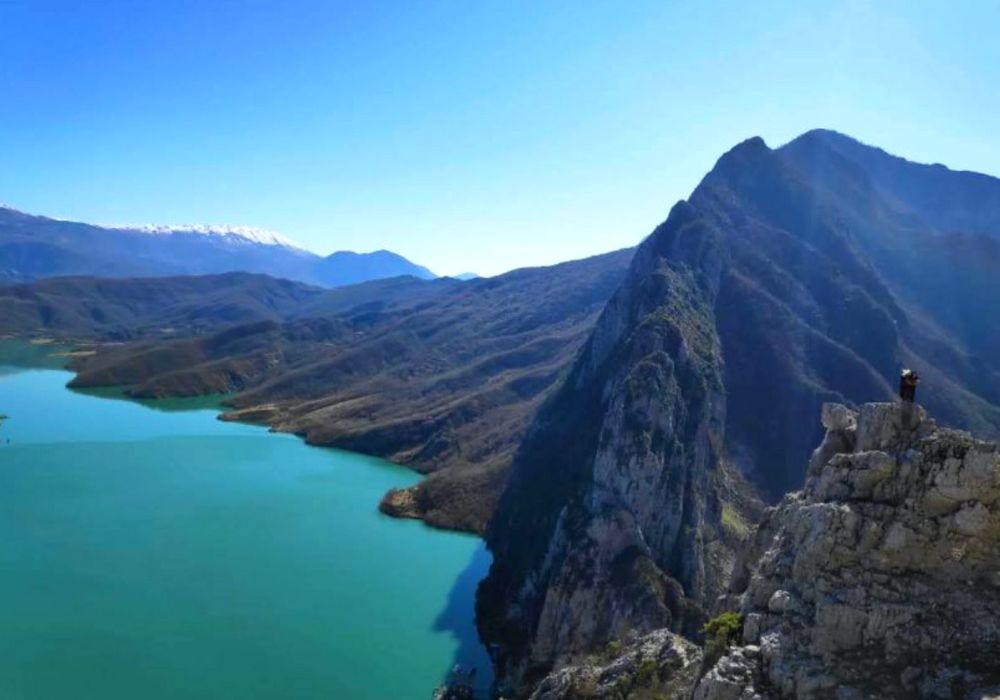 On this tour, you'll benefit from a knowledgeable guide to lead you up the mountain. The price also includes a tasty, fresh lunch at a farm-style restaurant overlooking the lake.
It's the perfect escape from the heat and bustle of the city. You can read more about it here.
☞ SEE ALSO: 15 Best Beaches in Albania
Where to Stay in Tirana
I spent a month living and working in Tirana, and was able to explore many of the suburbs and neighborhoods. These are the 5 main areas that you'll want to consider staying in.
1. Zona 1 – Live Like a Local
Located between Skanderbeg Square and the Lana River, you'll find Zona 1. This large neighborhood is near the New Market, New Bazaar, many seafood restaurants, and lots of cafes. Get away from the busy city center and stay in Zona 1. This apartment is a great option.
2. Blloku – Where to Stay for Nightlife
Blloku is the place to be if you're looking for nightlife. After spending the day enjoying Tirana's tourist attractions, head to this famous neighborhood and enjoy the city's best bars, restaurants and cafes. Don't miss my favorites: Radio Bar, Meduza and Komiteti. This is a good accommodation option in Blloku.
3. Komuna e Parisit – For Families
Komuna e Parisit is one of the more tranquil areas of Tirana. While you're in a quiet area, the upside is that it's still within walking distance of the city center. In Komuna e Parisit, you'll find the Grand Park and Artificial Lake. This apartment is in an excellent location.
4. Tregu Cam – Best Place to Stay for Culture and History
If you're looking for a central location, Tregu Cam is an excellent option. Here you'll be close to the best things to see in Tirana, including the National History Museum and Bunk Art 2. This accommodation has incredible views of the mountains.
5. 21 Dhjetori – For Budget Travellers
This neighborhood is also referred to as Atatürk Square and is known for being the backpacker area of the city. It also has many fun cafes. Here you'll find affordable accommodations, restaurants, and cafes. This apartment is a great accommodation option in the area.
FAQs About the Things To Do in Tirana
Here are some answers to commonly asked questions about visiting Tirana.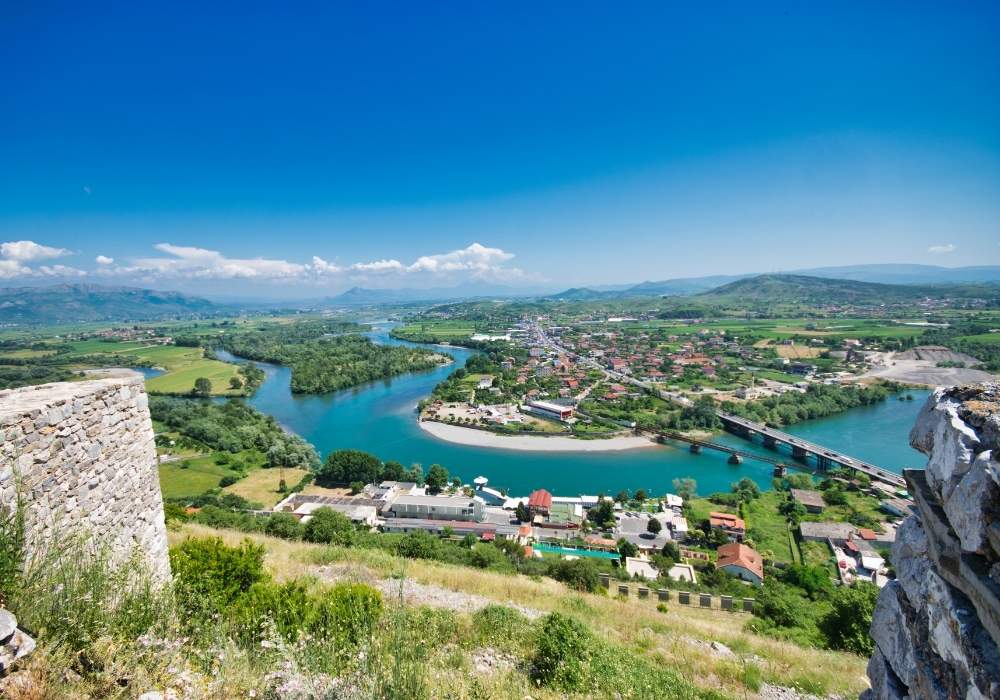 How do I spend my day in Tirana?
Explore the main historical and cultural Tirana attractions on foot, whilst immersing yourself in the Country's famous cafe culture. Alternatively, take a trip to the Dajti Mountains, or Bovilla Lake, to get some fresh air. Or why not sample some of Albania's culinary delights on a wine-tasting tour, or get creative in a cooking class? The possibilities are endless in Tirana.
How many days do you need in Tirana?
I would recommend a long weekend, to a week, to explore the best things to do in Tirana.
If you have a weekend, you'll likely spend time exploring the neighborhoods in Tirana. You'll also see the best attractions in the city centre, and enjoy the fun things to do in Tirana at night.
If you stay for a week, you'll have more time to explore the surrounding areas of Tirana.
Is Tirana safe?
I never felt unsafe when exploring Tirana. It's a very safe city and there are always people around in cafes, even late in the evening. Like most other cities around the world, petty crime does happen but it's rare, and most locals are kind and welcoming to travelers.
Is Tirana a beautiful city?
It is such a beautiful city. I was surprised by how clean, tidy and green the city was. There are many parks, flowers, and pretty streets to see. The bars and restaurants are also decorated well, and feel very inviting.
Now You Know What To Do in Tirana
I hope this post gives you a flavor of the many things to do in Tirana. There truly is something to do for every kind of traveler here. A foodie scene, with stunning nature to traverse, and so much culture and history to soak up.
Whether you're staying in Tirana for a few days to a few months, you'll never tire of this fun and friendly city.
Like This Article? Pin it!