If you're visiting the beautiful coastal town of Saranda, one of the best ways to soak up the sunny atmosphere is by staying in one of the many Airbnbs in Saranda.
Saranda is one of my favorite places in Albania. It offers a blend of fun and tourism and feels like such a local, homely place. This makes it a great destination for digital nomads and travelers alike. 
Saranda has a beautiful coastline and is home to some of the best beaches on the Albanian Riviera. There's a great choice of bars, restaurants, and cafes, and it's a perfect base for seeing some of the best attractions in southern Albania.
One of the best things about Saranda is that it's super affordable and has options for both luxury and budget travelers.
When planning where to stay in Saranda, you should consider the experience you're looking for. Do you want to relax or party? Do you want an ocean view or to be close to town? The thing about Saranda is that usually, you can get both.
I spent a month living and working in lovely Saranda, opting to stay between the Kodrra and Qender neighborhoods. Rest assured, there are so many great Saranda Airbnbs to stay in.
In this blog post, I'll help you figure out the best places to stay and list the 10 best Saranda Airbnbs.
1. Beautiful Waterfront Apartment on The Promenade
Not only is this apartment located in the town center, but you also have the sea right on your doorstep. It's a one-bedroom beachfront apartment, with the most amazing views over Saranda Bay and Corfu in the distance.
It's equipped with everything you need – including a washing machine which isn't commonly found in Airbnbs in Saranda and in Albania.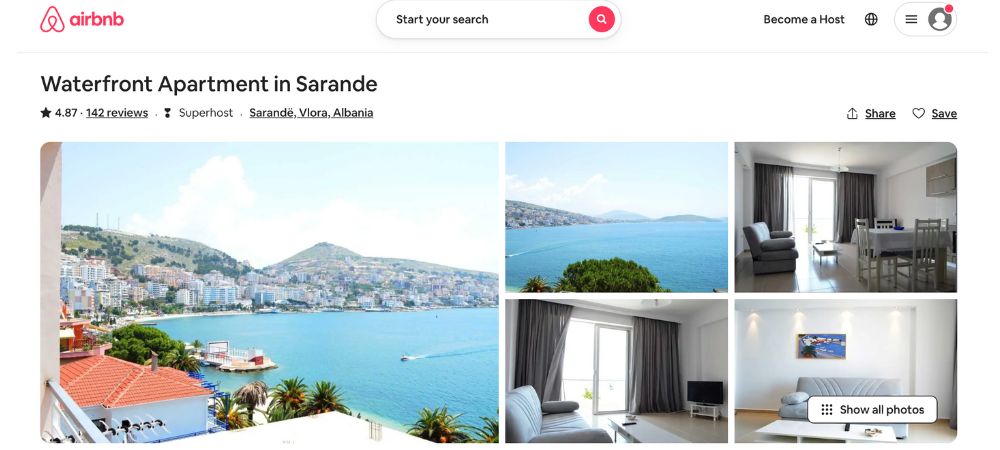 The decor is plain, but fresh and clean. What really sells this accommodation in Saranda is the spectacular views. Have a glass of wine on the balcony and watch the lights come on in the bay as the sun goes down.
There's a table and chairs both inside the flat, and on the balcony, so if you're visiting Saranda as a digital nomad, you'll have a great space to work from. Click here to learn more about this Airbnb Saranda.
☞ SEE ALSO: 10 Best Airbnbs in Tirana, Albania
2. Amazing Beach View Apartment in Popular Area
This one-bed apartment is one of the most spacious Airbnbs in Saranda. It's located in Rruga Butrinti, or "New Saranda" as the locals call it.
It's been refurbished to a modern standard, which is often hard to come by in Saranda. Shades of blue and green have been used to reflect the beautiful natural surroundings of the city.
For digital nomads, and those staying long-term, this apartment is a great option for accommodation in Saranda as it's bright and airy, with both an indoor and outdoor table to work from. The views of the Saranda coast and of Corfu across the water are astounding.
Perks include free and secure parking in a multi-story car park, rather than on-street parking, which is a real advantage if you're hiring a car during your stay. Click here to learn more about this beach view apartment in Saranda.
☞ SEE ALSO: 15 Best Things To Do in Tirana
3. Industrial Style Apartment Perfect for a Short Stay
This compact Airbnb in Saranda has everything you need for a stay on the Albanian Riviera.
The black metal and dark wood decor give this apartment a New York vibe. The bedroom comes with a double bed and gorgeous views of the ocean. Off the bedroom and behind a small screen, is a kitchen and lounge area which offers everything you need for a short stay.
The bathroom is beautifully finished with a luxurious walk-in shower to rinse the salt out of your hair. This apartment is finished with a lovely balcony equipped with a small table and chairs to enjoy a morning coffee, or an evening drink.
This Saranda accommodation is 50 meters from the beach and is located just away from the main strip. So, you'll be in easy reach of the bars and restaurants, but able to retire back to this apartment for a good night's rest.
You'll also get free parking which is a nice addition as parking can be tricky during the high season in Saranda. Check out this industrial-style apartment on Airbnb here.
4. Modern Studio Apartment with Sociable Patio (One of the Best Airbnbs in Saranda!)
This apartment is one of the best apartments in Saranda for something a little different.
I love this Airbnb in Saranda for its private patio as well as a communal rooftop terrace. It's a great option for accommodation in Saranda if you like to be sociable, as you get that hotel and hostel vibe.
The apartment is pristine and modern. Although it's a studio and is quite compact, it has everything you need. It even has a breakfast bar for two where you could easily perch a laptop if needed.
It's in an excellent location as it's close to the main action but far away enough to get a good, quiet night's sleep. Read more about this lovely studio apartment in Saranda here.
5. Sea View Apartment Close to the Saranda Port
Perfectly located between the port and the beach, this lovely Airbnb in Saranda has two bedrooms and fantastic views over the ocean.
It comes with one double bedroom and one twin room; perfect for families or groups. The living space has a large L-shaped sofa and a huge TV creating the perfect place to chill out after a long day at the beach.
The balcony has a good-sized table for dining with views over the beach. The kitchen is fully stocked with an oven, fridge freezer, and a toaster. The bathroom comes complete with a shower over a bath, as well as a washing machine.
The location is just as good as the apartment. This Airbnb in Saranda is 150 meters from one of the best beaches in Saranda, and only 400 meters from the center.
It's also a five-minute walk to the ferry port – perfect if you're coming from, or going to Corfu, Greece. Read more about this cool sea view Airbnb in Saranda here.
6. Seafront Boutique Airbnb in Saranda
This gorgeous Saranda Airbnb is one of my favorites. From its incredible views over the entire bay of Saranda, to its beautifully finished interior. In my opinion, it's one of the best places to stay in Saranda.
The living room has a plush L-shaped sofa with a large wall-mounted TV for relaxed evenings. There's also a dining room table for eating or working, and access to a spacious balcony with lovely views out to sea.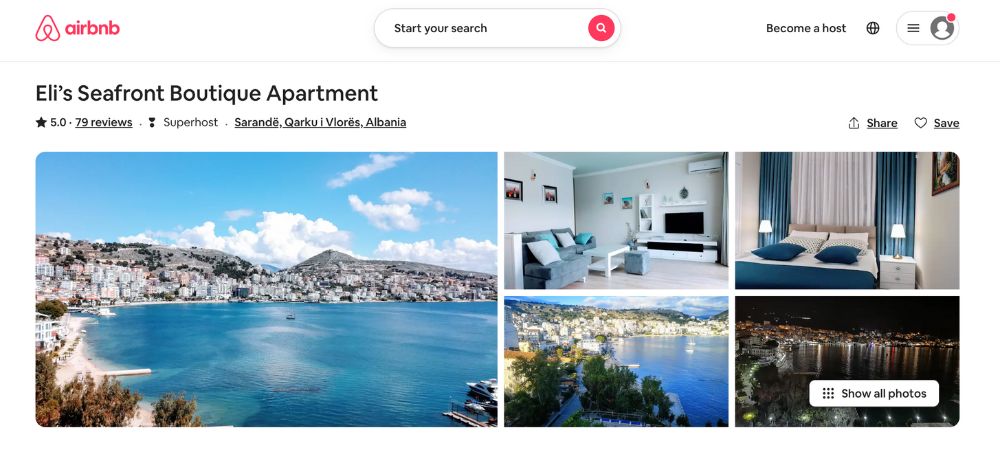 The kitchen is high spec, modern, and even has a dishwasher. The bedroom comes complete with a double bed, plenty of storage, and a cosy feel for a good night's sleep.
The apartment overlooks the start of the promenade, so you'll be in a good spot for a daytime dip in the sea, or an evening walk along the front. Read more about this fantastic seafront boutique apartment here.
7. Relaxing Saranda Airbnb to Enjoy the Sun
This apartment is particularly special because of its spacious balcony. It's unusual to find a Saranda accommodation with a balcony so big, and this one comes with a couple of sun loungers and a table and chairs. Spend a day at the beach and return to enjoy an afternoon siesta.
This Airbnb in Saranda is a two-bed property with one double bed in the main bedroom, and two singles in the second bedroom. It's a nice option for families, particularly as there's a playground just around the corner.
The apartment is located in the north end of Rruga Butrinti neighbourhood. It's just a few minutes' walk to the center and promenade, and also within walking distance to the beach. Check out this Airbnb Saranda here.
8. Sunny Portside Apartment with Stunning Views (High Ratings)
This is one of the best Airbnbs in Saranda for access to the ferry port, making it an excellent option if you're traveling to or from Corfu.
This place has fabulous views right over the sea and along the length of Saranda beach, making those breakfast views even more spectacular.
This is one of the brightest apartments in Saranda as the living room is flooded with light from the main balcony. It comes complete with a fully equipped kitchen, a separate bedroom, and a sparkling clean bathroom.
The apartment is well furnished, includes a washing machine and an iron, and comes complete with local treats as a welcome gift on arrival. Read more about this highly rated, fantastic portside accommodation in Saranda here.
9. Wonderful Central Apartment with Bay Views
This one-bedroom, one-bathroom apartment has magnificent views of the Mediterranean, all the way across to Corfu.
It's conveniently located right in the center, but also right on the beach so you have the best of both worlds. You have a mini market just across the street, with bars, restaurants, and cafes all on your doorstep too.
It's located in the center of the Qender neighbourhood. Exploring the Kodra neighbourhood to the east, and Rruga Butrinti neighbourhood to the west, is convenient by foot from here. Learn more about this great central Airbnb in Saranda here.
10. Bright and Sunny Sea View Apartment
This one-bed apartment is located in the Rruga Butrinti and is 50 meters from the beach, and 650 meters from the town center. It's a modern, air-conditioned apartment with free parking in a private garage.
It's a practical option of accommodation in Saranda, equipped with full cooking facilities and a washing machine.
This Airbnb Saranda benefits from an open-plan living area, huge windows that soak the space with light, and a generous balcony with perfect sea views. This apartment is a good option for long-term or holiday stays.
There's a bus stop very close to the apartment which will take you to some of the best attractions in Albania. These include Ksamil and Butrint National Park which are just 12 and 15 kilometers away. Click here to read more about this beautiful Saranda accommodation.
Best Areas to Stay in Saranda (Neighbourhoods)
Here's a breakdown of the best areas to stay in Saranda.
Qender – Best Central Location to be in Amongst the Action
Qender means center, and this is where you'll find lots of clothes shops, beauty salons, restaurants, cafes, food stores, and other practical amenities. It's a nice option for travellers who want to explore the city and also spend time on the beach.
It has some fun cocktail bars which overlook Saranda beach. Some of my favourites are Tipsy Bar, No Name Bar and Jamaica Bar.
The restaurants along the promenade serve local food and fresh seafood. My favorite restaurant in Saranda is Haxhi, a family-run restaurant with tasty seafood. Limani offers amazing treats – you have to try the tri leche cake!
What I love about Qender is that you're close to everything you need, and within walking distance of the public beach where you can swim and relax. It's also close to the bus stations making it a good location for any tours or onward journeys.
Here you'll find Saranda's main historical attractions, including the ruins of an ancient synagogue that dates back to the 5th century BC.
It's a little more built up, and the buildings are a little older and more traditional than you'll find in the Rruga Butrinti neighborhood. However, you'll still find a selection of places to stay in Saranda in this area.
When choosing the best Airbnb in Saranda in the Qender neighborhood, I'd recommend the wonderful central apartment.
Kodra – The Best Place to Stay for Budget Travellers
I love Kodrra. It's slightly away from the town center, but it's where you'll find the most authentic Albanian experience nestled within the tourist amenities. A little cul-de-sac off the main road, it's one of the quietest and most relaxing places to stay in Saranda. 
Whilst the vibe is certainly more low-key, and quieter than Qender or Rruga Butrinti, you'll still find lots of tourist amenities. Expect hotels, beaches – try Shemu Beach Bar – and lots of options for food including some excellent local spots. One of my favorites was Taverna Laberia. 
One of the advantages of staying in Kodrra is the proximity to the port. Here you can buy a ticket and head on over to Corfu. The journey takes 45 minutes on the fast ferry, or 1.5 hours on the slow ferry. Remember to take your passport with you as you'll need to exit Albania and enter Greece.
Try the sunny portside apartment for Saranda accommodation in Kodra.
Rruga Butrinti – The Best Place to Stay for Beach Clubs
Rruga Butrinti is located to the east of the town center. It roughly runs from Haxhi, all the way to Mango Beach, along the road to Butrint National Park.
It's the most touristy area of Saranda. There are lots of hotels around here because it's on the way to Butrint and Ksamil. These are two tourist attractions in Albania that simply cannot be missed.
Butrint National Park is a UNESCO World Heritage Site and the most visited ancient site in Albania. Ksamil has some of the best beaches and beautiful water in the whole of the Albanian Riviera. You're in a great position to explore both of them from Rruga Butrinti.
In this neighborhood, you'll find the most modern and spacious Airbnbs in Saranda. Many of them have spectacular views due to their hillside location.
During the off-season, this area of Saranda is very quiet as most places are closed. However, during the summer, it's one of the most fun and lively places to stay in Saranda with lots of bars, clubs, and restaurants close by.
There are so many Airbnbs in Saranda in this area, but my pick would be the modern studio apartment for a short stay. For a long stay, I'd recommend this sea view apartment.
Now You Know The Best Saranda Airbnbs
The thing I most loved about Saranda is that everything is relatively close. No matter where you choose, you'll almost always be within walking distance of the other neighborhoods and the main attractions. 
There are so many Airbnbs in Saranda to choose from and it's important to get it right! I hope this blog has helped you choose an apartment that suits both you and your upcoming trip.
Like This Article? Pin it!