Fast internet. Impressive co-working spaces. Ample networking opportunities. Dumplings (obviously). Hong Kong has begun to embrace its entrepreneurial spirit and Digital Nomads are taking notice!
This is a city of unparalleled energy, and having been based here for the past six months, I have a really good grasp of what it's like living in Hong Kong.
Digital Nomads – if you're looking at Hong Kong for a long or short-term stay, I'll show you the tips and tricks to lower the cost during your time here and share all the exciting aspects of Hong Kong life.
In this Digital Nomad Guide to living in Hong Kong, we are going to look over everything about living here — accommodation, internet, food, entertainment, and networking opportunities.
I leave no stone unturned, so you can plant yourself in this city and confidently get some work done.
Here's my guide to living in Hong Kong as a digital nomad.
About Hong Kong
Asia's "World City" as it is commonly referred to is a semi-autonomous territory in the far south of China. The area comprises the large and mountainous New Territories, Hong Kong Island and the Outlying Islands.
The dazzling skyscrapers of the downtown area are centred around Victoria Harbour which separates Kowloon from Hong Kong Island by a thin stretch of water.
Hong Kong was a British Overseas Territory from 1841 to 1997, when it was handed back to China, and as such, the city has a unique blend of British and Chinese culture.
You can be shopping at Marks and Spencer one moment and enjoying Dim Sum in a small, lantern-filled back alley the next.
The territory is home to 24 national parks and you may be surprised at how wild and rugged these areas can be so close to the city.
In these parks, you can find a wide variety of flora and fauna from dolphins and turtles to monkeys, water buffalo and even giant Burmese pythons!
Hong Kong for Digital Nomads
Hong Kong is the perfect destination for digital nomads thanks to its modern infrastructure and world-record-breaking WiFi speeds.
Here you will find some of the best remote working spots in the world with views of the harbour, city skyline, mist-covered mountains and sea views.
The city is very easy to get around thanks to its compact size.
It has one of the best public transport systems in the world which includes a 10-line MTR (subway) system plus a network of buses, trams, taxis and ferries that can take you anywhere within the territory.
The world-famous Star Ferry crisscrosses the harbour between Kowloon and Hong Kong Island from 6am to 11pm every day and the crossing takes just 8 minutes and costs $3.20 HKD (that's about $0.40 US cents)!
In addition to the thousands of food stalls, cafes and restaurants, the FoodPanda app is a great way for people living in Hong Kong to have a range of cuisines delivered directly to their door.
Looking to keep fit as a digital nomad in Hong Kong? There's little excuse not to hit one of the hundreds of hiking/jogging trails around the city (Victoria Peak is perfect for joggers).
However, if you prefer to hit the weights bench, then the city's vast array of gyms can keep you toned.
Is Hong Kong Safe?
Hong Kong is a safe city, but as with anywhere, there are some things to be aware of.
Crime
Hong Kong is regarded as one of the safest cities in the world thanks to its low crime levels compared to western cities like London and New York.
For example, the Economist rated Hong Kong the sixth safest place in the Asia-Pacific region. You will not feel unsafe walking around the city at night, but of course take the same precautions you would anywhere else.
However, although violent crime is extremely rare, Hong Kong has seen some civil unrest over the past two years thanks to China's controversial National Security Law.
Some residents feel that the city is losing its autonomy as Beijing seems to be ignoring the "One Country, Two Systems" ethos that the territory has previously enjoyed.
Wildlife
One of the most prevalent dangers, especially to hikers or people living in smaller villages (sometimes even in the city itself) are Hong Kong's snakes.
Out of the 40 species that call the territory home, nine of them can cause potentially lethal bites.
The beautiful but deadly bamboo pit viper has been spotted on the trail around Victoria Peak, and a cursory glance over the Hong Kong Snake ID Facebook page will show that the city's kraits, cobras and vipers can be found almost anywhere.
Hong Kong is located in the tropics, so the coastal waters around the city are home to some dangerous sea life. As with the snakes, and indeed any wildlife, if you leave them alone, they will usually return the favour!
Admire from afar, and never pick any creatures up (for their benefit as much as your own).
So, providing you stay away from any protests, don't pick up any snakes and swim at the city's beaches with lifeguards and nets, you can enjoy all that this wonderful place has to offer knowing you are in one of the safest places in the world!
The Best Areas to Live in Hong Kong
Kowloon makes an excellent option for digital nomads living in Hong Kong. Its close proximity to the city (8 minutes by ferry), MTR stations, shops, cafes, bars and restaurants mean you have all you need on your doorstep.
One thing to be aware of is that space comes at a premium in Hong Kong.
Your money won't go as far as it would in other cities and the sizes of rooms and apartments may be a lot smaller than what you are used to. But with so much to do on your doorstep, this should not matter too much.
Tsim Sha Tsui
The area around Tsim Sha Tsui MTR station (known locally as "TST") is a great place for digital nomads in Hong Kong.
The Star Ferry is a five-minute walk away, it is home to the large i-Square shopping centre (and rooftop restaurant), gyms, bakeries, laundrettes and there is a thriving bar scene along Ashley Road.
Jordan
Just one stop farther north from TST and as a result slightly cheaper accommodation, Jordan is another great place to live in Hong Kong. It offers all the same amenities as Tsim Sha Tsui and benefits from its own MTR station.
Tsuen Wan
Tsuen Wan in the New Territories is around 12km north of Hong Kong Island but is a great option for those wanting better access to the mountains and trails. The town is packed full of everything you need and has great transport links to the city.
How to Find Apartments in Hong Kong
No Digital Nomad guide to living in Hong Kong would be complete unless we had a good chat about lodging.
In Hong Kong, co-working, food, transport, and sights can be done cheaply… but there is no way around the fact that you are going to pay a hefty price for a place to stay.
With an effective strategy, you can feel confident that you're getting a fair price. Your accommodation strategy for HK should be based on the duration of your stay.
A Digital Nomad looking to stay for three days will have very different options than a Digital Nomad looking to stay for three months.
Short Term Stay
For Digital Nomads on a short-term stay (less than 3 weeks) the best option is going to be jumping around via Couchsurfing, staying in hostels or hotels, or renting an apartment through Airbnb.
Couchsurfing
As of writing this, there are nearly 30,000 registered Couchsurfing hosts in HK.
If Couchsurfing is your thing, finding a host should be easy. This is (obviously) your cheapest lodging option, and is highly recommended if you are new to HK. Couch-surf for a few days, save some money, meet some locals, and get your bearings.
Hotels
While the Hong Kong hostel scene is still well behind its Asian counterparts, they are playing catch up and making drastic changes.
Grimy Chungking Mansion used to be the only place travellers could find cheap-ish lodging. Now a quick look at Booking.com tells us a different story.
Tokyo-esque hostels and hotels (modern, clean, spacious rooms with fast wifi) are popping up all over the city, many with work spaces as well.
Add in the fact that you get free water, a nice clean (shared) kitchen, and a good location, staying in a hotel or hostel for a couple of weeks may not be so bad — especially if you are a solo digital nomad.
Airbnb
Airbnbs used to be much cheaper in Hong Kong, but the prices are steadily rising. The cheapest rooms can be found in the range of $30-$50 USD a night.
Sometimes the place is shared with other flatmates, sometimes you can get a private studio. Typically, the space will be very, very small.
If you jump up to the range of $75-$100 USD a night, you will have some incredible options, which would typically include a work-friendly station, be modern and bright, and include all amenities (kitchen).
Mid to Long Term Stay
If you are looking to stay in Hong Kong for longer than a month, you should be looking into renting an apartment. Booking.com apartments are the easiest route, but not necessarily the most economical.
Booking.com
One of the best places to find apartments in the city thanks to the dedicated Hong Kong page. You can check the handy reviews to make sure the place meets your needs, and there are some excellent discounts (up to 50%) for long-term stays.
Most of the apartments around the $800 – $1000 USD/month are legitimate options. Booking.com prices are on average $200-300 more a month than you would pay to rent an apartment through local means.
But, renting an apartment through local listings is not without its challenges.
With Booking.com there's the ease of use and booking, no security deposit necessary, you can pay with credit card, properties are reviewed and typically, there aren't any scams.
Local Listings
As with any major city, there are a plethora of websites that can connect you to real estate agents, aspiring renters, and flats looking for flatmates. Often such listings will require year-long leases, but there are plenty of short-term deals to be found.
HongKongAsiaXpat, Squarefoot, and Geoexpat are good places to look if you're interested in renting out an entire apartment.
Truth be told, it's difficult when it comes to local listings as they can vary by the day. I found my apartment through friends. $5600 HKD plus bills ($719 USD) a month to live in Cheung Sha Wan.
First month's rent + security deposit for a 4-month lease which was then extended to month to month.
You will find many options similar to what I found. It will come down to personal preference and how actively you are searching. But if you don't mind putting in the time, it could save you upwards of $200 USD a month.
Wifi in Hong Kong
For Digital Nomads, the line between sanity and insanity is drawn by your wifi connection. Hong Kong internet is fast. Super fast.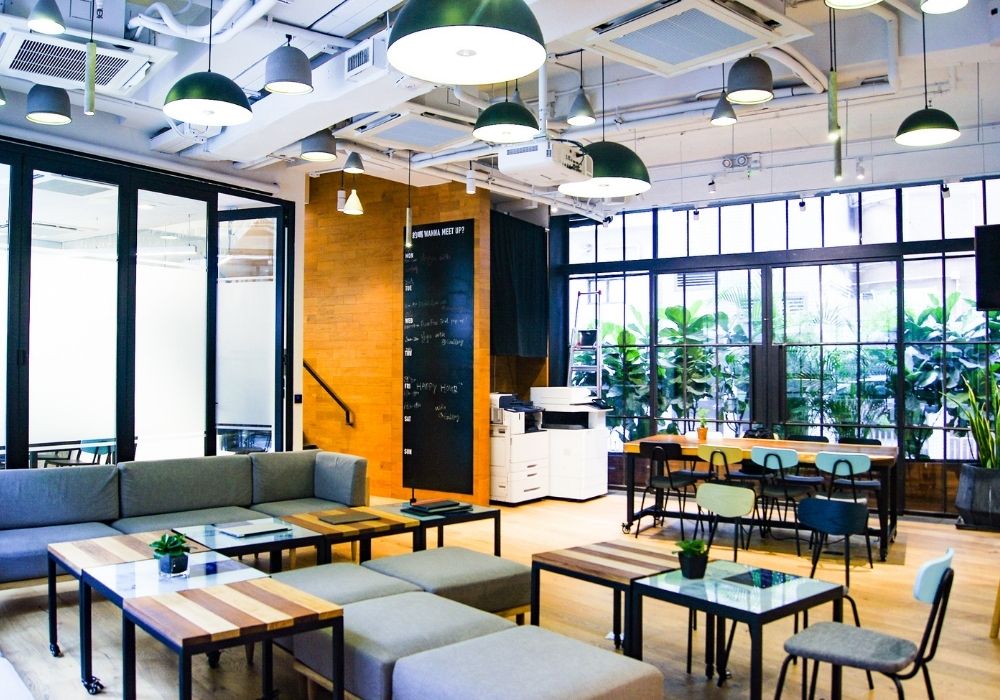 One of the best things about living in Hong Kong as an expat is the super-fast, city-wide WiFi. In January 2021 the city broke the record for fastest WiFi speed at a staggering 226.8 Mbps!
There is free WiFi at MTR stations, the Star Ferry terminals, on buses, ferries and in public spaces. There is usually a limit of two connections per day and 30 minutes per connection (though this does vary depending on where you are in the city).
I would strongly recommend using a VPN when connecting to the internet in Hong Kong.
This not only protects your private data like email accounts and passwords but enables you to unblock websites banned by the Chinese government — which given the way things are going, is very likely.
Nord VPN is a good option.
There's a cafe culture in Hong Kong, and in many of them you will find people on their laptops, but working 9 hours in a coffee shop isn't really a thing here. This is one of the world's most densely populated cities. Space is extremely limited and extremely expensive.
Coffee shops will have time limits for Wifi (some don't even offer it) and typically they want you in and out.
Having said that, there are coffee shop options, you just gotta know where to find them (check out this great list from Foursquare). Outside of coffee shops, you need to either work from where you are staying or pay for a Co-Working space.
Co-Working Spaces in Hong Kong
With dozens of options, and more being built by the month — finding Co-working spaces in Hong Kong is easy! The hard part is finding one that isn't expensive or doesn't require a membership.
Hong Kong Island is the financial capital of HK and has the highest concentration of co-working spaces. But with financial capital influence comes financial capital prices.
Most of these co-working spaces are gorgeous and have lots of amenities… but they aren't cheap. Kowloon provides cheaper alternatives to HK Island, my favorite being Ooosh (where I'm currently writing this article).
Co-Working at Ooosh
The internet is fast. The coffee is free. The prices are fair.
While you may find other Digital Nomads, Ooosh is a mostly local spot, so it might not provide the best networking opportunities.
But if you are looking for something professional and affordable, it's perfect for a temporary office. Below are some of the best places for digital nomads to work in Hong Kong:
Cost of Living in Hong Kong
Living in Hong Kong is an immensely rewarding experience, however, it can become quite expensive if you don't watch your spending.
The cost of living in Hong Kong is high compared to other cities in Asia, but that's to be expected given its status as a financial capital of the world.
Digital nomads in Hong Kong should budget around $20,000 HKD per month ($2,570 USD).
The goals of many digital nomads are to lower the cost of travel and to create income to sustain travels (we at NomadsNation refer to this as The Two Nomad Commandments).
I spend around $2,000 USD per month living in Hong Kong. But, you could spend less or much more than that. Have a look at these easy online jobs to supplement your current work if you need some extra cash.
Room Costs in Hong Kong
Due to the limited space, many people rent a room in a shared apartment complex. This will cost anywhere from $3,000 HKD ($385) per month for a windowless box-room to $10,000 HKD ($1,285) for something a little more comfortable.
Apartment Costs in Hong Kong
The average monthly rental cost for a one-bedroom apartment in Hong Kong is $12,000 to $20,000 HKD ($1,540 – 2,570 USD).
Food Costs in Hong Kong
One of the best things about living in Hong Kong as an expat is the food scene.
You can pick up a breakfast bun on the street for a few cents, or you can blow a month's salary on Michelin-starred dining, and there is plenty in between.
If you want to eat at "western" restaurants then expect to pay upwards of $150 HKD ($19 USD) per meal. If you want to try out many of the Chinese places then you can get a bowl of noodles for under $50 HKD ($6.50 USD).
Given Hong Kong's year-round good weather and the number of parks and beaches, picnicking is a great option and will save you money on meals out.
A pint of craft beer in a pub costs around $80 HKD ($10.30 USD). Expect to pay around $40 ($5) in the supermarket. A half-decent bottle of wine can be had for under $100 HKD ($12.85 USD), and two litres of the cheapest bottled water costs $13 HKD ($1.70).
Transport Costs in Hong Kong
Any digital nomad in Hong Kong will want to pick up an Octopus Card as the first thing you do.
Similar to the Oyster Card in London, Octopus lets you pay for the city's MTR trains, buses, trams and ferries at a reduced rate. The card can also be used to pay for groceries at places like Marks and Spencer and 7-11.
Transport in Hong Kong won't break the bank and is cheaper than in similar cities in the west.
Most bus journeys don't exceed $15 HKD ($2 USD) and the ferries are surprisingly cheap. A trip to Lantau Island (one hour) will cost from just $16.60 HKD ($2.15).
Taxi fares start at $20 HKD ($2.60 USD) and then go up by $1.70 every 200 metres, so they are best only for the shortest of trips.
Networking
If you are a Digital Nomad in Hong Kong and you like to network or have been thinking about networking, now is the time to take advantage!
Hong Kong loves networking and makes it easy. There are ample networking opportunities, so many that it's difficult to know where to begin.
First off – follow your interests! Check Meetup Hong Kong and Eventbrite Hong Kong for groups and events that are related to what you're into.
Coding, start-ups, entrepreneurs, vegans, films, puppetry! Whatever you are into, HK most likely has a networking group.
Another option is to put on a tie and check out some business networking functions with your country's chamber, or check out a Young Professional Group.
A bit on the stuffier side, but it will put you into contact with a new group of people and thinkers. If you are new to networking, you'll benefit in Hong Kong by being very proactive. Networking is as effective as you make it.
Making goals is a good idea. Focus on making two really good connections, or buying one interesting person a drink, or setting up a lunch appointment.
Another networking hack is to focus on the host. Arrive early at networking events and get to know the organizer/host. Let them know you're new in town and they'll likely give you direct introductions to other people as they arrive.
SIM Cards in Hong Kong
In the Chungking Mansions, one can get SIM cards super easily and super cheaply. After walking into the main entrance, just turn right and you will be bombarded by Indian and Bangladeshi men yelling "SIM card? SIM card?!?"
I bought a Mobile China SIM card for $150 HK ($19.34) for the card and $78 HK ($10 USD) a month for unlimited 4G data.
If you need a SIM card for international calls and texts there are other options, but it's a good price for the data and it's super fast.
Barter with the salesman. They might try to charge you more (you might even be able to get it for less), and if it's not working, walk away and find a different vendor. There are dozens of other options. If heading to the "mansion" isn't your thing, click here for other options.
Transportation in Hong Kong
Hong Kong has one of the greatest public transportation systems on the planet (some even say it's the best). Between the subway (MTR) and buses, you can get anywhere, and Uber and affordable cabs give you a convenient third option.
Octopus Card
When arriving in Hong Kong, the first thing you need to do is get yourself an Octopus card. It's $39 HKD ($5 USD) without any stored value.
This card does not only give you access to the entirety of the city's public transit, but is also an accepted form of payment at convenience stores, restaurants, and thousands of things in between.
The city is becoming increasingly Octopus friendly, and I'm finding an increasing number of days where I never need to use cash for a single purchase. Octopus rules Hong Kong. You'll love it.
MTR
Clean. Safe. Beyond Efficient. On par with Tokyo, Seoul, and Singapore, Hong Kong's MTR is state of the art.
The MTR single-handedly can get you almost everywhere you need to go, and it's only getting better as they are investing 7 billion dollars into expanding and replacing outdated trains.
The heart of the city is connected by this web of underground trains, which means you'll never have to walk more than 10 minutes (+ time on train) to get anywhere.
Outside of Kowloon and Central, it might prove to be more challenging to find a direct path via subway, but that's what the buses are for.
Buses
Buses are a bit more challenging to get the hang of, but once you do you might completely leave the MTR behind. Compared to the simple-to-navigate-MTR, the buses can come across as intimidating — but you need not be afraid!
With a minimal amount of research on Google Maps, you'll easily be able to conquer Hong Kong bus life.
After six months of crowded MTR rides (nowhere near as lawless as mainland China's, but still hectic) I'm smitten to take buses any chance I get.
There are two types of buses in HK – regular buses and minibusses. Regular buses are the big double-deckers. They are spacious, cheap, and easy to navigate. Just use Google maps to find the best route.
The mini-buses are a bit different. Mini-bus drivers are entrepreneurs that have bought the buses outright, maintain them, and have the ability to work different routes. Their buses are their business!
Mini-buses. Cheap and available but beware – the drivers go really fast!
Because of this entrepreneurial spirit, Hong Kong's mini-buses operate more like taxi services. There are established routes, but the drivers will deviate from the path if you need to be dropped off somewhere on the way.
As cool as that is, unless you speak Cantonese, there is little chance you'll be able to take advantage of this service.
But it's good to know so you don't have a heart attack when your van is deviating from the route Google Maps told you it would take. Don't worry, you'll get to where you need to go, just after a brief detour… or five.
Cabs
Hong Kong taxis are phenomenal alternatives to public transit, and are relatively cheap. The first two kilometers will run you $22 HKD ($2.84 USD), and the fare jumps $1.60 HKD ($.21 USD) every 200 meters.
I recommend taking cabs when needed, especially in groups as there is no surcharge for additional passengers. The challenge with cabs (similar to minibusses) is that most of the drivers are not fluent in English, and are exponentially less fluent in English the further from Central you are.
An easy fix? Google Translate.
Uber
Uber is technically available in Hong Kong, but has received lots of pushback from the taxi companies.
Where and What to Eat
Digital Nomads – get excited! When it comes to food, Hong Kong is amazing.
Local Food and Street Eats
Local cuisine is cheap and tasty and Hong Kong is the epitome of an international city, with cuisines from all over the world.
You can eat authentic Indian, Vietnamese, Malaysian, Japanese, Indonesian, and Thai food for super cheap, and quality Western food for a higher price.
You can consistently find delicious food from $35 HKD ($4.50 USD) to $50 HK ($6.45 USD). Pork dumplings purchased on the side of the road are so delicious and only cost $8 HK ($1 USD) for all three.
Cheap Dim Sum is ubiquitous in Hong Kong. Four shrimp dumplings only cost $24 HK ($3 USD). Sit-down restaurants can be just as affordable as street food. The most likely options are going to be soupy-noodle dishes.
As ubiquitous as Dim Sum is the immortal Beef Noodle. There's a beef noodle stand on every corner in Hong Kong, and these dishes will rarely run you over $5 USD.
While one can easily find expensive restaurants in HK, there's no need to ever spend more than $80 HKD ($10.31 USD) on a meal. I will from time to time, but it will rarely be necessary.
Western Food
With HK being a major city, you can absolutely find food that is more familiar but expect to pay closer to the $20 USD mark.
Good burgers can be found around HK and if you are craving a slice, Paisano's Pizzeria has three locations and will serve you a NY-style piece of pizza bigger than your head for around $50 HKD ($6.45 USD).
Produce
It's Asia. Cooking doesn't really save you much money. Fruits and veggies are very affordable, and can be purchased on basically any corner, but meat is a bit pricier and will negate any financial edge you were hoping to gain.
You'll see a million street corners that look like this in HK
Having said that, Hong Kong is not always a very vegetable-friendly dining environment. Veggies are often a rarity in restaurants. They love their meat and carbs. Access to a kitchen will help supplement your body's nutritional needs.
Health and Fitness
There are many gyms, yoga studios, etc. for those of you who want to keep fit. Here's a list of the best gyms, Crossfit is also available.
Gyms aside, Hong Kong has a gorgeous system of parks you can utilize for free! Pull-up bars, dip bars, monkey bars – it's not a full gym, but it's free and can be sufficient. If running is more of your thing, this is a great resource for the best runs and trails.
Activities and Things to Do in Hong Kong
There is plenty to keep digital nomads in Hong Kong occupied when not working. Below are some of the highlights and things to do in the city and surrounding areas.
Sights
Victoria Harbour – take the Star Ferry for sublime views of Hong Kong's skyline
Victoria Peak and the Peak Tram – take a ride on the famous funicular to the highest point of the city for breathtaking views
The Big Buddha and Po Lin Monastery – marvel at this giant statue of the Buddha on Lantau Island
Cheung Chau Island – a picturesque island with a couple of small beaches and old fishing village
The Dragon's Back – an easy but very scenic hiking trail on the south of Hong Kong Island
The MacLehose Trail – for hardcore hikers; this trail in the New Territories leads to some beautiful secluded beaches far from the crowds
Bars
The bar scene in Hong Kong is an absolute blast. The insanity of LKF, the sophistication of Central, the jams of Wan Chai, or (my personal favorite) the more local vibe of TST.
If you like to hit the town, HK's got you covered. It's fun… it just isn't cheap. Beers will start around $50 HK ($6.45 USD) and cocktails around $80 HK ($10.31 USD), and will obviously increase in price as you increase in quality.
Drinking on the street is legal in Hong Kong and it's completely acceptable to grab a few beers from 7/11 and enjoy them in between bars. Don't camp outside of a bar only drinking beers purchased from 7/11, but feel free to grab an in-betweener beer. Or a bottle of wine.
Markets
If markets are your thing, Hong Kong has you covered. Goldfish Market. Ladies Market. Temple Street Market. Wan Chai Street Market. They're a fun way to see the culture, wander aimlessly, people watch, and of course, haggle.
Hiking
Arguably the best part about Hong Kong is having access to one of the largest cities in the world, yet only being 20-30 minutes away from gorgeous mountains, peaks and hills. HK takes their surrounding nature very seriously, protecting 75% of the available land (hence why they build up!).
The hikes range anywhere from this-is-easy! to am-I-dying? But regardless of the difficulty, you will be astonished that in such a short time, you can completely remove yourself from the city.
It's a great (and sometimes necessary) way to recharge the batteries and get away from the chaos of downtown. This is a good resource to get you started on some of HK's best hikes.
Beaches
Surprise, Hong Kong has gorgeous beaches! They are a bit more of a hike to get to (usually an hour plus) but when you get there you will be shocked as to just how lovely they are.
Shek O, Tai Long Wan, and Lamma Island beaches are more popular. Lots of people barbecuing, playing volleyball and drinking.
If you want something a bit more off the path, then the stunning Tai Long Wan requires a challenging hour-long hike but you'll have it to yourself on weekdays.
Or check out Sai Wan beach. It's nice and big, and can get you within striking distance of the Sheung Luk stream which is highly recommended!
Macau
If you aren't familiar with Macau, think Vegas, drop it in China, then add 400 years of Portuguese colonial influence. It's a heck of a combination. Just a short ferry ride away, Macau is a very unique country, that is also the gambling capital of the planet.
In 2013 Macau recorded $45 billion USD profit. Compare that to Vegas which claimed $6 billion USD. Not even close. But, even if you aren't into gambling (like myself) Macau offers enough culturally and historically for a day or two of really interesting sights. Highly recommended.
Pros and Cons of Living in Hong Kong as a Digital Nomad
Hong Kong is an excellent destination for digital nomads, but like everywhere, there are pros and cons. Below I'll list some of the best, and not-so-good reasons for living in Hong Kong.
Pros of Living in Hong Kong as a Digital Nomad
Hong Kong is a vibrant, fast-paced world-city with endless opportunities for work and play
The city is clean with many green spaces
It has one of the fastest WiFi networks in the world
There are many great beaches very close to the city
There are many hiking trails of all difficulty levels close to the city
The food in Hong Kong is world-class with restaurants on every street
The temperature rarely drops below 10 Celsius (50 F)
The city is very easy to navigate
Transport is cheap compared to other "world cities"
Very high quality of living
Cons of Living in Hong Kong as a Digital Nomad
Accommodation is small and expensive
Summers can be very wet and there are occasional severe monsoons
Some of the wildlife might ruin your day
Hong Kong is not as free as it has been in the past
The police seem more militant than in years gone by
What is the Visa situation in Hong Kong?
Citizens of 147 countries do not need a visa to enter Hong Kong. Duration of stay ranges from 7 days (East Timor) to 180 days (UK). Citizens of 85 countries including Australia, Canada, the EU and the USA are entitled to visa free entry for up to 90 days.
Weather in Hong Kong
Hong Kong has a sub-tropical climate with four seasons. Winter is pleasantly warm and you can expect bright blue skies and temperatures between 15 to 20 degrees Celsius (59 to 68 F).
In spring the temperatures rise and with it comes some mist, fog and drizzle.
The summer runs from May to August and temperatures are in the low 30s Celsius (86 F) with high humidity and frequent thundery showers.
This is also monsoon season so pay attention to local media for weather warnings. During stronger monsoons, the city's ferry services will likely not run.
Autumn (fall) sees the rains subside and the pleasant weather return, with temperatures in the high 20s Celsius (80 F).
Conclusion
Living and working in Hong Kong as a digital nomad allows you to indulge in the outdoors and the amenities that a huge city offers, while also being connected to the rest of the world, and being able to indulge in some of the finest foods in Asia.
Granted, the city can be expensive, but it doesn't have to be if you are careful, and there is so much on offer that costs little or nothing.
Want to find a deserted island or go for a hike in the jungle? You can do both within an hour of leaving the skyscrapers behind, which still amazes me a little.
I hope you found this guide to living in Hong Kong as a digital nomad useful, if so please give it a share! Hope to see you here soon.
Like This Article? Pin it!