Korean food doesn't have as high of an international profile as some other national cuisines, so once you arrive in South Korea, you will have plenty of new food to try.
Fortunately, the food price in Korea is exceptionally low (and the food is delicious), making the cost of traveling in South Korea a pretty good deal.
Here are a few tips to keep your food budget low, delicacies to look out for, and things to keep in mind while you're travelling in South Korea.
1. What You See (on the price tag) is What You Pay
In South Korea, taxes are already included in the price of everything you purchase. There are no tips or delivery fees, regardless of where and how you acquire your meal.
From street food vendors to major restaurants, the price of food in Korea is exactly what it says on the bill. If the price listed for your food is 10,000 won (₩), a 10,000₩ bill will cover the whole cost.
This is especially important if you're going to remain in the country for a while; when you're in an urban area, every place is going to deliver – even McDonald's.
As a result, you'll see most prices rounded off to the nearest 1,000 won – the smallest paper bill, roughly equivalent to a U.S. Dollar (or, more specifically, 90 cents at the time of writing). In other words, making change in Korea is really easy!
2. Eat Lots of Local Street Food (and keep the price of food in Korea at a low)
Some of the best and most unique foods you'll stumble across in Korea will be from street vendors, and they're often sold at very reasonable prices.
Look out for tteokbokki (떡볶이), a type of spongy rice cake boiled with fish in a spicy red (gochujang) sauce. It's a common snack food in Korea, and can often be bought by the cup for 2-3,000₩ ($1.75 – $2.60).
Egg bread (think sweet cornbread with a fried egg baked inside) and hodduk, a donut-like confection filled with chopped peanuts and honey, are common finds.
Perfect for travelers who have a sweet tooth, these treats will typically run you about 1,000₩ ($0.87) — these street snacks definitely keep your food budget at a low.
Other things to look for are foods on sticks or skewers.
You can get fried fish cake, corn dogs encrusted with actual French fries, and even whole, fried squid. The fried squid tends to be a little more expensive, often priced at around 7-8,000₩ ($6 – $7), but it's a huge portion that you can split with a couple of friends.
3. Brace For Spicy Food – Even Where You Least Expect It
Korean food is spicy — and Koreans are proud of it. Most foods you'll get will come in different levels of spiciness, and there is a widespread assumption that foreigners are extra sensitive to spicy food. For this reason, salespeople and wait staff will often know enough English (or gestures) to ask how spicy you want your food.
If you love spicy food, then you'll fit right in!
Oftentimes, the locals will be impressed if you can tolerate the heat, and you'll have plenty of opportunities to show off. After all, you can hardly walk a block in Seoul without seeing a place advertising a food surrounded by flames.
If you can't handle spicy food, there are still plenty of things for you to try, but you need to be vigilant; sometimes a spicy flavour will creep in places you'd least expect, like in fried chicken or pasta.
While it may not be what South Koreans deem spicy, there might still be some undeniable heat there. It's totally feasible for you to get a plate of spaghetti that's too spicy for you to finish!
☞ Can't decide on a good neighbourhood in Seoul? Check out Where To Stay in Seoul
4. Gimbap is a Miracle Food
It doesn't look like much — kind of like a huge sushi roll stuffed with items other than fish. But gimbap (or kimbap, 김밥), is a very unique dish, and you'll have a hard time finding another food with the same combination of nutrition, a low price, and pure deliciousness.
A roll generally costs about 2-4,000₩ ($1.75 – $3.50), depending on the ingredients, but it eats like a full meal.
Gimbap is the same concept as sushi, with a seaweed wrapper (gim) and rice (bap) surrounding several other ingredients. But, unlike sushi, those ingredients can be anything — not just seafood. Most rolls of gimbap come pre-sliced and include between 8-12 pieces.
Some common ingredients include carrots, spinach, pickled radish, cucumber, egg, and some sort of meat. This may be beef, ham, sausage, crab sticks, or even Spam! (Incidentally, Spam is frequently eaten in Korea and is actually something of a delicacy.)
There are restaurants specializing in gimbap, but you can also find them at stalls and your average convenience store.
5. Don't Snub Convenience Store Dishes
To Westerners, the concept of buying sushi from 7-Eleven is probably deeply unsettling. Don't assume Korean convenience stores are the same, however. Freshly prepared food is commonplace in most of these stores. While it isn't exactly restaurant quality, it will be tasty and will help keep your food costs in Korea at a low.
If you're just looking for a filling snack, you can usually purchase gimbap or rice balls for a couple thousand won. But if you're looking for a full, multi-course meal, you can often find a whole boxed-lunch set for just 4-6,000₩ ($3.30 – $5). While it won't be a three-star meal, it will taste better than you'd expect for the price you pay.
Speaking of cheap food you can buy in a convenience store, if you're into the instant noodle scene, you may be overwhelmed by the selection here. Entire aisles of "ramyun" in countless flavors can be found in any store, and usually for between 1-2,000₩ ($0.87 – $1.75) each.
While that's more than you might expect to pay for instant noodles in the U.S., the flavouring is also much more sophisticated.
Instead of getting one flavour packet, you might get a seasoning packet, a packet of sauce, and some oil. As a result, the flavour is very strong and can emulate a lot of different noodle dishes. Keep in mind that while it tastes good, it's still instant, so temper your expectations.
6. Western Food is Available, But Expensive
Generally speaking, every kind of Western food can be found in Korea if you're really craving it. Hamburgers, pasta, pizza, fried chicken, and even steaks have made their way into Korean culinary culture.
However, if you're on a budget, Western food generally isn't your best bet.
Pasta dishes at a restaurant can go upwards of 20,000₩ ($17.50) per plate. A single pizza can cost as much as 30,000₩ ($26.10), especially if you go for one of the tricked-out Korean-style pizzas with shrimp, potatoes, mayo, corn, and about five other toppings. Korean pizza can be complicated, to say the least.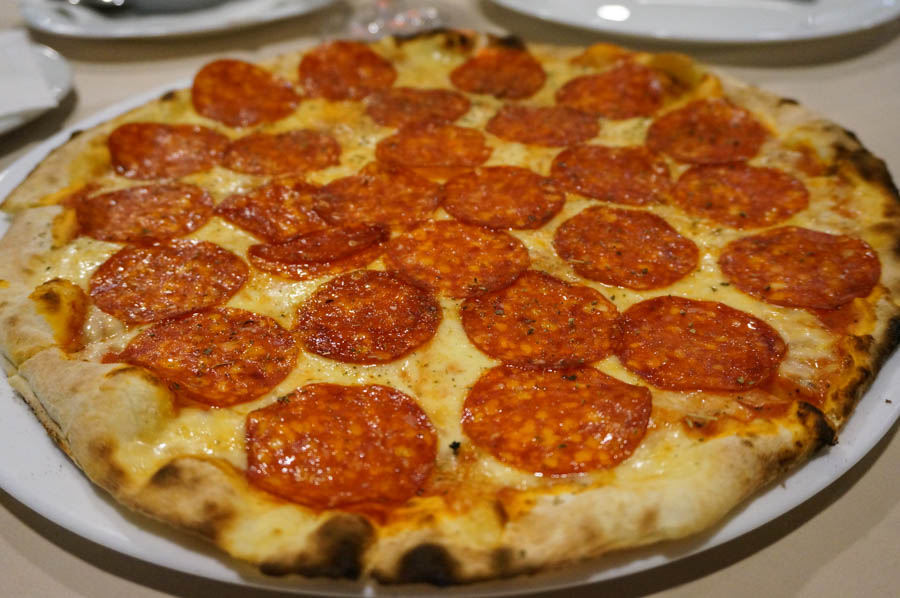 Beef is very expensive in Korea, so a sirloin streak is hard to find for less than 50,000₩ ($43.60), and hamburgers can cost between 10 and 15,000₩ ($8.75 – $13). Fried chicken is more manageable and is definitely something you should try while you're here.
Korea has a number of different takes on fried chicken, so you can try a variety of flavours. If you have a friend or two, it's way more cost-effective to get a set and share it between you (a 15,000₩ / $8.75 set of chicken with fries and drinks can usually feed two people).
It shouldn't be too hard to find — fried chicken and beer is a famous Korean comfort, believe it or not.
If you're not sure what to try, give gangjeong chicken (닭강정) a go. It's served in a sweet and spicy sauce that's sticky like honey and topped with chopped almonds.
7. For The Extra Hungry or Extra Curious, Find a Buffet
Buffets and all-you-can-eat places are big businesses in Korea, and they can be a great place to try a lot of different foods at once. If you're the type of person who wants to be adventurous, but still likes to try a bite or two before you dive in, a buffet is the perfect solution.
There are a number of different ways to go about finding a buffet. There are some buffets that focus on Western foods, some on sushi, and some on traditional foods. There are even barbecue restaurants that, for 10-12,000₩ ($8.75 – $10.50), will keep bringing you pork belly to grill up until you pop.
Buffets are going to be more expensive than most of your single-serving meals.
Generally speaking, the price for buffets run between 15-30,000₩ ($13 – $26), depending on what you get. That's a steep price compared to most of the other things on this list, but it's the best way to try a variety of foods all at the same time.
It's possible to find cheaper buffets, but quality varies widely.
What's interesting about buffets in Korea is that even chain buffet restaurants like Ashley will vary broadly from one location to the next. Even in the same town, two different Ashley locations will charge different prices.
The difference is mostly that you get what you pay for; the higher the price, the more selection and the higher the quality. It's not a hard-and-fast rule, but it's pretty reliable. Some buffets will also impose a time limit (usually around 2 hours), so be on the lookout for that.
Like any buffet, this isn't something you'll want to do every day, but it can be nice to do early in the trip so you have an idea of what you'll like. That way, you know which foods to look for on a budget for the rest of your time in Korea!
So, Is Korean Food Expensive?
As you can tell after reading this post, I think it's safe to say that the food prices in Korea are pretty low. The cost of travelling and eating your way around South Korea may not compare to that of its more inexpensive neighbours in Southeast Asia, but there's some great value for money to be had.
Plus, eating is always a fun adventure — best had with a couple of friends, and a couple of beers. Enjoy eating your way around South Korea.
Interested in Food? Check out the Goats On The Road Cuisine Section!
Like This Article? Pin it!