If you've been following us on Twitter, Facebook or watching our stories on Instagram, you'll know that we've been having a blast here in Grenada during this Carnival season. Grenadians look forward to this time of year like westerners look forward to Christmas and birthdays.
This is – without a doubt – their favourite time of the year and it should be! Carnival is the largest festival on this island and throughout the Caribbean and is definitely one of the top things to do in Grenada.
But there's a lot more to Carnival than just colourful costumes, street parties, music and sexual dance. The celebrations date back to the days of slavery in Grenada and they have huge cultural and historical significance for the people on the island.
☞ See Also: Mount Cinnamon Grenada – A Review of This Luxury Boutique Hotel
The festivities culminate in the grand daddy of all street parties, J'ouvert. Of course Dariece and I attended (as we try to do every year), but what does it feel like to be a white person taking part in a party celebrating the emancipation of slavery? A party that was originally designed to make white people feel uncomfortable.
We'll get to that soon, but first, it's important that we run through a little bit of history about Carnival and J'ouvert in Grenada.
The History of Carnival in Grenada
Back in the early 17th century, the French invaded Grenada which, at that time, was inhabited by the indigenous "Carib" people who were originally tribespeople from parts of South America. They killed most of the Carib people and eventually imported slaves from Africa.
With hardly a Carib left in sight, Grenada during the 17th – 19th century was inhabited mostly by black African slaves and a few French slave owners who used them for heavy work on their sugar plantations.
The French brought with them their own traditions including influence on cuisine, language and architecture. Perhaps the most prominent import that came with the French and the one that stuck with the Grenadians the most was the festival of Carnival.
Although the slaves were never allowed to participate in the dances, parades and masquerade balls with their owners, they saw the festivities going on and decided that while their masters were busy drinking and acting foolish, they would have a little party of their own.
The African slaves dressed up in whatever they could find and surreptitiously paraded around in their own costumes and masks, mimicking their owners and mocking their funny little festival.
After the emancipation of slavery in 1834, the former slaves – and now proud black Grenadian population – carried on the French tradition of Carnival, but this time with a twist.
Former slaves donned disturbing costumes which often incorporated dead animals, devilish horns and very little fabric. They covered themselves in oil and took to the streets to try to disrupt the polite and proper society of their former masters.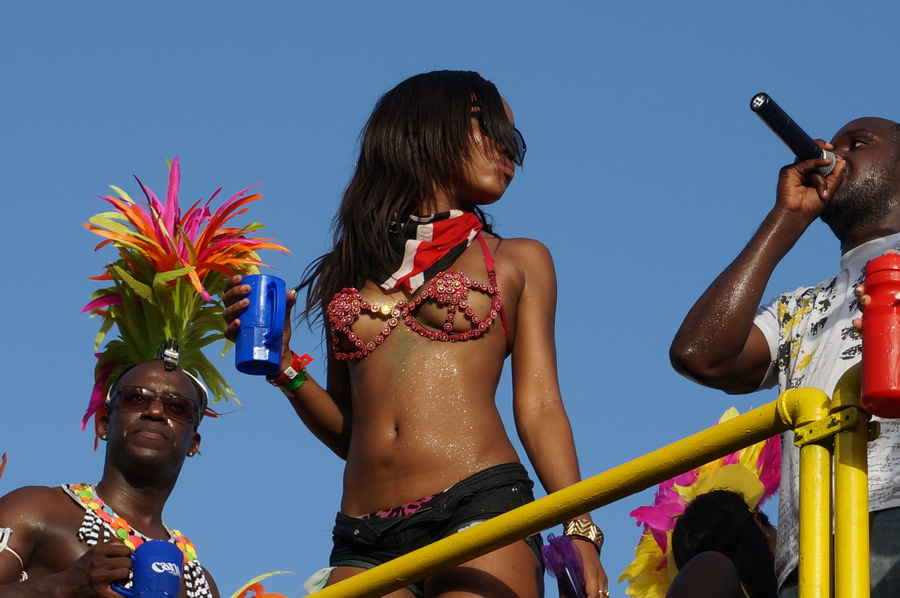 They succeeded at making the French extremely uncomfortable and while slavery and the French occupation are a thing of the past, the tradition of J'ouvert has carried on in Grenada for over a century.
J'ouvert Today
It may seem odd that Dariece and I love to attend J'ouvert every year. One may think, from the history of the festival, that it's simply not a place for white people. But that's not the case.
The costumes are still just as symbolic as they are unsettling, but today J'ouvert and carnival are not just part of a festival, they are a celebration of freedom, perseverance and the amazing heart and will of the Grenadian people.
The fact that they not only allow foreigners to participate, but make us feel welcome is yet another testament to how wonderful and accepting the people of the Spice Isle truly are. J'ouvert is a display of historical acknowledgement and also a shining example of the Grenadian ability to recognize, reenact, overcome, and move forward.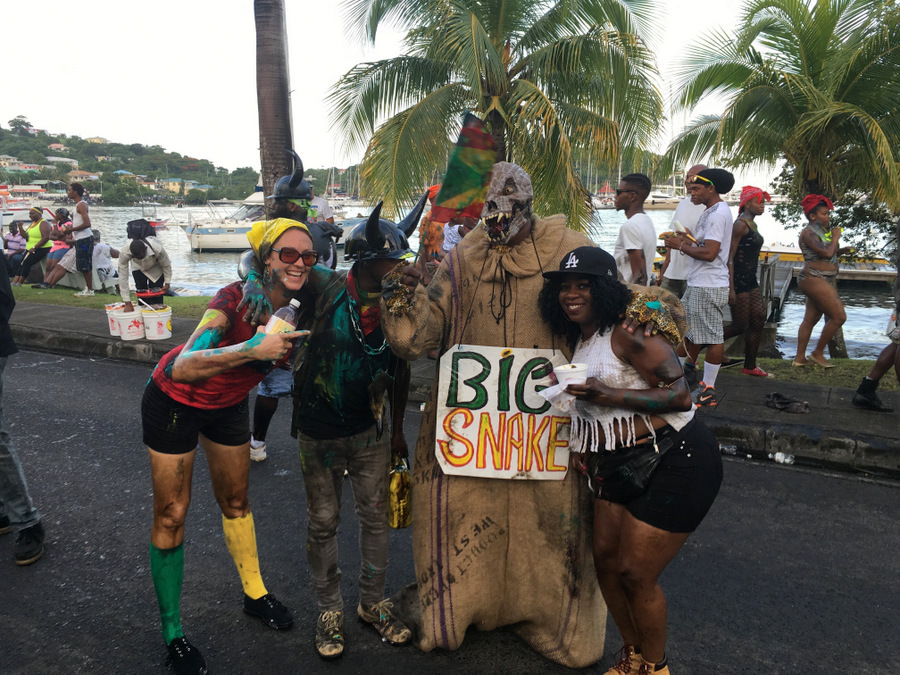 Today, Carnival is a contest at its core and while it may seem like all the different celebrations of Soca Monarch, J'ouvert, Monday Night Mas and Pretty Mas are just parades and street parties, they're actually part of a very intense musical competition.
There are judges at all of these events and they watch the crowds to see how they react to different songs that play on the "bands" (trucks with huge speakers on them).
At the end of it all, a king and queen of carnival, Soca Monarch, Groovy Monarch, Road March King and Jab King emerge victorious, all judged by their popularity amongst the crowds throughout the festival.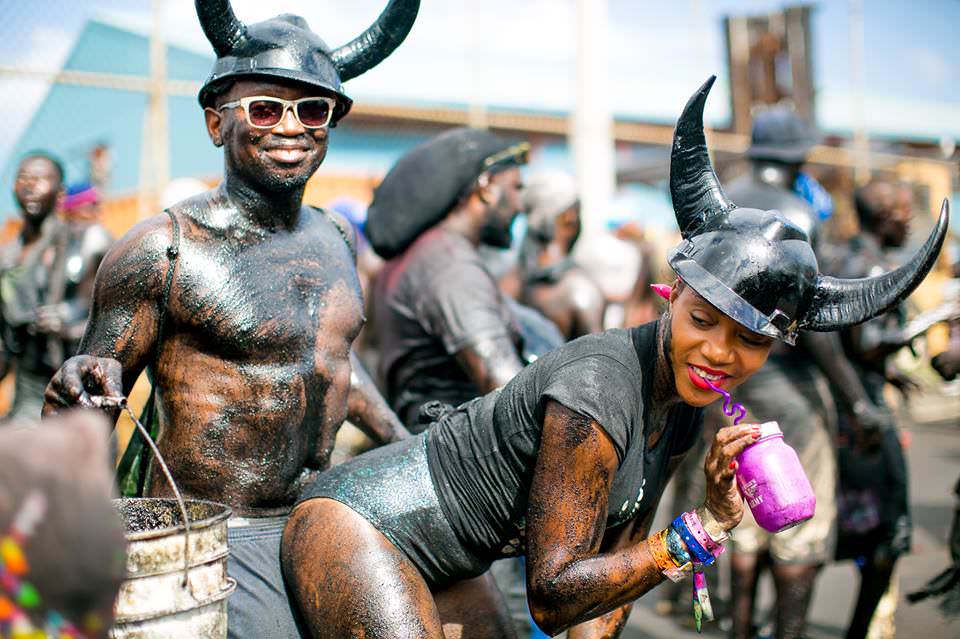 The music that rings through the streets at all hours of the day during this season is called Soca and it's a rapid and intoxicating hybrid of house, calypso and Indian pop with some modern-day American hip hop mixed in for good measure. It's undeniably the music of the Caribbean and when you hear it, you can't help but to whine (dance).
Our Experience at J'ouvert
To attend J'ouvert you have two choices. You can either get up at 4 o'clock in the morning and head down to the road to start drinking rum and dancing (as we did), or you can stay up all Sunday night and make your way down to the road Monday morning, already intoxicated (as most Grenadians do).
I'd like to say that drinking rum at 4am has historical importance as well, but the truth is… it's just fun to drink rum on a Caribbean island while the sun comes up!
Dariece and I hardly slept the night before J'ouvert. We were too excited! Having been the previous year, we knew just how fun and insane this street party is. Nevertheless, when our 4am alarm went off, we rolled out of bed, put on our colourful "J'ouvert clothes" and "jump up shoes", packed our drinks (and some sunscreen) and made our way down to Lagoon Road where the celebrations typically begin.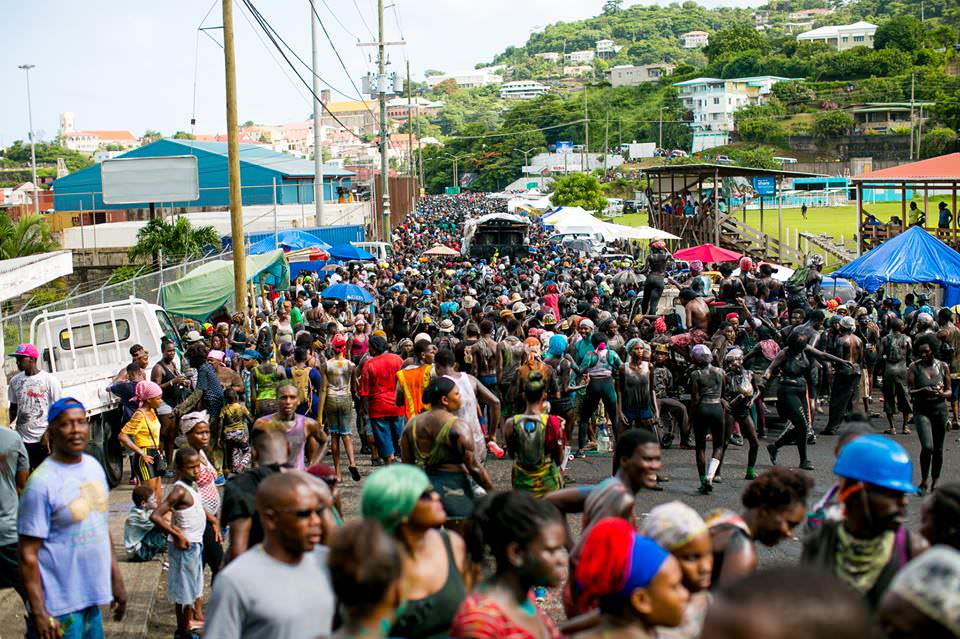 When we finally made it to the road by 5:00am, there were already thousands of people there, but the bands had yet to arrive so most of the people were simply covering themselves in motor oil, drinking rum and waiting for the real party to begin.
We met up with our friends Rolando, Kendra, Boyo and Emma and we too covered ourselves in the thick, dirty motor oil, a choice we would later regret.
Historically the motor oil refers to "jab molassie" (meaning "molasses devil" in French patois) a horrible name that the French slave-owners once gave to the slaves. The Jab Molassie is one of the oldest and most poignant carnival characters. He represents the ghost of a slave who died in a bubbling vat of Molasses at a slave sugar plantation and his horns are a portrayal of the nickname "molasses devil".
Today molasses has been replaced by oil and participants choose paint or oil for J'ouvert. They carry around their chosen liquid to "jab" (smear on) people accordingly.
After we were sufficiently coated in toxic, black engine lubricant, we headed straight for the road and quickly lost ourselves in the crowd.
Oil and paint was flying in the air, people appeared to be unconsciously hopping to the thumping beat of the loudspeakers and everyone was having a good time.
Like Halloween for adults, the morbid and offensive costumes of J'ouvert only added to the abberance and absurdity of the spectacle.
The black oil that covered our previously pale bodies now made it easier for us to squeeze through the pulsating crowd. The smell of fossil fuel, rum, sweat and sea permeated the humid morning air as the sun rose above the hills and started to scorch or greased up skin.
Before long, we were completely lost in a mass of jumping, dancing and – for lack of a better word – humping people. Our ears were ringing from the music and we could taste sweat, oil and rum mixing in our mouths as the black liquid trickled down our faces. But we loved it! This is what J'ouvert is all about and it's a blast.
By noon the sun was high in the sky and we could feel the effects of oil on our sensitive white skin. Even our friends of darker complexions could feel a tingling, but their Grenadian skin didn't suffer the same damage as ours. Next year, maybe we'll try to avoid the sun-attracting oil.
Our feet were throbbing from constant jumping and our eyes were now stinging from the oil and paint, but we pressed on, determined to stay in the mosh pit of a crowd until J'ouvert morning was finished. The Grenadian words "Keep pressin'!" replayed in our minds.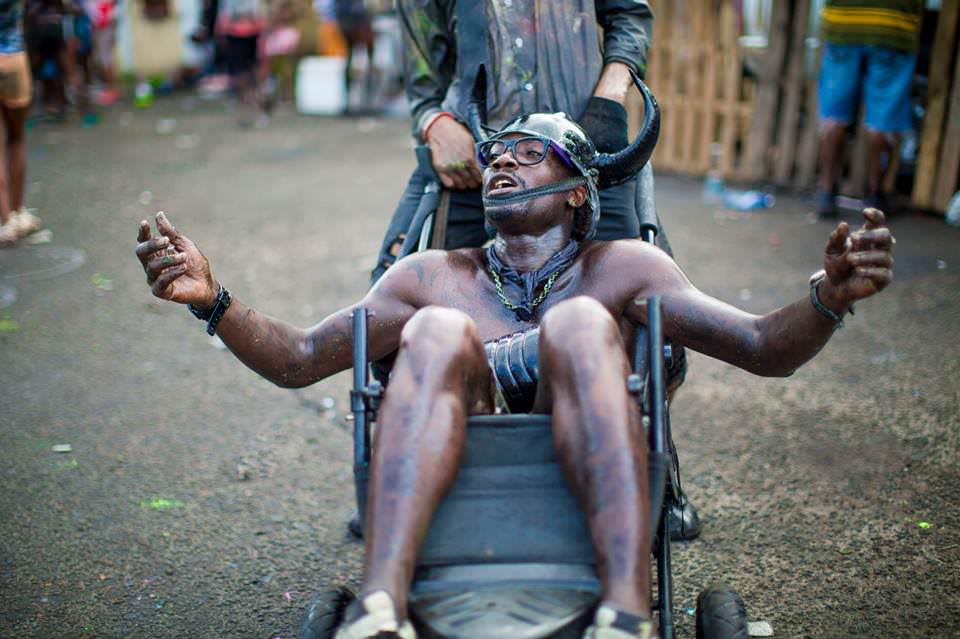 The music this year was incredible, the costumes were as disturbing as ever and the vibe around the party was positive and fun, but electrifying at the same time. As our Grenadian friends explained:
"Dis j'ouvert sick boi! "
"Dah de mad and bad!"
"That's how we take it to dem! All up in dey frond yard… Raw!!! No apologies! Jab doh care."
"Mas! Big Bacchanal!"
By noon the bands had passed our spot on the road and the crowds were starting to dissipate, mostly moving towards the beaches to scrub off the oil and paint that had now completely covered their faces, hair and bodies.
We too retreated to the sea to dispose of some of the grime before catching a ride back to our home with a (sober) friend.
Looking back on J'ouvert now, we are still in shock at how fun it was. We are so happy that we were able to take part in Grenada's biggest festival and if we come here next year, we definitely won't miss it.
We'd like to personally thank the Grenadian people for making us feel so welcomed and safe during the celebrations and for putting on such a kick ass bash every year. J'ouvert isn't just a sick street fete (party), it's an experience. Thank you Grenada for once again showing us why we return here year after year.
Don't stop now! Check out our J'ouvert Video
---
Like This Article? Pin it!