Most people travel to Salento for the purpose of hiking the Valle de Cocora – a stunning trek with cartoon-like trees dotting the landscape. Colombia's national tree is the Wax Palm, which at 60 meters high is the tallest palm in the world. The Valle de Cocora trek is filled with them!
If you're looking for a beautiful day of hiking around Salento, the Valle de Cocora is for you. This is by far one of the best things to do in Colombia.
Here's our how-to guide for visiting the Valle de Cocora (Cocora Valley).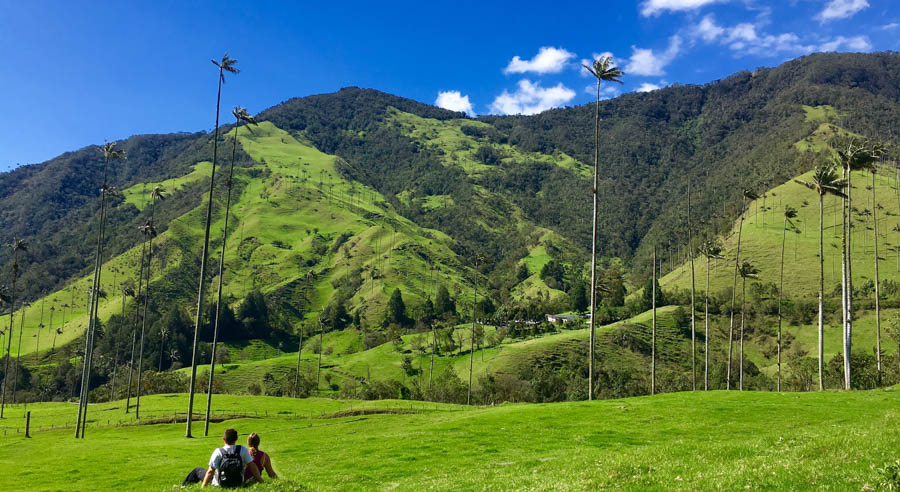 Traveling to Colombia is fantastic, but planning a safe and fun trip can still be stressful.
ViaHero
makes traveling worry-free by pairing you with a Colombian local who plans your trip *and* provides 24/7 phone support.
Click here
to learn more about this unique service!
Getting to The Valle de Cocora
To get from the town of Salento to the trailhead, you'll need to catch a ride. The journey is about 30 minutes by vehicle, so you probably won't want to walk all the way to the Valle de Cocora (Cocora Valley) and then start hiking!
Catch a shared willy (jeep) to the Valle de Cocora from the main square in Salento.
The cost is 3,600 COP ($1.00 USD) / person. Theoretically, jeeps to the Valle de Cocora leave from La Posado de la Plaza six times per day: 6:10am, 7:30am, 9:30am, 11:30am, 2:00pm and 4:00pm. Those jeeps then return to Salento an hour later.
If you miss the scheduled time, just go to the plaza and you'll probably find that there are enough people wanting to visit the Valle de Cocora. If you ask nicely, most likely the willy drivers will make an exception and will drive you outside of the scheduled times. (Note: not once were we ripped off by willy drivers in Salento. They were always super honest and incredibly friendly!).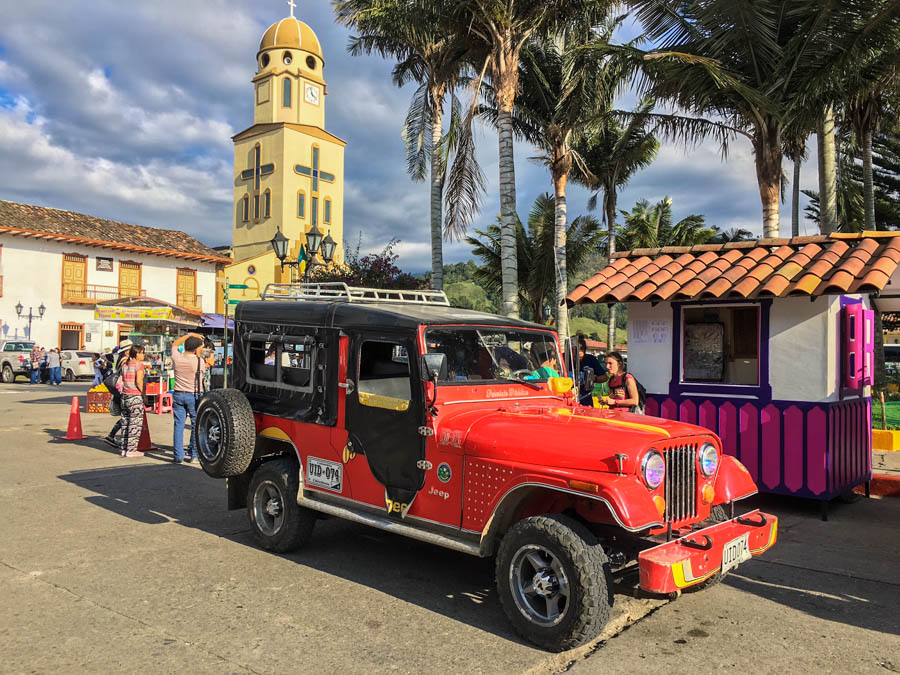 Willys can hold about 7 people comfortably. But, it can also hold 11 (somewhat uncomfortably) if 4 people stand on the back bumper while holding on to the roof rack! A bit sketchy, but fun 😉
If you don't want to wait for the jeep to fill up, or there are no spots left on the scheduled jeeps, you can pay for a private ride. We had to do this on the way to the Valle de Cocora because all of the willys were booked up and we were anxious to get hiking.
The cost of a private ride was 35,000 COP ($11), but we split the cost with another couple. In the end, we paid $5.50 for the both of us to get to the trailhead of the Valle de Cocora.
Where to Stay in Salento
---
Our favourite hostel to date is La Serrana Hostel in Salento. The property is absolutely stunning and the double rooms in the private farm house were amazing. Click here to see the latest price of La Serrana Hostel on HostelWorld.
☞ Click here to compare prices on boutique hotels, eco-hotels, and hostels in Salento on Booking.com
☞ Click here to compare prices on all hostels in Salento on HostelWorld
The Hiking Routes
First of all, there are technically four ways that you can hike the Valle de Cocora. I'm assuming that you're a fairly fit hiker, so I'm going to break down all four options, from most difficult to easiest.
5 Hour Loop, Counterclockwise
Even though this is the most difficult route, in my opinion, this is the best way to hike the Cocora Valley. It took us just about 5 hours to complete the loop with lots of stops for photos, videos, and admiring the scenery (without visiting Acaime or Estrella de Agua).
The highest point of this route is at 2,860m (9,383f). The Town of Salento is at 1,900m (6,217f) meaning that you'll gain about 1,000m (3,166f) in elevation.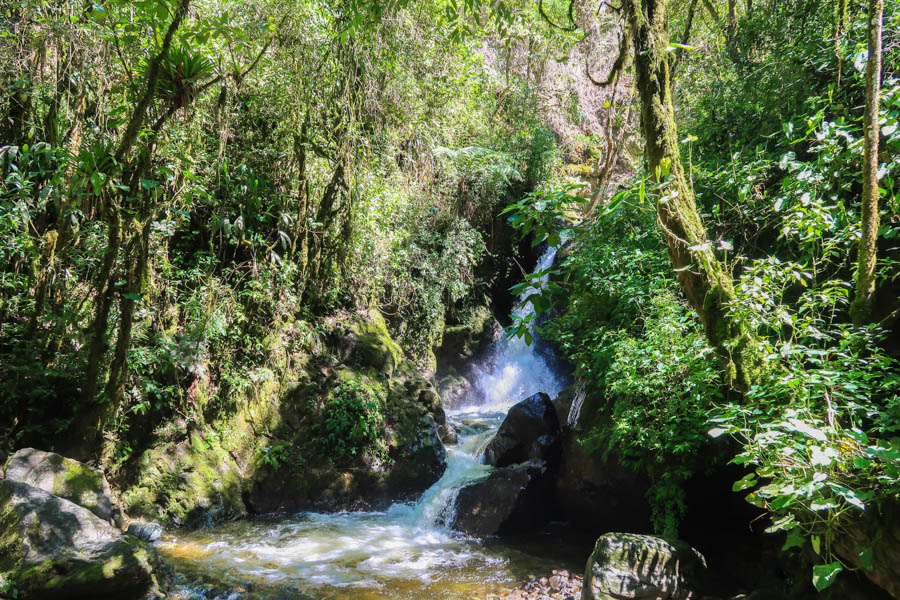 Why counterclockwise?
1) You'll get more exercise hiking straight up a steep mountainside to the highest point at Finca La Montaña.
2) Hiking downhill on a steep incline is hard on the knees.
3) If you are starting your hike around 10:00am, the lighting for your views will be pretty much perfect when you eventually arrive at the valley filled with Wax Palms around 2:30pm.
4) Our hostel, La Serrana, suggested we do it that way!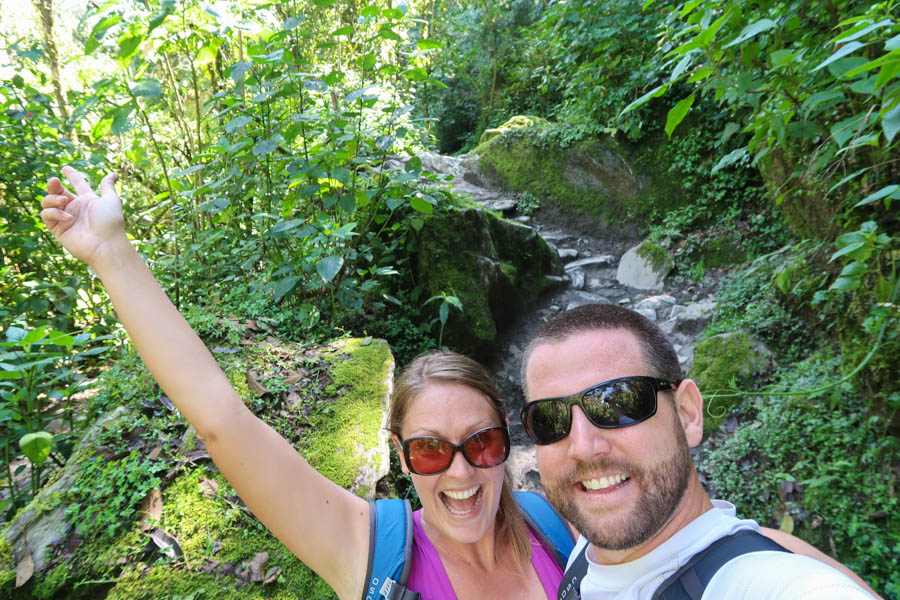 Directions for the 5 hour, counterclockwise loop (without veering off to Acaime):
Right where you get dropped off you'll see a blue gate. Turn right and enter through the gate. Immediately, you'll see a wooden sign saying "Bienvenidos, etc". You can't miss it.
Continue walking straight, while descending down the hill.
After about 40 minutes, you'll arrive at the wooden sign post with "Fundacion Herencia Vero", among other signs. Stay to the right of it.
Even if it looks like there is a fork in the road, if you take the wrong way, it'll be obvious within minutes and you can backtrack to the main trail.
You'll cross numerous rickety suspension bridges (5 or 6).
Arrive at an actual T-junction in the road with a wooden sign saying "Acaime La Casa de Los Colibris" and another sign with a big red arrow pointing right. This is the way to go for hummingbirds, before backtracking back to this same junction.
If you don't want to go to the hummingbirds (we didn't), then continue up the hill on the left.
You will go up, up, up for about an hour.
Arrive at the Finca La Montaña with great views. You can stop here for a drink and a break. Bring a picnic!
Descending down from the Finca, you'll hike for about an hour and a half on a wide dirt road before reaching the Wax Palm Trees.
Note: On the descent down, there are numerous little "side steps" that you can take which lead you off the trail to the left hand side for just a few meters. If you see some obvious little paths, take them! The views of the valley are sublime. Also, there may be a closed fence on the path down, just hop over it.
After gawking at the palm trees, complete the loop to the left hand side and walk back to exactly where you started.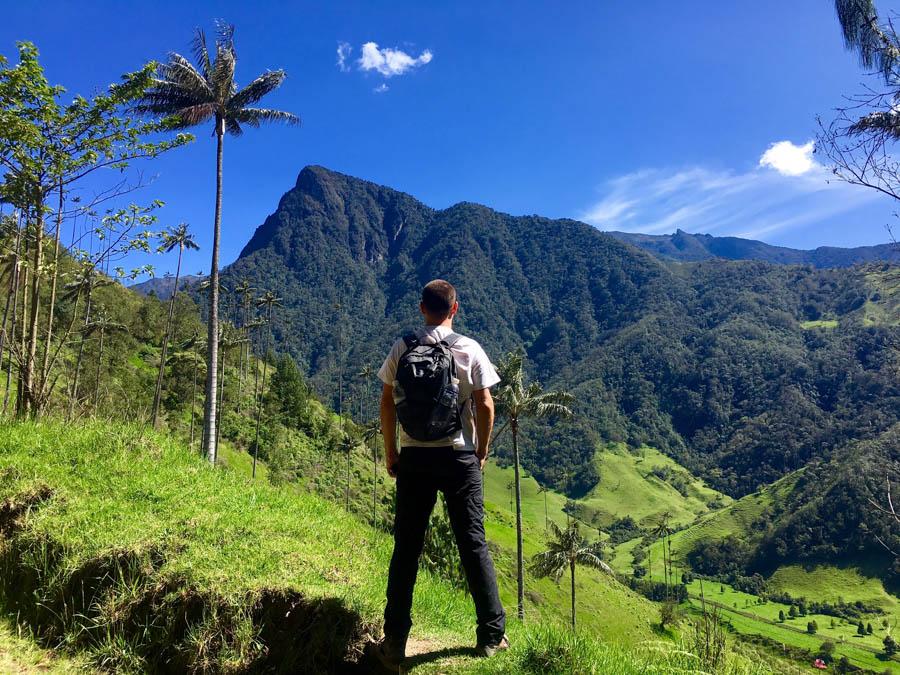 5 Hour Loop, Clockwise
We noticed that if you choose to hike in this direction, you have to pay some sort of entrance fee to see the Wax Palms (3,000 COP, or $1). If you're looking for an easier hike (you'll be going down that very steep mountain that we went up), then this is the route you'll want to take.
Visit the Wax Palms first and make your way up to the Finca La Montaña. Yes, it's still an incline, but it's more gradual than the out-of-nowhere, steep mountain from the counterclockwise route.
Once you reach the wooden signs with the red arrow and the listing for "Acaime La Casa de Los Colibris", you will make a right hand turn to continue on with completing the full circle. If you want to visit the hummingbirds, just continue straight on for about 1km (0.62 miles) to Acaime.
Basically, do exactly as I listed in the first set of instructions, but in reverse!
We met more people hiking the counterclockwise route than the clockwise route, but both ways are fine.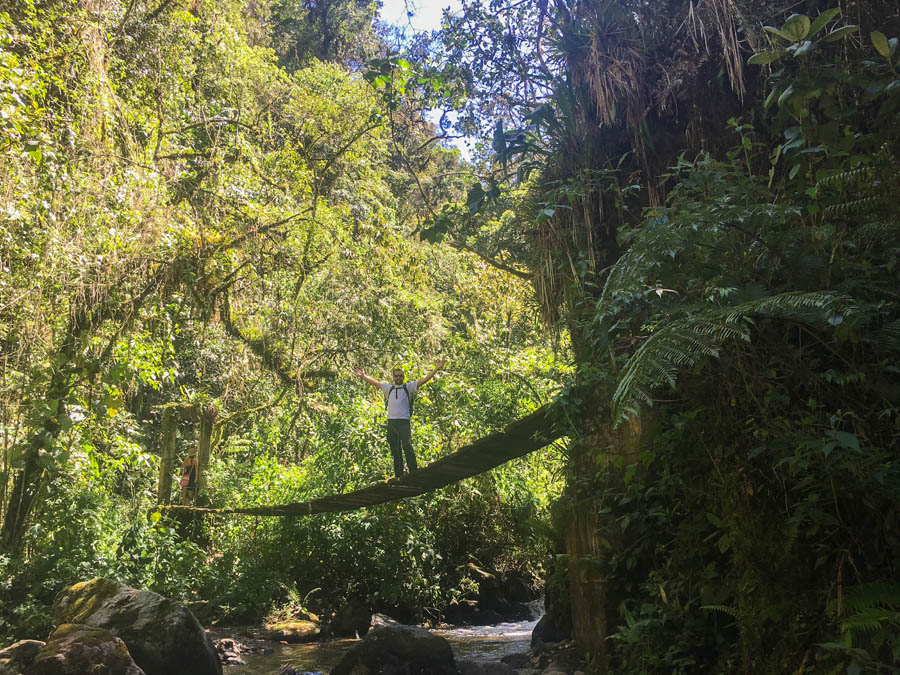 Visiting Acaime and Back
If you want to hike through the valley, over some suspension bridges and enjoy the beautiful, lush scenery…but without hiking up to the viewpoint Finca La Montaña at 2,860m, then this route might be for you.
Follow along as I listed in #1 above and when you arrive at the wooden sign with the big red arrow pointing right and the sign that says "Acaime La Casa de Los Colibris" (the house of the hummingbirds), turn right.
You'll walk for about 1km before arriving at Acaime. Here you can see numerous hummingbirds and have a drink of hot chocolate with cheese.
Entrance here is 5,000 COP ($1.70).
After you're finished at the hummingbirds, make your way back to the sign and turn left to return the way you just came.
The only problem with this route is that you haven't been to the star attraction yet – the Wax Palms.
☞ Relaxing in Salento: A Highlight of Colombia's Coffee Region
The Wax Palms in the Valley, and Back
If you have been to the hummingbirds and now want to see the trees, OR if you just want to see the magical trees, snap a few photos and return back to Salento, then this is the route for you.
Once you get dropped off by the jeep, you can walk straight along the paved road and continue until the road turns to a dirt path. This path is incredibly obvious and after 30 minutes or so you'll arrive at the open valley with loads of Wax Palms surrounding you!
Getting Back to Salento From The Cocora Valley
After a wonderful 5 hours of hiking through the Valle de Cocora, we made our way back to Salento by jeep. There is a very small parking lot where the jeeps will arrive and wait to fill up with passengers, before heading back to town. They will wait to have 8 people before departing back to Salento.
If you finish your hike and no one is around to share the jeep with you, just wait at one of the four or so small shops serving drinks and basic fare – the fresh fruit juice is delicious!
The last jeep back to Salento from the Valle de Cocora is at 5:00pm.
What to Bring For Hiking The Cocora Valley
We didn't bring a picnic with us, but really wished that we had. A great spot to stop and eat is at the Finca La Montaña, or at one of the small lookout points on the left-hand side on the way down to the Valley. And actually, some of the restaurants in town will create a boxed picnic lunch specifically for the trek. Check out Brunch or BetaTown.
If you don't want to bring a picnic, at least bring a few snacks (fruit, plantain chips, nuts, etc.). We brought 2.5L of water each for the hike, and we filled up our empty bottles at the Finca La Montaña.
The sun is very intense at this altitude. If you're lucky enough for the sun to be shining, make sure to bring sunscreen with you.
Speaking of sun shining. This area is a cloud forest meaning that it receives quite a bit of rain year-round. According to Wikipedia, the Valle de Cocora is the driest in July when it receives 3.74 inches of rain that month. The wettest month is October when it receives 10.98 inches of rainfall.
We were there at the end of November.
Numerous days leading up to our hike, the valley was covered in low-hanging clouds, it was pouring rain and the trails were incredibly muddy. But, because we decided to stay in Salento for a week, we were able to wait out the rain and had the best weather for our hike!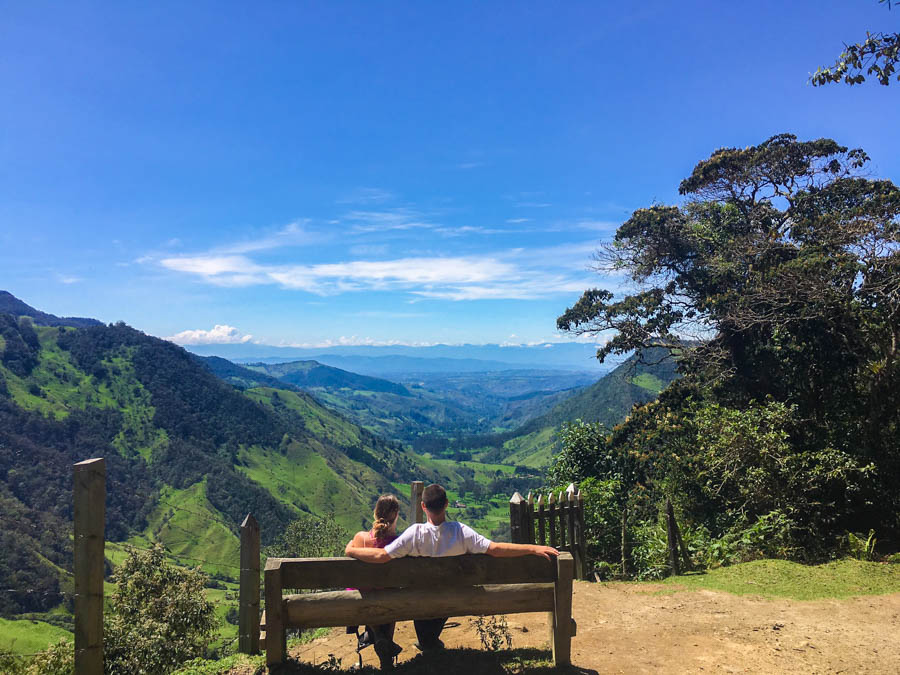 Keep the rains in mind when planning your trip. We met a couple who took 9 hours to complete the 5 hour hike because they got lost due to the thick cloud coverage. Also, you may need to bring a rain jacket and waterproof shoes.
[widget id="shortcodes-ultimate-5″]
A Highlight of Colombia
The Valle de Cocora is known for being not only a highlight of a trip to Salento, but Colombia as a whole. This hike was unlike any other ones that we've completed in the past and we loved the varied scenery along the way. We recommend tackling the Cocora Valley when backpacking Colombia and hope that you found this guide useful 🙂 Happy and (hopefully) dry trails!
To get a better idea of the trek, check out our video from the Valle de Cocora:
Like This Article? Pin it!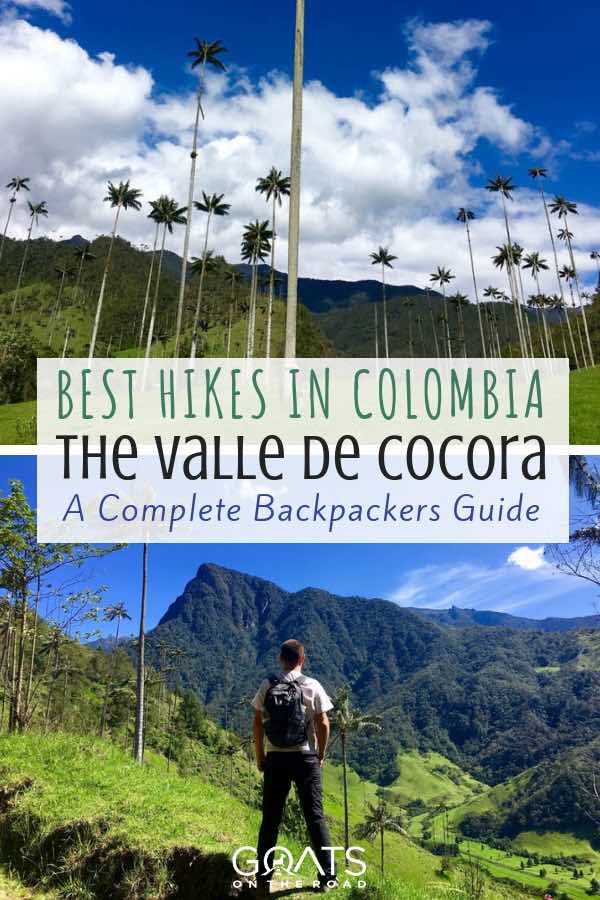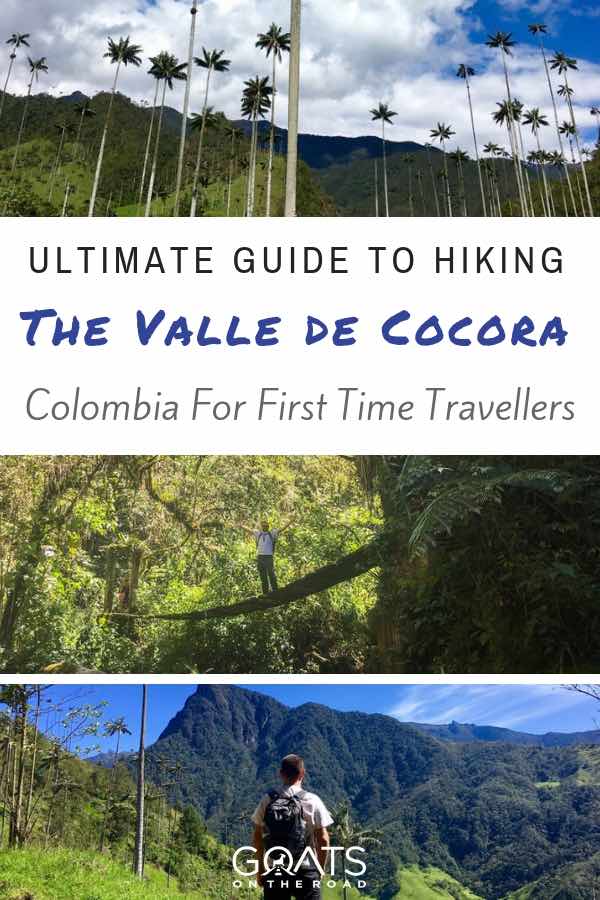 Disclaimer: Some links in this article are affiliate links, which means that if you purchase through them, we receive a small commission. This will never cost you extra and in many cases you receive a special discount. We appreciate your support!