Are you new to RV life and wondering what it's all about? Choosing RV life means freedom, opportunity and something new every day. Learn how to prepare for full time RV living in this beginner's guide.
Think incredible road trips, no time constraints, and the ability to go exactly where you choose, when you choose. But, living in an RV also brings challenges and tests.
After three years of RV traveling in Europe, covering over 20,000 miles and visiting 18 countries, I'm here to help you get started on an exciting journey with my expert tips and advice about how to prepare for full-time RVing.
What is an RV?
An RV is a recreational vehicle, properly described as a motor vehicle, which is coach-built and includes accommodation for living built onto a base vehicle chassis.
Called a motorhome in the UK and a camping-car in Europe, an RV is essentially the same thing, although some are styled differently. European motorhomes and camping-cars are a lot smaller than RVs.
Integral RVs
An integral or class A RV is the largest of them all.
The cab is integral and no external bodywork from the base vehicle remains. This means that the RV builder manufactures all the exterior bodywork.
Integrals tend to be luxurious and can include slide-outs, plush furniture and full-sized beds.
C Class RVs
C class RVs include the original cab bodywork with the body of the vehicle then bolted on by the RV manufacturer.
The cab is open to the living area and a double over-cab bed makes the best use of space. This is the ideal vehicle for family travel on a budget.
B Class RVs / Campervans
B-class RVs are actually campervans. The entirety of the external bodywork is original to the van and the inside is converted to provide accommodation.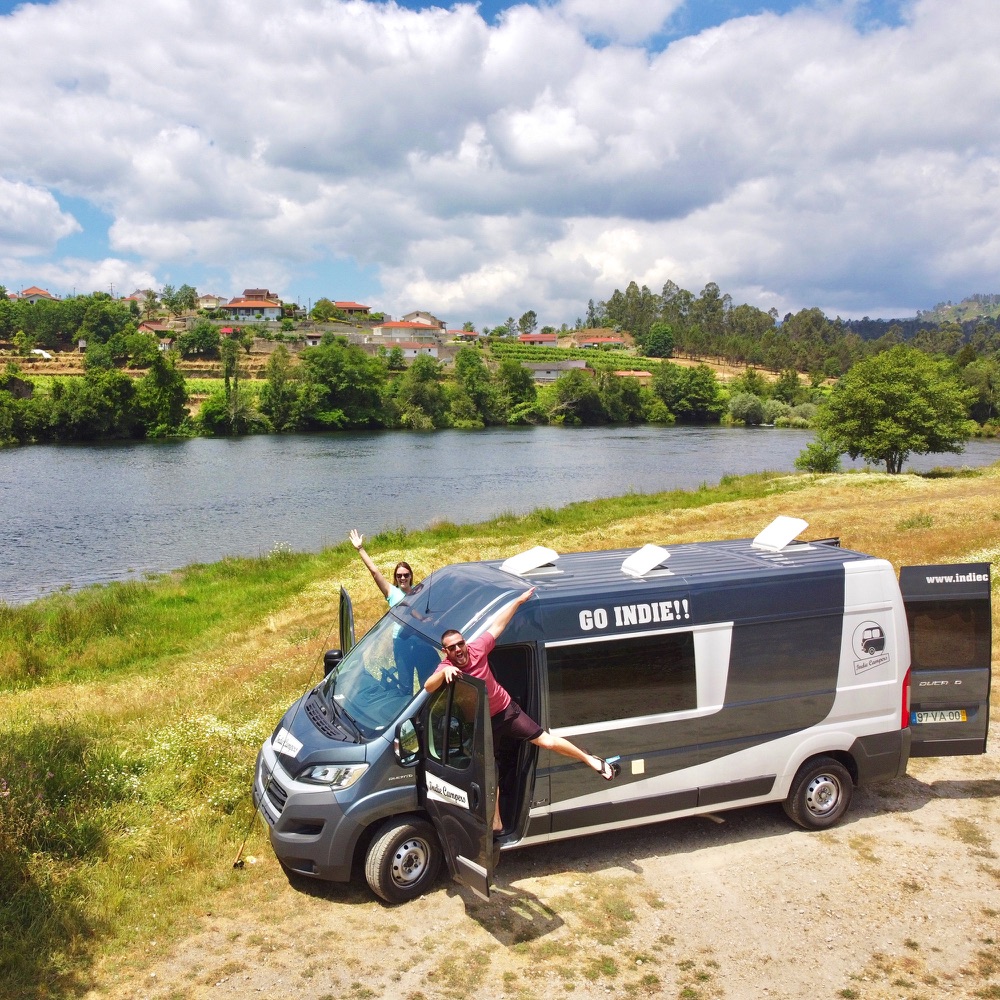 Class B RVs are way smaller than integrals and class C's but are niftier and ideal for weekends away or to be used as a day vehicle.
Static RV Living vs. Traveling in an RV
Some people buy an RV and live in it for an extended period of time without hardly even driving it! This is a popular option for snowbirds who head south from Canada and the USA to one particular spot (Arizona is a popular one) and wait out the winter months up north.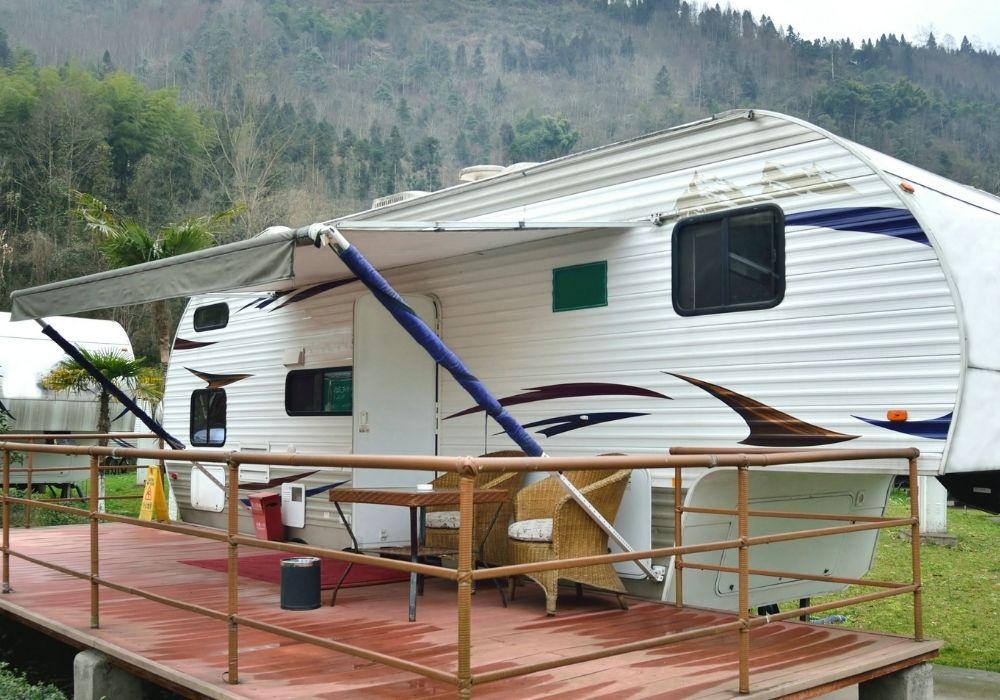 A travel trailer or fifth wheel would be a good option for stationary RV living. They don't have an engine but would require a truck to get them to your chosen location and into position.
Living in an RV vs. a Campervan
There are many differences between an RV and a campervan. Here are some things to consider.
Should You Choose an RV or a Campervan?
It really depends on how you want to use the vehicle! If you're planning a year traveling around then a campervan will feel very small after a few months. You may not be able to take all your toys, like inflatable paddle boards and bikes.
But a campervan is perfect if you're planning weekend breaks or can't afford a truck/SUV and a recreational vehicle. However, a smaller RV can easily double up as a day vehicle, meaning you have the best of both worlds.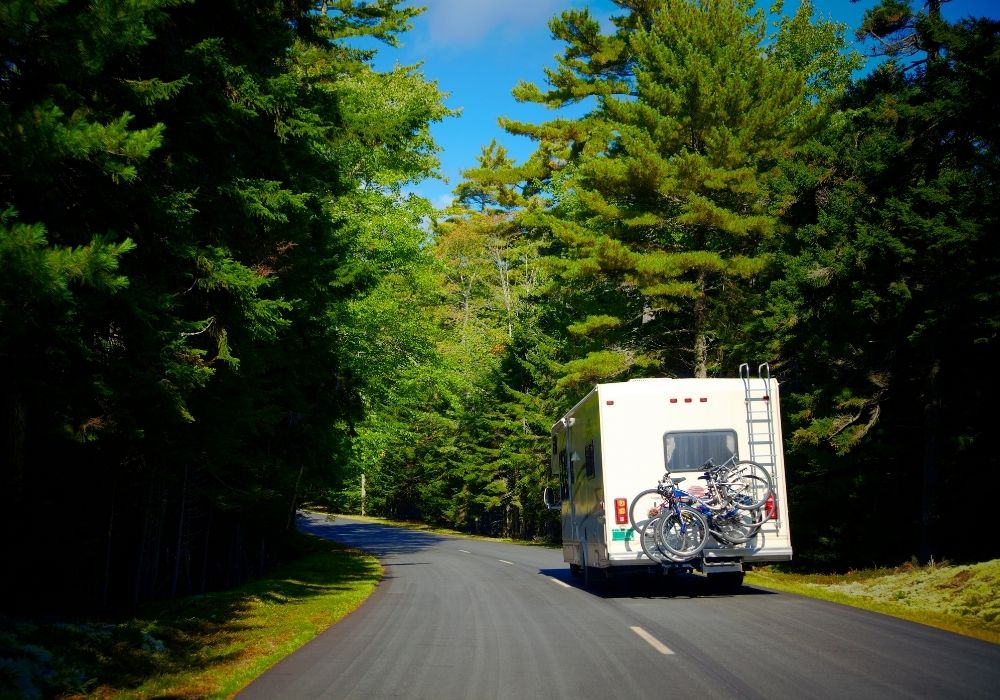 Things to Consider When Choosing an RV or Campervan
Is the RV for an annual holiday or for more regular trips away? Think carefully about space and how much time you'll spend in the vehicle.
Are you a family, a couple or a solo traveler? Any more than two people in a campervan will be a challenge, even if you have a pop-top with extra bed space.
Will you be using the RV at home or are you planning to go further afield? RVs can be expensive to run and tend to have high fuel usage. If you're planning long distances, a campervan will be much more efficient and cheaper to run.
Will you RV in summer or winter? Or both? A campervan will feel really cramped in the winter months when you can't have the door open. An RV would be a better choice for inclement climates.
Will you be boondocking or staying on campsites? You'll need to ensure whichever vehicle you choose is set up with equipment meaning you don't need a campground. Solar panels mean you don't need an electrical hook up and larger water tanks mean you can stay off-grid for longer.
Remember that campervans and Class C motorhomes will have a lower weight limit than an integral. This may prevent you from adding too much extra equipment or carrying heavy accessories.
What is your budget? The all-important question, the answer to which will have an impact on your choice!
What to Look for When Buying an RV
Buying an RV is a big (and expensive) commitment which you really want to get right. We always suggest trying before buying. Hiring an RV or campervan for a weekend is a great way to see if the lifestyle is for you.
If you take this step and fall in love with the open road and freedom to decide where to go, make sure to follow our RV buying tips before you make your final decision.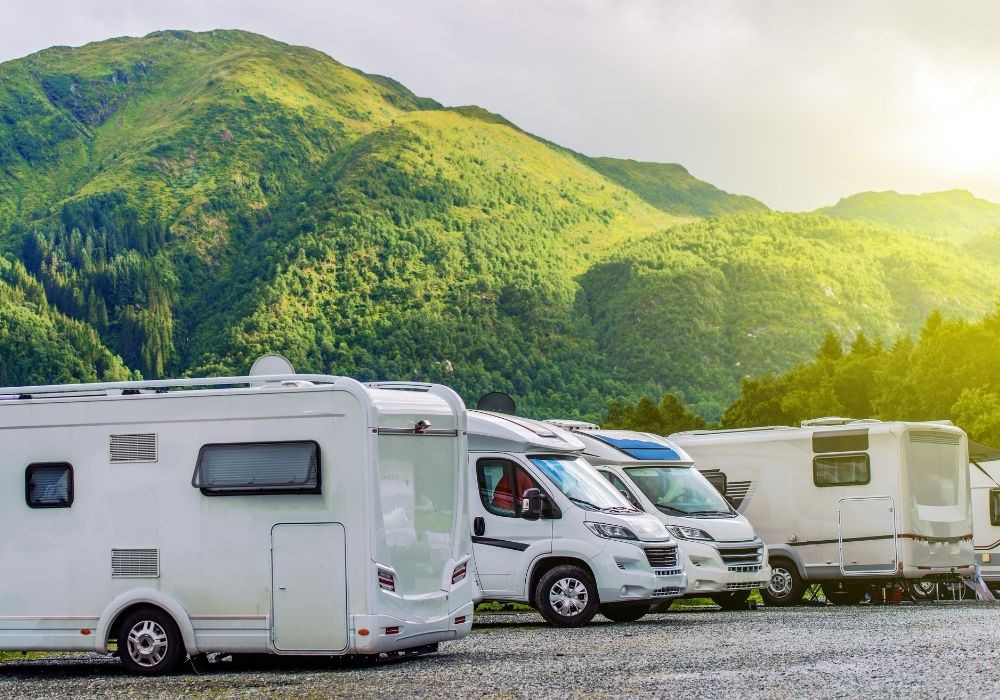 RV Buying Tips
Visit as many showrooms and dealers as possible. Sit and lie down in every RV you step into. What does the kitchen area feel like? Could you cook a meal there? How about the bathroom facilities? Does the set-up work for you and is there enough space?
If you're a digital nomad, is there enough room to work and relax comfortably? The best RV for digital nomads will have a large table and working space. You'll also want lots of plug sockets for your devices and good natural and artificial lighting for screen working.
Try out as many RVs as possible in this way, even if they don't really interest you or are outside of your budget. You may find features in different RVs which you didn't know about, or get ideas for what's important to you.
When you're in each RV, take time to look around and understand what extras and options are being displayed. If you wanted a microwave oven, say, where would it go? How about a big TV, would it protrude into the space? Can you watch it from the comfiest spot?
Test drive an RV in the same category that you are thinking of buying. Are you comfortable driving such a large vehicle?
Look closely at storage and make sure you have room for everything you want to carry.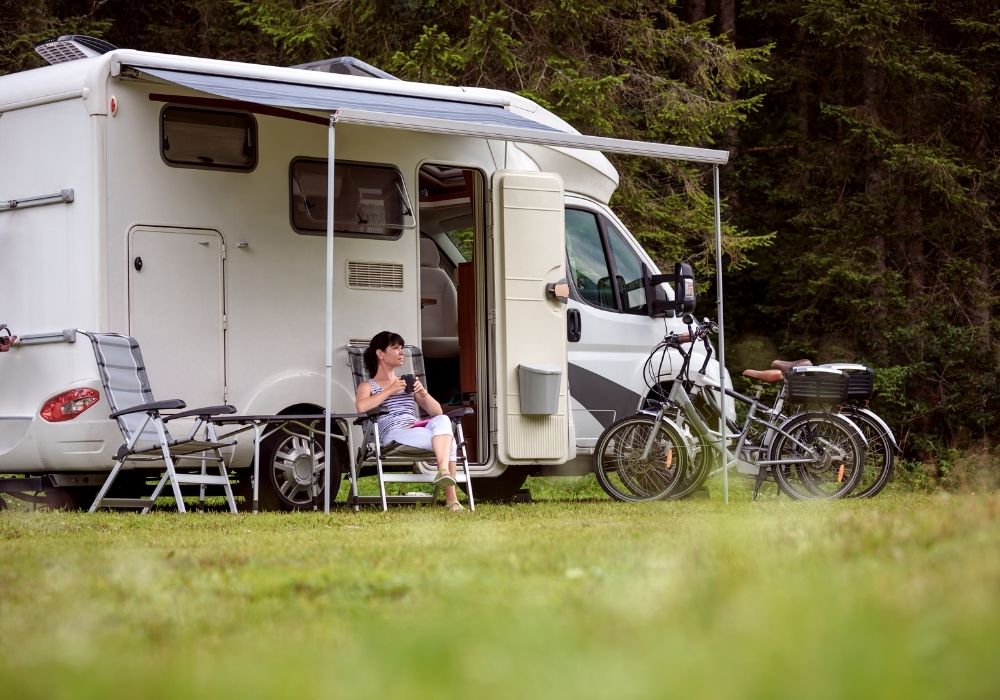 Once you've decided on whether an RV or campervan is right for you and narrowed down the features and layout, you can start actively looking — this is the exciting part!
RV Viewing Tips
When you go to look at an RV, make a checklist of all the things that you want to look at. Ideally, you'll get the engine checked over by a mechanic to make sure everything is running well.
You can also get an independent habitation service done to make sure all the appliances and any slide-outs are working safely and correctly.
An independent habitation service will also check for damp. This is a really critical thing to check before you buy because damp can be present but take years to show, by which time damage to the structure of your RV can be extensive, and costly to repair.
Things you should look for at the viewing include:
Make sure that all door, window and roof light blinds, fly-screens and catches work properly.
Run hot and cold water from all outlets, including the toilet flush.
Check all 120v and 12v sockets work – an easy way is to test with a phone charger.
Do all integral electrical appliances, such as step, tv and a/c work?
Look behind and under cushions and mattresses for signs of mould.
Check that cupboards and fridges latch and close properly.
Check all door, window, and external storage locks are operational.
Does the refrigerator cool?
Does the operating panel work as it should?
Buying an RV Safely
If you are buying a used RV, make sure to check that the seller is genuine. The RV should be registered at the address where you view and should be owned by the seller.
Check online for any vehicle selling scams you need to be aware of.
Because of the high value of RVs, selling sites like eBay and other online marketplaces are popular spaces for vehicles that have been stolen, cloned, or don't even exist, to be advertised for sale.
Never part with any money until you have viewed the RV satisfactorily, are satisfied that the seller is genuine and has the right to sell the RV.
How to Prepare for Full Time RV Living
For RV newbies there's a lot to learn and get used to. Follow my top tips to make RV life for beginners and getting ready for the change exciting rather than daunting.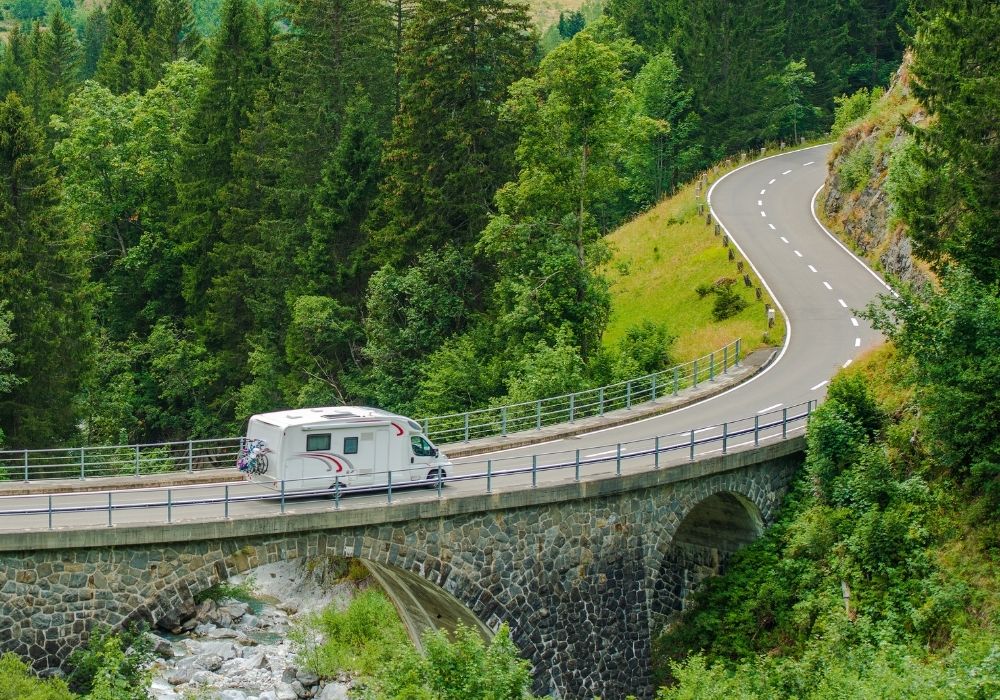 Successful full-time RV life is mostly about preparation and then compromise. If you are thinking about renting your house or selling up for a life of RV travel, there are many things to think about before you take the leap.
Here are my tips on how to prepare for full time RV living.
Can you Actually Live Full Time in an RV?
Legally there is nothing to stop you from living in an RV full time, either statically in one place or on the road and traveling. But can you actually down-size to a tin box on wheels and live in it full time?
If you're not an experienced RV'er, you should probably hire or borrow one in which to spend a few weeks before you make the big decision.
Living in an RV Won't Be Perfect
Not every boondocking spot has an incredible view and not every day ends in a beautiful sunset.
You won't head off on your new life and suddenly become a better person or one who wears Daisy Dukes and has bleached blonde hair (unless that was you before!).
Make sure to set your expectations now so you're not disappointed when life on the road doesn't always deliver.
Traveling Together
Living and traveling as a couple or family in an RV can put a strain on your relationships. It's important to make time for the things and hobbies you love. Just because you're living in an RV doesn't mean you have to do everything together.
Consider learning a new skill or sport when you're on the road to keep you occupied and provide purpose. If it's something you can do separately that's even better.
Enjoying your own interests and learning new things apart from each other will bring help you manage the times when you're cooped up together or feeling stressed with each other.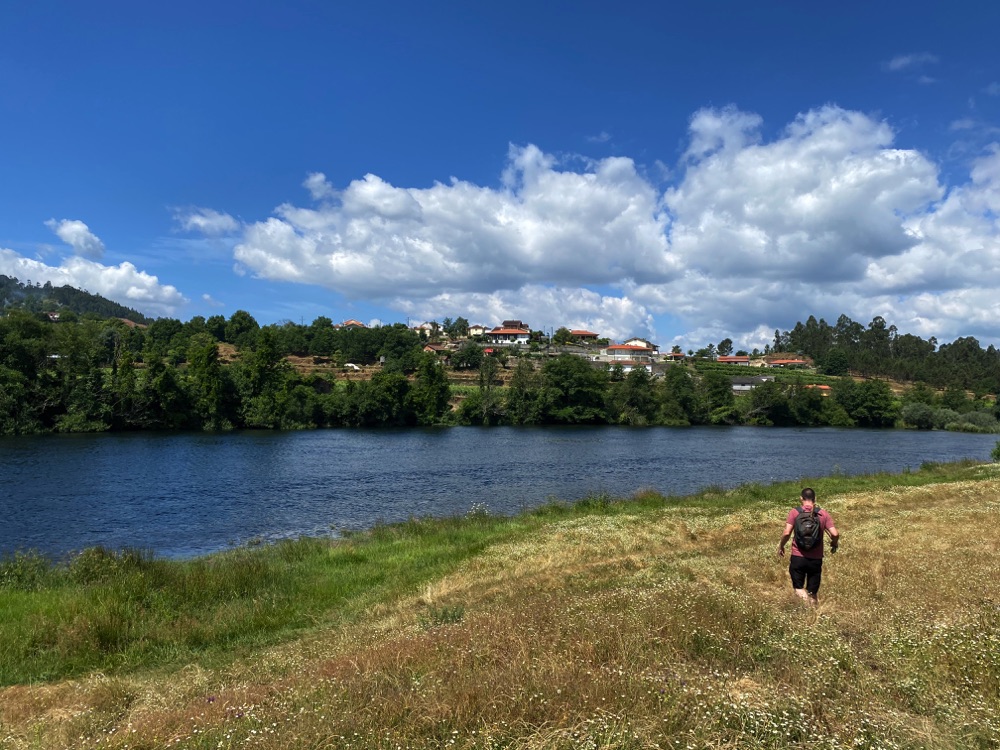 Accept that Compromise is Inevitable
Whether you compromise about how many pairs of shoes you can take, who brushes their teeth first, or which state to head for next, being able to agree and find a middle ground will make your life so much easier.
Now that you've agreed on the big question about living in a motorhome, the smaller stuff should be easy! For us, the RV lifestyle and the ability to travel where and when we want is worth far more than any compromise we may have to make.
What About Costs?
How will you finance your RV life? It will always cost more than you think, but the cost of living in a motorhome is still so much cheaper than living in a house.
Make sure you do a budget covering your day-to-day RV living costs before you actually head off. Remember to include estimated campsite costs, yearly costs like insurance, the annual registration fee, and vehicle tax.
Family & Friends
Don't forget that as you're driving off into the sunset for a life of freedom, you'll be leaving loved ones behind. This can be much harder in reality than you think it's going to be. Make sure to prepare yourself for the wrench.
Be aware that not all your pals or family members will be stoked for you, or excited about your new life.
This often comes from a lack of understanding about what RV life is like, and sometimes just plain jealousy. You may find out that not all your friends are good ones.
Top 10 RV Living Tips & Tricks
Here are 10 tips to help you with your new RV life.
1. Research, research and research some more before you head off. Find out all you can about living in an RV long-term, it will help you plan your new life and work out what to expect.
2. Have a rough plan about where you want to go and what you want to see. Although you may not stick to it fully, it will give a framework to your travels and mean that you tick all the boxes that you want to.
3. Make sure you build purpose into your everyday life. It will feel like a holiday at the start, but you can't spend months without purpose — you'll become bored and miserable. Many people work on the road from their vans or RVs, while others who may be retired take up sports or other hobbies (golfing, biking, fishing, etc.)
4. Buy kit (equipment) that's easy to store and makes life on the road a bit easier. Buying lots of "RV gadgets" really isn't necessary.
5. Do spend money on good mattresses, especially if you're a bit older. Most RVs come with foam mattresses but these are notoriously uncomfortable, so invest in something with springs instead.
6. Try boondocking or wild camping. Even if it makes you nervous it's a great way to save money on campground fees and you'll meet lots of like-minded people out in the wild.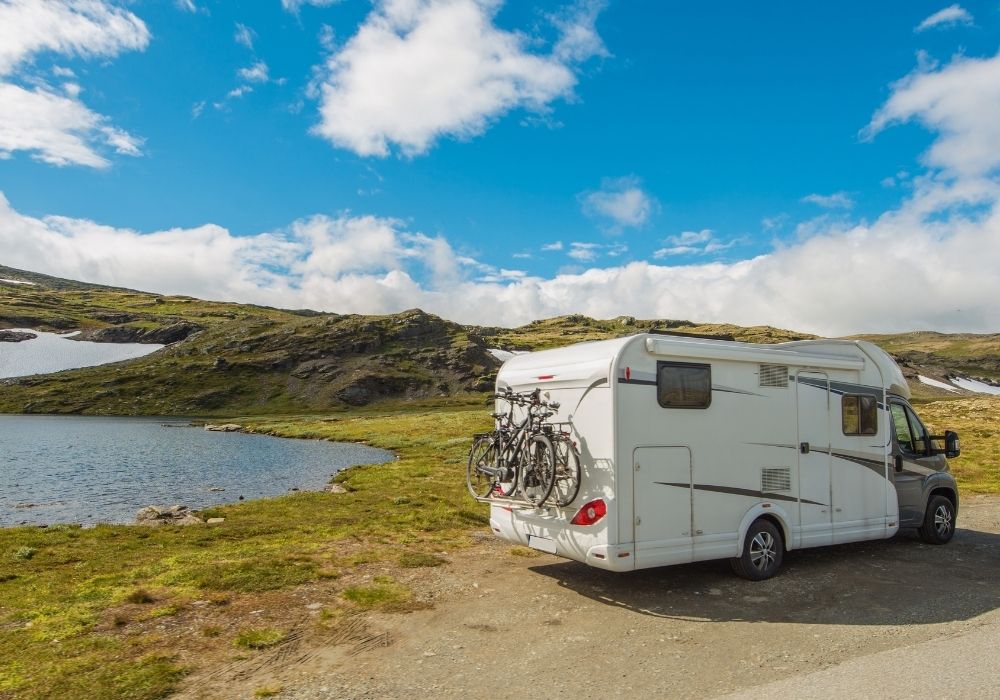 7. Expect a slump at around the six-month point. The initial excitement will have passed and you may suffer from travel fatigue.
You'll know if you have this as you will start feeling really uninterested in your journey and won't be looking forward to your next destination. Perhaps take a break from the RV or go home (if you can) for a week to see family. You'll be raring to go when you get back!
8. Invest in a small BBQ or tabletop grill which you can link up to an external gas point. Cooking outside is a great way to meet people and means your RV won't constantly smell of whatever you had for dinner last night.
9. Practice slow travel. There's no need to dash from one place to the next driving 6-8 hours a day. Appreciate every place you visit and look for what makes it special — everywhere has something to offer.
10. Don't worry too much. There is no right or wrong way to live in an RV, just a good way!
Conclusion
Is RV living right for you? Only you can know the answer to that. If you decide to make the move after researching, testing out living in an RV, and fully understanding your reasons for doing so, then throw yourself into it and take every opportunity you can.
Visit somewhere you've never been, try different experiences, meet new people and live life to the fullest. I can promise you that you won't regret it!
Like This Article? Pin it!