Rajasthan is one of the most interesting and popular states in all of India. From rock-cut forts and dune filled deserts to colourful markets and cities, Rajasthan is a traveller's dream. We backpacked through India during 2009, 2011 and 2012 and our time spent in this northwestern state was a definite highlight.
The word "Rajasthan" evokes thoughts of brightly coloured turbans, snake charmers, Maharaja style architecture and dune filled deserts, all of which we were to find during our trip here.
Our days were spent visiting ancient sites, wandering aimlessly through bazaars and narrow alleyways, and of course, sitting on the sidelines watching India unfold before us. With great transportation in India, we were able to get around this State with ease.
If you feel inspired by these beautiful photos, plan a trip to Rajasthan! For more information about travelling and backpacking around this beautiful region, check out the Rajasthan Tourism website.
Udaipur
Also known as the "White City" because basically every building here is painted white! If you're interested in palaces and temples, this is the place to come. The intricate details and carvings on the City Palace and Jagdish Temple are unbelievable. The ghats on any of the lakes are a great place to spend the day, and snap some fantastic photos.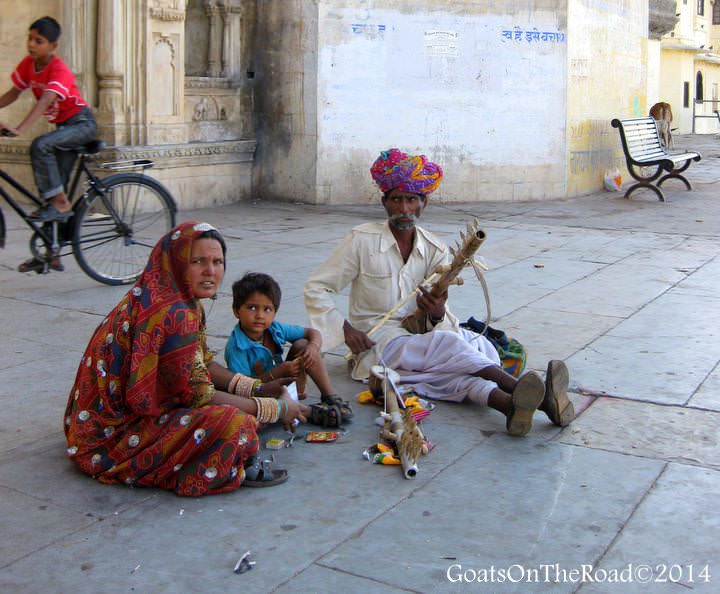 Jaipur
Also known as the "Pink City" because of the many pink coloured buildings. Jaipur is the capital of Rajasthan and the biggest city in the state. We were told by many to only spend a day here and then leave as fast as possible! But, as it usually goes, we didn't agree with our fellow travellers on this one and we ended up celebrating Christmas here. Jaipur is a city filled with stunning architecture, interesting bazaars and an old town dotted with hidden gems, a definite must-visit city in India.
Jodhpur
Named again after the colour of it's buildings, the Blue City of Jodhpur is the second biggest city in Rajasthan and is fast becoming a major tourist hotspot. With the Mehrangarh Fort towering over the city, a buzzing bazaar, numerous temples and intriguing alleyways, Jodhpur is an interesting place to explore. 
 Pushkar
This important Hindu Pilgrimage Site is one of the oldest existing cities in India. Pushkar is known for its many temples and fairs, and in particular the Pushkar Fair, which is held annually in November. During this time, thousands of animals (including over 50,000 camels) are brought here from all over the country to be traded and sold! Pushkar is a vegan city so you won't find any meat, dairy or eggs here unless you find them on the black market.
 Jaisalmer
Nicknamed the "Golden City" due to the sand coloured buildings, this UNESCO World Heritage Site is a great place to head off into the Thar Desert on a camel safari! A sandstone mud fort towers over the city with many people still living inside. Hotels, restaurants, palaces and temples can also be found within the walls. You'll never be bored in Jaisalmer!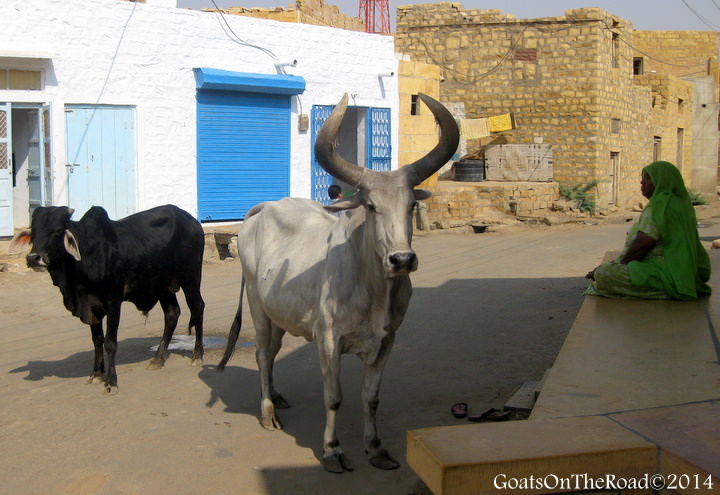 Rajasthan is one of the most photogenic places in India. It was hard to leave the camera in its case and just enjoy the surroundings. Literally around every corner there was something strange, interesting and beautiful to capture through the lens.
We've been to India three times now and will defintiely be going back a fourth time (and a fifth, and a sixth!)
Which photo was your favourite? Share with us below!
Like it? Pin it! 🙂