Having your own wheels to explore is the ultimate in travel freedom, and the region around Salta is the best place to hit the road! We travelled for 8 days and 7 nights around the province of Salta and Jujuy in our little silver Chevy Classic, and have nothing but amazing things to say about this journey. What did we get up to? Read on to find out…
Salta to Cafayate
Distance: 191 kilometers from rental office to Cafayate
Route: Highway 68
Duration: 11:00am depart, 4:00pm arrive (5 hours including stopping)
Road Conditions: Good. Tarmac.
Highlights: Farmland, Sandstone Formations, Quebradas de las Conchas National Park
After filling out the final rental documents and doing a once-over of our vehicle, we were off.
Armed with a picnic lunch, a paper roadmap (which wasn't very detailed), and our Google Maps app on our smart phone, we navigated our way out of the city.
Driving out of Salta was a dusty, busy experience, and it didn't become "nice" scenery for about an hour or so.
But, once we were out of the hustle and bustle, the natural beauty of the area was revealed.
We drove alongside lush green farmland and towering trees, before the topography morphed into desert landscapes complete with tall cactus and jagged mountains. We were in awe and we hadn't even arrived at the good stuff yet! Once we hit the entrance to the Quebradas de las Conchas National Park, we were constantly pulling the car over to take photos.
The entire area was breathtakingly scenic.
After driving for 141 kilometers, we arrived at the most popular site in the Quebradas de las Conchas. There are a few main sandstone formations that are signposted for tourists, but even though we were looking, we almost missed the main formation, the Devil's Throat (la Garganta del Diablo). We pulled over to check out the gaping hole in the ancient stone, it was massive!
Other notable sites were the Obleisk, Amphitheatre, Castle, Toad and Friar.
For us, it wasn't so much about the main rock formations, it was about the surroundings.
The entire trip through the national park was an otherworldly experience. We were completely engulfed by pink, red, purple, rust, and grey coloured rocky mountains. The sandstone slopes seemed like they would crumble if we looked at them the wrong way, while the shape and texture of the mountains was unlike any we had seen before.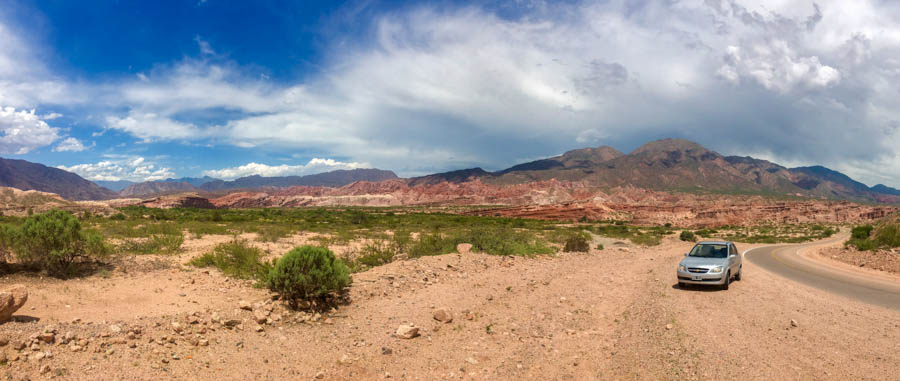 With about 20 kilometers left in our drive from Salta to Cafayate, we came across some massive oak barrels on the side of the road. Upon further inspection, we realized that there was a woman standing in one of them and that it was actually a little side-of-the-road wine bar!
We were given some goat cheese (very popular in this region), and a tasting glass of wine from the Finca La Punilla for 50 pesos each ($3.25). This was our first introduction to the wine region of Cafayate, which is surrounded by numerous vineyards and wineries and dotted with wine bars.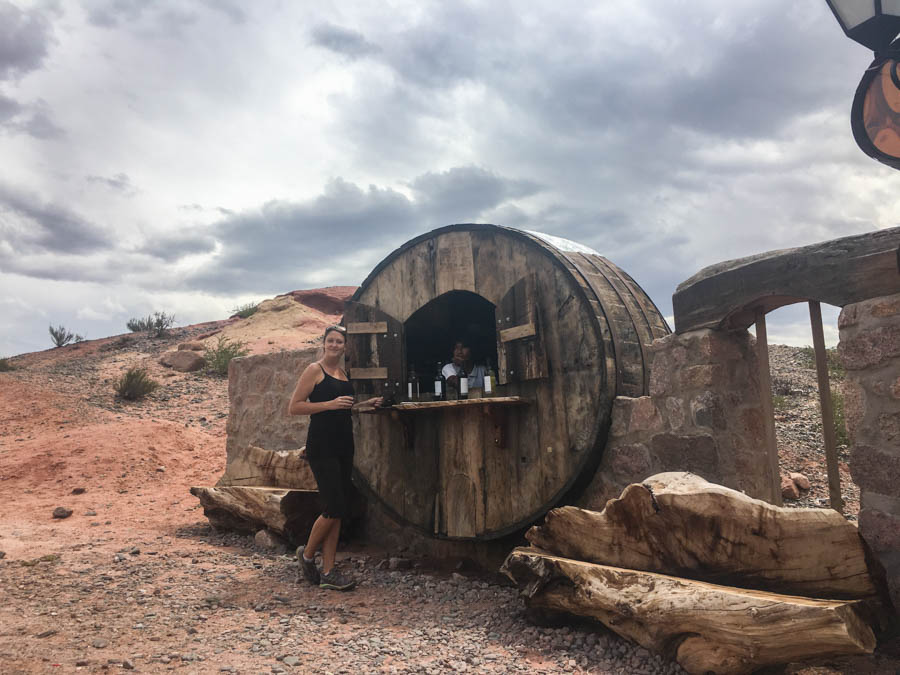 Cafayate may not be a well-known wine destination like Mendoza to the south, but this northwestern town has rich soil and produces high quality grapes.
We had a feeling we were going to love this area, and had booked ourselves 4 nights in Cafayate to visit wineries in town, and the surrounding vineyards as well.
Our first night's stay was at the stunning Patios de Cafayate boutique hotel. Turning off of the asphalt highway and down a dirt road lined with white grapes ready for harvest, was something out of dream. The blindingly white Bodega El Esteco was directly in front of us, while walking under an arched entranceway brought us to the hotel itself.
We were told we had been upgraded to the "suite" room. Upgrades are never a bad thing, and as we walked up the stairs, we were grinning from ear to ear.
Opening the door to our suite we put down our backpacks and couldn't believe our eyes. The room was massive! The beautiful bathroom had a jacuzzi tub that could easily fit 2 people, there was a living room area and a comfy king-sized bed.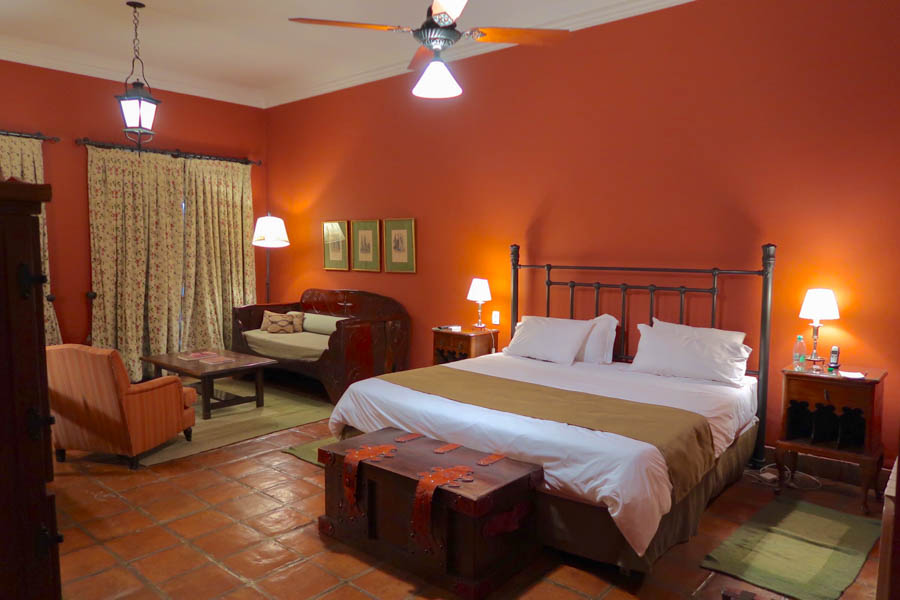 But, best of all was the view from the double-doors leading to our little balcony. The views of the pool down below and across to the vineyards and mountains made it difficult to leave the room. Beautiful little antique touches filled the suite, which were very fitting considering the original farmstead is from 1892.
The character and decor of this boutique hotel was lovely. The only problem was that we could only stay for 1 night as they were fully booked this time of year! Elated with the hotel and how gorgeous the setting was, we made our way downstairs for dinner.
We were greeted with a glass of sparkling white wine.
An upgrade, friendly staff and now a complimentary glass of wine? It couldn't get any better! Or so we thought.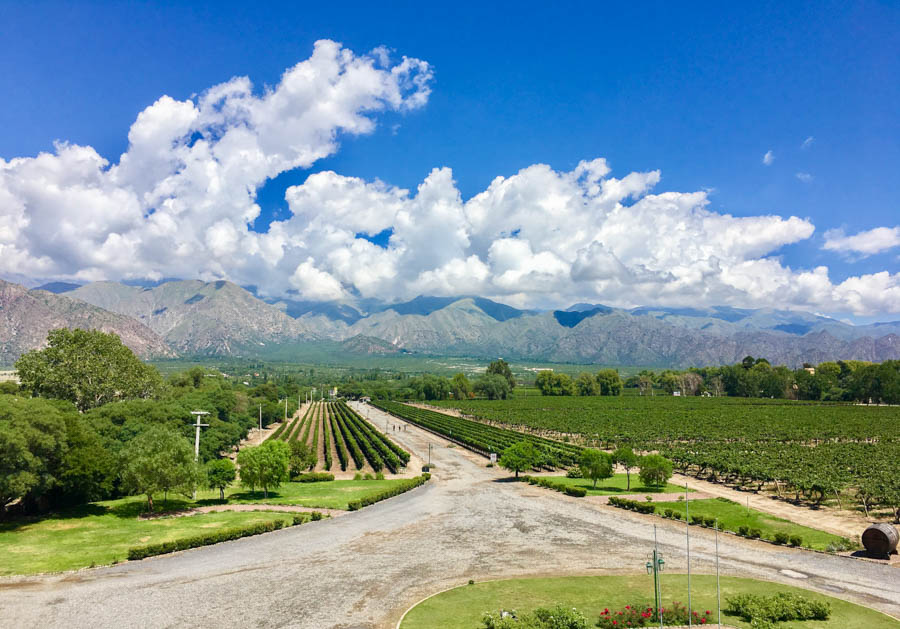 That night at the on site La Rosa restaurant I had the best steak I've ever had in my entire life. Chef Martín served up a rib eye that was marinated in a Red Wine Malbec sauce. It was juicy, oh so tender, and seasoned to perfection. On top of the slab of meat sat a little piece of herbed butter.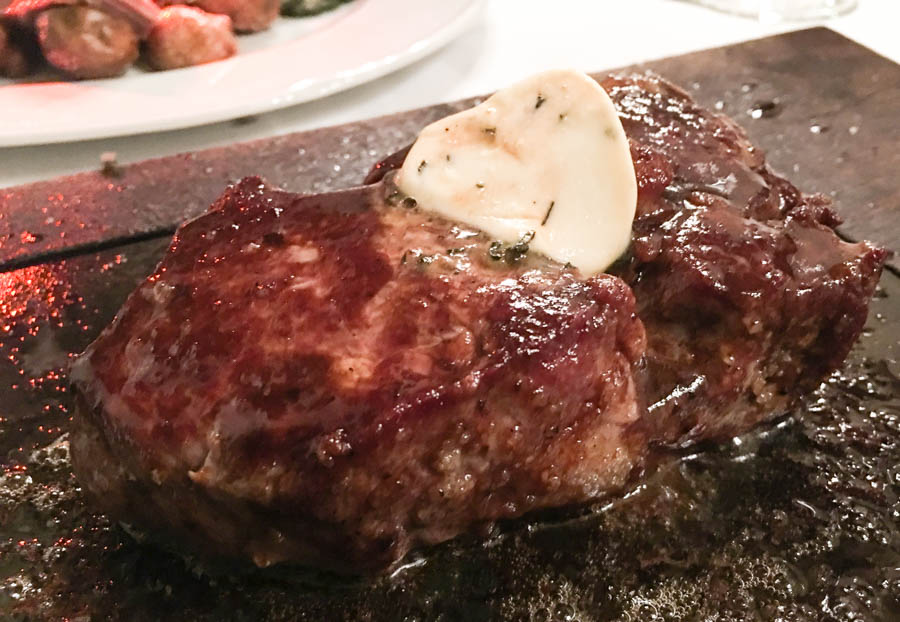 This night was also the first time that Nick had ever tried sweetbreads, which he actually really enjoyed. The chef constantly came around to check on everyone's meals and the servers were very attentive.
With bellies full from our three course meal, we rounded off the incredible day with a relaxing jacuzzi before promptly passing out on the fluffy bed. Day 1 of our road trip was going to be hard to top.
Check out our video!
Check out more of our Argentina Videos here!
Travel Tips:
We booked our car with Cactus rental in Salta, and at $51.25 / day, it was quite expensive, but a normal price for Argentina. And, having the freedom to travel independently was worth every penny!
Even if we weren't working with Destino Argentina, we would have stayed longer at Patios de Cafayate. Room prices start at $136 / night for 2 people including a buffet breakfast, and considering we've spent around $100 / night for a very basic room, this is excellent value.
If you don't stay at Patios de Cafayate, make sure to at least visit their restaurant. The food is so good and at around $15 / main course, it's very affordable.
Bring a picnic lunch to enjoy on the way to Cafayate, and make sure to have enough drinking water – it's the desert after all.
It's best to set off from Salta in the morning (but not too early), because in the late afternoon, the winds really pick up in the Quebradas.
A huge thank-you to Destino Argentina for arranging our night's stay at Patios de Cafayate. And of course, a massive thanks to the staff of Patios de Cafayate for hosting us at the hotel and restaurant, and for making our stay a very memorable one.
Although we were working with the Argentinian Tourism Board as bloggers, we were in no way influenced or told we had to write in a positive way.
Like it? Pin it! 🙂