"You're taking that road?" Our guide on the Free Walking Tour in Salta exclaimed. "It's often flooded and is a pretty crazy drive."
We had heard that the road from Cafayate to Cachi was bad from other bloggers, but having a local Argentinian tell us it was bad was another wake up call. We were travelling in the Salta province during the rainy season, meaning we could expect road closures, landslides and floods along Route 40.
We set off from Cafayate with foggy wine brains, and our fingers crossed for sunny days.
To read part 1 of our road trip from Salta to Cafayate, click here.
To read about our 4 days spent in Cafayate, click here.
Don't miss the videos at the end of this post!
Cafayate → Cachi
Distance: 171 kilometers
Route: 40
Duration: 5.5 hours, including a lunch stop at a small restaurant
Road Conditions: Gravel, Dusty, Narrow Spots
Highlights: Quebradas del los Flechas Scenery, Cachí
Where We Stayed: Hotel Pueblo Antiguo
Within 29 kilometers of leaving Cafayate, the pavement ended. It would be nothing but dusty, bumpy roads for the duration of our trip to Cachí!
The landscape was desolate. We were surrounded by desert, cactus and the occasional shack on the side of the road. The views were alright, but so far we weren't sold on the fact that this route was supposed to be one of the best in the area.
As soon as we reached the Quebradas de los Flechas, our opinions changed. Drastically.
After driving through the Quebradas de las Conchas from Salta to Cafayate, we didn't think that the scenery could get any better on our road trip. But, when we entered into these Quebradas, we were completely blown away by the jagged sandstone rock formations that greeted us at every turn.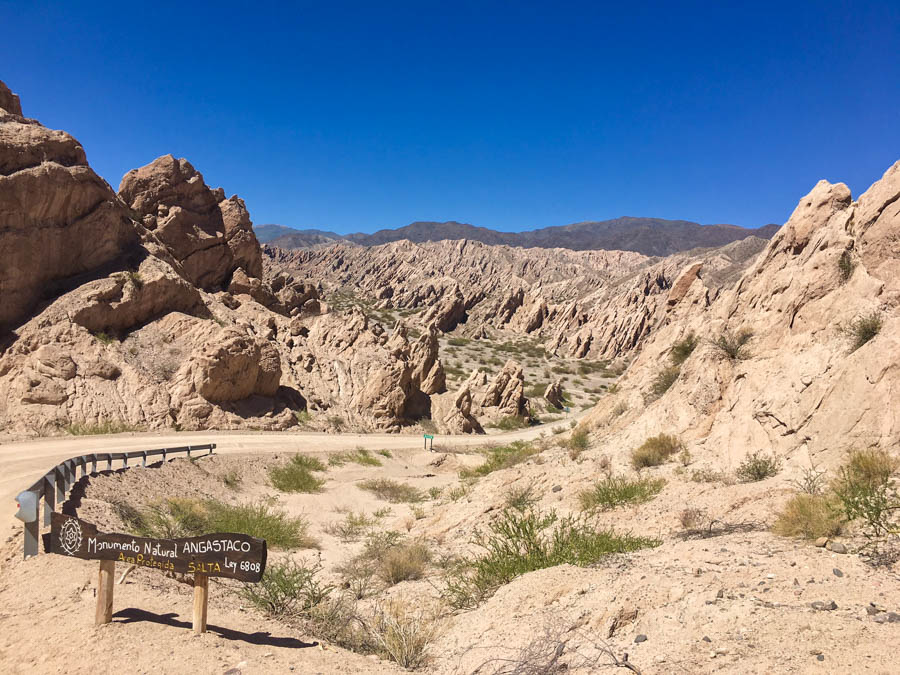 With only a couple of other vehicles on this route, we had the gorgeous views basically all to ourselves. We pulled over numerous times to take photos, so we didn't make the greatest time, but we couldn't help ourselves.
After 5.5 hours of driving without any rain or flooded roads, we arrived in Cachí. I suppose we were lucky! The small town of about 5,500 inhabitants (who are mostly descendants of the Díaguita people) is located at the foot of the Nevado of Cachi, which is a chain of numerous goliath mountain peaks, the tallest being 6,380m.
With its whitewashed buildings and easygoing locals, we really enjoyed this tiny town – especially the side of the road quesadillas with goat cheese!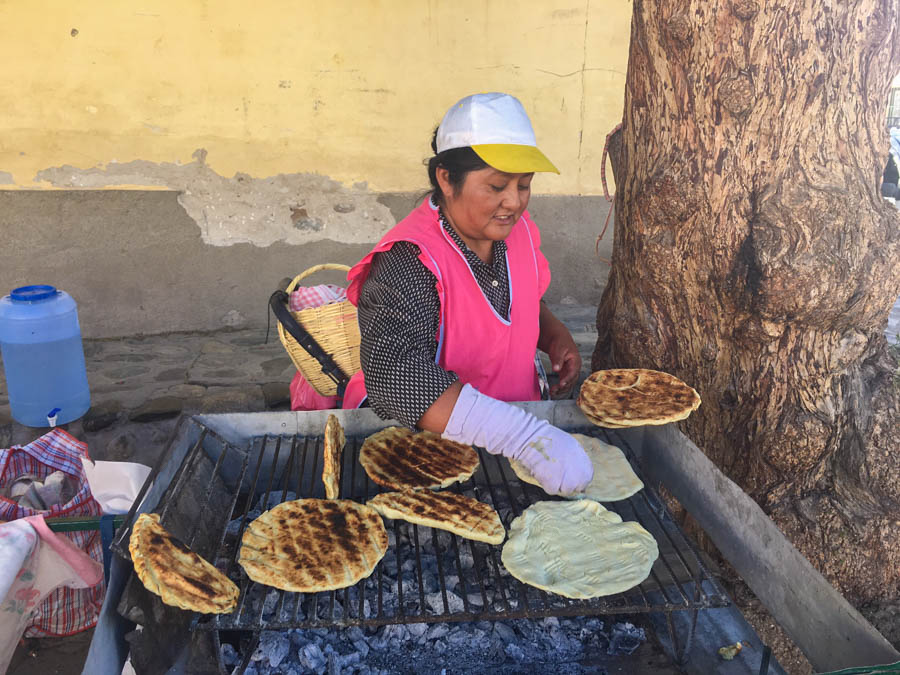 Cachí → Salta → Tilcara
Distance: 336 kilometers
Route: 33 Cachí to Salta, and Old Route 9 Salta to Tilcara
Duration: 6.5 hours including a 30 minute lunch break
Road Conditions: Good. Paved. Narrow & windy through Route 9
Highlights: Switchback roads. Viewpoints. Old Route 9
Where We Stayed: Posada Con Los Angeles
The following morning we packed up our little Chevy Classic and hit the road again. Car travel is so much easier than taking public transport! Sometimes we don't even fully pack our bags and just throw everything in the trunk.
The plan today was to drive north towards Salta, which is where we started the road trip. But, rather than drop off the car, we were bypassing the city and continuing north to the town of Tilcara, which is located near the borders of Bolivia and Chile.
The day started off with us completely missing out on the "must-see" views of the valley down below because of thick, low hanging clouds. Annoyed and feeling the effects of FOMO (Fear Of Missing Out) we began our descent along many hairpin turns.
We could barely see in front of us. Our lights were on, the fog was thick, and the road was incredibly windy. In many parts, it would have proved impossible for us to pass another vehicle. Luckily, none were coming up the hill, just going down.
After the anticlimactic drive through the switchbacks, it actually became an eventful drive.
We hit and killed a bird, saw many dead tarantulas on the road – and one that was very much alive. We spotted numerous llamas and donkeys, a unique cemetery and a random local festival complete with music and food!
Continuing on, our scenery changed from dry and bare, to lush and full. After passing by Salta town on the highway, we got on the old Route 9 and were surrounded by thick green trees, rushing rivers and narrow gorges.
We definitely weren't in the desert anymore…until we arrived in the Jujuy Province.
We were contemplating whether we should complete our day of driving in Purmamarca, or Tilcara, but opted with the latter and are glad we did. This little town had a very "Bolivian" feel to it, with traditional handicrafts, clothing and artwork that we hadn't seen so far during our stay in Argentina. Restaurants served up llama (yum!) and many women were dressed in aboriginal clothing.
This unique mountain village is set at the foothills of the Andes mountains in the Quebrada de Humahuaca valley, and at an elevation of 2,500m.
Tilcara → Salinas Grandes → Purmamarca → Tilcara
Distance: 124 kilometers
Route: 9, 52
Duration: 4 hours return driving time
Road Conditions: Good. Paved. Windy
Highlights: Switchbacks. Valley Views. High Altitude Point. Salt Flats. Coloured Mountains
Did you know that there are salt flats in Argentina? We'd heard all about the world's largest flats in Bolivia, but had no idea that Argentina had their own to offer as well. The salt flats were the goal, and the main site that we were looking forward to on this day drive, but as it would turn out, we really enjoyed the journey there as well.
Our little car zigged and zagged up the mountainside, before reaching the highest point at 4,170m. We jumped out of the car for a photo-op, and soon realized how incredibly intense the sun was, and that our breathing was a bit laboured. Having enough drinking water during these drives is a must.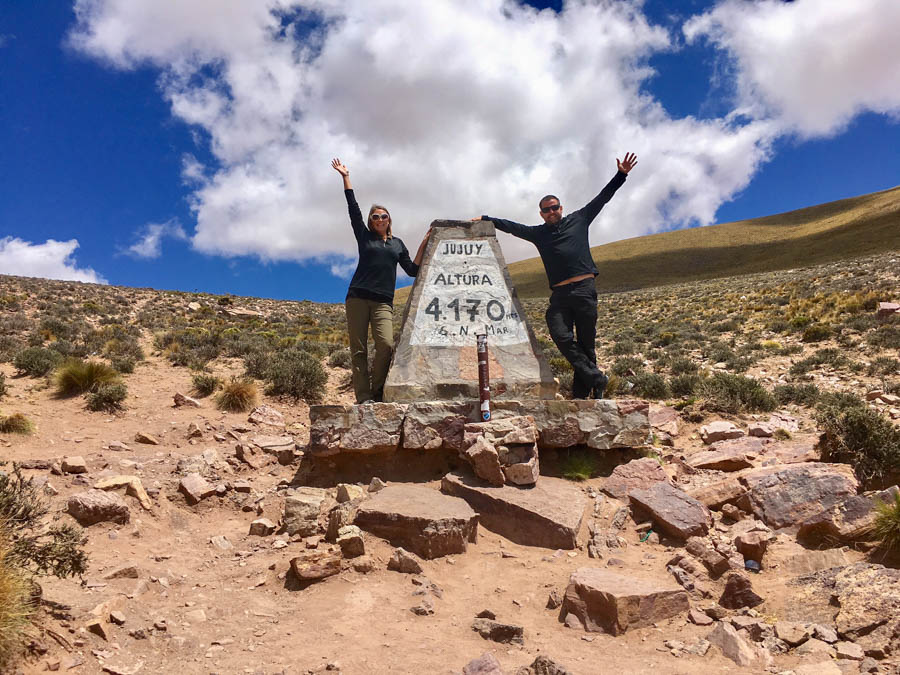 Coming down from that elevation, we could see the blindingly white salt in the distance!
Feeling the car shake a little bit, I opened up my window to listen for any sounds. There it was, a whistling noise. We had a flat tire.
It seems that whenever we rent a car, we get a flat. Pulling over, we quickly got the spare tire out of the trunk. The sun was beating down on our fair skin. The ground was soft, gravelly and sandy, rendering the jack practically useless. The car actually fell off of the jack at one point. I searched around for a flat rock to use as a base, and returned proudly holding the stone. I had done my part!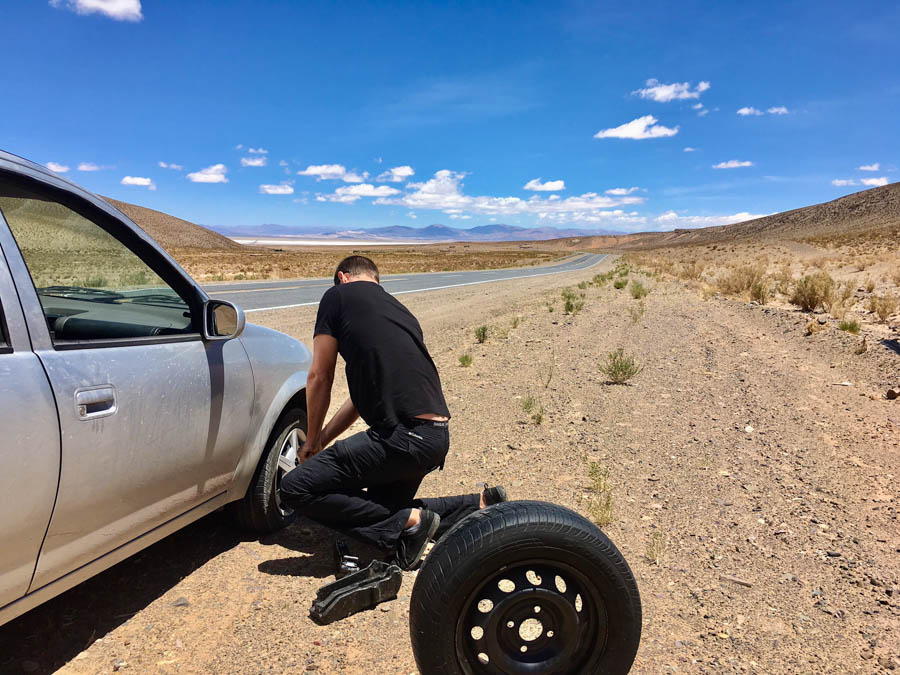 A few minutes later, we were good to go and we were back on the road towards the white mass gleaming in the distance.
The interesting aspect about Argentina's salt flat is that there's a road cutting tight through the center of it. So, rather than having to circumference the area, we could drive straight through. Parking in what we thought to be the most "white" area, we jumped out and attempted to do some of those optical illusion photos that everyone does so well, but soon realized we needed a third person to actually take the picture.
Regardless of the photo fail, we were in awe of the salt flats, which sit at an elevation of 3,450m and cover an area of 212km². After going practically blind from staring at the white flats, we decided it was time to move on.
Making our way to Tilcara, we stopped in at Purmamarca, an even smaller town known for its colourful mountains.
The Hill of Seven Colours is exactly what it sounds like – a hill made up of 7 different colours! Various rocks and minerals have led to the creation of the beautiful reds, pinks, purples, greens and browns in the mountain. The best time to visit Purmamarca is just after dawn when the colours really pop, not at 4:00pm when we went…
Tilcara → Salta
Distance: 200 kilometers
Route: 9 (new), 66, 34, 9 (new)
Duration: 2.5 hours
Road Conditions: Good. Paved.
Highlights: None really!
Where We Stayed: Posada del Angel
Since we had already experienced the scenic "old" Route 9, and because our rental car had to be back by 11:00am, we opted for the faster highway back to Salta.
There are a few gas stations along the way to fill up before returning to the city, but other than that, there aren't really any "sights". This is the quickest way back to the main city.
---
Renting a car to explore the provinces of Salta and Jujuy was a huge highlight of our trip to Argentina. In my opinion, having your own wheels in this area of the country is a must. Going on a tour would be too rushed, and there are so many amazing sights to pull over and look at along the way. Roadtripping in Argentina, check!
Planning a road trip in Salta / Jujuy Argentina? Have a look at our videos!
Check out more of our Argentina Videos here!
Like This Article? Pin it!