As digital nomads, we're constantly browsing the web in search of somewhere to live, unpack and put down some temporary roots. We do our research and try to source out costs and amenities before moving, but rarely do we find exact costs of basic, every day items. Surely, these are the things that people want to know when planning on visiting or living somewhere, right?
We lived on Lake Atitlan for almost 2 months, and are able to give you a good idea of what groceries, transportation and accommodation cost are like here.
Note: at the time of writing, 1 USD = 7.66 GTQ
These monthly costs are for two people. 
Accommodation:
We looked at quite a few rentals before deciding on our current casita (small home). If you're comfortable with just showing up and walking around to find an apartment, that is totally possible. You can find "for rent" signs on the actual homes that are available, or, you will find numerous ads and listings in cafes, bars, hostels and tour agencies.
If you have time and don't mind staying in a hotel until you find an apartment, then this option could work for you. However, you will most likely be dealing with a local person if you go this route, which will mean that you'll need to be able to negotiate in Spanish.
If you would rather find something ahead of time before arriving at the lake, you can always check online with some of the real estate companies. We found that the prices of accommodation online were actually quite good, plus, you can deal with an English-speaking person.
We booked through Atitlan Solutions/Atitlan Vacation Rentals, who had quite a few listings for us to look at before deciding on a vacation home we liked. You can also check out Terra X Atitlan or Century 21 (Antigua Fine Homes).
In San Marcos, you can find a wide range of rooms at Lush Apartments. Some have kitchens, while others do not. Some are studio style, while others have separate rooms. The costs range from $500 – $1,700 USD / month.
Just outside of San Marcos, a 10 minute tuk-tuk ride, is Pasaj-Cap, a rental complex with 6 apartment units, 1 house and 3 cottages. The costs here range in price starting from $525 USD/month. An obligatory $12/week cleaning service must be paid on top of the rental rate.
In Paxanax at Sunset Lodge (where we live), which is a 2 minute boat ride or a 20 minute walk away from the village of Santa Cruz, the cost of our apartment is $600 USD / month (although, we received a discount to $550 USD / month). This includes all utilities and a twice-weekly cleaning service, but we pay for drinking water and cooking gas.
There are many options available in the villages of Panajachel and San Pedro as well.
Check out the video of our beautiful casita here:
Casita – $550
Bottle of drinking water, 18L, (x 5 bottles) 20Q/jug ($13)
Tank of cooking gas (2 tanks) 140Q/tank – 280Q ($36.33)
Our Total Cost of Accommodation and Utilities / Month
Total: $599.33
Food
We are actually quite surprised at the cost of groceries here on Lake Atitlan, especially compared to the costs in Mexico. It's still much cheaper than groceries in the western world though.
Here is a breakdown of the cost of food items, in Guatemalan Quetzal and in American Dollars:
Dairy Products

Aged cheddar cheese – 30Q ($3.92)
Block of regular sharp cheddar – 28.75Q ($2.61)
Philadelphia cream cheese – 19Q ($2.48)
Mozzarella shredded 400g bag – 34Q ($4.44)
Parmesan cheese 115g – 26.75Q ($3.49)
Butter – 24.80Q ($3.24)
Yogurt 1L – 25.70Q ($3.36)
Milk 1L – 14Q ($1.83)

Breads, Rice etc.

Small wheat tortilla wraps – 10Q ($1.31)
Loaf of grain bread – 19.35Q ($2.53)
Lasagna noodles – 10.25Q ($1.34)
Spaghetti noodles – 2.75Q ($0.36)
Chow mein noodles – 14.50Q ($1.89)
Rice – 4.5Q ($0.59)

Protein

Eggs – 14.80Q / dozen ($1.93)
Ground beef – 49Q/lb ($6.40)
Chicken breast (2) – 29Q ($3.79)
Refried beans – 6Q ($0.78)
Fish fillets (3) – 35Q ($4.57)

Fruit and Vegetables

White onion – 0.92/lb ($0.12)
Tomato – 0.77/lb ($0.10)
Carrots – 1.14/lb ($0.15)
Cucumber – 1.60Q ($0.21)
Green Pepper – 1.60Q ($0.21)
Garlic 3 pack – 4Q ($0.52)
Avocado – 3.95Q ($0.52)
Papaya – 10Q ($1.31)
Cantaloupe – 7.95Q ($1.04)
Banana – 1.23/lb ($0.16)

Alcohol

Beer in store – 5/7Q ($0.65
Beer in Restaurant – 20Q ($2.61)
Bottle of wine in store – 41.75Q ($5.45)
Glass of wine in restaurant – 25Q ($3.27)

Snacks and Other

Quaker cookies (4) – 2.50Q ($0.33)
Guatemalan dark chocolate bar – 21.75Q ($2.84)
Doritos chips (medium bag) – 9.60Q ($1.25)
Spaghetti sauce – 7.20Q ($0.94)
Mayonnaise – 12.75Q ($1.67)
Ketchup – 18Q ($2.23)
Olive oil 750ml – 20Q ($2.61)
Coffee 460g – 19Q ($2.48)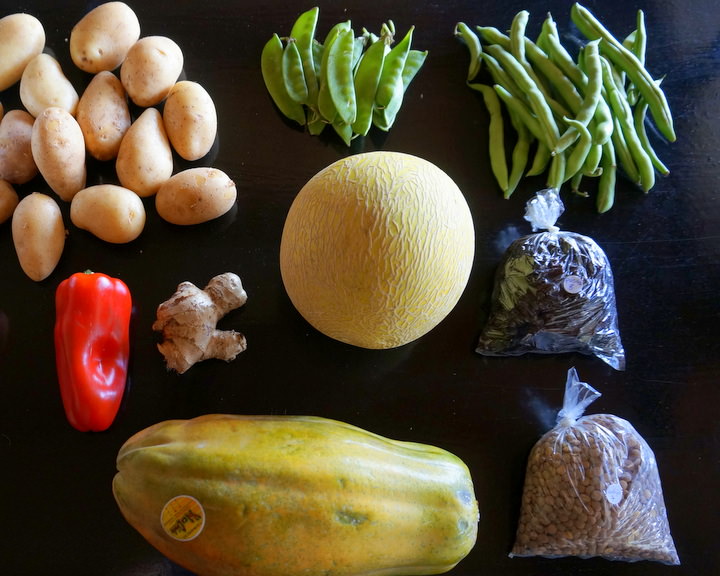 During our first month here (March), we spent 3,962 Quetzales ($517 USD) on groceries – strictly food items. During our second month (April) we spent a little bit less than that, but quite close.
It's important to note, that we eat quite well, with 3 big meals a day and lots of snacks. Your food budget could be much less than ours.
Our Total Cost of Food / Month
$517
Alcohol and Entertainment
This list includes the cost of wine and beer at the shops, street food, coffee at a cafe and a typical meal at a restaurant in Panajachel or San Pedro.
Bottle of wine – 41.75Q ($5.45)
Bottle of beer – 5Q ($0.65)
Cup of coffee – 12Q ($1.57)
Street food meal with chicken and sides – 15Q ($1.96)
Meal at a restaurant – 30Q and up ($3.92 +)
We have a beer or a glass of wine almost every day, and we don't eat out at restaurants, except for the occasional street-food meal.
Our Total Cost of Alcohol/Entertainment / month
$114
Transportation
There aren't any proper roads connecting all of the villages and most people go by taxi boat (lancha). You will arrive by bus to the main town of Panajachel, and it is also possible to arrive directly to San Pedro by road from Guatemala City, Xela and Antigua. Within the villages of Panajachel, San Pedro, San Juan and Santa Cruz, you can take a tuk-tuk.
Note: Foreigners pay more than the locals do for boat rides, there's no point in arguing, it's just the way it is. These are the prices for tourists:
Taxi boat from:
Panajachel to Santa Cruz – 10Q ($1.31)
Panajachel to San Marcos – 20Q ($2.61)
Panajachel to San Pedro – 25Q ($3.27)
Panajachel to San Juan – 25Q ($3.27)
San Pedro – San Marcos – 10Q ($1.31)
Tuk-Tuk ride within Panajachel – 5Q ($0.65)
Tuk-Tuk ride between San Juan and San Pedro – 15/20Q ($1.96/$2.61)
We go into Panajachel about once a week by boat from Santa Cruz, we visit nearby villages and we take a tuk-tuk sometimes within the city. The more you move around, the quicker your costs will add up. For both of us to go to San Pedro from Santa Cruz, it costs 100Q ($13) return.
Our Total Cost of Transportation / Month
$48.32
Final Thoughts and Costs
How much you will spend living on the lake all depends on which village you live in. If you're in Panajachel or San Pedro, the temptation for bars and restaurants is high, which will ultimately up your budget. If you're constantly partying, travelling in between villages and eating out at restaurants, you will spend quite a bit more than we did.
Our lifestyle consists of free activities like kayaking, swimming and walking, the occasional trip to nearby villages, eating and drinking at home and just chilling out.
Each month we also spend an extra 300Q ($38.92) or so on miscellaneous items like tips, cell phone minutes, toiletries, clothing and odds and ends.
Our Total Approximate Monthly Cost of a Couple Living on Lake Atitlan
$1,320
To learn more about Panajachel, click here.
To learn more about Santa Cruz, click here. 
To learn more about San Pedro, click here. 
Hopefully this information will help you plan and budget for your trip to the lake!
Like This Article? Pin it!