Kuala Lumpur, or KL as many know it, is the bustling capital of Malaysia. It's also a cultural melting pot, with a mix of Malay, Chinese, Indian, and indigenous tribes. If you're hoping to visit the Malaysian capital, read on for a list of the best things to do in Kuala Lumpur.
With a name that literally means "muddy confluence," this may not sound like a fantastic travel destination at first! In fact, many travelers never see beyond the airport. This is a crying shame, as there are lots of excellent things to do in KL to warrant sticking around for a few days.
Admittedly, I first visited Kuala Lumpur out of necessity. We were traveling to Indonesia and had to catch a flight out of there. Rather than make a beeline for the airport, though, we spent a few days exploring the city. I was happy we booked round-trip flights because I quickly realized there's a lot going on here.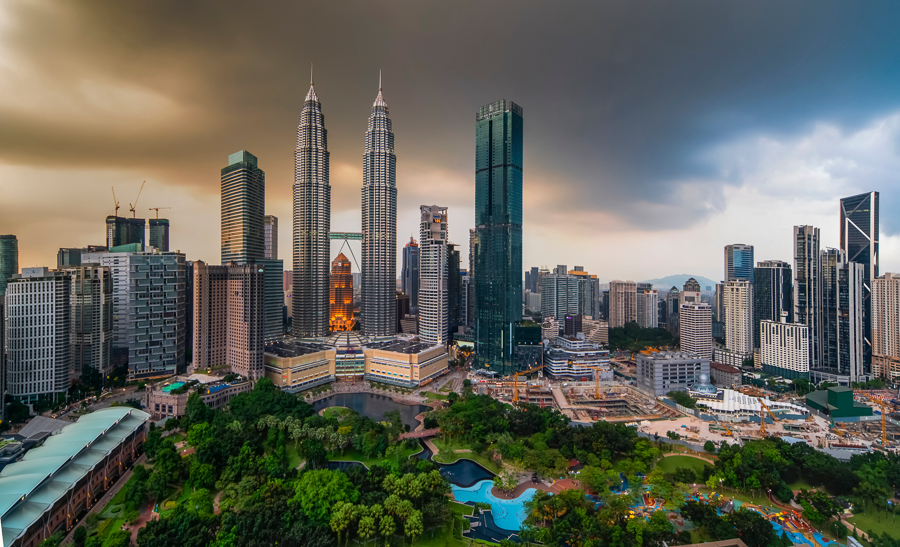 With just a few short days, you can explore the city's ethnic neighborhoods, visit caves surrounded by monkeys, check out one of the coolest skyscrapers in the world, and lots more. The city is also home to some world-class museums and parks, so there are fun things to do in Kuala Lumpur regardless of the weather.
Perhaps best of all, you get to enjoy mouth-watering cuisine around every corner here. From Malaysian nasi lemak and Chinese noodles, to Indian curry, you definitely won't go hungry here!
Let's get to it and take a look at some of the top things to do in KL.
1. Dataran Merdeka
Our exploration of the Malaysian capital begins in Dataran Merdeka (Independence Square). It was here that Malaysia declared its independence from the British on August 31st, 1957.
While the square itself is actually just a big, well-manicured lawn, there's plenty to see surrounding it. Be sure to have your camera ready to snap some photos of the gorgeous Sultan Abdul Samad Building. You can also see the 95-meter tall flagpole in the place where the Malaysian flag was first raised.
Head into the Kuala Lumpur City Gallery, which has exhibits detailing the history of the city. It's very informative and best of all, totally free! You can also take that all-important photo with the "I ❤️ KL" sign while you're here.
Around the square, you'll also see the Royal Selangor Club. Built back in 1884, this once served as a meeting place for the British elite during colonial times. It's still open and it's still an exclusive (and very expensive) club, but you can at least admire the beautiful building.
Click here to find Dataran Merdeka on the map and get directions. The square is open 24 hours, but the City Gallery is only open from 9-6:30pm.
2. Petronas Towers – One of the most popular things to do in Kuala Lumpur!
The jewel in the skyline of Kuala Lumpur is definitely the Petronas Towers. These twin towers are 88-stories tall and are the most famous symbol of the city. Fun fact – these are actually the tallest twin towers in the world.
They were designed by Argentine architect César Pelli in a post-modern style. It's a very impressive design with a facade that resembles motifs found in Islamic art.
I suggest checking out the towers at least twice on your trip — once during the day and again at night when they light up. Whatever time of day it is, visiting the towers will most likely be high up on your list of things to do in KL.
With your ticket, you can first head up to the Skybridge that connects the towers. Located on the 41st and 42nd floors, this is the highest 2-story bridge in the world. From there, you go all the way to the 86th floor to the amazing observation deck.
The Petronas Towers are open from Tuesday-Sunday from 9AM-9PM, with the last admission at 8:30. Tickets are about $20 for adults, $10 for seniors, and $8 for children. Click here for directions.
3. Eating Street (Jalan Alor)
Without a doubt, one of the tastiest things to do in Kuala Lumpur is strolling along Jalan Alor. Commonly known simply as "Eating Street," this is the place to be to sample some of the best (and cheapest) food in the city.
On both sides of the street, you'll find a wide variety of restaurants. There are countless hawker stands here as well, with plastic stools spilling out onto the street to accommodate the hungry masses. Be sure to bring your appetite, as there are tons of great choices here.
Jalan Alor is located just a 5-minute walk from Bukit Bintang Station. Click here to get directions. You can come here any time, but it really comes to life at night when all the lanterns illuminate the street. Many locals like coming here for a late-night meal after a big night out on the town.
4. KLCC Park
Even if you decide to skip out on going up to the top, you can enjoy the views of the Petronas Towers from the nearby KLCC Park. This is a 50-acre oasis of green space right in the middle of the big city.
The location of the park is definitely a strategic one. It's next to the iconic Petronas Towers to highlight the importance of nature among all the hustle and bustle.
There was a lot of attention to detail in the design of this park as well. For example, they selected trees that would attract migratory birds. The park is home to a jogging track, wading pool, a large playground, and more.
A highlight of KLCC Park is the man-made Lake Symphony. The lake has musical fountains that put on a show of sound, light, and water every evening at 8, 9, and 10P PM. Be sure to add this to your list of things to do in Kuala Lumpur!
☞ See Also: Top 10 Best Malaysian Islands
5. National Museum of Malaysia
If you're interested in learning more about the history and culture of the country, be sure to head to the National Museum of Malaysia. It's a beautiful building, as the design comes from traditional Malay palaces.
There are several different galleries in the museum, each with their own theme. In one day, you can go from pre-history to modern-day Malaysia and all points in between. Plus, a visit to the museum is the perfect way to escape the often scorching mid-day heat of Kuala Lumpur!
The National Museum of Malaysia is open daily from 9AM-6PM. Tickets cost just over $1 for adults, so this is a great bargain! Click here for directions.
6. Kampung Baru (traditional village)
Kuala Lumpur is very much a modern city, full of glistening skyscrapers and high-end shopping malls. Some have resisted the city's breakneck development, though, including the residents of Kampung Baru.
Here you'll find one of the last examples of traditional village life in the big city. Land and homeowners here have refused offers from developers on many instances in an effort to maintain their way of life. Ironically, the name Kampung Baru actually means "New Village."
As Kampung Baru sits on very valuable land nearby the Petronas Towers, developers are very eager to swoop in. It might happen sooner than later and could cost well over $1 billion to buy everyone out. Make sure you check out Kampung Baru before the wrecking ball arrives. You can get directions on the map here.
7. Batu Caves
One of the most popular things to do in Kuala Lumpur is taking a trip out to the Batu Caves. This series of caves is located in limestone cliffs just north of the city.
It's actually a very important pilgrimage site for Hindus, as the caves are home to several temples and statues. The caves are the focal point of the Hindu festival Thaipusam, when thousands of people visit for the processions.
Upon reaching the Batu Caves, the first thing you'll notice is the giant, golden statue of Lord Murugan. The next thing you'll probably see is a cheeky monkey, as the caves are home to countless long-tailed macaques. While you don't need to be afraid of the monkeys, it's best to keep your distance. They can get quite territorial and have been known to bite tourists.
Monkey business aside, it's well worth the short train trip out to the caves. While the Batu Caves are free to visit, you'll have to join a tour for about $8 if you want to check out the Dark Caves. Click here to get directions to both.
8. Museum Hopping
In addition to the National Museum of Malaysia, you've got plenty of other options in KL. Another great choice is the Royal Museum, which was the official royal residence for over 80 years.
If you want to see how royalty lived in Malaysia, be sure to add this to your list of things to do in Kuala Lumpur. The Royal Museum is open daily from 9AM-5PM and costs around $2 for adults. Click here to get directions.
Art lovers will want to be sure to include a trip to the Islamic Arts Museum. With over 10,000 artifacts, their goal is to display a collection that's representative of the Islamic world. It's open daily from 9AM-6:30PM and costs just over $3 for adults. You can check it on the map here.
There are plenty of other worthwhile museums in KL, including the Museum of Illusions, National Visual Arts Gallery, and the Orang Asli Crafts Museum. It's nice to have options for where to go on a hot and/or rainy afternoon, as those are frequent here!
9. Chinatown
Kuala Lumpur's Chinatown is centered around Petaling Street. There are large Chinese arches at either end of the street and it's covered by a long green roof that's commonly called the "Green Dragon."
Along this pedestrian-only street, you'll find countless shops and vendors selling things like traditional Chinese medicine and counterfeit watches. Haggling is not only allowed but encouraged here!
Of course, there's also plenty of delicious food in Chinatown. Be sure to try some Hainanese chicken rice while you're here! An interesting side note I'll add is that I found the cheapest booze in the city in Indian-run shops in Chinatown. It's hard to find a cheap drink in this city (well, the entire country actually), so I thought I'd let you know!
In addition to shopping, eating, and drinking cheap beers, you can visit both a Taoist and a Hindu temple in Chinatown. If you're a backpacker, you'll likely end up staying here as Chinatown is home to several great budget hostels. Click here for directions.
10. Perdana Botanical Gardens
When you need an escape from the concrete jungle, one of the best things to do in KL is visiting the Perdana Botanical Gardens. Built way back in 1888, the gardens have been a popular refuge ever since.
There's enough to see and do in the gardens to keep you busy for an entire day. Here you can see the National Monument, visit the hibiscus and orchid gardens, or just relax by the lake.
The gardens are also home to deer, bird, and butterfly parks. To get around the massive park, you can hop on the shuttle tram which runs from 9AM-6PM and costs just over $1. There are also bicycles available to rent if you'd prefer to cycle.
It's a great way to spend a leisurely afternoon in the city, so be sure to add a stop here to your list of things to do in Kuala Lumpur. Click here for directions.
11. Thean Hou Temple
Another great way to experience Chinese culture in Kuala Lumpur is by visiting the Thean Hou Temple. This beautiful temple incorporates elements of Buddhism, Taoism, and Confucianism. It's one of the biggest temples in all of Southeast Asia and is dedicated to the Goddess of Heaven, Thean Hou.
While it's always a nice place to visit, the temple is especially lively around Buddhist holidays like Wesak or Chinese celebrations such as the Spring Festival. It's also a popular place to speak with a fortune teller and practice traditional Chinese martial arts such as tai chi.
The temple is located on a hill and offers some fantastic views of the city. It's open daily from 9AM-6PM and you can get there by bus or cab. Click here for directions to the temple.
12. Take a Food Tour
Without a doubt, one of the best things to do in Kuala Lumpur is simply eating your way around the city. With a mix of Malay, Chinese, and Indian cuisine, there's something tasty being cooked up around every corner here.
While you can always just follow your nose and find some delicious food on your own, you'll have a more enjoyable experience by signing up for a food tour. With a local food expert as your guide, you'll get to sample some of the best cuisine in Kuala Lumpur.
FTM (Food Tour Malaysia) comes highly recommended and offers several different options for food tours. Their best selling tour is called "Off the Eaten Track" and runs every day from 7-11PM. Tours cost $62 for adults and $31 for children. Click here to check their website for all the details.
13. KL Tower
One of the most famous sights in the Malaysian capital is the KL Tower. It stands at 421 meters (1,381 feet) tall and is the highest viewpoint in the city that's open to the public.
The tower is actually located in one of the oldest forest reserves in the country. It's called Bukit Nanas, which translates into Pineapple Hill. It's actually the only such tower in the world that's built in a forest!
The KL Tower is open daily from 9AM-10PM. Tickets for the observation deck cost $12 or $24 for the sky deck. You could also just go and have dinner at Atmosphere 360, which is a rotating restaurant high up in the tower. For directions to the KL Tower, click here.
14. Little India
In addition to Chinatown, Kuala Lumpur is also home to a neighborhood known as Little India. Taking a walk along the main Jalan Tun Sambanthan, you'll feel as if you were transported right to the sub-continent!
As you stroll around Little India, you'll hear Bollywood music blasting and smell the famous banana leaf rice. This dish is a mix of rice, veggies, meat, and curry served on a banana leaf. The proper way to eat it is with your hands, so it can definitely get a little messy! Wash it all down with a refreshing mango lassi for an excellent meal.
Once you're nice and full, you can peruse the shops in the 3-story bazaar. Here you'll find colorful saris, flower garlands, and of course, plenty of Bollywood CDs and DVD. Little India is located in the Brickfields area of the city, right near KL Sentral station. Click here for directions.
15. National Mosque of Malaysia
Seeing the National Mosque of Malaysia is definitely one of the top things to do in Kuala Lumpur. It's absolutely massive and can hold up to 15,000 people. The mosque is one of the most important symbols of this Islamic nation, and it's an absolutely gorgeous building.
The main dome of the mosque has an 18-pointed star – 13 representing the states of Malaysia and 5 representing the pillars of Islam. It also has a stunning 73-meter tall minaret and a roof resembling an open umbrella.
It's possible to enter the mosque, but only after prayers are over and with proper attire. If you're unprepared, they have robes and scarves that you can borrow. The National Mosque is located near the Islamic Arts Museum and the Perdana Botanical Gardens. Click here for directions.
16. Central Market
If you're looking to pick up some traditional Malaysian souvenirs on your trip, you'll want to include a stop at the Central Market in your list of things to do in KL. This beautiful art-deco building is a landmark for the cultural heritage of Malaysia with a wide variety of vendors.
It dates all the way back to 1888, when it was originally a wet market. There have been several renovations and expansions over the years, including the recent addition of the Central Market Annexe. Located behind the main building, this area has a bunch of eclectic art galleries along with a 3D Illusion Art Museum.
Inside the market, you can shop for some traditional Malay batik and grab a bite to eat in their excellent food court. The Central Market is located in Chinatown near the Klang River. It's open daily from 10AM-9:30PM. Click here to get directions.
17. KL Forest Eco Park
If you want to get out in nature without spending half your day in transit, the KL Forest Eco Park is a wonderful choice. It's a real deal tropical rainforest right in the heart of a major city!
The best part about visiting this tranquil park is the canopy walkway located high up in the trees. It's totally free to visit and a great place to spend a few hours enjoying the views and the sounds of birds chirping. Be sure to bring your camera because this is a prime spot for photos.
The Forest Eco Park is located near the KL Tower in the area commonly called Bukit Nanas (Pineapple Hill). Click here for directions.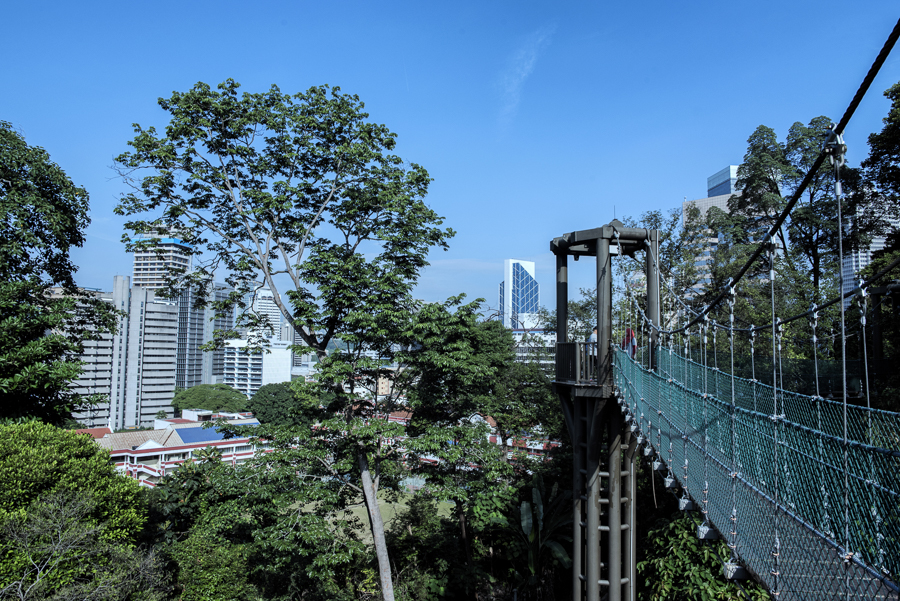 18. Shopping Malls
I'm not usually one to recommend shopping malls, as I absolutely loathe shopping in general, but I'll make an exception here. You see, Kuala Lumpur can be brutally hot and humid. Once in a while, you just have to escape into an air-conditioned haven!
When it comes to shopping malls, it's hard to beat Suria KLCC. Located at the foot of the Petronas Towers, this 6-story mall is home to over 320 shops. In addition, the mall also houses a science discovery center, concert hall, and an art gallery.
Best of all, there's a huge food court here with tons of options. It's worth a trip here just to cool off a bit and grab a snack! Suria KLCC is open daily from 10AM-10PM. Click here to get directions.
19. Sunway Lagoon Theme Park
One of the most fun things to do in Kuala Lumpur is visiting the Sunway Lagoon Theme Park. This massive theme park is actually six different parks rolled into one and is fun for the whole family.
The different zones at Sunway Lagoon are: water park, scream park, amusement park, extreme park, and Nickelodeon Lost Lagoon. There's enough going on that you could easily spend the entire day here. Tickets cost about $50 for adults and $40 for children and seniors.
The park is located in the southwest part of the city about 15 kilometers from the center. Click here to get directions. The park is open daily from 10AM-6PM. You can read all about the park and what you can do there on their website.
20. Drinks With a View
I don't know about you, but I love hitting a good rooftop bar happy hour when visiting a big city. It's just nice watching the city light up as you enjoy an adult beverage or two with some good conversation.
Thankfully there are several excellent choices for getting drinks with a view in KL. One popular choice is SkyBar, which you'll find on the 33rd floor of the Traders Hotel. Head here to sip on their signature cocktails, snack on tapas, and enjoy panoramic views of the park and Petronas Towers. They've usually got a DJ spinning electronic music here, so come and dance the night away!
Another solid choice for a rooftop bar is Vertigo at the Banyan Tree. Way up on the 59th floor, this is the highest rooftop bar in the capital. Head here around sunset to get some breathtaking views of the city. There's also a restaurant on the floor below called Horizon Grill if you want to sit down for a meal.
21. Night Out in the Golden Triangle
Rounding out our list of things to do in KL is a night out in the Golden Triangle. This bustling commercial district is home to tons of shops, cafes, restaurants, and bars, making for a great evening.
The Golden Triangle is formed by Jalan Imbi, Jalan Sultan Ismail and Jalan Raja Chulan. It's located right near KLCC Park and the Petronas Towers, so you always have a nice view of the city's most iconic building when you're out and about here.
This is definitely the part of the city to see and be seen, with five-star hotels, luxury shops, and trendy nightclubs. The nightlife is centered around Jalan P. Ramlee, where you'll find some fun open-air beer spots and bars with live bands rocking out. You can also tear up the dance floor at a nightclub here or sing your heart out in a karaoke bar.
Ready for Kuala Lumpur?
After reading about all the fun things to do in Kuala Lumpur, I'm sure you're itching to visit the bustling Malaysian capital. It's the perfect place to start or end a big journey in Southeast Asia, as it's a central hub with lots of options for flights.
Plus, it's a fascinating place to visit with its distinct mix of cultures. Not only do you get to experience the local culture, but you can also basically travel to China and India while you're here. That's a three-for-one travel deal right there!
I've already been to Kuala Lumpur a few times and done most of the things on this list, but I'm still excited about visiting the city again in the future. Now that I'm living the digital nomad lifestyle, Kuala Lumpur is high on my list of possible home-bases around the world.
If you've been to KL and have some awesome recommendations on things to do, places to eat, or anything else, please feel free to leave a comment below and let us know.
Images in this article are courtesy of Shutterstock.
Like This Article? Pin it!