Okayama is a destination that isn't on the radar of most travellers — which is a shame! After spending 3 days there, Nick and I felt like Okayama was a very livable city, with a great vibe and lots going on.
Okayama City offers travellers a mix of traditional folklore, and modern-day conveniences. There are numerous things to see and do here for all types of travellers, not to mention, this prefecture is known as the "Land Of Sunshine" since it has more sunny days than most other parts of Japan. For travellers, you can expect some nice weather here.
Situated between Kyoto and Hiroshima on the JR Shinkansen train line, a stop off in Okayama City is easy and worthwhile. In this guide, I'll share our experience in the city, including the things to see and do in Okayama, places to eat, how to get around and more.
But first, don't miss our travel video of our time spent in Okayama!
Disclaimer: We were invited by the Okayama Visit Association to explore the city and share our findings with you, our readers. As with all promotional campaigns on Goats On The Road, all thoughts, reviews and opinions remain our own.
An Introduction to Okayama City
After exploring the northern prefectures of Aomori and Akita on Honshu Island, we were curious to see what the southern part of Japan's "mainland" had to offer. A four-hour ride on the Shinkansen bullet train brought us from Tokyo to Okayama — a city with the same name as the prefecture itself.
As soon as we disembarked and walked out of the station, we were greeted by a large fountain, and next to that, tents were set up with people handing out samples of food. This was a friendly, interesting start to our stay in the city! We stayed at the Daiwa Roynet hotel, which is right across the street from the Okayama train station.
Since we had just come from the more rural northern part of the island, the tall, modern buildings were immediately noticeable, however, there were some small side streets, and the sidewalks were nice and wide. Running through the city was the Asahi River, and alongside that river was a long pathway for cycling and walking. Okayama definitely felt like a pedestrian-friendly city.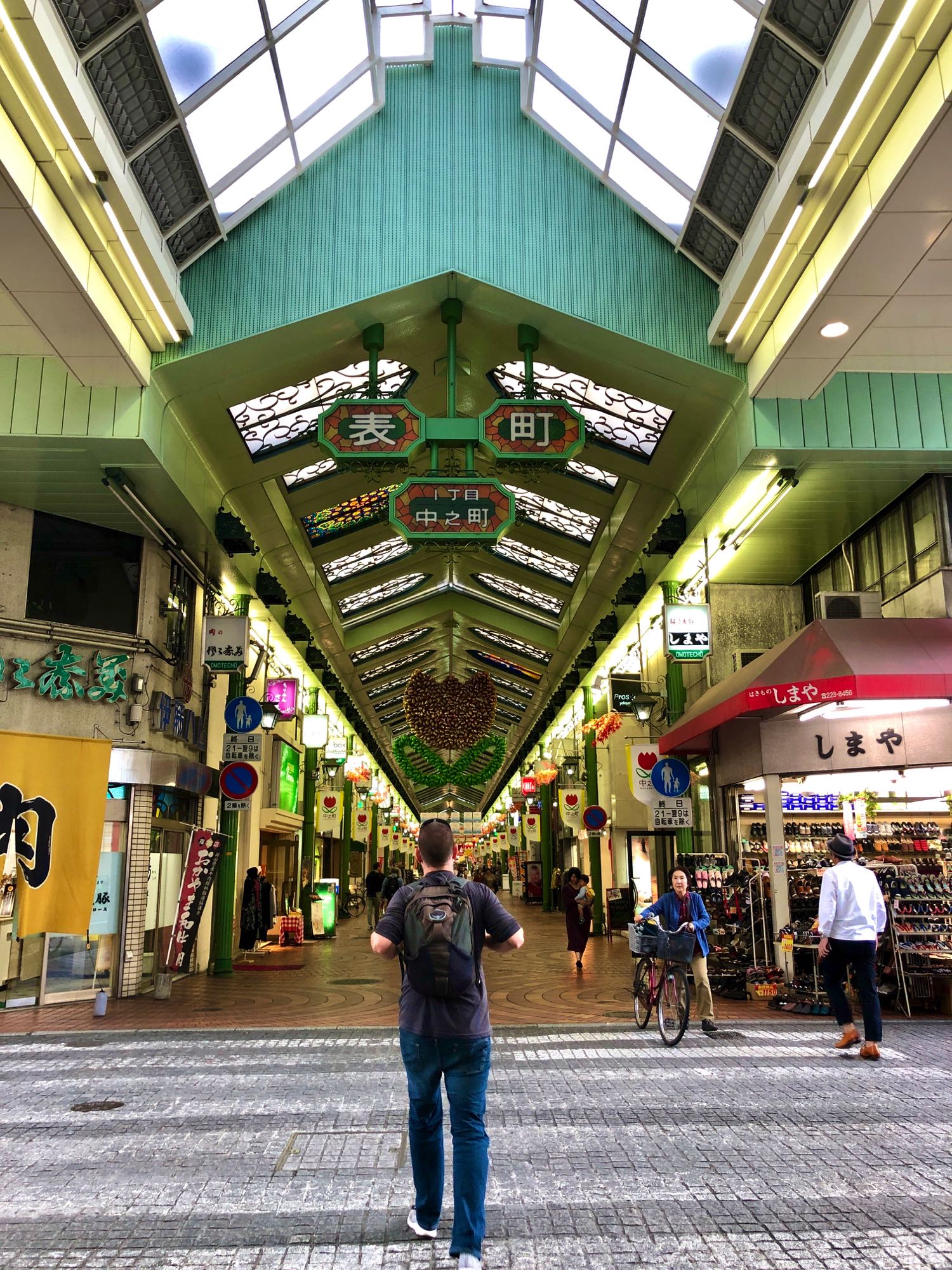 As we wandered through the streets we really began to notice Okayama's charm. Not only were there great walking streets, but along those streets, we found craft beer bars, funky international and local restaurants, paintings and art promoting upcoming events. Due to the university, the city had an overall younger vibe, complete with students cruising along on their bicycles, and skateboarding in the parks.
We also noticed peach-inspired items everywhere — candy, wine, foods, and trinkets were all either peach flavoured, or shaped. We soon learned that not only is Okayama known for its tasty white peaches, but the fruit played a large role in the famous Legend of Momoraro.
This tale has been told in Okayama for as long as anyone can remember. The current story goes that a woman found a peach floating down the river. She picked it up, brought it home to her husband, and they opened it up. Inside was a boy who was sent from heaven to be their child. Later in life, this boy (Momotaro) would defeat an ogre (called Ura) that was disturbing the land.
All around the city of Okayama, you'll find peaches, plus shrines and statues dedicated to Momotaro.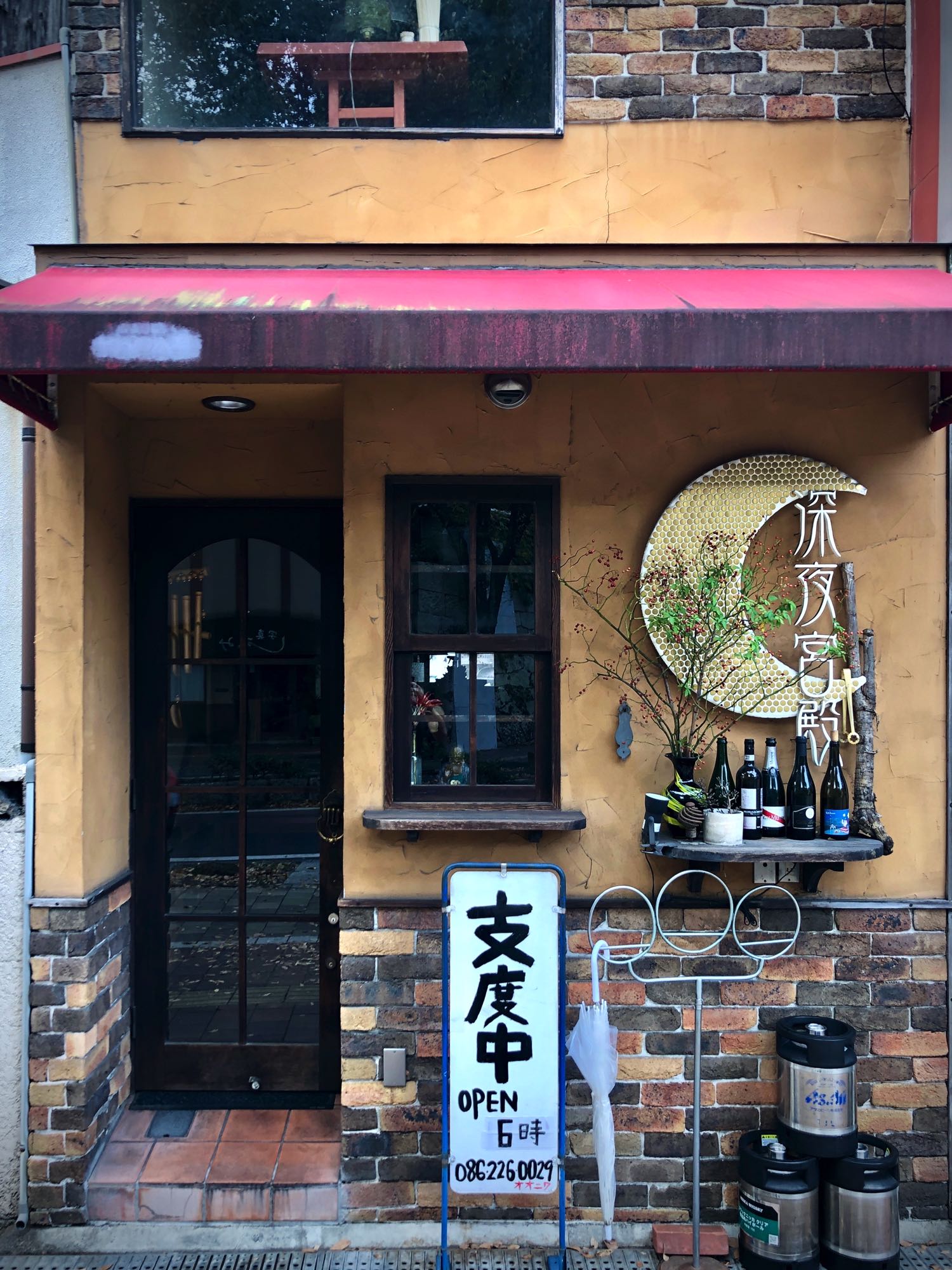 Top Things To Do in Okayama
Since Okayama isn't as popular as other cities in Japan, we assumed there were probably only a couple of things to do there. But, we were wrong. From historical sites and religious shrines to natural beauty and foodie spots, there's a little something for everyone here.
Here are some of the things I recommend seeing and doing in Okayama based on my firsthand experience there.
Korakuen Gardens
First up on my list of things to do in Okayama is the Korakuen Gardens. This place is listed as one of the top three "great gardens" in all of Japan. It's 400 years old, took 14 years to complete and spans 14 hectares! This large, quiet garden is a place you can spend some time. Here you'll find tea plantations, ponds, shrines, cherry and maple trees, and of course, very well-manicured grounds.
To get to the Korakuen Gardens, it's a 25-minute walk from the Okayama Station. You can also hop on the tram for 3 stops (catch it near the Okayama Station), or take the convenient Korakuen Bus which has frequent departures from just outside the arrival area of the Okayama Station. It's 140 yen ($1) for a ticket. To enter the gardens, the cost is 410 yen ($3.75) for adults. A Korakuen Gardens and Okayama Castle combination ticket is available for 580 yen ($5.30).
Okayama Castle
Located just outside of the southern entrance to the Korakuen Gardens, and across the Asahi River is the Okayama Castle, which was built in 1597. Sadly, much of the castle was destroyed during WWII, but restorations were completed in 1966. Today, the only original parts of the castle are the Tsukimi Tower and the Western Tower (Nishinomaru Nishite Yagura).
There are 3 ways to view the Okayama Castle. You can get a glimpse of this beautiful structure from inside the Korakuen Gardens, or from a peach, swan or rowboat on the Asahi River. For an up-close look at it, cross the bridge by foot from the garden and enter the castle grounds. From the top level of the castle, there's a panoramic view of the Asahi River, bridge and the city — complete with gold plated fish poking out of the roof.
When you're finished exploring the castle and the surrounding grounds, you can head to the bottom level to experience traditional Bizen pottery making. To get here, you can also walk here along the riverside pathway from anywhere in the city. From Okayama Station, it's about a 25-minute walk. Entrance to the castle can be combined with the above Korakuen Gardens for 580 yen for adults ($5.30), or 320 yen ($2.85) for the Okayama Castle only.
Sushi Making Class
You can't come to Japan and not eat (or make) sushi! During our previous trip to Tokyo, we had learned how to make sushi and although we were pretty confident in our abilities, we still learned a lot in this class. When we walked into the Kidoairaku Restaurant, we were greeted by Namba-san — a retired sushi chef turned restaurant owner. He spoke very little English, but had the kindest eyes and was great at demonstrating what we needed to do, and correcting us when we made a mistake using smiles and hand motions.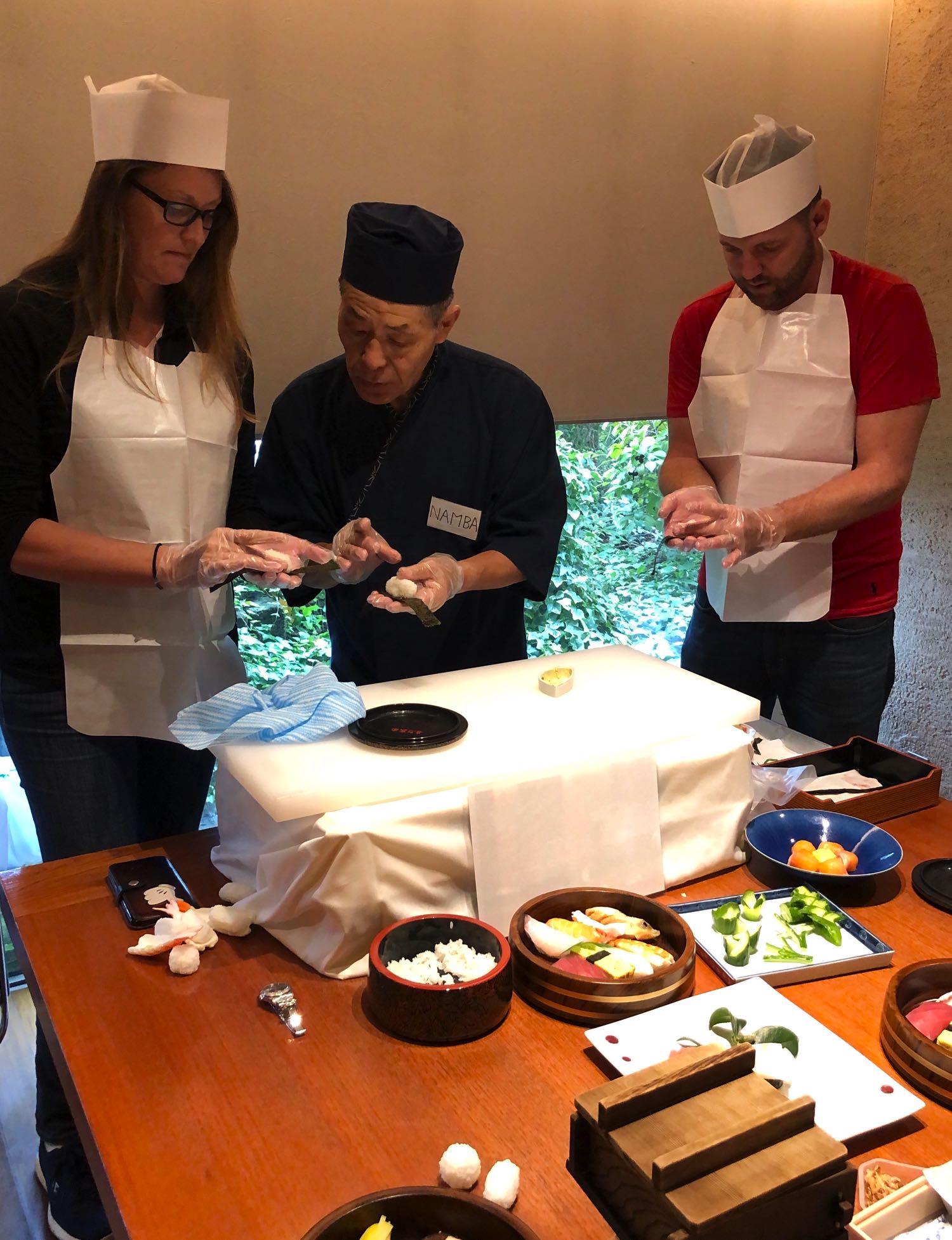 We were taught how to make nigiri, hand rolls, and decorative vegetables for the sushi presentation. We also learned about sushi eating etiquette, and Namba-san told us we needed to put love into our sushi, and that Nick and I should look at each other while making our nigiri!
After preparing 8 pieces of sushi, it was time to dig in. Not only did we get to eat our creation, but we were given tempura vegetables, rice and cheesy vegetables that were cooking over a flame. As a non-raw fish eater, I was still able to enjoy the sushi making class, but rather than fish, I made nigiri with various types of mushrooms, onions and lotus root. This is one of the top things to do in Okayama for foodies.
The cost of the sushi making class is 3,780 yen ($34.50), including the class, lunch and learning about sushi eating etiquette. The class takes place at Kappo Kidoairuku, which is around a 5-minute drive from the Okayama Station, or 15 minutes by foot. To reserve, contact Ryobi Tours at
peng@ryobi-tours.jp
.
Drink Craft Beer and Eat Parfait
There are lots of craft beer bars around the city, and for some reason, the one at Doppo-Kan also offers fruit, cheese, jelly and bean parfaits the size of your head! These massive treats were actually really tasty, although the combination of ingredients was quite different from anything we've ever had.
At Doppo-Kan, you can do a sake, whiskey, and beer brewery tour as well, before heading into their shop to do some samples of the products. The onsite bar has peach beer on tap, as well as the standard IPAs and wheat beer. Craft Rainbow pub is another great place to sample beers in the city.
Visit a Shinto Shrine
Shintoism is as old as Japanese culture itself. In Okayama, the (almost) 600-year-old Kibitsujinja Shrine is a must-visit. Here, you can view the shrine, the surrounding gardens and the incredible 360m long corridor — which is the main feature of this shrine.
During our visit, we followed an elegantly dressed priest down the long corridor to the prayer hall where we experienced a Narukama Shinji ritual. Our prayers/wishes had been chosen and written on a piece of paper and during the ritual, the priest read out our prayers.
During that time, rice was roasting in a cauldron and the steam from that rice was creating a moaning sound. According to the folklore, the sound is of the ogre who was defeated by local hero Kibitsuhiko-no-Mikoto (Momotaro) and was buried under this cauldron.
Apparently, depending on how much of a "moan" you hear from Ura during the ritual is a direct correlation to how good (or bad) your fortune is. We heard a loud, long moan and were told we had good fortunes. This Legend of Momotaro really is a huge part of the city's identity and this folklore is integrated into numerous aspects of daily life in Okayama.
For those who want a prayer read on their behalf, that costs 3,000 yen ($27) per person. If you would just like to visit the Shinto Shrine, it is free to enter. To get here from the Okayama Station, take the direct Kibi Line to the Kibitsu Station and walk for around 8 minutes to the shrine. This train is included with your JR Rail Pass.
Eat Shabu-Shabu
One of the most incredible meals we had not only in Okayama but during our entire trip to Japan was a shabu-shabu meal. If you like beef, then this is a restaurant you won't want to miss. Thin slices of wagyu beef, tofu and vegetables are all placed into your own personal hot-pot and cooked to your desire. Once cooked, you can choose dipping sauces — we went with sesame sauce and a spicy ponzu.
The meal was delicious and was an experience in itself. The Megu Restaurant has just a couple of dining rooms available and reservations are necessary. Click here for Google Maps directions and click here for menu details.
Wander Around a Buddhist Temple
The Sogenji Buddhist Temple is a peaceful place to just relax and enjoy, or if you're interested in learning more about Zen Buddhism (or you practice it already), you can actually stay here at the monastery. For those who don't want to stay at the monastery, you can still experience Zen meditation at 8:00am on Sunday mornings.
We were just there to simply wander around and see the grounds, including the beautiful nature and pond. Even though we visited on one of Okayama's only rainy mornings, it was a very special place. This temple is located in the Naka Ward, making it a bit farther away from downtown Okayama, but worth a visit.
To get here, take the Ryobi bus from the Okayama Station for about 18 minutes and get off at Sogenji, then walk for around 6 minutes to reach the temple. The bus fee is 340 yen ($3).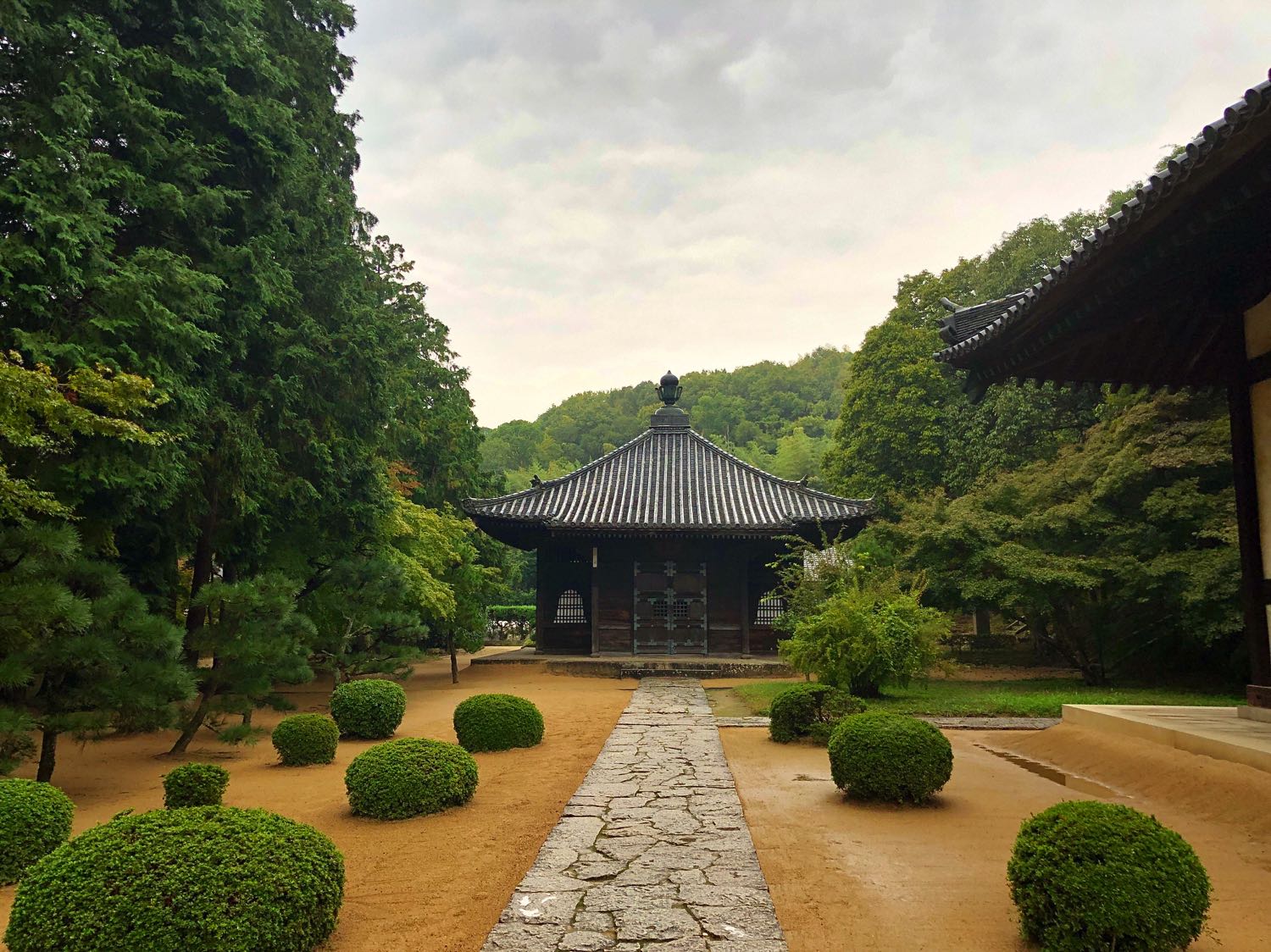 More Things To Do in Okayama
There are many more things to do here than the ones I listed above. For those who like cycling, you can rent bikes and cycle along the 17-kilometer Kibiji Cycling Road from Bizen-Ichinomiya Station to Soja Station. You can rent bicycles at either of the stations and cycle the entire route, or a portion of it. Learn more about that cycling path here. During the summer months, you can pick peaches and grapes at one of the many fruit farms.
If you want to shop 'til you drop, check out the Omotecho open air shopping area, which is a great place to purchase some souvenirs, buy second-hand clothing, or just wander around and window shop.
Getting To and From Okayama
As I mentioned above, getting to Okayama is simple. Coming from Tokyo, it's a direct, 3 hour and 10-minute ride on the Tokaido-Sanyo Shinkansen train. That same train line connects in Kyoto and from there it's an hour to Okayama Station without changing trains. From Hiroshima, it's 41 minutes on the Tokaido-Sanyo Shinkansen train line to reach Okayama Station.
We took the Shinkansen Hikari Train from Tokyo Station to Okayama Station. It took a little over 4 hours on this train, but, it was included with our JR Rail Pass. Make sure to check which trains and train lines are included with your pass, or simply ask at the JR Ticketing Offices when you reserve your seat.
The city of Okayama is very well connected to other major cities in Japan.
Once you're in Okayama, getting around is very easy. The city's tram system is great, there are lots of pedestrian walking areas (along the river, and various streets), and there are buses to some of the surrounding areas. You can also take a taxi, or cycle in some cases.
Of course, you could just stop over here in Okayama between destinations, but a better idea is to spend a few days and enjoy the surrounding sights.
When to Visit Okayama
The temperature here is comfortable year-round, making it an excellent destination for tourists. When we visited in October, we had a little bit of rain one morning, but pure blue sky the other two days. The best time to visit the city is from May to October, but even so, it does rain a little each month in Okayama City.
During the summer months, the weather is between 25 ° and 30 ° Celcius (77-86°F), with August being the hottest month. Summer is great for fruit picking, and various art festivals and the Momotaro Festival in the city.
Late March to early April is when you'll be able to see the cherry blossoms. Wander along the Asahi River walkway east of the Korakuen Gardens and you'll find 200 trees in bloom.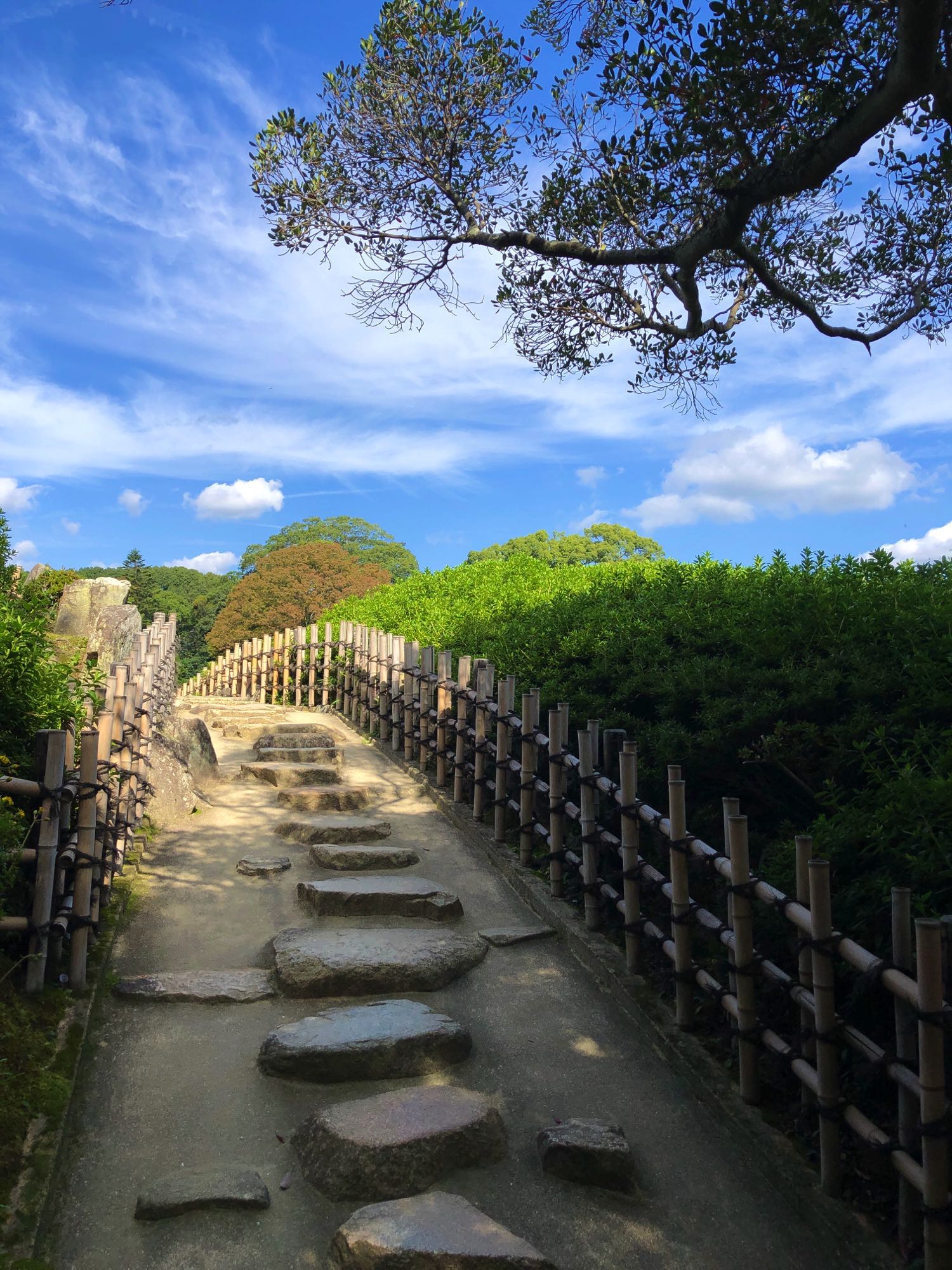 During the autumn months, you can enjoy the fall leaves changing from green to brilliant orange, yellow and red. Naturally, the stunning Korakuen Gardens are a great place to see the autumn colours, as are any other outdoor spots, such as the temples and shrines.
If you want to travel to Okayama in the winter, the weather is still comfortable at around 9 ° Celcius (48°F). There are a few festivals here such as the early spring festival at the Korakuen Gardens with cranes flying and harp performances. Entrance is free on New Year's Day.
Basically, there's no bad time to visit Okayama City.
Final Thoughts
Okayama is a city that has flown under the radar of many foreign tourists. If you're looking for a destination with numerous festivals on offer and an overall welcoming and fun vibe, then add Okayama to your Japan travel itinerary. We stopped off here for 3 days but could have stayed around a week to travel at a slower pace and to explore the hiking trails around the Buddhist Temple and to cycle along the path from Bizen-Ichinomiya Station to Soja Station.
With a population of around 700,000 people, and a mix of modern and historical sights, Okayama City is an interesting destination and somewhere we would be happy to return to.
*Note: Lead image courtesy of Shutterstock.com. All other images in this article are by Goats On The Road.
We were invited by the Okayama Visit Association to explore the city and share our findings with you, our readers. As with all promotional campaigns on Goats On The Road, all thoughts, reviews and opinions remain our own — despite any complimentary services received.
Like This Article? Pin it!