Have you ever travelled somewhere that you initially knew nothing about, but then fell in love with? For us, that was Nakatsugawa. Our 3 days spent in this small, mountainous city in the Gifu Prefecture became one of the highlights of all our travels in Japan.
Many people have heard of nearby Takayama and Shirakawago (two places we have visited in the past) but located in the same prefecture, you'll find Nakatsugawa — another must-visit place. With traditional villages, hiking routes, natural beauty, and cultural activities on offer, this destination in Japan is in that Goldilocks stage — it's not a ghost town, it's not too busy, it's just right.
In this article, I'll share our experience in this lesser-visited part of Japan, complete with how to walk the Nakasendo Trail, things to do in Nakatsugawa, how to get there, where to stay and more.
But first, don't miss our travel video from Nakatsugawa!
Introduction to Nakatsugawa
When we were invited by Nakatsugawa Tourism to experience the things to see and do in Nakatsugawa (and surrounding area), we were looking forward to visiting, but honestly didn't know much about this part of Japan.
We knew it would be set in the beautiful Japanese countryside, but what we didn't realize was that there were so many cultural things to do, that it was quite offtrack, and that there was a hiking route that runs through the town which connects Kyoto to Tokyo!
As people who love hiking, this was music to our ears.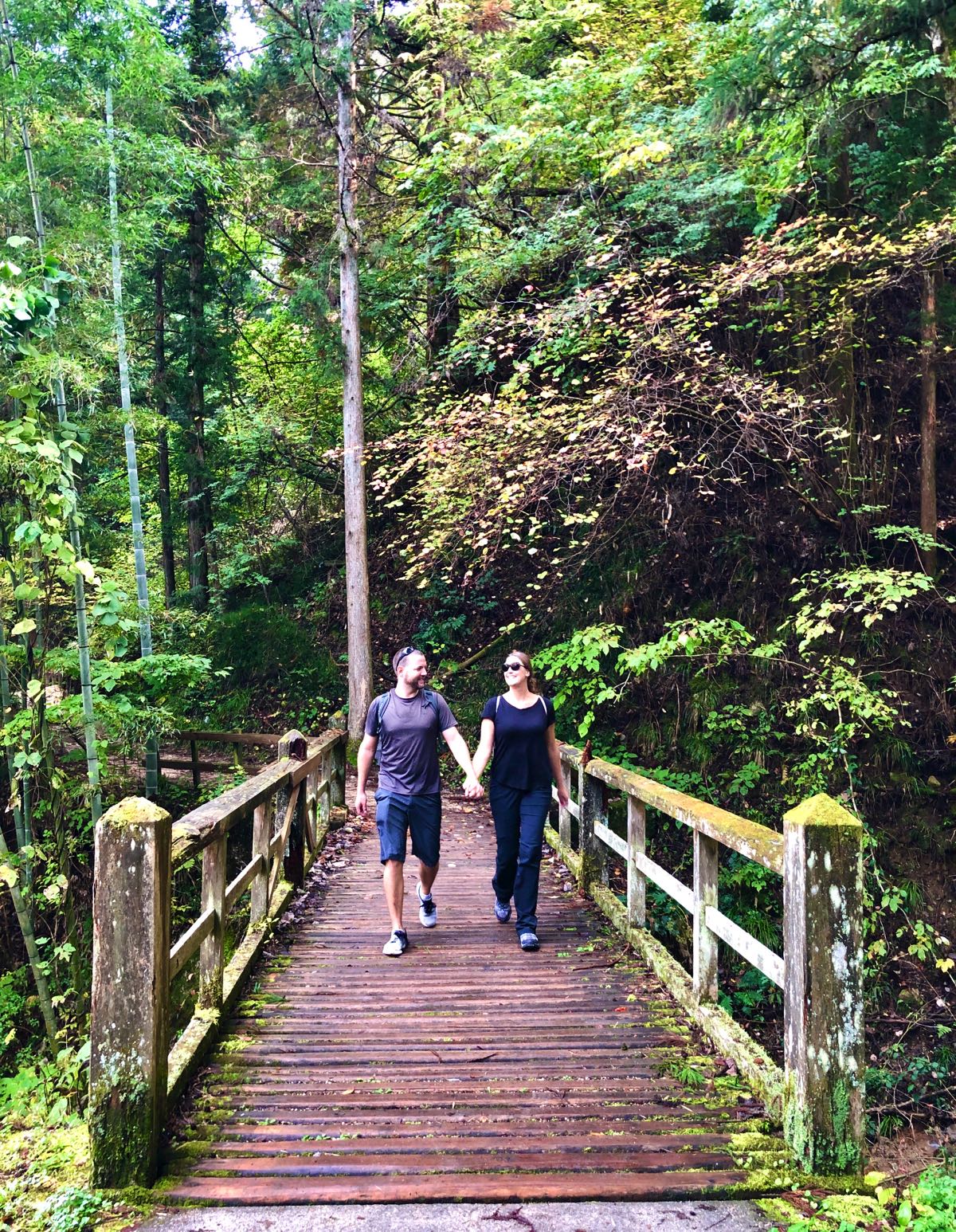 We didn't have two weeks or so to hike the entirety of the Nakasendo Way (Nakasendo Trail), but we did have enough time to do a long day hike. This trail is a highlight of any trip to the region, but there's more to Nakatsugawa than just this ancient walkway.
The city is surrounded by mountains (including Mount Ena), beautiful parks, historic homes, and a 480-year-old castle overlooking the rushing Kiso River. On top of that, calligraphy, meditation, matcha tea ceremonies, a sake brewery and theatrical performances can all be discovered within the city limits.
This is a place where you'll want to spend some time exploring – both the things to do in Nakatsugawa and the surrounding areas.
During our trip, we had an English speaking guide with us to show us the various sights and things to do. In Japan, there's not much English spoken, so it was nice to have him explain what we were seeing and doing. Obviously, you can travel here independently, but having a guide really brought the place to life.
Things To See and Do in Nakatsugawa
Our 3-day trip was packed with activities. We definitely could've spent around 10 days exploring the nature, hiking mountains and visiting parks in the area — and, we could've spent three weeks simply hiking the Nakasendo Trail!
Here's a list of the best things to see and do in Nakatsugawa based on my firsthand experience.
Hike The Nakasendo Trail
I have to put this first on the list of things to do in Nakatsugawa. This ancient Edo period walkway connects Kyoto with Tokyo (a distance of 534 km / 332 mi). During the 17th century, this route would've been filled with lords, samurai, pilgrims, and merchants.
These days, travellers can spend 15 or more days hiking this route, while passing by rural countryside, through forests, and numerous old postal towns.
If you don't have 15+ days, or you simply don't want to spend that much time hiking, it's possible to walk a portion of the Nakasendo Trail, as we did.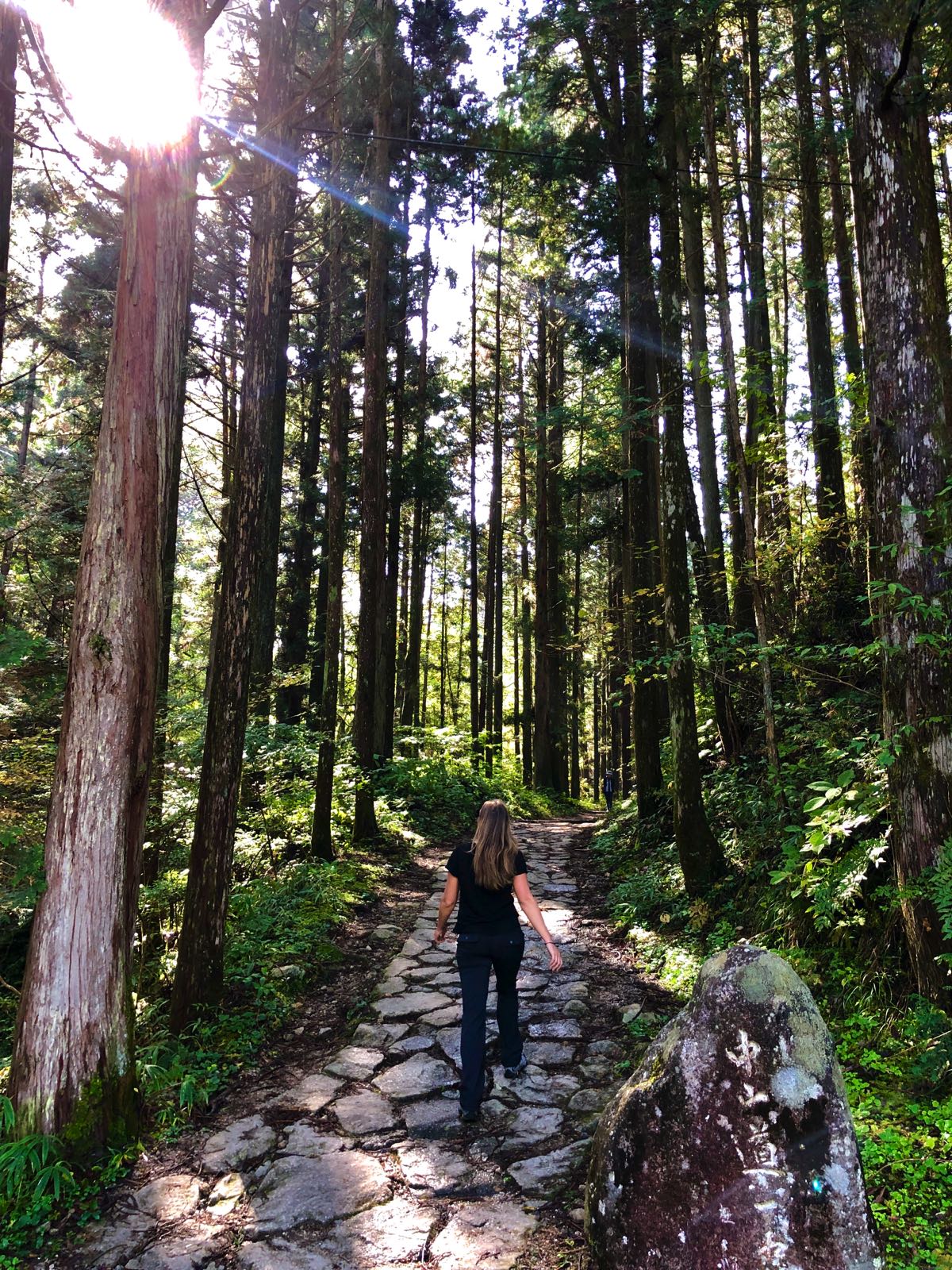 Starting in the village of Tsumago (in the Nagano Prefecture), we hiked through the town, alongside the Araragi River, and into the forest. The natural trail meandered through the towering trees, past smaller post towns and across moss-covered bridges, surprising us with little detours towards hidden waterfalls along the way.
Dirt trails changed into stone at some stages, and once we were closer to the town of Magome, the landscape opened up. At some points during the hike, we stopped for numerous photos and to just enjoy the view. Plus, there was a great teahouse for hikers to stop and have a rest (the cost of tea is by donation). After sipping on our green tea, we continued on towards the town of Magome (in the Gifu Prefecture).
This popular town is where many people visit to enjoy the view of Mount Ena, which was also a lookout point for the Samurai to keep an eye on intruders. After enjoying the view, continue on past the town of Magome where the scenery morphs from closed-in forest and river to wide-open farmland. This change in landscape is amazing and we enjoyed seeing the differences on the hike.
We also came across the Suwa Shinto Shrine, Torii Gates at the Asahigaoka Park, and ancient stones on the walkway at Ochiai which are remaining from the Edo Period!
The Nakasendo Trail is a walk you don't want to miss and if you don't have time to do the entire 15+ day route, I recommend hiking from Tsumago to Nakatsugawa (approximately 16 kilometers). You can either break up the journey by spending a night in Magome (after walking for 8 kilometers before continuing on and spending your second night in Nakatsugawa) or, you can complete the whole route from Tsumago to Nakatsugawa in one go and sleep in Nakatsugawa. We hiked with Ukisu-san who spoke great English and was able to tell us about the history of the area, and he hiked at a pace we liked! While we enjoyed having a guide, the trail is well-marked so you definitely don't need one. For information on hiking with Ukisu-san, please
send us an email
. For more information on the Nakasendo Way,
click here
.
Visit Magome Town
As I mentioned above, Magome is a main point along the Nakasendo Trail, but for those who aren't into hiking, you can still visit this town on a day trip from Nakatsugawa. Magome town is surrounded by farmland with panoramic views of Mount Ena (2,191m / 7,188 ft), which is located in the Central Alps and is the peak of the Kiso Mountains Range.
The cedar buildings in the town are set along the cobbled road which cuts through the small town. It's a short, steep climb from the entrance of Magome to the main viewpoint, but along the way, there are numerous places to stop off for tea, chestnut treats, or simply to sit and watch the world go by, as the local residents enjoy doing.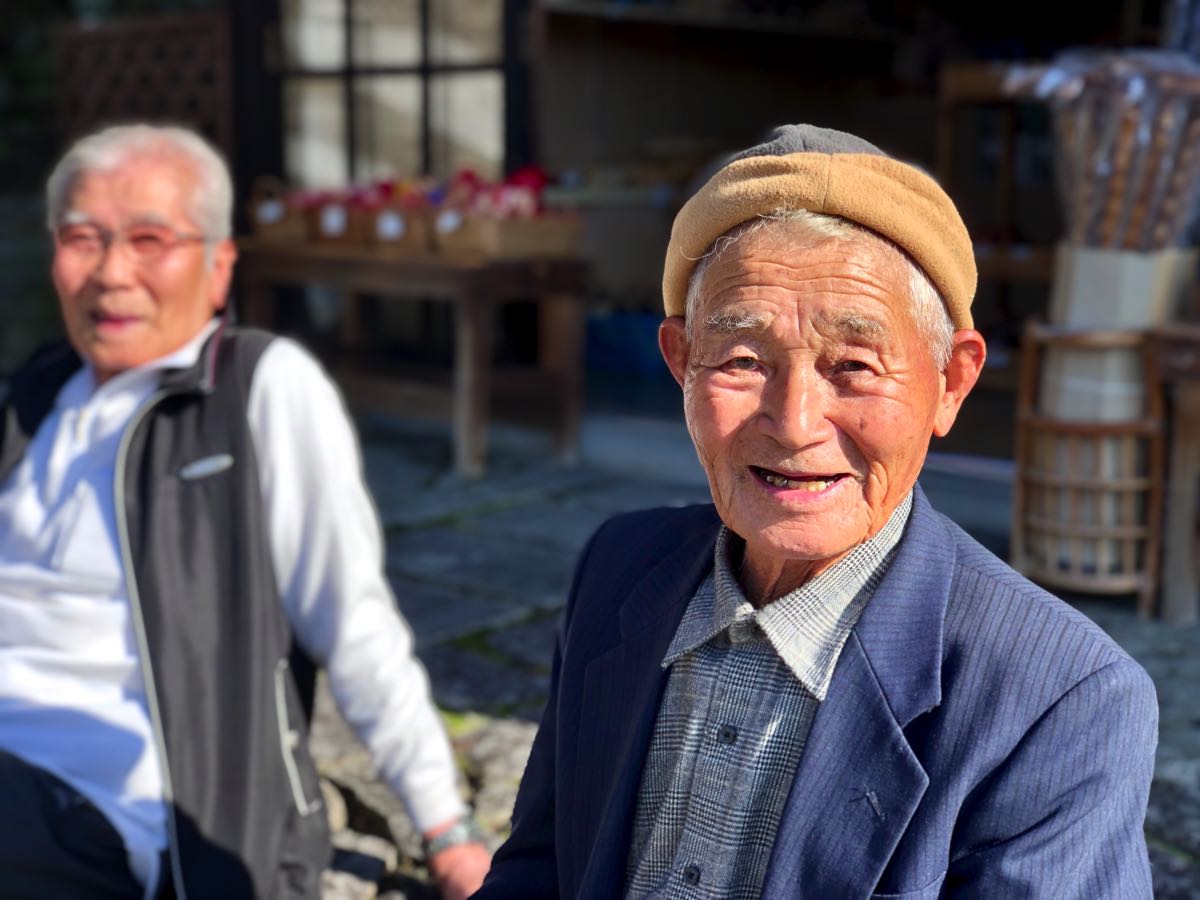 From Nakatsugawa there are frequent
buses to Magome
. It takes around 25 minutes to get there from the Nakatsugawa Station and costs 570 yen ($5.25). Buses run from around 7:30am to 6:00pm. Spend some time enjoying the museums, the atmosphere and the surrounding area of Magome before returning to Nakatsugawa on the same bus.
Walk to Naegi Castle
Another highlight of our trip to Nakatsugawa was the 480-year-old castle that sits on a plateau overlooking the Kiso River. Constructed by using the natural surrounding boulders, The Naegi Castle ruins are built into the land, and were in much better condition than I thought they would be — and surprisingly, they reminded us of Mayan ruins in Mexico.
The view of the river and of the city of Nakatsugawa from this vantage point is amazing.
There are a few ways to visit these castle ruins — you can drive up to the top and walk for about 10 minutes, take a bus partway up and walk for around 20 minutes, or hike the trail through the forest, across streams, and alongside castle wall ruins as we did! The walk was uphill with 47 switchbacks and took us about an hour.
From the Nakatsugawa Station, take the Kashimo bus for around 12 minutes before arriving at Naegi. From there, it's about a 20-minute walk to the ruins. If you have your own vehicle, you can drive closer to the top and walk for just 10 minutes.
See the Waterfalls at Yumori Park
We were already blown away by the incredible nature of the Nakasendo Way, and the beautiful bamboo forest and other foliage surrounding the Naegi Castle, but Yumori Park was pretty amazing as well!
When we visited, we checked out the Ryujin waterfall which is said to have healing properties and sends power to those who visit. Surrounding the crystal-clear waters were numerous trees and suspension bridges crossing the river. Nearby, there's another waterfall "Copper Hole", and you can also camp here in the park. This is another pristine natural space in Nakatsugawa that I recommend visiting.
To get to Yumori Park from Nakatsugawa Station take the Chuo Train Line (which is included with your JR Rail Pass) for about 9 minutes. Get off at Sakashita Station and switch to the Yumori Line Bus for about 15 minutes. Get off at the Yumorikoenguchi stop and walk for about 8 minutes to reach the park.
Explore the Backstreets of Nakatsugawa
When you're visiting Nakatsugawa, you may be mistaken in thinking that there's just one main road (which is on the Nakasendo Way), but there are other secret backstreets that are worth exploring.
We zigged and zagged past residential homes, complete with chicken coups, flowers, and plants. We crossed little streams and received a warm welcome from the residents who were wondering what us foreigners were doing exploring these narrow streets. Without our guide, we would've definitely been lost! To learn more about this walking tour (which includes a sake brewery visit and tasting), click here.
Try Zen Meditation
Zazen (sitting) meditation is more disciplined than normal meditation. Among other things, you sit in full lotus position, your posture must be perfect, and if you're day-dreaming or not focusing properly, you receive a whack from the monk with a wooden stick to bring you back into the zone. It's meant to be encouraging, not discipline for dozing off. Having heard the loud sound of Nick getting a walloping on his trapezoid, I'd probably request a non-contact meditation next time.
We visited the beautiful Zensho-ji Buddhist Temple and were happy to learn that the resident priest (Shoten Iguchi-san) was extremely kind and spoke some English. There were also English pamphlets to instruct us on what to do/not do.
I sat in half-lotus position, while Nick sat cross-legged, for around 20 minutes — this type of meditation usually takes place for 30-60 minutes, but we did our best! Click here for directions to the Zensho-ji Temple.
Learn How to Do Calligraphy
From one priest to the next, we stopped off at the Kofuku-ji Temple to learn how to do calligraphy. Surprisingly, after all of our trips to China and Japan, we had never tried to write our names (or any words) in calligraphy.
We were greeted by the priest Kouyu-san and were welcomed into the Buddhist Temple. Sitting at a table we watched as Kouyu-san effortlessly wrote our names (and Goats On The Road!) with swift, smooth movements of his calligraphy pen.
We practiced numerous times, going through about 7 sheets of paper each until we felt we had "mastered" it. In reality, we hadn't, but we tried our best and really enjoyed the experience.
The Kouyu-san's wife speaks English fluently so this is a great activity for foreigners. The Zensho-ji and Kofuku-ji temples are just a 5-minute walk apart, making visiting them both quite easy. Click here for directions to the Kofuku-ji temple.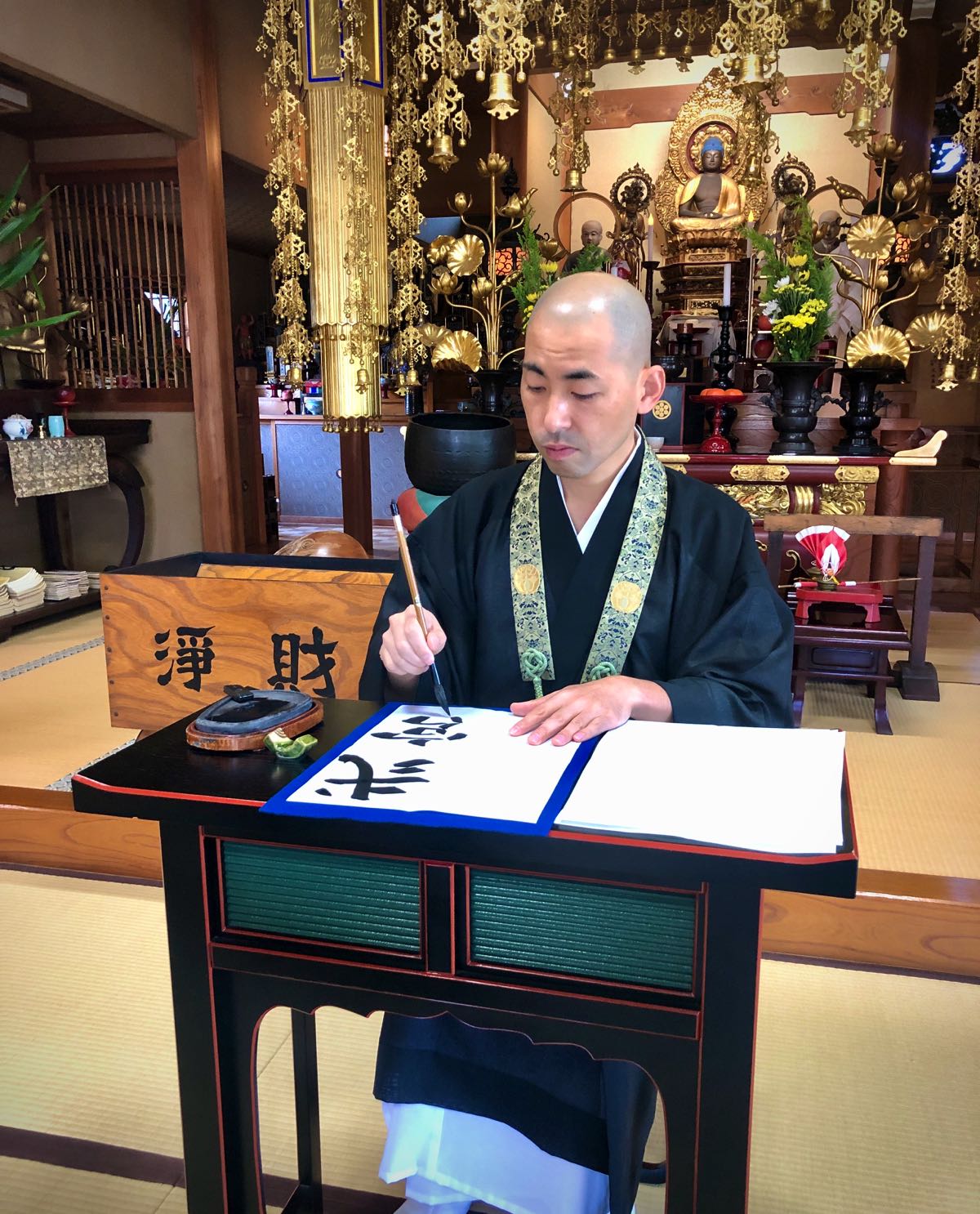 Eat Chestnut Flavoured Food
The city of Nakatsugawa is known for its chestnuts. Because of this, you can find chestnut sweets (kuri kinton), chestnut ice cream, and more. Kuri kinton has long been a favourite of Japanese people here in Nakatsugawa — in fact, this sweet has been around since 1900.
Nick and I learned how to make this traditional sweet at the Chicory Village, and although the flavour was too subtle and not sweet enough for us, it was still interesting to learn how to make them. At the Chicory Village, they also have farm-to-table foods and the buffet here was amazing. It's a tasty (and popular) lunch spot.
Other things to see and do in Nakatsugawa
There are so many things to see here, and even though our 3 days were jam-packed, we still missed out on so many activities.
When we return, we want to hike a larger portion of the Nakasendo Trail and do the trek up to the summit of Mount Ena. Our guide told us he runs trips up the mountain and we can't wait to try it.
Other things to see and do in Nakatsugawa include mountain biking (again, our guide offered those trips), fishing trips, matcha tea ceremonies, and visiting the Kashimo Meijiza performing arts theatre to see a traditional Kabuki performance.
Transportation in and Around Nakatsugawa
While the city and surrounding area are considered off-track, it's surprisingly easy to get here. We took the train from the big city of Nagoya to Nakatsugawa on the JR Chuo Honsen (1 hour and 10 minutes). This train was included with our JR Rail Pass.
There's also direct train service from Nagano, Kyoto via Nagoya, and Osaka via Nagoya.
Once you're in Nakatsugawa, you can take public buses to many of the sights I mentioned above, or opt for a taxi or rent your own wheels. Another option is to hire a private guide with a vehicle. If you're interested in discussing trips with the guide we were with, Kazunori Ukisu-san, please send us an email and we will provide you with his contact details.
Where to Stay in Nakatsugawa
There are numerous accommodation options here, but since it's such a traditional, offtrack place, why not stay in a traditional accommodation?! We stayed in 2 different places during our 3-day stay and can recommend them both.
Hotel Hanasarasa is located a little bit outside of the city center, but has nice clean rooms (with futons on the floor, or with regular beds), and indoor and outdoor onsens for soaking those muscles after a day of hiking.
The second place we stayed at was the Nagataki Ryokan, which is a 400-year-old home! The traditional ryokan was superb. The grounds were beautifully manicured and dotted with individual holiday homes. Even though the homes are old and in traditional style, there's air-conditioning, a TV and a modern toilet. It was a comfortable place to sleep, complete with a public bath and (amazing) meals served in our dining room. This was one of our favourite accommodations that we've ever stayed at in Japan.
For other places to stay, click here to read reviews and see prices on Booking.com.
Final Thoughts
If you're looking to experience the countryside of Japan, Nakatsugawa is a great place to do just that. Leave the bustling cities behind and indulge a more traditional, authentic Japan, complete with tasty food, cultural activities, and outdoor adventures.
Nakatsugawa really surprised us with all it had to offer and we would return in a heartbeat.
We were invited by the City Of Nakatsugawa Tourism to explore in and around the city and share our findings with you, our readers. This is an area of Japan we would happily return to and would love to spend more time here. As with all promotional campaigns on Goats On The Road, all thoughts, reviews, and opinions remain our own — despite any complimentary services received.
Like This Article? Pin it!