We love receiving comments on our website and we just recently reached 10,000! We're extremely pleased that we've been able to connect with so many different people from around the world. When we started Goats On The Road, we were always so thrilled just to see a single comment. We'd wake up in the mornings excited to check our comments, then our stats.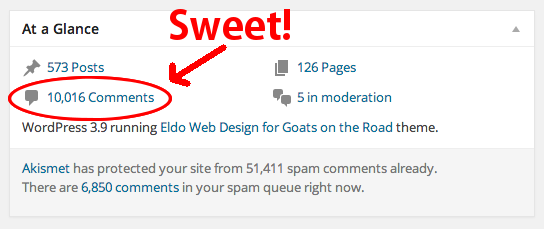 Now that we've reached 10,000 comments, it really makes us feel like what we're writing is worth reading! It's great to receive so much feedback on the articles we've written.
Possibly our favourite aspect of travel blogging is being able to connect with our readers and share our knowledge in the travel field, while helping others to reach their goals of travel. There have been countless times when a reader's comment has opened our eyes to a destination or an experience that we would've never known about otherwise.
Sometimes the comments are just kind words that remind us of why we love being travel bloggers.
Here are some of our favourites:
We're very grateful to have reached this benchmark of 10,000 comments and we want our readers to know that WE LOVE COMMENTS! We appreciate each and every word typed into the comment box, and we read and reply to all of them. Even if it's just a quick couple of words like "great article" or "that sucked", we like to hear what people think of Goats On The Road so that we can learn, grow and expand.
A huge Thank-You to everyone for your support!
This post is about comments so you can't read it without commenting, that would be bad luck or something… Let's see how many comments we can get on this article!