As a backpacker, it's inevitable that you'll end up sleeping in some pretty dodgy places during your travels. Whether it's due to budget constraints, or simply the fact that there aren't many options for sleeping in the incredible, off-the-beaten-path destination that you've found yourself in.
During our 5 years on the road, we've slept in some pretty diabolical rooms, these are just 7 of the many awful accommodations we've found ourselves in over the years!
Beirut, Lebanon
This is by far the worst room we've ever stayed in. It's one of those places that we frequently find ourselves telling other travellers about when discussing awful accommodations. We were in Beirut during the Middle East Revolution in 2011. Many people had fled from Syria, which was causing all of the hotel rooms in Beirut to be full. We found only 2 available when we were in the city. One was for $100/night, and the other was the one we chose.
We were greeted by a very friendly man who showed us to our room. As the door opened, our jaws dropped, but not in a good way. We were shocked. Glued to every wall, the doors of the armoire, the top of the table, and even the window, was a brown fabric with paisley swirls on it. The fabric bedding was a lovely shade of turquoise blue, with matching pillows. This same fabric was glued to the ceiling. The view over the dump outside was a nice touch as well. The shared bathroom was horrific with cockroaches, a toilet that looked like it had never been cleaned and hair clogging up the shower drain.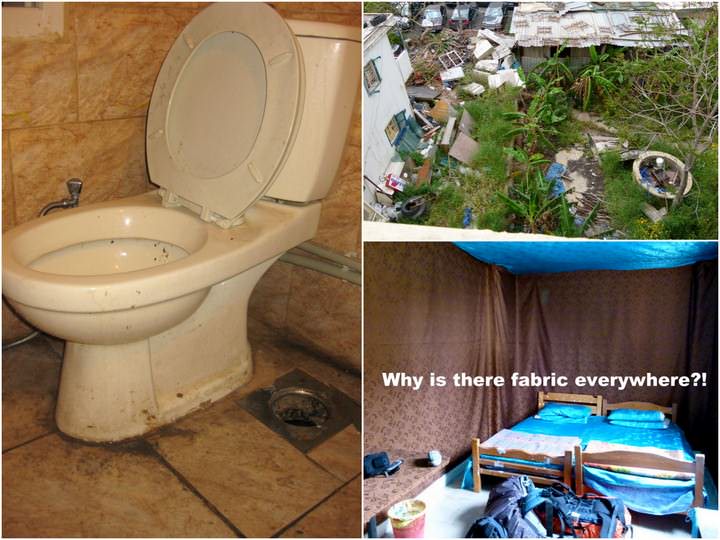 As we settled in, we thought – well, this isn't so bad, is it? As we were drifting off to sleep, we both smelled something, something foul, like rotting eggs. We searched high and low until we discovered the unsavoury scent. Underneath our bed was a drain pipe sticking up. Apparently our room used to be a bathroom, and when someone flushed the toilet in the nearby bathroom, the smell would come up through our pipe! Nick immediately covered it with a plastic bag, an elastic band and threw a pillow over top of it for good measure.
The following day, we switched rooms (but in the same hotel) and found ourselves with a bright room with 3 beds, a table and a couch and no fabric glued to the walls. We did, however, find pistachio shells and hair in the beds. We're pretty sure that the men who run the hotel slept in those beds the night before, while chowing down on a big bag of nuts.
We stayed in that room for 9 days and when we were leaving, we passed by a room and saw one of the managers folding up the bed sheets and blankets of someone who had just checked-out…he then proceeded to put them back in the closet.
Mombasa, Kenya
After an 11 hour day on African transport (which is more like 24 hours in normal travel time) we found ourselves in Mombasa, Kenya. Exhausted, we made our way into town and found a hotel that was near to a decent restaurant. The place from the outside looked alright, so we decided to check in. Too exhausted to fully inspect the room, we set up the mosquito net, got out our shampoo and soap and headed off for a much-needed shower.
That's when we saw it.
Someone's dirty, grey underwear was slung over the shower head!
Pemba, Mozambique
After hitchhiking for 2 days and taking a very long local bus, we found ourselves in the beachside city of Pemba. Away from the gorgeous beach, this is just a typical dusty town, with not a lot of accommodation options on offer. So, when we saw one available, we went for it.
Our room was in the basement of a building, with no windows. It was musky, damp and dark.
The flooring was linoleum, which was coming up along all of the edges, the bathroom was deemed unusable (by us), so we opted for the slightly better upstairs bathroom. There were cobwebs along the bedroom ceiling and as we got ready for bed, I almost stepped on a very small, very light coloured scorpion. And if you know anything about scorpions, you'll know that the smaller they are, the harder they sting. Unfortunately, we only have a picture of the bathroom, not the bedroom.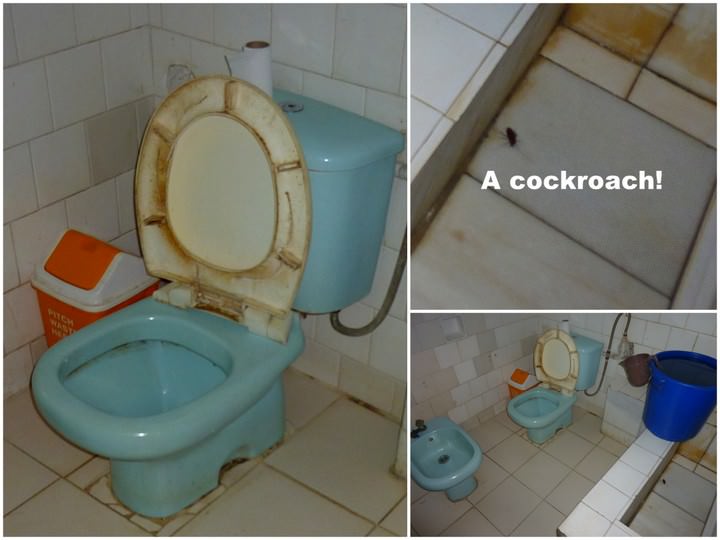 Hong Kong
This city is full of high-end accommodations, incredible night life and modern architecture. It's also home to the Mirador Mansion, which is, in essence, a towering apartment building with tiny square rooms. In this mansion you'll find hair salons, cyber cafes, tailors, hostels and people's homes. The mansion is not aptly named, as the rooms as incredibly small, it's quite run down, it's filthy and 90% of the time, the elevator is in use, and you'll end up walking 10+ floors to your room.
Our sleeping quarters here consisted of a 7 square meter room (yes, SEVEN) with two single beds, a bathroom and a shelf. In between the two beds was enough space for one person to stand. Right as we opened the door, the bathroom was on our left, which was about the size of one on an airplane. It's never ideal to have a bathroom right beside your bed! The worst part? This shoebox of a room was $50 a night, which was the cheapest option in Hong Kong.
Oh, wait, that's not the worst part…we had to spend 10 days here while waiting for our Chinese working visas to get sorted out!
Tsetserleg, Mongolia
We arrived in the little town of Tsetserleg in time for the Naadam Festival. Seeing the festival is a must, but so is booking your room in advance, something we neglected to do. We asked around at every hotel and found only one with rooms available. We really didn't want to stay there and even thought about setting up our tent, but were advised against doing so during festival time.
So, we checked into the only place available in town, which also happened to be haunted (or so the locals said). Feeling sketched out and wanting to call Ghostbusters, we hesitantly checked in. We looked at numerous rooms, all of which were bad, and chose the best of the worst.
The door didn't lock. All a person needed to do was slide a card down the side of it and voila, it opened. There were no lights that worked, we had to take bulbs from the other rooms. The bathroom was horrendous, with no toilet seat on the toilet, a sink that didn't work, a shower that wouldn't stop running, a stained bathtub and cobwebs with spiders along the ceiling. The beds were uncomfortable, the view was awful…but there's more, check out this quick video we made!
Denpasar, Indonesia
We found ourselves in the capital city of Bali, during a particularly long travel day. After haggling with numerous bemo drivers, enduring long windy roads, we just wanted to lay down and go to sleep.
We were travelling during the high season and everything seemed to be booked, except for one guesthouse. The room was dark, the beds were so-so, there were cobwebs on the ceiling, the floor was dusty, but the most amazing part had to be the bathroom. To this day, we still talk about this gem.
It was a grimy bathroom with a bucket-shower, and who knows how long the water was sitting there before we came along. The toilet was gross with no toilet seat, the floors were awful, but we were so greasy and sweaty from our day of travel that we endured it and showered. The next morning, we awoke at 9:00am, ready for our breakfast (which was included in the room price) and found 2 pieces of rock-hard toast laying outside our door, along with two cups of cold coffee. Apparently breakfast was served at 7:00 am.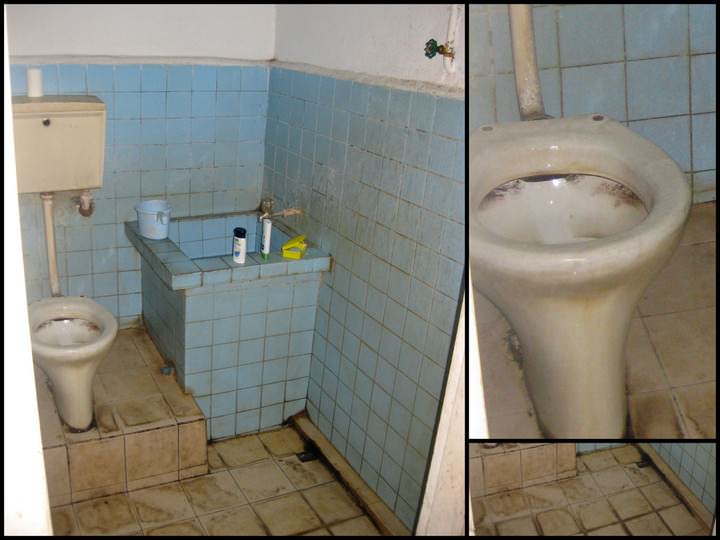 Kolkatta, India
This was the first hotel we ever stayed at in India, and to be honest, it's the only bad one we've ever had to sleep in during our travels in the Subcontinent. Located in the heart of the ghetto, was our hotel, which was surrounded by prostitutes, drugs and dodgy looking people. The room itself was so-so with dim lighting, a small basic bed and a bathroom.
The view was what really made this place stand out, and we didn't even have to pay extra for it!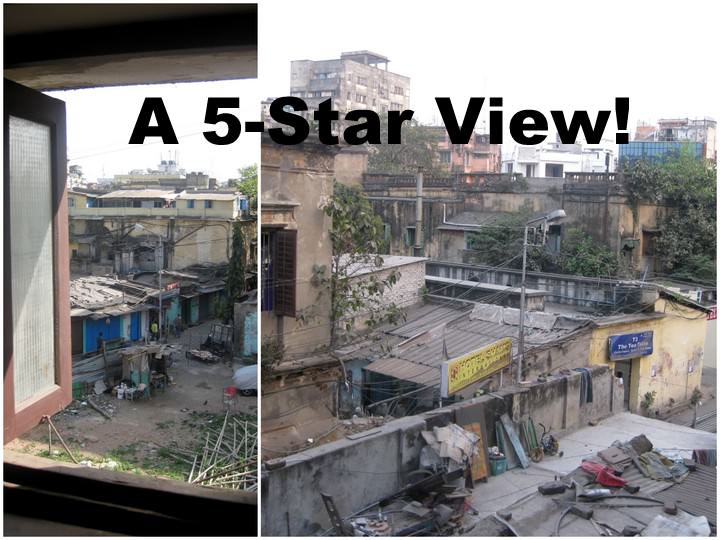 We've stayed in many more unruly places in our travels, but these are the ones that we have photos for! Regardless of how awful they were (are), they were all part of our journey and now we look back on these horrible rooms and laugh.
What about you? What's the worst room you've ever slept in? Was it as bad as the one in Beirut?!