This is a very special post. It's the first collaborative article we've ever had on our site! Some awesome bloggers from our travel community have joined together to chat about their travel collections.
What do we collect during our adventures abroad? Wondering what's in our backpacks after each country we visit? Here are some answers:
The Planet D
We tend to collect one item from each country we visit. We either ship it home if we are on the road for a while or pack it in our suitcase to bring back with us. We like to buy larger items like statues or drums rather than little trinkets. That way they can can become a nice piece of art for our non-existent house.
Right now, we have most of our travel items on display at my parent's house. Here are a couple of items we have out in my parent's basement from Bali to Jordan and Kenya to Mongolia. All are locally bought and all have a little story behind them to add to our memories.
– Deb & Dave of The Planet D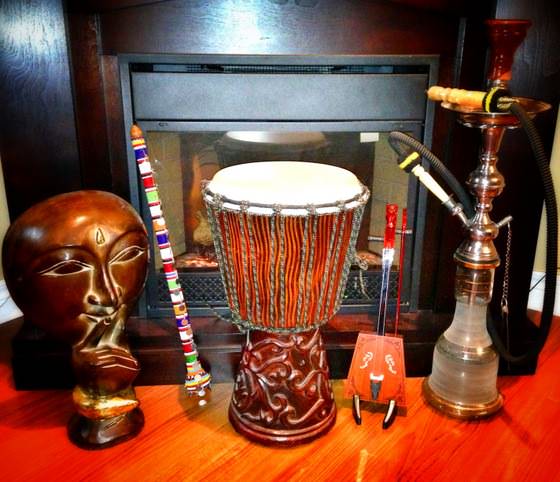 Nomadic Samuel
Over the years I've become less materialistic than in the past.  Travel has taught me many lessons; one of the greatest being that it's hard on the back to carry around a heavy load.  With that being said, I've recently realized I have a quirky attraction to unique and funky t-shirts.
While visiting Malacca, Malaysia I noticed a brightly colored Orangutan house painted in neon colors.  To say it stuck out like a sore thumb would be an understatement.  As I ventured inside, I noticed the local Malaysian artist Charles Cham, was selling a plethora of different individually designed t-shirts in bright neon colors.
One in particular caught my attention; it had an enormous orangutan face as the main outline with screaming loud green as the predominant color.  I couldn't just buy one.  I ended up walking out of the store with 5 different t-shirts which rendered my 'other t-shirts' instantly obsolete.
– Sam of Nomadic Samuel
That Backpacker
When it comes to collecting souvenirs, I have a thing for scarves. Solid shades or with patterns, bright colours or muted tones, silk or cashmere, I collect them all. I didn't realize I had such a big thing for scarves until one of my students in Korea asked me, "Teacher, why you always wear scarf?"
Part of the reason that I like collecting scarves is that I can wear them almost year round, plus they make great souvenirs for family and friends. The photo I included shows just how many scarves I have managed to collect over the past 4 months in Southeast Asia, but it's okay, they're not all for me!
– Audrey of That Backpacker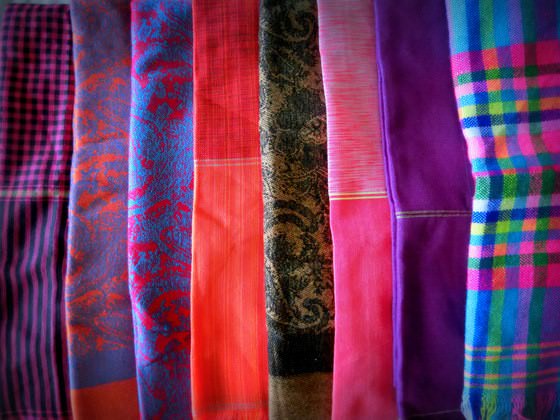 eTramping
As a budget traveler, I try not to spend too much money on souvenirs. However, I love to treat myself with colorful bracelets which contain charms from my adventures. Currently, I have a collection of more than 100 different bracelets I purchased in various countries I travelled to, from Paris, Rome to Beijing and Siem Reap.
Every single bracelet brings back amazing memories which I will cherish forever. My favourite one is a lovely wooden bracelet I bought in Lhasa, the capital city of Tibet. It has been handmade and painted with five typical for Tibetan religion colors – blue symbolizes sky, green air, red fire, white water and yellow earth.
I often give some bracelets to my best friends as a gift if they really like it.
– Agness of eTramping
Global Grasshopper
We try and collect something that represents the country although most of the time this has come in the form of a small, cute toy! Tokyo is easily the best place for this kind of collection and our favourite 'kawaii' has definitely come from there. Gray also collects leaflets and examples of a country's graphic design style – great inspiration for his design.
– Becky & Gray of Global Grasshopper

Traveling Canucks
We first started collecting masks when we lived in Malaysia back in 2004. Since then, our collection has grown to over 40 masks. Most of the masks were purchased at street markets, with our favourite masks coming from Costa Rica, Peru and Italy.
-Cam & Nicole of Traveling Canucks
Mostly Victoria
Up until recently our travels were always vacations (as many as we could squeeze into our years annual leave allowance). We could shop us much as we liked & if we really wanted it, we'd just pay the extra weight at the airport to fly it home.
But now that we are "backpackers" or at least we are travelling with a backpack (I'm not so sure that we are fully qualified as "proper backpackers" just yet!). This has forced me to be more disciplined – I know that if I buy something – I have to carry it around with me! So I started to collect bracelets – I get one (inexpensive!) bracelet per destination. It abates my 'need to shop' and yet they are small enough to pack away easily.
Though, in reality, I just wear them so it takes up no extra room at all! I've also recently started to collect flowers – I 'press' them in the back of my journal where they will dry out during our trip. Some of these will be added to my scrap-book, some will be attached to my "Wanderlust Board" – a GIANT pinboard in our dining room back home.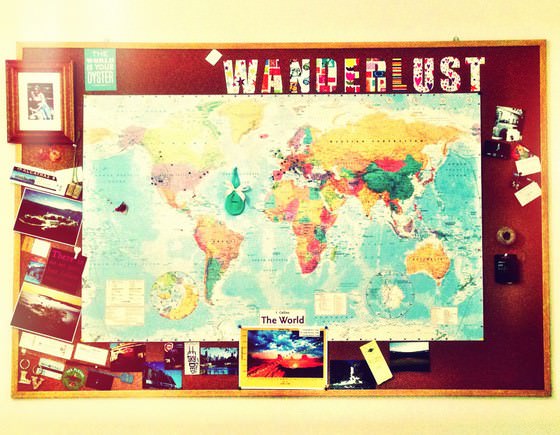 The Expert Vagabond
I've become a minimalist over the past few years. Almost everything I own can be stuffed into 2 backpacks. So collecting travel souvenirs is not a priority of mine. But other than photographs, I do collect something from each country. Paper money. I've been to 13 countries so far (I travel very slowly) and have saved some currency from each.
Except Panama, because they actually use US currency. My favorite bill is one that's no longer in circulation. A $100 Cordoba note from Nicaragua that's been stamped with a new denomination of $100,000 Cordobas. After the Nicaraguan revolution, inflation jumped up to 400% and the government just stamped its old currency with new values.
– Matt of The Expert Vagabond
A Passion and A Passport
Do I collect anything in particular, no.  But I collect photographs and memories. Instead of overloading our apartment up with chotchkies (which I hate with a passion), I cherish my pictures and use my favorite ones to make photo books. I always make sure to order the same size, and now we have a nice little collection of books on our coffee table.
Friends and family love going through them, and it's perfect, partially because I love showing off the gorgeous photos from our trip, and because the photo book does the narration. Now I don't need to tell the same stories over and over! 🙂
– Jessica of A Passion and A Passport 
A Cruising Couple
If there is one thing that makes us weak at the knees, grabbing our wallets before we've had time to think over the practicalities, it is artwork. Wherever we travel, we always try to find one piece of authentic artwork. We have oil paintings from Paris, Batik from Indonesia, calligraphy from Taiwan-and those are just a few of our favorites!
These pieces of art might not be functional right now, but one day we hope to have a worldly display, a reminder of our favorite places and an exhibition of our travels. We also love encouraging and promoting local artists!
– Dan & Casey of A Cruising Couple
Last, but not least…
Goats On The Road
During our first 2 long trips, we bought a souvenir that would represent each culture we had been to – a sheesha pipe from the Middle East, a beautiful painting from Africa and wooden statues and bowls from SE Asia.
I used to also collect a shot glass (and fill it with sand from the beach) from each country and Nick would buy a T-shirt. We've since realized that because we don't have a home, there's no point in storing all of our souvenirs in a box back in Canada!
So, now I collect a bracelet from each country (just a cheap one that I wear all the time), a badge with the country flag on it and one piece of paper money – badges and paper don't weigh anything! Nick collects a coin from each country we go to, which weighs a little bit, but not too much. These are our favourite mementos!
-Dariece & Nick of Goats On The Road
There you have it. Since most of us carry our lives on our backs, we're all about things that weigh very little! Souvenirs and trinkets make for some great memories and are nice to collect while abroad, but the best mementos are the photos we take and the memories we keep in our minds and in our hearts.
Do you collect anything from your travels? If so, what? If not,  why?! Leave a comment below.