Setting yourself up as an Airbnb host is a great way to earn money and meet people from all around the world. If you've stayed in an Airbnb, you'll know that they offer a more local experience for travellers. You can enjoy all of the benefits of having a home away from home, often at a fraction of the price of a hotel. And, there's usually the plus side of getting to meet super friendly locals in the form of your Airbnb host (that's you!).
The favorite of intrepid travelers everywhere, Airbnb has quickly spread all over the globe. Airbnbs are cool, convenient and homely places to stay — from quirky corners in small towns and vibrant hotspots in the center of cities, to cozy cottages in the countryside and funky tree houses in the jungle. There are endless unique places to stay.
But, have you ever wondered how to actually become an Airbnb host yourself?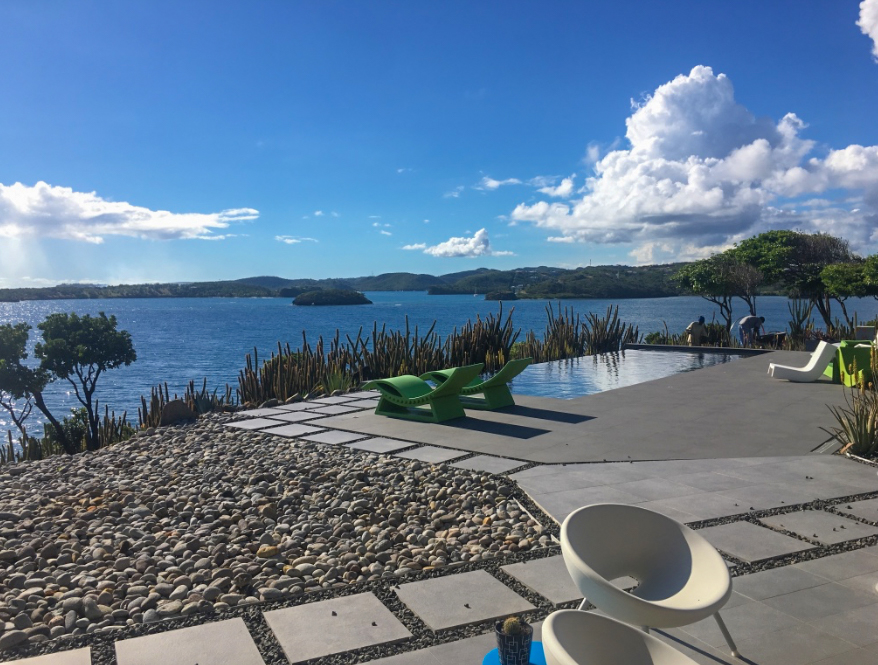 If you have your own place (or a rental property) and want to make a little extra cash, then setting it up as an Airbnb is a great idea. There are numerous benefits, from easing your workload and funding your trip away, to meeting an international array of people and paying down your mortgage.
Whether you're considering renting out a room in your home, or listing the entire place, you'll probably have numerous questions and concerns surrounding having a stranger stay at your house.
Is it safe to have guests? Is your home going to be nice enough? How can you succeed as a host? Do you have enough time to run an Airbnb? Will you even make enough money from becoming an Airbnb host?
Well, don't worry. I've put together the ultimate guide for beginners, covering everything from how to set up an Airbnb host account, the pros and the cons of becoming an Airbnb host and how you can avoid negative reviews by being the best host possible!
(Ready to sign up? Click here to become an Airbnb host now.)
Here's my guide to becoming an awesome Airbnb host.
How To Set up an Airbnb Host Account
You might think, like I did, that setting up an Airbnb host account will take a lot of time and be a stressful task. But fear not, it's actually not complicated at all. There are a few steps you need to take in order for your home to look good, seem inviting and be up to par in terms of safety.
Once that's all done, the bookings should roll in, you'll get glowing reviews and the cash will stack up. So, here's how it's done.
Step One: Set up an Airbnb account
First things first, you need to have an account on Airbnb. Once you have one, it's a fairly straightforward setup process.
Click on the 'become a host' tab at the top right of the page and Airbnb will ask you to fill out simple forms which detail the basics of your accommodation.
1. What kind of place are you listing?
You will be asked what type of space you are advertising. You'll choose between an apartment, house, secondary unit, unique space, bed and breakfast or hotel.
Once you've chosen the space you're renting, you then filter down further. For example:
2. What is the room type?
You need to know if you are willing to rent out the entire place or just a room, and if it will be set up just for hosting or will all your personal belongings be there too. These things make a difference when it comes to the rental price.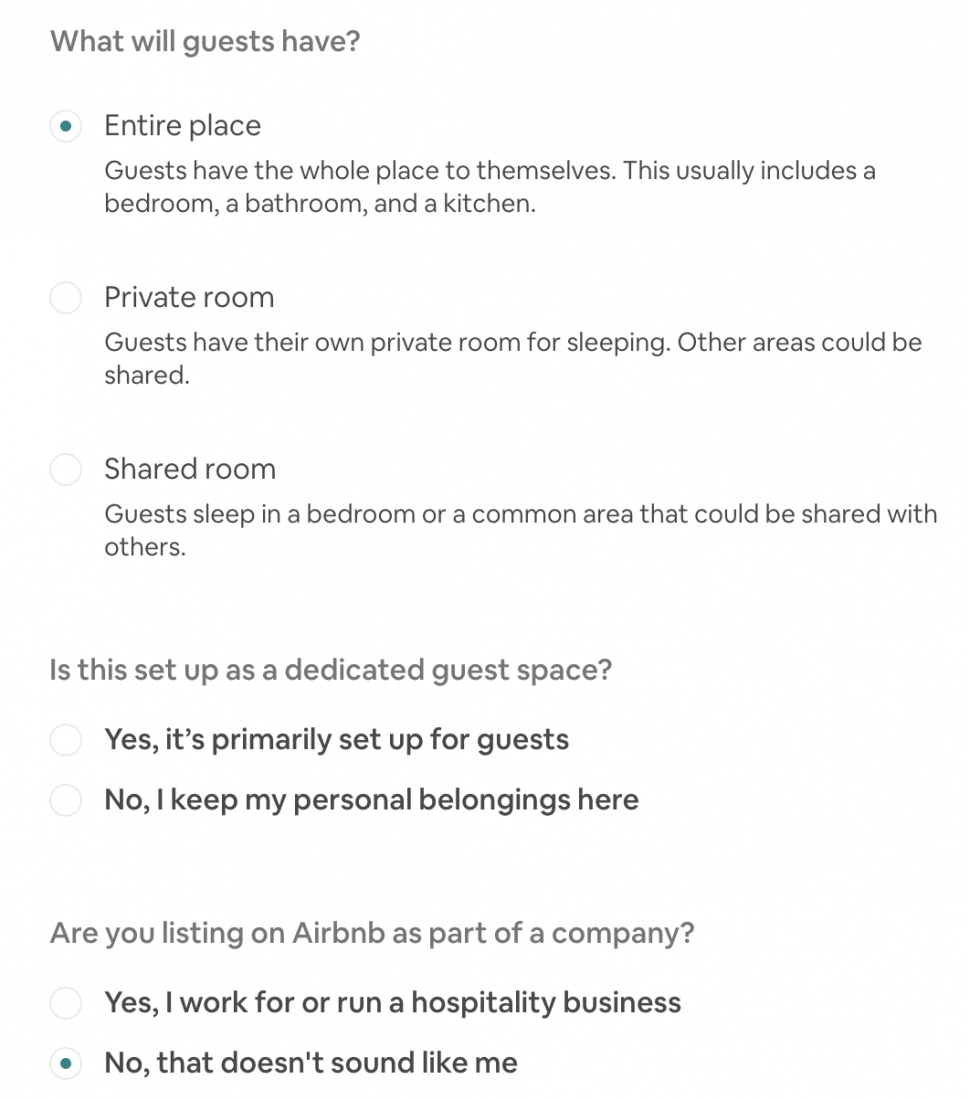 3. What are you offering?
Let Airbnb know how many guests you can accommodate, what kind of beds you will be providing, what the sleeping arrangements are, how many bathrooms you have, which amenities you are offering, and your address (guests will only receive your exact address once they book with you).
These basic questions will help to determine roughly how much Airbnb will recommend you should charge for your listing. In fact, once you've filled out the above details, there will be an "estimate" shown as to how much you could earn each month as an Air bnb host.
Step Two: Photoshoot
Now it's time to have a little fun and get creative with your photography skills. You can upload a whole selection of pictures of your accommodation, but ensure the photos look as professional as possible.
Your potential guests will want to be wowed by your eye for interior design. They'll want to check out how clean your bathroom looks and get a good, well-rounded idea of what's on offer when they rent your space.
Think about what would make you want to book an Airbnb. Hosts that have great pictures are more likely to get bookings, especially in a popular city like Barcelona, London or Amsterdam. It's worth spending a bit of time on your photos, probably in the morning when the lighting is good.
Once you've set up your listing, you can also request a professional photographer from Airbnb.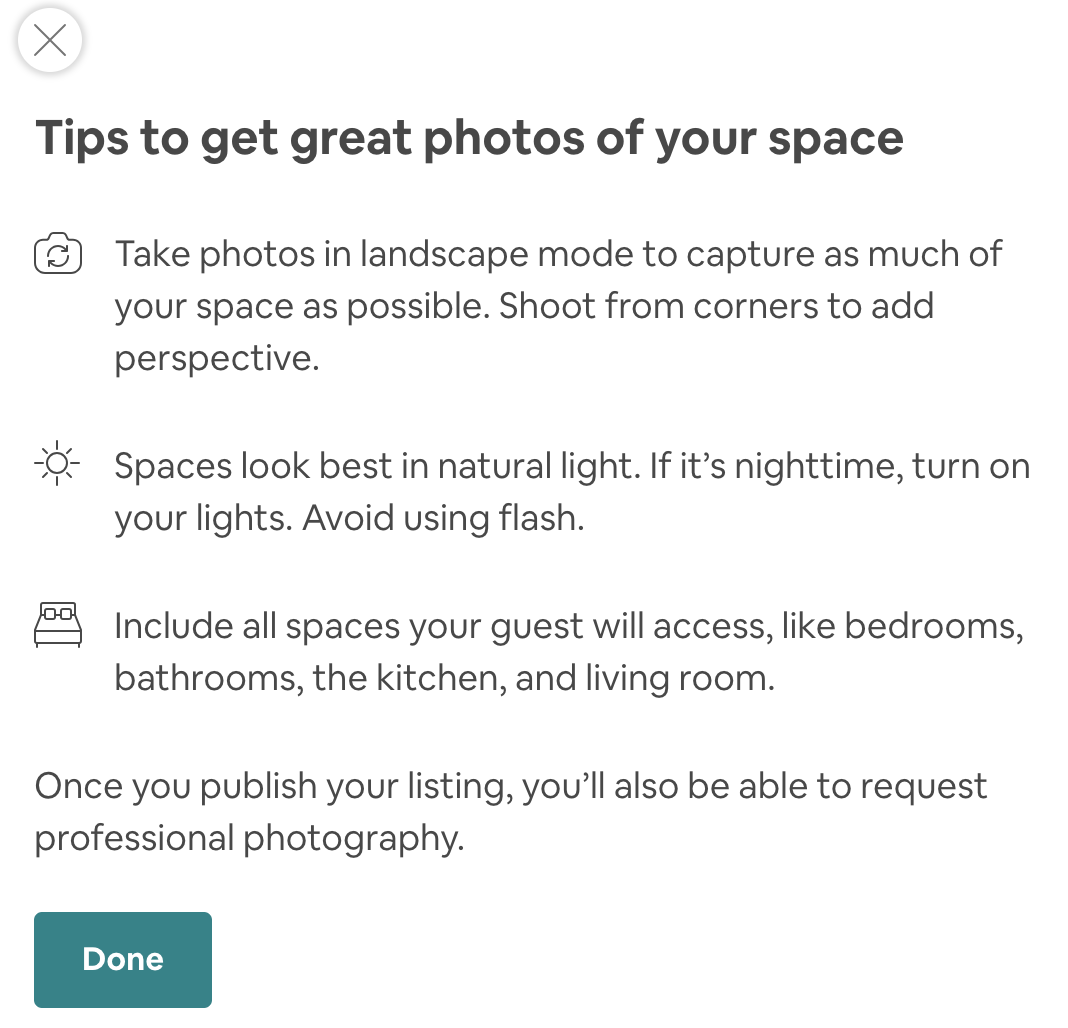 Step Three: Set The Scene
This is where you can describe all the amazing things about your home. From the quirky bakery around the corner to the big comfy bed in your master bedroom.
If you want to be a great Airbnb host, you should be honest about what's available, ensure guests know what they have access to, and how much contact you'll have with them during their stay.
This is also where you'll come up with a title for your listing. Make sure it sounds as appealing as possible.
Step Four: House Rules
Set the boundaries with your potential guests by listing the rules of staying in your home.
Will you allow guests to smoke? Are pets allowed? Is there a curfew? Take a while to think about what you will consider acceptable as an Airbnb host — this could save a lot of hassle down the line. You can also request that guests have uploaded their Government ID to their Airbnb profile, and that they have been recommended by other hosts in the past.
Step Five: Your Calendar
Next up is figuring out when you're going to be available to host. When setting up your account, you can choose between not sure yet, part-time, and as often as possible.
Try to keep things simple. It's your first foray into being an Airbnb host, you don't want to stress yourself out. You can manage the settings in your account so that there must be a certain amount of days between a guest booking and their arrival. This will give you enough time to prepare the space.
You can always change the settings after you've created your account.
Step Six: Set The Price
A good tip with setting the right price is to check out the competition. Do a quick search and take a look at what other Airbnb hosts are up to with their listings in and around your local area. Take note of their pricing and what their selling points are.
Based on your location and the size of your listing, Airbnb will suggest a price per night for your property. It's up to you to charge what you want, but there is the option for the price to automatically change with demand.
For example, during a festival in your city or over the school holidays, you could get more per night for your place.
It's ok to change the price at a later date if you aren't happy with the amount you're making, but consider when you first become an Airbnb host that you might want to lure in your first few guests with an attractive lower price.
Think about a deal, such as 20% off for the first three bookings. Once the first few guests stay and write you the awesome reviews you surely deserve, you can put the price up a little bit to reflect the effort and work you've put into hosting. You can also offer discounts for weekly or monthly stays.
What's Next?
You've done all of the ground work, followed all the steps above and are now set up as an Airbnb host. Now it's time for the fun part. Fingers crossed your first bookings will start to trickle in and you'll soon be getting prepared to welcome your first guests as an Airbnb host!
But, before your guests arrive, there are a few things you need to do.
Tidy Up
You need to get your place decked out to be the Instagram-worthy space that your guests are looking for.
If you're renting out a room in your home, think about clutter that might be hanging around your house. Offload some of your old items at a friend's house, store it in the loft, or donate unwanted items to charity.
If you're renting out the entire place, make sure the space is open and bright. Nobody likes clutter.
Use this as a chance to get your house looking the way you've always wanted. You might even want to change the curtains, pick up a new rug or buy some house plants from your nearest shop. Small, homely touches to make your house look welcoming will go a long way in the eyes of a guest.
Go Shopping
Consider buying some new bed linens and towels for your guests, and other amenities such as a hairdryer and all necessary kitchen items. Make a note of the things you want to provide, such as shampoo and other bathroom goodies, and stock up on essentials like toilet paper and cleaning products.
Clean Up
Tidying is one thing, but make sure you clean everything in your accommodation. Scrub the toilet, vacuum under the sofa and give the windows a wash. And while you're at it, fix anything that's broken, change all dead lightbulbs, etc. It might seem like a lot of work, but if you're serious about making money, this will all be worthwhile.
Better yet, hire a professional cleaning company.
Once you get your first booking, you'll want to ensure they enjoyed their stay. First impressions are everything so make sure your place is spotless.
If you really want to make money as an Airbnb host, put the time and effort in the beginning to make sure your place is comfortable. You'll get glowing reviews from your guests, which equals more bookings and more money in the future.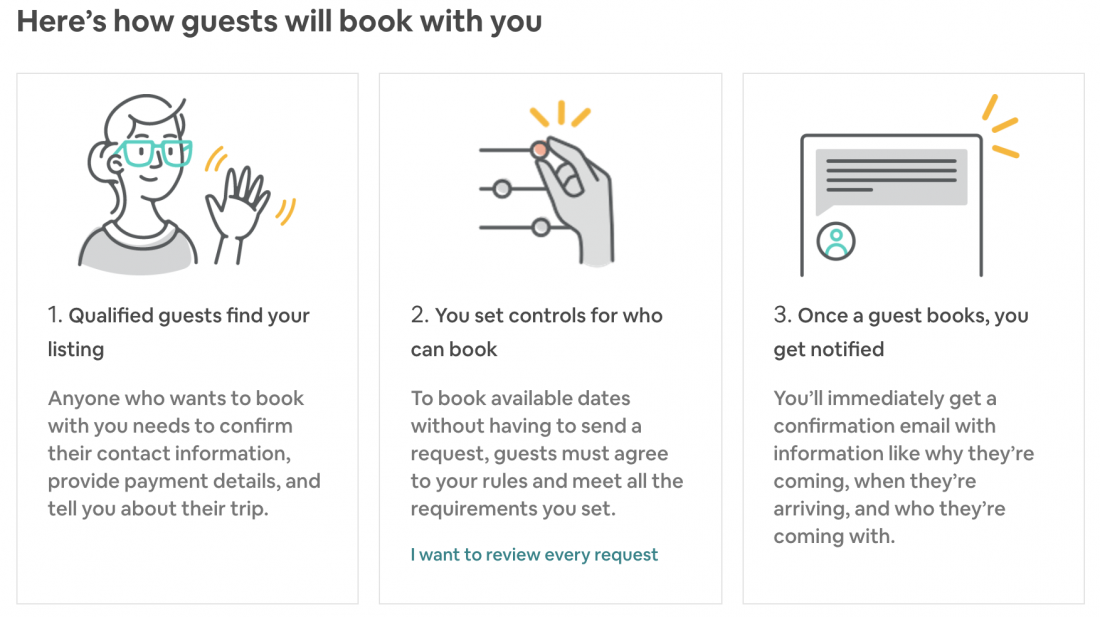 How To Be The Best Airbnb Host Possible
If you've stayed in an Airbnb before, you'll know the difference having a great host makes.
I've stayed in numerous Airbnbs in many different places. Some of the Airbnb hosts I've met have made the experience of staying at their house so much more enjoyable just by doing a few simple things. Here's how you can be the best Airbnb host possible.
Think about your guests' needs
Airbnb comes with a risk from your guests' point of view too. They'll be staying in a stranger's place in a city they probably don't know. Make them feel at ease and let them know you are available to answer questions they might have.
Depending on whether or not you have listed your whole home or just a room, there may be different things expected of you from your guest.
It's up to you to decide how involved you want to be with your guests' stay, but if you want to be the best Airbnb host possible, you should be open and easily reachable and try to help them out as much as you can.
Provide information on transportation options, the best restaurants in the area, the top sights to see, any local hot-spots, and where they can buy groceries. It's also a good idea to exchange contact details — either phone numbers, or online chats such as WhatsApp.
Get in touch
In the days leading up to your guests' arrival, send a friendly message to introduce yourself as their Airbnb host. Give them advice about how best to reach your place, what the cost will be for transport, etc. This advice will be appreciated.
Make sure the check-in process a breeze. We all know the feeling — you've had a long journey, you're tired, and you just want to check-in to where you're staying.
If you make your guest wait around for you or give them complicated instructions on how to get to your home, you'll just make the whole thing a lot more stressful. Be a great Airbnb host and think about what you would want if you were a guest.
Be welcoming
Welcome your guests with a smile and a drink. Serve them a glass of juice or coffee and maybe even offer a snack. Show them around the home, and chat with them on arrival. Ask what they would like to do during their stay and let them know about any fun and unique things to do nearby.
However, gauge the situation and if your guests seem exhausted, just mention that they can message you with any questions about their stay.
Leaflets, maps, and an information pack are super useful. Have some handy in the house so that your guests can get acquainted with their temporary home and new local area.
Go the extra mile
If you're renting out your whole place and not meeting your guests, a nice touch is to leave a note to welcome them, along with some drinks and snacks. In the past, hosts have left me wine and cakes. Obviously, this meant I was more inclined to leave a glowing review at the end.
And on the topic of food, don't forget about breakfast. I'm not saying you need to go as far as to cook fresh bread every morning (as one host did for me), but the option for your house guests to make themselves a cup of tea and have some eggs and toast would be a really nice touch. Make sure you include cooking oil, salt and pepper as well.
Stock up the cupboards and fridge with some basic items.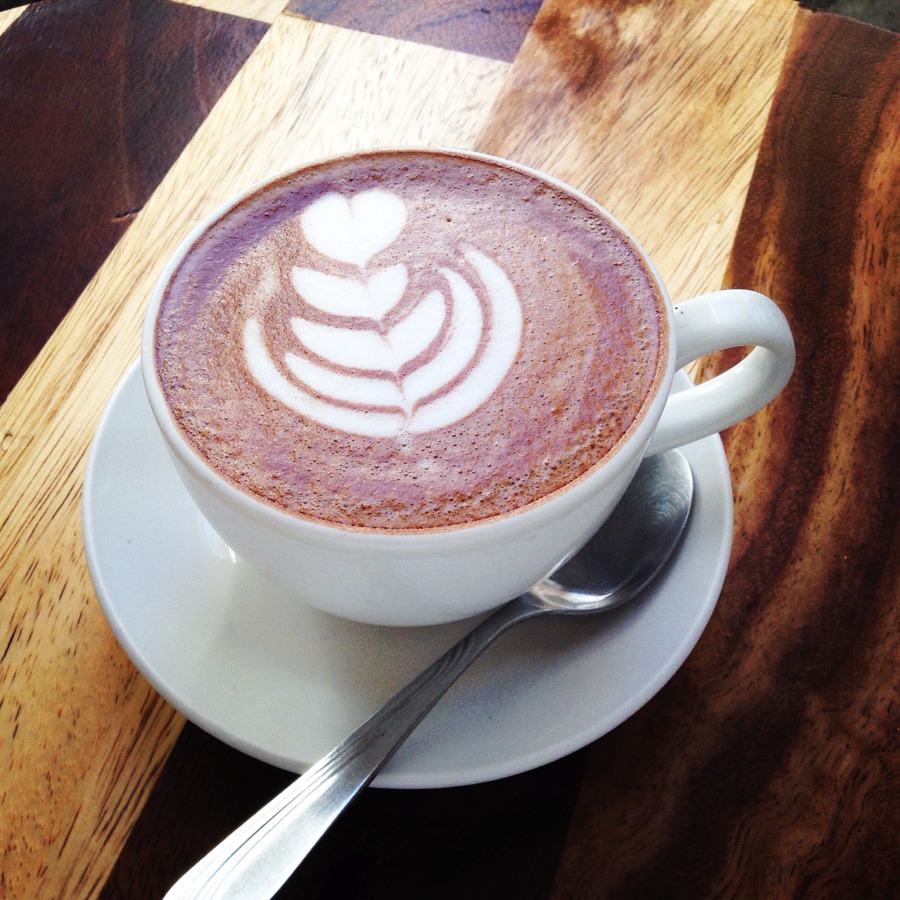 Gain Superhost Status
Being listed as a "Superhost" is a big deal on Airbnb. When people are searching for places to stay, they often set the filter to show Superhosts only. This title has to be earned by Airbnb hosts and the guests can be sure they will have a great stay when booking with this type of host. Superhosts receive more bookings.
To receive Superhost status, you must:
Complete at least 10 trips OR successfully complete 3 long-term reservations, for a total of at least 100 nights
Maintain a 50% review rate or higher
Maintain a 90% response rate or higher
No cancellations, with exceptions made for those that fall under Airbnb's Extenuating Circumstances policy
Maintain a 4.8 overall rating
You don't apply to become a Superhost, Airbnb will automatically grant it for you. So, when you're thinking about how to be the best host you can be, consider the above 5 points and you'll be a Superhost in no time!
Pros and Cons Of Becoming an Airbnb Host
With every amazing guest and friendly face you meet, there could be others that come with a whole host of demands. Some guests will be easy, others might be difficult. As with anything, there are some pros and cons to becoming an Air bnb host.
Pros of Being an Airbnb Host
Earn a lot of money
Work less, especially if you hire a manager for your property – meaning more free time for you
You get to engage with new people and make new friends from around the world
Make money from your property while you're on holiday
Exchange cultures and languages with travelers
Show off your hometown in its best light
Ensures that you keep your home in the best condition, clean and well-maintained
You can be flexible with when your place is available, to fit in with your life
Airbnb offers $1M protection for property damage
Airbnb offers $1M in liability insurance
Pay down your mortgage faster
Have multiple properties earning you equity, with the mortgage being paid by guests
24/7 customer support on Airbnb
Cons of Becoming an Airbnb Host
Depending on how much you want to make, becoming a host can take a lot of work
You have to make sure your place is spotlessly clean
Keep your neighbors in mind, and how your guests might affect them
If you rent, your landlord might not agree to you hosting an Airbnb
The risk involved with having strangers stay in your home
You might not get along with your guests
You have to make sure you work within the guidelines of being an Airbnb host
Things might get damaged, broken or go missing
Conclusion
So there you have it, my guide on how to set up as an Airbnb Host.
It might seem complicated and even a little daunting to start with, but once you get on Airbnb, the setup process is surprisingly straightforward. There are things you'll probably need to do to get your home ready, but it'll be worth it in the end.
If you're worried about your efforts not being worth the reward or the trouble, or badly behaved guests, don't be. The horror stories you might hear are few and far between. Plus, you can always check out your guest's reviews before agreeing to have them rent your home.
While becoming an Airbnb host is essentially about making money from your property, you'll find that you get a lot more out of it than just money. Hosting is a fantastic way to meet new people and see your local area through the eyes of your guests.
The money you generate from being an Airbnb host will allow you to work less, save more, and spend more time doing things you love. Click here to learn more and become an Airbnb host today.
Some images in this post by: Shutterstock.com
Like This Article? Pin it!