We've been living & pet sitting in Barbados for almost a month now, and so far we have a good impression of the island. There are numerous things to see and do, and places to visit in Barbados and we're enjoying exploring the island.
We find ourselves constantly comparing it to our previous tropical paradise home in Grenada, which is unfair because it is a completely different destination.
But, we can't help it! Regardless of whether we should or shouldn't compare the two neighbouring islands, we do and here's what we've come up with.
There are numerous similarities between Barbados and Grenada – like the laid back vibe, funky music, friendly people, English language, and beautiful, white sand beaches. But Barbados feels like an entirely different place, which we love.
One thing that we noticed right away was the flat topography of Barbados. Large sugar cane plantations are spread out over small, rolling hills with no mountains in sight. We haven't been to the east side of the island yet (which is said to be more jagged and rocky), but there definitely isn't the mist shrouded mountains and lush jungle interior that Grenada offers.
The People
The people here have been very friendly and kind to us. The locals are polite and respectful of others. Everyone says good morning and they usually have a big smile on their face. How could they not? Look where they live!
We've definitely noticed a big improvement in customer service here. On some of the other islands in the Caribbean (Grenada, St. Vincent & The Grenadines and Cuba), you sometimes get grouchy, uninterested or preoccupied staff, but we haven't had an experience like that in Barbados so far.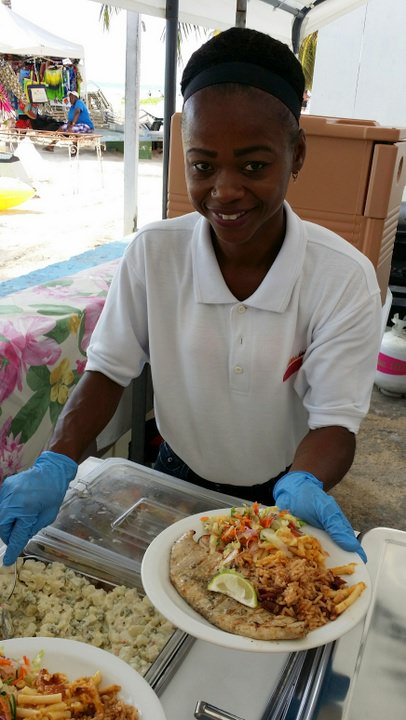 There is also a larger, local Caucasian population here compared to the other islands we've seen in the Caribbean, which is interesting. The white-Bajan accent sounds very different from the black-Bajan one, as the white locals have Irish and Scottish nuances in their dialect.
This is no surprise as many Irish, Scottish, and Welsh people were brought here by the British as indentured servants in the 1600s.
Both the white and the black Bajan accents have a lovely melodic tone, we love listening to the locals speak! We've noticed that many of the black Bajans tend to have very strong consonants and sharp (almost glottal) stops in their pronunciation.
There is also a strong caste system here, and while we haven't even begun to scratch the surface of this, we have learned that there is an underclass (the "lowest caste") of people here known as "Redlegs", who are white descendants of Scottish and Irish servants.
They are typically the poorest of the island's inhabitants, living in small shacks on the east coast of Barbados. We haven't been able to find much information on the history of these people, but you can learn a bit about it in this interesting documentary.
The Music
We are loving the local music here! The radio is jam-packed with great soca and calypso songs that sound like they could do well on any pop radio station around the world. I guess it's no surprise that there is artistic talent here as this is the home of Rhianna (who receives loads of radio time).
One thing that we're surprised about is the amount of American country music being played in Barbados. There are country radio stations and you can hear this music coming from local's homes and vehicles.
Steelpan bands even do country covers at restaurants and bars! We definitely prefer to hear the local, Caribbean tunes, so when these American songs come on, we just hope they don't last too long…or we switch the station.
Festivals
Independence Day was just the other week, so we were able to see some of the national pride here in Barbados. We were surprised at how many people talk about, look forward to, and take part in the festivities.
Coming from Canada, where we don't have any independence to celebrate, we just drink beer and watch fireworks on Canada Day, so it was interesting to see how important it is to Bajans. There were parades in the street and many cars were decorated in ultramarine and gold, the colours of Barbados.
We will be here for Christmas and New Year's Eve as well, so it will be interesting to see how it's celebrated. So far, the island feels like it's in the holiday spirit with carols being played on the radio (American country versions of the songs!), malls decorated with Christmas trees and lights, and local homes having decor on their lawns and lights strung up on their homes.
We plan to cook a big turkey dinner (we found them for sale in the grocery store), drink lots of wine, hit up the beach and open presents from each other.
The Roads
The back roads and alleys here are pot-hole ridden, which we're used to, but there doesn't seem to be as many rum shacks lining the streets as there are in Grenada!
There is an efficient, 4-lane highway that runs through pretty much the whole island from north to south along the west coast, which really makes Barbados seem smaller and easier to get around.
The driving is also a lot calmer. We were worried when the homeowner here told us that the driving is horrendous, but so far, it's been tame compared to what we're used to.
There are still crazy people who will pass blindly on corners and buses that go 80 km/hr on roads that should be 30 km/hr, but that's the Caribbean and we're just staying on the defensive.
The Beaches
There are so many beaches here. Basically, the entire south and west coast offers a beautiful stretch of sand for swimming, while the eastern, Atlantic coast is rough and unsafe for swimmers. The east is known for its "Soup Bowl" surf destination, where pro surfers often come to catch the large swells.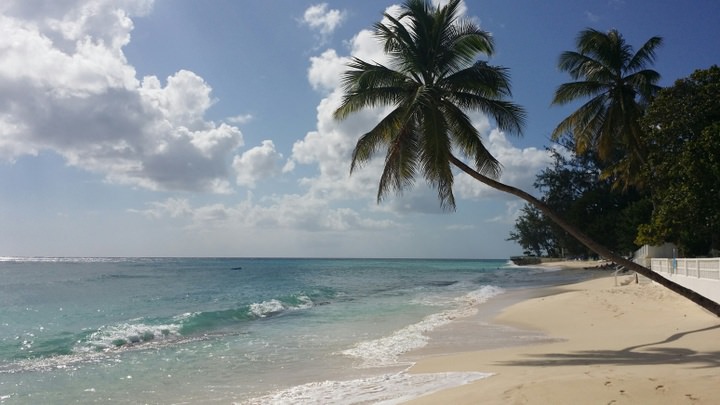 So far, our favourite stretch of sand in Barbados is Carlisle Bay. The sand there is powdery, while the waters are calm and clear. It's the ultimate beach-bumming spot.
The Cost
Things are definitely pricey. A couple of years ago when we first started making money from Goats On The Road, we probably would have cried when we saw the price of groceries here.
On average, it's about 20% more than Grenada for most groceries, booze, wine etc. We did however find a very affordable veggie stand close to our house which has produce that's probably 20% less than we ever found in Grenada.
Restaurants are also a bit more pricey, but it's not easy to compare them to Grenada because there are so many upscale options here, whereas Grenada only had a couple. Having said that, a burger at our favourite beach bar in Grenada (Umbrellas) was $12.50 with fries and it's the same at our new favourite beach bar in Barbados (Tiki Bar).
It's hard to truly compare the price after such a short time of living here, because Dariece and I always eventually find locally owned places with good deals, good food and friendly staff…it just takes time.
If you're reading this and wondering how this compares to the costs in the city you're living in, it's likely more expensive in Barbados. Considerably more expensive. We found a cool website called Expatistan where you can compare the cost of living in different countries. According to their numbers, food in Barbados is 45% more expensive than it is in Canada (Calgary), while entertainment costs are 36% more. Having said that, Barbados is 49% cheaper than the nearby island of Bermuda!
The Food
We are really enjoying the food. Everything we've tried has been flavourful and the portions are huge. The cuisine here has the familiar West Indian spices that we're used to. BBQs are popular, with the Friday night Fish Fry, roadside stands and beach-side vendors serving up grilled chicken, fish and lamb.
Plus, there is Chefette! This fast food restaurant seems like it's a global conglomerate with all the bells and whistles of a McDonald's restaurant (LCD screens, kids play area, plastic chairs etc.), but it's locally owned and operated here in Barbados.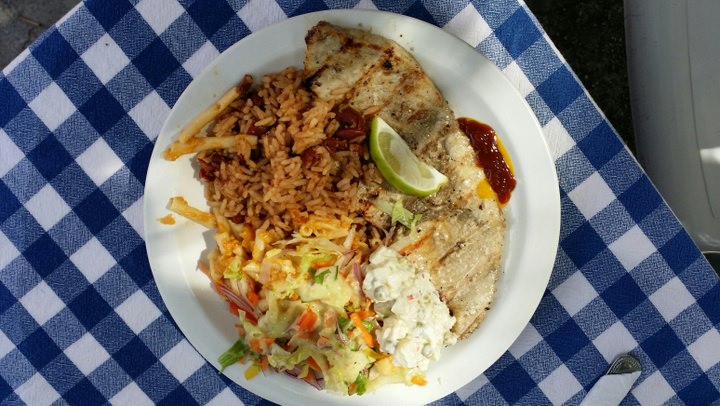 Chefette serves up tasty (although fast food style) rotis, hamburgers, sandwiches and fries. McDonald's tried to open up on the island but just couldn't compete with the locally owned fast food giant that is Chefette.
Our Days in Barbados
Our days have been spent as they usually are when we're living / pet sitting somewhere. We wake up and walk the dogs (Hesus & Honey are adorable), and then come back to the house to work for a few (sometimes a couple) of hours before heading out to do something around the island.
Dariece and I picked up a gym membership at a fitness center near our house in Barbados to try to get back in shape after a week of eating pizza, ham and ribs in Canada. We love Canadian food, but man is it heavy.
When we're not working out at the Gym, drinking beers at a beach bar, enjoying a beach barbecue, walking the dogs, working, or getting groceries, we're exploring some other parts of the island.
We've already put together three GoatLife TV episodes (One at Tiki Bar, one at a beach BBQ, and one at the Fish Fry Party in Oistins) and we're planning to continue them each week while we're here. Thanks to everyone for watching them each week!
All-in-All
So far, our first impressions of Barbados are very positive. We're loving the laid-back vibe and the easy-to-navigate roadways. It's nice to be able to take the highway from one end of the island to the other in less than 45 minutes.
The people, the food, the scenery and yes, the beaches have all been phenomenal, but we're really looking forward to exploring some more of the history and the island's interior in the coming weeks.
One thing is for sure, we love that our job of house sitting and travel blogging has brought us to another Caribbean paradise… it doesn't get any better than this!
Like it? Pin it!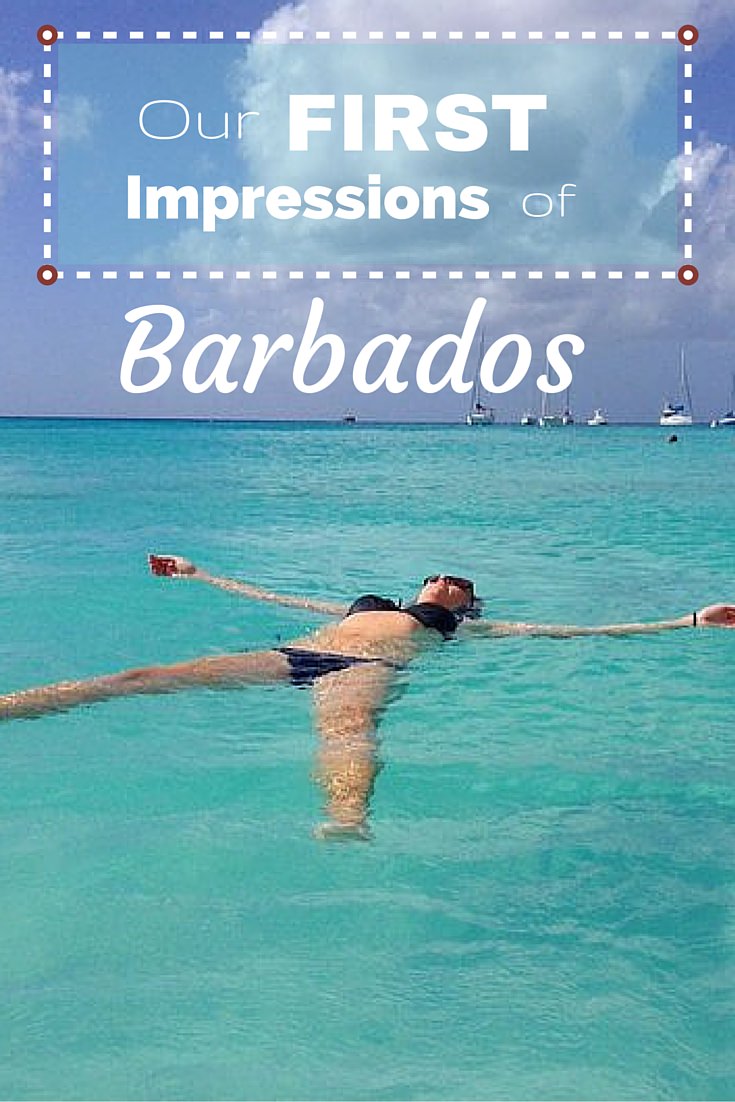 To learn about house-sitting check out our articles here. Interested in becoming a digital nomad? Have a look at our articles on travel blogging and freelance writing.