If you're planning on visiting England's historic capital, one of the best ways to experience this cosmopolitan city is to stay at one of the best Airbnbs in London.
This vibrant city is packed full of interesting things to see and do; from iconic landmarks like Buckingham Palace and Big Ben, to some of the most compelling museums in the world.
The city is home to some of the best dining in Europe, offering cuisines from across the globe. Whether you're after a snack or a four-course meal, London is a foodie's heaven and there's something to suit every taste and budget.
I've been living in and visiting London for over 20 years and have the lowdown on the best areas to stay in London, places to visit, and some fantastic Airbnbs in the city.
Here are the 10 best Airbnbs in London.
1. Artistic Flat in the Heart of West London
Covent Garden is one of the best places to stay in the city thanks to the vast choice of entertainment and dining options nearby. It's a great place to stay on a weekend trip to London as well. This luxury Airbnb in London is the place to go if you want to experience the best of the West End.
This one-bedroom apartment sleeps up to three people and has bags of space. With floor-to-ceiling windows, the flat is bathed in natural light throughout the day.
Inside you'll find wooden flooring and some state-of-the-art furniture; both retro and contemporary, giving the place an eclectic feel. There's a fully-fitted kitchen with appliances, and a stylish, wrought iron dining table – perfect for breakfast.
The convenient location means it's just a short walk to the restaurants and markets of Covent Garden, the trendy bars of Soho, and the theatres of the West End.
I recommend at least one night out in Soho, which is one of my favorite areas in London for drinks in the city. The area around Frith Street has some great bars and eateries. Be sure to check out this guide of things to do in London at night which includes some great nearby attractions.
Click here to learn more about this fabulous Airbnb.
2. Secluded Houseboat on Private Mooring
If you're looking for something truly different, then this incredible houseboat has to be the best Airbnb in London. Although located in central London, this part of the Regent's Canal is an oasis of tranquility, and is completely private.
This one-bedroom canal barge is beautifully decorated with wooden fixtures, and is a super cozy place to stay. There's a bbq on deck so you can enjoy summer evenings on the river, and for winter, there's a log burner inside.
The mooring comes with an outside deck, garden space on the shore, a rowing boat, and even a hot tub.
The panoramic wheelhouse is the perfect place to witness life on the canal. Sunrise and sunsets are especially beautiful here. Onboard you'll find everything you could need; from a small kitchen and dining area, a relaxing living room, and a bathroom complete with bath and shower.
The mooring is access-only, so you don't have to worry about privacy. The houseboat is located between Angel Islington and Kings Cross Station in North London, so getting around is easy. This romantic Airbnb in London is a great option for couples. Click here to learn more.
☞ SEE ALSO: 10 Best Day Trips From London (By Train and Car)
3. South Kensington Penthouse
This newly refurbished apartment in upmarket South Kensington is one of the best Airbnbs in London thanks to its huge roof terrace. The property has two large bedrooms, including one with an en-suite bathroom, and sleeps up to four people.
The apartment has a minimalist design and is bright, airy and has lots of space inside and out. It comes with a fully fitted kitchen and large dining table, making it simple for you to prepare meals onsite, as well as sampling London's restaurant scene.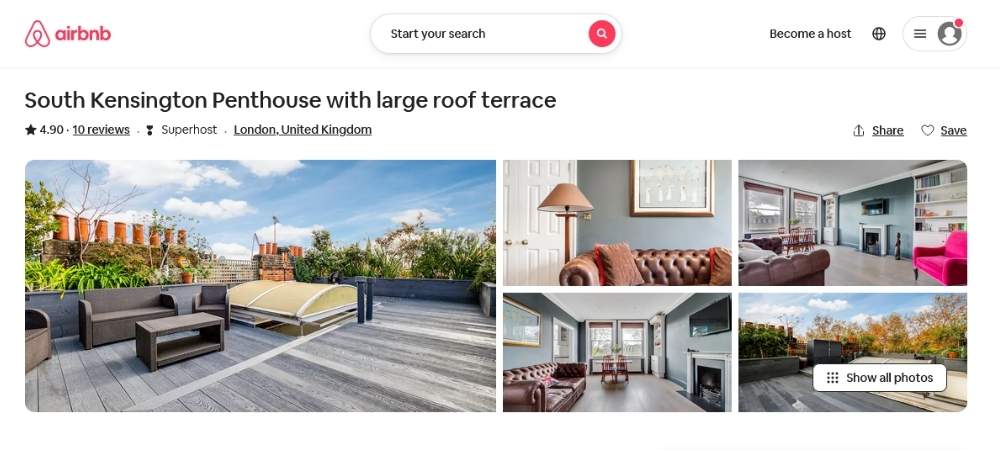 The roof terrace has a BBQ, outside seating and lighting; perfect for alfresco summer evenings in the city. You'll also have access to the building's communal gardens downstairs.
This property is in the heart of South Kensington in the Old Brompton Road area, and has lots of remarkable restaurants right on its doorstep, (Spanish, Indian and Japanese to name a few). The area is also home to some decent pubs and bars such as the Pembroke with its rustic, old-world charm and cute garden.
Gloucester Road and South Kensington tube stations, (District, Circle, and Piccadilly lines), are just a short walk from the property, meaning that getting to London's many attractions is a piece of cake.
South Kensington is a great area to stay for families, and this apartment is conveniently close to the Science Museum and Natural History Museum – two of my favourites. This is a great Airbnb in London for families given the location and space. Click here to learn more.
4. Historic Listed Bloomsbury Apartment
A wonderfully spacious apartment in the heart of London. This property contains a "wall of glass" and a balcony with show-stopping views of the city.
The apartment consists of two bedrooms, a large living room, a dining room, and a full bathroom. The property sleeps up to six guests so is perfect for families.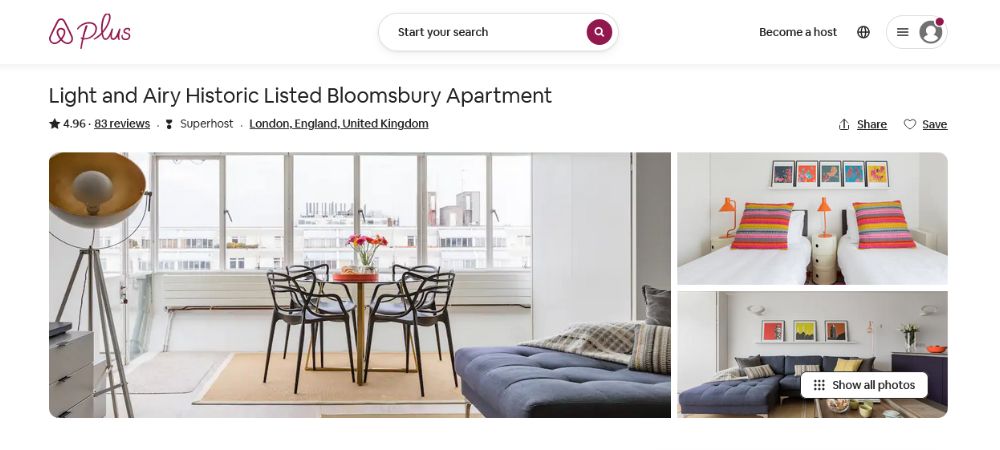 The open-plan living area is stylishly decorated and includes a tripod floor light, large flat screen television, and plenty of sofa space. The gourmet kitchen is the perfect place to prepare meals, and is fitted with the latest appliances.
Bloomsbury is one of London's most sought-after areas and is home to a wealth of cafes, bookshops, leafy squares, and picturesque Georgian townhouses. Click here to learn more.
5. Arty Loft in Shoreditch
This large, one-bedroom apartment is located in a 120-year-old building in trendy Shoreditch, East London. The space is decorated with a warm and bright feel to it with exposed brickwork, some interesting pieces of contemporary art, and warm, timber flooring.
The property benefits from a small, self-contained kitchen and Juliet balcony. The quirky bathroom is decorated with black and white tiles giving it a unique feel.
Shoreditch is one of London's most up-and-coming areas and is renowned for its street art and graffiti. This borough is packed with interesting restaurants, cafes, artisan shops and boutiques.
This area is also the perfect place to stay for digital nomads, with lots of cafes and co-working spaces. I often spend a couple of hours working remotely from Shoreditch when I get the chance. Click here to learn more.
6. Luxury First Floor Flat in Fitzrovia
This sleek, one-bedroom apartment is located in the upmarket Fitzrovia suburb, between Soho and Mayfair, in London's West End.
The space sleeps up to four people and is perfect for those wanting to experience everything on offer across London's entertainment and nightlife center.
With wooden flooring, modern fixtures, and lots of natural light, this is a great place for working remotely as it also includes a dedicated workspace.
There's a fully fitted kitchen, dining area, and washing machine to make your stay more comfortable. The property is located in a nice area with green spaces and trees outside. This is a great option for professionals looking for somewhere convenient to stay in London. Click here to learn more.
7. Luxurious Apartment in Charing Cross/Trafalgar Square
This newly refurbished apartment is set in an old Georgian townhouse and is cozy, yet provides a good amount of space. It's light and airy, with windows overlooking the street, exposed brickwork, and a contemporary design.
There's a 4K Ultra HD TV, comfortable sofa, and WiFi throughout. It's a great place to relax after a day's sightseeing in the city.
The property sleeps two comfortably and is a great option for couples visiting London. The location being so close to Trafalgar Square means that you have everything you could possibly need on your doorstep, as well as London's attractions and top restaurants; this is a great area to stay.
The large bathroom has underfloor heating, a walk-in shower, and a sleek, modern design. There's a fully fitted kitchen complete with oven, microwave, and ceramic hob.
With a central location and many of the city's top attractions such as the British Museum, National Gallery, and Buckingham Palace all within walking distance, this is one of the best Airbnbs in London. Click here to learn more.
8. Stylish, Spacious Family Apartment in Kensington
This stylish three-bedroom apartment in Kensington is the best Airbnb in London for families thanks to its large size. The property sleeps up to six people and benefits from three bathrooms, so no need for queues in the morning!
The apartment is located in a stucco-fronted Georgian building in a quiet garden Square. The open-plan living room and dining area is a great place to sit, chat, eat, and relax with all the family. There's an enclosed outdoor terrace perfect for dining out on summer evenings.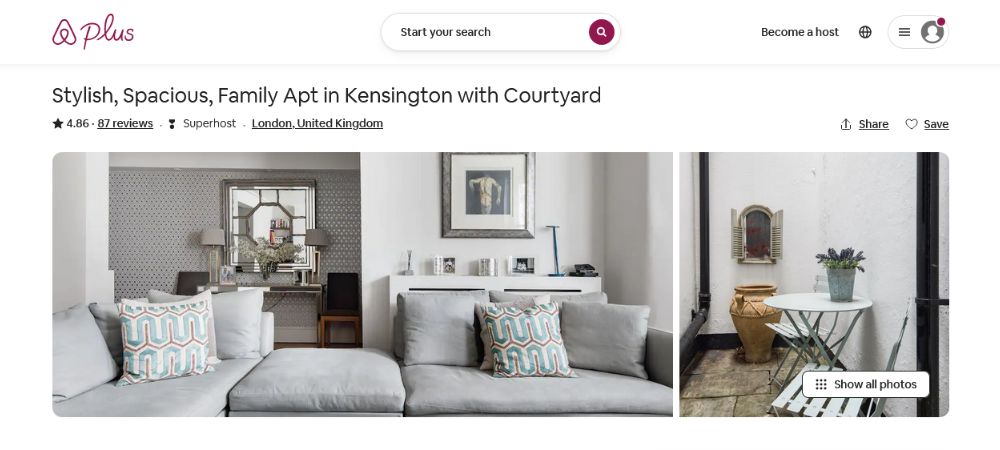 This gorgeous property is within walking distance from some of London's best museums such as the Victoria and Albert, restaurants, cozy London pubs, and Kensington Gardens.
Some of London's best shops such as Harvey Nichols and Harrods are located within easy walking distance, so this is a great place to stay if you're looking to do a bit of shopping. Click here to learn more.
9. Two Room Suite in Walthamstow
This unique Airbnb in London was featured on the Channel 4 TV programme "Ugly House to Lovely House", and it's easy to see why because this truly is a beautiful place to live.
The property is set within Walthamstow's urban wetlands and is within walking distance of a beautiful nature reserve, with lots of interesting birdlife and wildlife. With Walthamstow Station only a short walk away, it takes just 15 minutes to reach central London on the Victoria line.
The two-room suite is made up of two private interconnecting rooms, with fantastic views of the London skyline. The decor is stylish and modern, with a king-size bed, a choice of pillows, and a Lavazza machine for morning coffee.
The second room has a dedicated working space, perfect for digital nomads, and a sofa to relax on. There's a rain shower bathroom with complimentary toiletries, dressing gown, and slippers.
I have friends in Walthamstow and spend a lot of time around this area and nearby Leytonstone. There are some great pubs such as Ye Olde Rose and Crown which serves a great selection of real ales and pub food. It's definitely worth a visit.
This unique, (and famous), living space is a cheap Airbnb in London, and perfect for budget travellers. Click here to learn more.
10. Elegant Neal Street Flat
This flat is situated in the heart of Covent Garden, so is in a great location for those looking to get out and about in central London. With its warm and cozy furnishings, this is one the best Airbnbs in London for couples.
The one-bedroom property benefits from high ceilings providing lots of natural light, comfy sofas, and beautifully finished wooden floors. The bedroom has a large double bed, is beautifully decorated, and has pleasant street side views.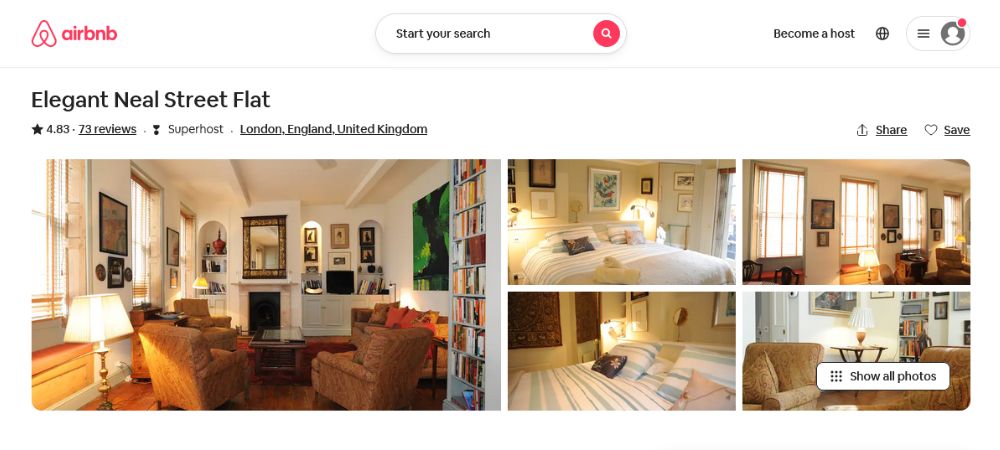 The flat comes complete with cable TV, WiFi, and a Hi-Fi system, so there's plenty to keep you occupied after a day's sightseeing or shopping.
With museums, theatres, shopping, restaurants, bars, and cafes all within walking distance, this is a great place to stay, and is perfect for first-time visitors to London. Click here to learn more.
Best Area to Stay in London (Neighborhoods)
There are many wonderful neighborhoods to stay across the city. Here's a breakdown of the best areas to stay in London.
Covent Garden
Located in the heart of the West End, Covent Garden is the best area to stay in London thanks to the many attractions on its doorstep.
It's a great area for shopping and is home to market stalls, boutique fashion stores, and artisan food shops. London's most famous shopping district, Oxford Street, is also within walking distance.
Covent Garden is also a great place for eating out with some of the best restaurants in the city. You'll find cuisines from all around the world, so grabbing a bite won't be a problem. This is one of my favorite areas to visit for its vibrant feel and options of things to do.
Borough (Southwark)
Borough is a foodies heaven and is famous as the home of Borough Market – one of the largest and oldest food markets in the city. I used to live around the corner and would frequently head here for a bite to eat from one of the stalls, (particularly for the venison burgers).
The high street is packed with restaurants and old English pubs like the George Inn, and Borough Market is just a couple of minute's walk from London Bridge, the Shard, and some great attractions like The Clink Gaol, and the London Dungeons.
South Kensington
South Kensington is an excellent family location, just a stone's throw from the West End. This upmarket suburb is packed with museums such as the Victoria and Albert, the Natural History Museum, and the Science Museum which both host lots of hands-on activities for kids.
South Kensington has some great options for eating out; from fish and chips and pub grub, to fine dining. There's an IMAX cinema, lots of quaint gardens, and tree-lined avenues with beautiful Georgian architecture. This is definitely a great location to bring the kids.
Soho
Soho is London's famous nightspot a few minutes walk away from Covent Garden. Here you'll find many interesting bars, (Garlic and Shots being one), traditional London pubs, gin palaces, jazz lounges, and nightclubs.
If you want to party until the small hours, Soho is definitely the place to stay. There's also plenty to do in the area during the day such as exploring the exhibits at the British Museum, taking in nearby Buckingham Palace, or walking around Hyde Park.
This is a great place to stay as there's so much going on. Soho is a great destination for couples, friends and professionals looking to let their hair down a little.
Shoreditch
The hip London suburb of Shoreditch is famed for its art and music scenes. Here, you'll find lots of street art and interesting graffiti adorning the walls next to quirky bars and cafes. There's plenty of live music from rock, to jazz, and much more.
Shoreditch is a great place for digital nomads thanks to the many cafes offering fast WiFi and interesting surroundings. This East London suburb is also a little cheaper than staying in the centre, but is still close to easy transport links to the city and its sights.
If you're looking for a cheap Airbnb, East London is definitely the way to go.
For a more detailed look at the best neighbourhoods, check out this article about where to stay in London.
Now You Know the Best Airbnbs in London
So, now you know about the best Airbnbs in London, it's time to plan that trip to Britain's buzzing capital. There are so many great places to stay, each with their own unique character and doorstep attractions that you're spoilt for choice.
Whether you want to stay on a boat on the Regent's Canal, or a stylish apartment in Covent Garden, there are so many possibilities. One thing's for sure, whichever you choose, you'll be sure to have a fantastic time in the best Airbnb London.
Like This Article? Pin it!