London is one of the best cities in the world for foodies thanks to its diverse culture. You can find almost any cuisine in the city and as of 2015 there were a staggering 18,110 restaurants across the UK's Capital. In this article, we'll discover the very best food tours in London and have your mouth watering in no time.
Whether you're craving American or Vietnamese, a burger or brunch, seafood or simply a snack, there's a food tour in London for you. And although British food often gets a bad rap, there are plenty of top restaurants and chefs in London that prove otherwise.
I've lived in and around London for most of my life and am always excited to try a new restaurant or cuisine. I've eaten at Chinese, Italian, Lebanese, Turkish, German, and of course British restaurants all over London, and below I'll tell you about the very best food tours the capital has to offer.
Whether you're visiting London on a weekend trip, a week, or longer, save some time to discover the culinary delights. One thing is sure: no matter when you visit, London offers brilliant food year-round. So, without further ado, let's check out London for foodies!
Here are the 15 best drink and food tours in London.
1. Secret Food Tour in Shoreditch
Shoreditch is one of London's most up-and-coming areas and here you can find everything from exclusive bars, to street food. So, what better place to start your foodie experience in London?
This London for foodies tour will take you on a culinary journey around this hip East London suburb, where you'll get to experience a 24-hour bagel shop, a Ghanian truffle shop, a market in Brick Lane, and of course, a traditional fish and chip shop.
This three-hour tour packs in so much that you'll be bursting at the seams by the end of it, and you'll have experienced a wide range of London's diverse food cultures. There's also a "secret" tasting at the end just to keep your taste buds tantalized.
You'll get to experience Shoreditch's street art along the way, and learn about the history and culture of the area from your host. With so much to offer from vintage clothing to artisanal foods, it's no wonder this part of the East End is so popular with tourists and locals alike.
This unique experience costs £75.00 per person and includes tastings from each of the places visited. You can book online today by clicking this link.
☞ SEE ALSO: 15 Unique Experiences in London, England
2. Afternoon Tea Bus with Panoramic Tour of London
Have you ever wanted to experience one of Britain's most cherished traditions? If so, then this afternoon tea experience on a London double-decker bus is just the thing for you. But what is afternoon tea, (and indeed high tea)?
With its roots founded in working-class Britain, high tea wasn't originally the grand ceremony it is today. It was a supper of hearty foods served on a high table, thus the name "high tea".
However, afternoon tea was indeed the dainty pastime of "ladies that lunch". Think lace gloves, quaint finger foods, and hot tea sipped from the finest China.
Nowadays, afternoon tea and high tea mean almost the same thing and usually include tea, sandwiches and cakes served in sumptuous surroundings.
And what could be more sumptuous than enjoying this noble tradition as you take in some of the city's top sights? You'll get to see the Tower of London, the London Eye and St. Paul's Cathedral amongst many other top attractions.
This great excursion costs £45.00 per person and includes all food and one alcoholic beverage. You'll be served a selection of traditional sandwiches, pastries and sweets, plus the finest teas from China and India. You'll even get to enjoy a glass of Prosecco along the way, (if you so desire).
☞ SEE ALSO: 15 Best Things To Do in London at Night
3. Chocolate Making in Notting Hill
Have you ever wanted to make your own chocolate? Well on this tour you can craft your own sweet treat from "bean to bar" and learn all about the history of this most devilishly delicious of foods.
Chocolate has existed in one form or another since the cacao bean was first cultivated in Central America thousands of years ago, and has been enjoyed across the world since the sixteenth Century.
For chocolate lovers, making your own chocolate is one of the best foodie experiences in London.
This experience takes place at Melt, in trendy Notting Hill. Melt bills itself as London's most luxurious chocolate company and has been creating and experimenting for over 12 years.
You'll be given all the equipment you need to craft your own chocolate bars, and there will be plenty of tasting along the way. You'll even be able to take home your creations to wow all your friends with your newfound culinary skills.
The cost is £36.99 per person and the sessions are from 12:00pm – 1:30pm every day.
☞ SEE ALSO: 25 Top Places to Visit in London (+ Attractions)
4. Have a go at Indian Home Cooking
It's no secret that Indian food is some of the most popular in Britain. From the mighty curry, to poppadoms and naan breads, Brits have been enjoying this spicy cuisine since the 1950s when Indian food exploded in popularity.
Take your taste buds on a journey to India and discover the art of Indian home cooking with a host who has over 18 years of experience cooking, (and eating), in India.
You'll learn about the different spices, and how to blend them for the perfect taste and colour. Learn how to make a basic curry, (forget about the generic "curry powder" you can buy in supermarkets), and the staple ingredients such as ghee, garam masala, and yogurt.
After your lessons, you'll get to feast on your creations and even receive a handout of the day's lessons so you can recreate the recipes at home.
Prices start from £50.00 per person and the lessons are available on Saturdays and Sundays from 11:00am – 2:30pm. Book online today.
☞ SEE ALSO: 25 Free Things To Do in London
5. Try Your Hand at a Vegan Cooking Class
Vegan travellers to London will certainly not be left disappointed. I have vegan friends, and we frequently dine out together in London without any fuss. The capital is home to plenty of vegan restaurants and specialty shops catering to non-meat, and non-dairy diets.
Whether you're a vegan yourself, or just looking to cut down on meat and dairy, trying out a vegan cooking class is a great idea.
With this cookery class, you'll be greeted with a glass of vegan wine, learn all about vegan cooking techniques, make food to take home, and leave with more recipes to try.
The classes are taught between 6:00pm and 10:00pm on Fridays. You can contact the host for additional dates and larger group bookings. Prices start at £75.00 per person.
☞ SEE ALSO: Where to Stay in London
6. Eat 8 British Foods and See 30 Sights
This walking food tour of London is the perfect way to see the city's most famous sights and experience the best of British cuisine.
Take in Buckingham Palace and the changing of the guard, before moving on to Westminster where you can see the houses of Parliament, Big Ben, and Westminster Abbey.
From there it's off to London Bridge where you'll see Shakespeare's Globe Theatre, the HMS Belfast, The Shard, the Tower of London, and London Bridge.
Next up is a Borough Market Food tour – the most famous of London markets. Here you'll sample traditional fish and chips, (with mushy peas), pie and mash, and a drop of London ale amongst many other delights.
This is one of the most comprehensive food tours in London and lasts for five hours, with the food at the end. The price is £77.00 per person and the tours take place on a Friday and Saturday, starting at either 10:00am or 1:00pm.
I used to live around the corner from Borough Market and it was one of my favourite places to grab a bite to eat and sit by London Bridge. There are also some great pubs along Borough High Street, such as the George Inn, that you can check out after the tour.
☞ SEE ALSO: Top Day Trips From London (By Car and Train)
7. Making Sushi with a Japanese Sushi Chef
Sushi has become a hugely popular dish around the world and I've seen sushi bars everywhere from Hong Kong to Kazakhstan. So of course, it's no surprise that Londoners can't get enough of this Japanese dish.
If you've ever wondered how to make the perfect sushi, then why not try learning from a skilled Japanese sushi chef on this highly rated, fab foodie experience?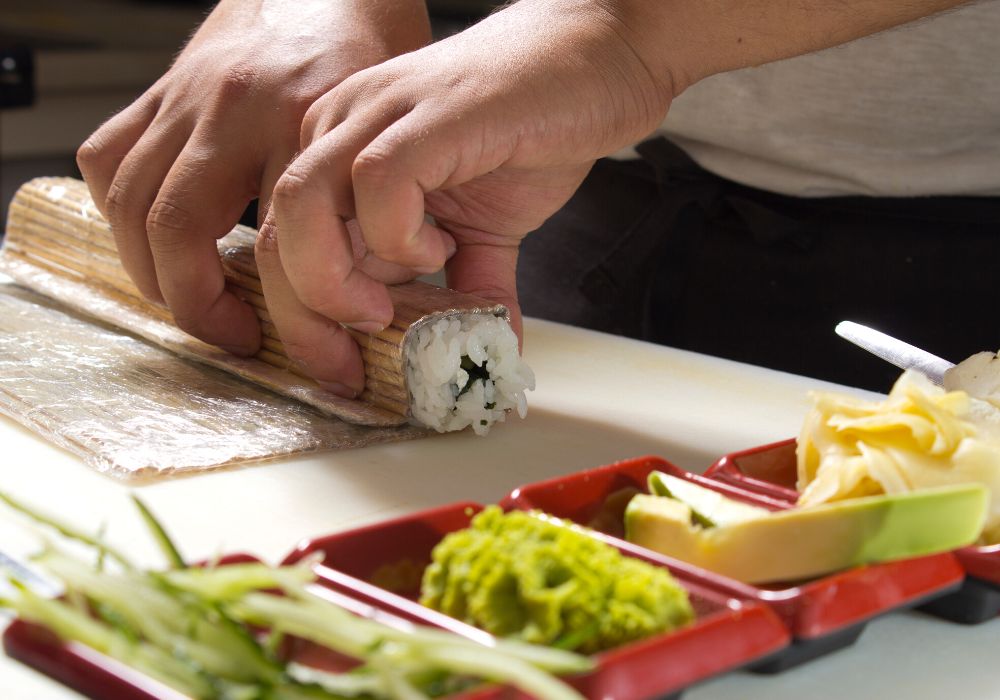 You'll learn how to make four different types of sushi; Hosomaki, Nigiri, Temaki, and Uramaki. You'll also learn how to correctly use a sashimi knife, how to use chopsticks, and a thing or two about Japanese table manners.
The cost is £48.00 per person and the classes last for two hours from 4:00pm or 7:00pm.
8. No Diet Club (Best Foodie Tour in London)
If like most of us you are trying to watch your waistline, then this street food tour probably isn't the best for you. But everyone deserves a cheat day, right? This tour even includes cycling between destinations which should help ease the guilt.
London's No Diet Club has been taking visitors to culinary heaven since 2017, and they promise "no salads or boring speeches", which sounds just great.
You'll get to enjoy a wide range of tastings from London's diverse food scene. From halloumi fries to Indian dosa, and "the best grilled-cheese sandwich in town".
Take in the London sights as you cycle from the Southbank to Camden; across Waterloo Bridge, and through Covent Garden and Soho. This really is a great way to experience London and to indulge in some of the city's finest treats.
The cost is £55 per person, plus £4.00 for the bike rental, (no deposit required).
9. Join London's Crepe Party Club
The French Crepe is a wonderful thing. You can have them sweet, like a pancake, or savoury. When it comes to fillings, the sky really is the limit, though you can't really go wrong with chocolate.
In this crepe masterclass, you'll learn all you need to know about making the batter, using the proper utensils, and how to make the perfect filling.
What's more, this fun crepe class also includes ice breakers and games to put everyone at ease and get into the party spirit. The class is taught primarily in English, with a little French, so if you're looking to brush up on your language skills, this is the tour for you.
This experience is hosted in a small French cafe in the heart of East London. The cost is just £10.00 and the class lasts for two hours.
10. Cheese Tasting Tour
Learn all about the art of cheese making on this fantastic cheese tasting tour. You'll visit artisan cheese makers in London's plush Mayfair, as well as a trip to Fortnum and Mason – the grocer to the royal family.
Discover the art of pairing cheeses with different foods and wines so you can show off to all your friends. You'll get to sample a range of cheeses from mild to strong, and creamy to crumbly. This is definitely one of the best food tours in London for cheese lovers.
The two-hour tour is available on Fridays between 11:00am – 1:00pm.
11. 6-Course Luxury Dinner Bus Tour
Want to see London's best sights and enjoy a luxury dinner at the same time? Then this 6-course luxury dinner bus tour is just the thing for you.
On this 3-hour gastronomic experience, you'll take in London's most historic landmarks such as St. Paul's Cathedral, Tower Bridge, the Tower of London, the Shard, Westminster Abby and more.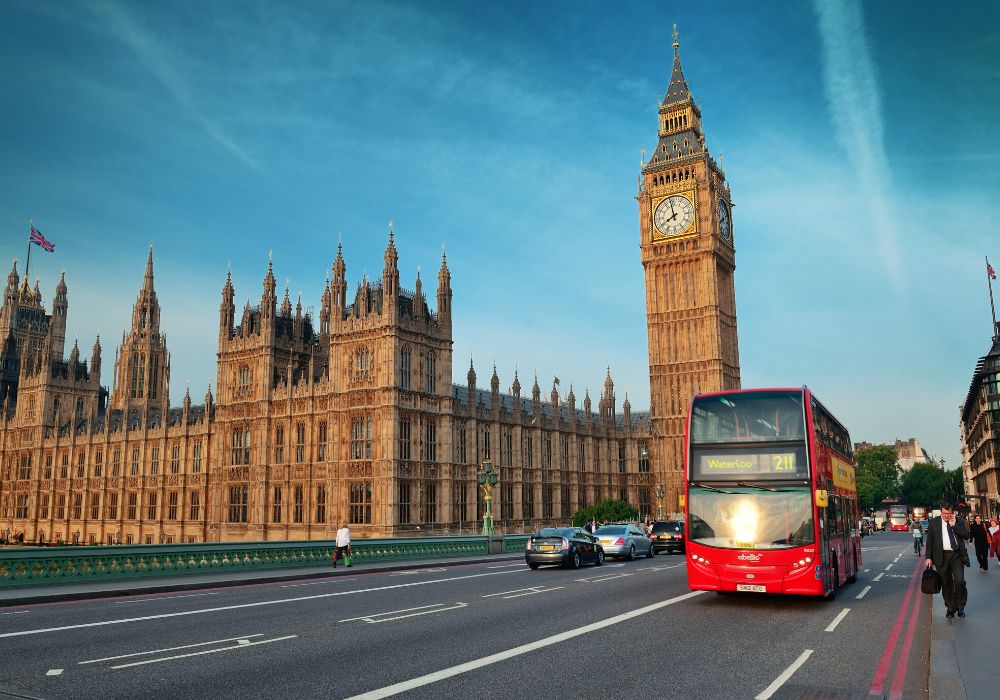 The tour takes place aboard a glass-roofed luxury coach with free WiFi, an audio pen detailing the sights in nine languages, and personalized service with foods prepared by top chefs. There's an option to add an alcohol pairing with your meal which must be booked in advance.
You can book online and the cost is £120 per person. If you're looking to be pampered, then this is definitely one of the best London foodie tours there is.
☞ SEE ALSO: Top 10 Airbnb Stays in London
12. Enjoy 10 Tastings with Locals
Want to eat in London like a local? Then be sure to book a place on this great tour that takes you on a culinary journey around London Bridge, Southwark, and Winchester Palace.
You'll get to sample some of the best London cuisines including sweet and savoury dishes, as well as trying out a real London ale. The tastings are hand-picked by genuine London locals giving you the most authentic experience possible, and making this one of the best food tours in London.
This walking and tasting experience costs £110 per person and lasts for 2.5 hours.
13. Greenwich Food Tour
Greenwich is one of London's most well-known areas famed for its maritime connections. This southwest suburb is home to the National Maritime Museum, the Cutty Sark, and the birthplace of Greenwich Meantime, (GMT). So, what better place to spend a few hours sampling some of the capital's finest foods?
This tour will have you experiencing both British and international cuisines across a series of cafes and eateries that not even the locals know about.
At a cost of just £95.00 per person, this is a great way to discover one of London's most famous destinations whilst enjoying some delicious bites! This is definitely one of the best food tours in London thanks to its historic location!
14. Experience an Authentic Chinese Tea Ceremony
It's no secret that the Chinese know how to do tea. They've been cultivating and brewing this British staple drink for thousands of years. Did you know that there are even teas that, gram for gram, are worth more than gold?
If, like us English, you love a cup of tea, then join this tea ceremony in an authentic-looking tea room in the heart of London's upmarket Canary Wharf area.
Whilst taking in the fantastic views of London's iconic skyline, you'll learn about Chinese tea culture, taste three premium teas, and enjoy a performance of the Guzheng – a Chinese instrument dating back over 7,000 years.
The ceremony costs from £128.00 per person and lasts 1.5 hours.
15. Discover the Hidden Pubs of London
Finally, no trip to London is complete without experiencing our most British of institutions; the humble pub. Take a walk around the historic center of the city and follow in the footsteps of some of the capital's most famous residents; from Jack the Ripper, to Charles Dickens.
Dive into a selection of real London pubs and sample the best ales and ciders the city has to offer. Some of the pubs you'll visit date back over 500 years and are brimming with character.
You'll spend 3.5 hours touring a great selection of pubs and inns. Be sure to try some classic British pub snacks such as pork scratching, salted peanuts, or scampi fries.
The experience costs from £25.00 per person but you'll need to pay for your own drinks along the way. Book online today.
In Conclusion
Whether you're looking for traditional British cuisine such as fish and chips, how to make the perfect curry, the best vegan foods to cook at home, or a classy high tea, London is the perfect destination for foodies.
With so many great options to choose from, the only question on your mind now should be, "which experience to try first?"
Like This Article? Pin it!