Has London been on your mind lately? It's always important to plan ahead so you know the best time to visit London based on the activities you want to do, and the attractions you want to see.
From the bright red telephone booths to the elegant Buckingham Palace, and so much more, there are endless things to do in London, not to mention unique ones. So, grab your cuppa and read on for the full scoop on the best time to visit London, UK.
London attracts roughly 21 million visitors each year and peak season tends to be in summer (June to August). It's important to note that each time you go, whether in December for the charming Christmas Markets or late March for the spring, there's always something different and exciting going on.
London itself is a city of mild weather, both in the summer and in the winter. In the summertime, the temperature typically sits comfortably around 73°F when shorts and a nice T-shirt will generally do. Whereas the winters in London hover around 45°F, (make sure to pack a warm jacket!).
In the spring you can expect temperatures between 54°F and 64°F, and for those of you looking to travel in fall, you can expect temperatures of around 64°F. Learn more about the best time to visit England
Overall Best Time to Visit London
In terms of the best time to visit London, it's generally considered to be between May and June; just before the peak summer season. September and October are also great months to visit since they are shortly after the busiest period. Not only are there fewer tourists but the temperature is still fairly mild.
I went to London in September, and I can confidently say it was much cheaper than I imagined. I was always under the impression that London is an extremely expensive city to visit and yes, it certainly can be, but I found things to be much more reasonable at the end of the season, especially day tours.
May – June can be great options if you're looking to explore the city's several parks. In fact, if you love the outdoors, or more specifically flowers and nature, enjoying the blooming displays at the RHS Chelsea Flower Show is a great way to spend a day in the city. The festival shows many unique flowers including London's own wildflower, the Pasque Flower.

September – October are great options if you're on a tighter budget. Since the summer rush is mainly over for the year, day tours, hotels, hostels, and tourist attractions tend to run on the cheaper side at this time as businesses try to sell what they can before the season dies down.
Peak Season in London
(July – August and December – Early January)
The peak season is peak for a reason. Many travelers flock to London between July – August and in December. July and August remain popular months as this is the summertime in London when the weather is usually at its warmest. Many find it more comfortable to explore the city on a tour bus, rather than on foot when the weather is more extreme.

Different festivals such as the Great British Beer Festival or Notting Hill Carnival are both fantastic events that bring people from all corners of the world together, so if you plan on visiting within time, be sure to check these out.

December is another magical time of the year in London. Everything is lit up with some of the most beautiful lights and decorations, and some of the most charming Christmas Markets you'll ever see. Add to the mix some tasty treats and it makes for a place well worth adding to your list of places to visit during the Holidays.

Generally speaking, those from all over Europe, Canada, the United States, and even other parts of Britain, flock to London during these peak times. It's just one of those cities that attracts everyone out there in some way.

A good day tour to consider when visiting London during the peak season is "London: Windsor, Stonehenge, Bath, and Roman Baths Day Trip" on GetYourGuide. This tour will take you to some of the key day trip spots outside of London and is best taken in the summer months.
Shoulder Season in London
(September – October and March – April)
The shoulder season for London is any time between September-October and March-April. These are some of the best times to travel to the capital. Not only will things be slightly cheaper but you'll almost certainly avoid some of the heavy crowds.

March-April is the start of the spring season in London. The birds start chirping again, the trees begin to blossom, and everything seems a little brighter. Generally, at this time, London isn't terribly busy. Many of us Britts are at home doing our taxes and sadly (for us) not touring around the capital.

However, that's good news for those of you looking to travel within this time. Many interesting festivals also take place in these months such as the London Coffee Festival, The Eat and Drink Festival, and the Easter Festival.
Off-Season in London
(January – April and October – November)
The off-season for London travel is anywhere between January-April and October-November. The off-season is when crowds are at their lowest and things are generally on the cheaper side.
Many choose to avoid traveling during these times as it can get cold. With minimal outdoor activities and sometimes extreme weather, many choose to travel to London during the warmer months instead.

If you are okay with wrapping up in a few extra layers and grabbing a coffee, don't let the weather put you off. Travel during this time can be exciting, too, and it's nice to take advantage of the reduced crowds. January is a month of music in London. Many Blues and Jazz festivals take place during this time.

October-November is an excellent time to visit if you're looking to do Christmas shopping in London or enjoy some of the Halloween activities in the city. Halloween parties, concerts, and more happen around the spookiest time of the year. So, take advantage and experience a more festive side of London.
When to Visit London For Beaches
When you think of London, you most likely don't think of beaches. However, the United Kingdom is an island and so is naturally home to many beaches, a lot of which are somewhat surprisingly stunning. Just outside of the city, there are many beautiful beaches for travelers to explore.

One of the most beautiful beaches outside of London is Camber Sands, Sussex. Most popular for its sand dune-like beaches, this stretch is kept clean all year around and many tourists flock to this spot in the summer months. Not only is it a great place to swim, but it's a fantastic place to fly kites or take a lovely walk along the shore.

Another fantastic beach to consider is Botany Bay Beach. Although rockier than the Camber Sands, Botany Bay is more of a landmark than a swimming beach. The rough waters make this location a place to explore on foot rather than in the water. Check out more beaches near London here.
When to Visit London For Festivals
Festivals in London are a key factor in tourism. Many travelers come for the local festivities almost weekly in the city. Two of the most popular festivals in London are the "British Summer Time" and "South West Four." Both are prevalent music events that take place in the spring and summer.

If you're looking for something more relaxing, the "Taste Of London" takes place every summer. With different treats, music, and more, the taste of London is the perfect way to get to know the city. Plenty of food tours are also available, and London's traditional food is simply a must.

The best time to visit London for the festivals is during the peak and shoulder season. May-September is when things are happening in London. There's something to keep you busy almost every weekend, so you'll find at least one festival to suit your preferences.
When to Visit London For Historical Sites
As mentioned before, the weather in London can be relatively mild. However, when it comes to visiting London's historical sites, many are closed during winter or just plain uncomfortable to see. The best time to truly experience any historical sites within central London is during the summer months when it's warmer.

It's also important to note that castles or ancient ruins are primarily outside the city rather than within. So you'll have to be prepared to travel to each site. During the off-season and the winter, the trains to each site don't run as frequently – if pristine castle ruins are on your list, it's best to plan your trip for the spring or summer.
When to Visit London For Wildlife
Although characterized as a big metropolitan city, the London area is (perhaps unexpectedly) home to an abundance of wildlife. In the summer, whale and dolphin watching is a popular activity just outside of 'The Big Smoke', where species such as the Minke Whale and the White Beaked Dolphin frequently come up to the surface to say hello.

Bird watching in London takes place in the late spring/early summer. May-June is the best time to experience the local birds. Species like the Kingfisher or the Redwing are common around here and are beautiful birds to see firsthand. Click here to see more on London's wildlife.
When to Visit London For Cheap Prices
We all know that London can be an expensive city. However, making the most of it on a shoestring budget is possible. Many free activities in London exist within the city's limits and backpackers who want to experience London without breaking the bank can absolutely do so.

The cheapest time to visit London is in the off-season or right after the peak season. During the peak season, prices tend to soar, especially for accommodation. In the off-season, many hostels, hotels, and tour companies are trying to make as much money as possible despite the crowds being minimal,(which is great news for a budget traveler!).

There are also many free walking tours, festivities, and other things to do within the city, without spending a penny.
When to Visit London For Hiking
London is a city that may not necessarily be known for hiking, but there are many beautiful trails and hiking experiences just outside of the capital. Examples of fantastic hiking spots close to London are the Thames Path, Box Hill, and Mole Gap Trail.

All three spots are within close range of London and offer a different experience. If you're looking for more of an easier, slow hike, the Thames Path is the perfect option for you. If you want to embark on the ultimate hike, the Mole Gap Trail or Box Hill are both fantastic challenges.
The Best Time to Visit London By Month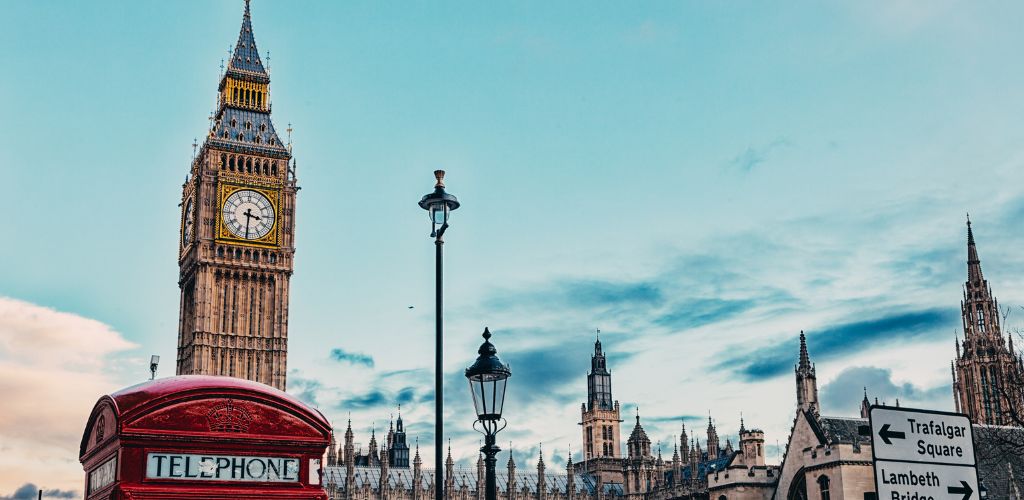 If you're still undecided as to when may be the best time for you to book your break, let's take a look at what it's like to visit during each month of the year. London is a city with such a diverse list of things to do or see throughout the year.

It really depends on what you like to do or see. If you're more of an outdoor enthusiast then visiting in the summer months would be best for you. If you love the holiday magic then sometime in December-January would be the prime time for you to enjoy London. Each month offers something totally different from the next.
London in January
London in January is often cold and dark but is overlooked in many ways.
Weather in London in January
When visiting London in January, you can expect cold temperatures of around 44°F. During this month, you can expect a ton of rain and wet conditions. You may also be lucky enough to see snow (wrap-up warm).

Most nature hikes and outdoor tours aren't available until the warmer months. You'll find that prices will be much lower after Christmas.
Things To Do in London in January
Don't let the weather scare you! There's still lots to do and see while in London during this time. Many of the really exciting festivities happen at the beginning of the month. The New Year's Celebration and the January Blues Festival are both fantastic events to be a part of, and they both take place within the first week of January.

London is also home to many light festivals during this time. Feel free to walk the magical streets of London and witness the spectacular arrangement on display. It's truly a wonderful experience and is completely free.
London in February
Although considered the off-season, February can be a great time to steer clear of the crowds.
Weather in London in February
Visiting London in February is a pretty smart idea if you ask me. You're there right after the holiday rush so things will generally be cheaper, but the weather in London during this time can be very similar to January. Expect temperatures to be in the mid to upper 40°Fs.

The winters in London are quite wet compared to other places around the world. As February comes to an end, the rain starts to die down and the sun starts to make a regular appearance.
Things To Do in London in February
Near the end of the month, outdoor activities become more readily available. You can embark on a day cruise down the River Thames, or take a stadium tour.

London hosts many festivals during the month of February, too. The Chinese New Year festivities as well as the Valentine's Day celebrations are both popular to experience if you decide to visit London during February.
London in March
Expect warmer temperatures and bright green scenery.
Weather in London in March
March is considered to be the shoulder season so expect some of the perks of the peak season without the heavy crowds and expense. As the springtime starts in London, the flowers start to come alive and the rain starts to lessen. Expect a mix of sunny and rainy days (always carry a brolly, as the British would say!).

In terms of temperature, expect anything between 48°F and 53°F. As the month goes on, the temperature begins to increase. This is a great time to do any ruin sightseeing such as visiting Stonehenge or nearby castles. The weather is mild enough to comfortably spend a day outside.
Things To Do in London in March
Many festivities like the Saint Patrick's Day Parade, The Adventure Travel Show, and the Antique Show take place within the month of March. Get involved in one or more of the city's many festivals or perhaps enjoy an organized tour.

A great tour to partake in is GetYourGuide's "From London: Full-day Cotswold Small-Group Tour". With the opportunity to take a trip outside the city, you'll have the chance to see some historic small towns and country roads. This tour is a little more enjoyable before the peak season when there's less crowding and more time to truly get a feel for the Cotswolds.
London in April
April showers bring May flowers!
Weather in London in April
April is such an interesting time to visit London. April is right before the peak travel season for London. Generally, you can expect mild weather. It may still rain quite a bit and humidity may play a factor in your trip so keep your raincoat nearby.

Temperatures in April are around 60°F. For me, this is one of the best times to visit London. Temperatures are perfect for exploring, yet crowds are minimal and prices are low. Although, as with most times of the year, you do need to prepare yourself for light showers.
Things To Do in London in April
April is when Britain's lush vegetation comes to life once more. So of course there are a ton of exciting activities to take part in. Looking to get married soon? Why not attend the London Excel Wedding Show?

Easter activities also pop up around the city during this time. Easter egg hunts and different family activities are common and are great for families looking for fun things to do in London.
London in May
The shoulder season ends here.
Weather in London in May
The month of May is when the crowds start to pick up and the peak season starts. May is considered spring/very early summer in London. So with that being said, the weather is warmer and more activities become available.

Temperatures in May are approximately between 52°F and 75°F. During this month, expect less rain and more sunny days. As summer draws closer, the rain dies down and the sun makes its grand appearance more often.
Things To Do in London in May
May is a great time to take an organized tour or indulge in a local festival. As the peak season creeps in, more and more activities, festivals, and day trips become readily available for travelers.

The NHS Chelsea Flower Show, the Natural Dog Expo, and many other events take place in the month of May. If you're more of an outdoor enthusiast then this is a great time to go on that hike! Since crowds are only starting to pick up in May and the weather is very similar to the summer, this is one of the best times to go.
London in June
Summer is in full swing and so is peak season.
Weather in London in June
June is the start of summer in the U.K. During this time, you can expect warm, sunny weather and minimal rain. You may even get a tan as you explore the city! Temperatures range anywhere from 65°F to 75°F.

Expect lots of flowers, greenery, and unique wildlife while you're here. The city prides itself on its lush, open parks which are perfect for romantic picnics. Although generally sunny, I'd still pack a raincoat if I were you. After all, it is the U.K. we are talking about…
Things To Do in London in June
June is when the peak season is in full swing and of course, that means that there's a ton to see and do during this month. Expect lots of pop-up events, festivals, and carnivals. Father's Day events are also popular during the month of June.

Festivals like Mighty Hoopla or the London Pride Festival are both great options if you're going to be traveling in the month of June.
If you prefer for everything to be arranged for you, GetYour Guide's "From London: White Cliffs Of Dover and Canterbury Day-Trip" is a perfect tour to embark on during the month of June. Although windy, the cliffs are a great spot to visit in the summer months due to the milder weather but plan carefully to avoid overcrowding.
London in July
Sunny, warm, and inviting. Think beer gardens and picnics – that pretty much sums up London in July!
Weather in London in July
July is the hottest month of the year in London. You can expect hot temperatures and lots of sun during this time. July temperatures run anywhere from 70°F to 75°F. This is also the best time to visit if you don't want to get wet.

During this time, most are out of school and college so expect large crowds and some families too. This is right in the middle of the peak season.
Things To Do in London in July
Since July is such a popular month to visit London, expect a lot of different festivals, activities, and events almost daily. Take part in the London Wireless Festival or enjoy the British Summer Time Festivities in Hyde Park.

There's also a wide range of tours and day trips to enjoy in July too. Many of the hop-on, hop-off buses become more readily available during this time if you'd rather stay within the city. Different day trips to parks, outdoor areas, and historical landmarks are also a great idea when in London during the month of July.
London in August
As the shoulder season starts, the prices drop.
Weather in London in August
London in August is quite stunning. It's a great time to visit. The weather is still warm and summer is still here yet the crowds are starting to die down. In the month of August, you can expect warm temperatures similar to July with an average of 70°F – 75°F daily.

Although it doesn't rain very often in the summer, when it does, you can expect high levels of humidity.
Things To Do in London in August
Since it's still summer, activities and festivities are still regularly taking place within the city. At the end of August, look forward to the Notting Hill Carnival. If you have a sweet tooth, check out the London Dessert Festival which generally takes place in mid-August.

Outdoor activities are great options in the month of August. As the crowds die down, it gives travelers a more personalized experience in nature. Head to one of the beautiful beaches near London. If you're up for it, go on a hike to see the Seven Sisters Cliff Walk. Since the weather is mild, the wind isn't so cold and the rain is typically kept at bay.
London in September
As the fall begins, the leaves in the park start to turn the most beautiful colors – it's picture-perfect!
Weather in London in September
London in September is when the weather starts to get a little cooler and the crowds really start to die down. You can still expect warmer temperatures around 70°F. Humidity is generally low too unless it rains, however, London is mostly sunny at this time of the year.

During the month of September, it's best to pack a mix of short and long sleeves (just in case). The nights in London during the month of September start to get cooler so you may end up wearing shorter sleeves during the day but require a sweater come the evening.
Things To Do in London in September
As tourism dies down for the season, tour companies start to discount their tours. This means you can easily get a fantastic deal on a tour that would have been much more expensive in the months of June or July.

Even though the crowds are waning, the festivals continue. Different activities like Pub in the Park, The One Out Festival, and the "Chill" Festival all take place within the month of September. You could even get your Oktoberfest on with many early celebrations taking place around the city.
London in October
The weather is getting chilly but the spooky season rages on here in London.
Weather in London in October
October is when fall is in full swing. You can expect cooler weather, bright-colored leaves, and several celebrations. Rain in October is very common so remember to pack your raincoat and your umbrella. Temperatures usually hover around the mid 50°Fs and humidity is usually on the higher side.

Although it is rainy, it is still a beautiful time to visit.
Things To Do in London in October
October is a time of festivals and celebrations in London. You can expect several Halloween activities including pop-up trick-or-treating or Halloween parties. You can also expect things to get wild and spooky in the pubs. As Oktoberfest begins, the city holds several events and parties to celebrate without having to fly all the way to Germany.

If parties and festivals aren't your thing you can always take part in a walking tour of the city to see all the beautiful fall colors.
London in November
As the temperatures start to get cold, the Holiday magic begins.
Weather in London in November
London in November is considered the off-season so crowds are minimal. With that being said it's important to note that many activities are closed for the season. Don't let that discourage you though. Many of the Holiday activities such as Christmas Markets and Christmas baking start up around this time.

In November, you can expect lots of rain and lots of humidity, too. Temperatures normally sit in the low to mid 50°Fs. So pack that winter coat and some warm pants.
Things To Do in London in November
As mentioned above, the Christmas/Holiday activities usually start at the end of November. This is also when the city begins to light up with Christmas lights, warm treats, and sometimes even snow. If you're into skating, there's always at least one skating rink in the city around this time of the year.

The London Jazz Festival or Bonfire Night on November 5th are great options for getting out and meeting new people. If you're visiting during the second week of November, you may also pay your respects during the Remembrance Day celebrations within the city.
Or, go on a Jack The Ripper tour, since November was the last time he viciously struck.
London in December
December in London is when the magic begins.
Weather in London in December
London in December is simply extraordinary. I love the bright lights, the cute Christmas shops, and the warm hot chocolates are just to die for. During the month of December, you can expect cold temperatures anything between 37°F – 45°F. During this time, you can expect A LOT of rain or even snow if you're lucky. Hats, scarf, gloves – be sure to pack the lot!
Due to the cold temperatures, the air may feel dry. However, this is common in almost any place you visit that's cooler in climate. Make sure to pack lots of moisturizers and lip balm, and stay hydrated.
Things To Do in London in December
The holiday season is one of the busiest times in London. Everyone is out and about either Christmas shopping or enjoying the other assorted festivities. There are many events that take place in the city during this time.

Many of these events are scattered around the city and are held weekly. Join a Christmas Lights Bike Tour, or check out the Southbank Winter Festival, and many more holiday festivities can be enjoyed within a few weeks of each other.
Best Time to Visit London: FAQs
Here are some answers to commonly asked questions about the best time to visit London:
Which month is the rainy season in London?
There isn't a specific month per se, however, October – November tends to be the wettest time of year in London. So if you're traveling during this time, be sure to pack an umbrella and a raincoat.
What month is the least busy in London?
Any time between January – April is the least busy in London. Another less crowded time is between the months of September – November.
What is the cheapest time of year to visit London?
The cheapest times to visit London would be any time between January-April and September-November. The off-season/shoulder season has a major impact on pricing.
What is the nicest month in London?
The nicest month to visit London would absolutely be July. Any time between May – June is also nice.
When is the worst time to visit London?
June – August is the worst time to visit London. Mainly due to the expense and insane crowding. If you don't mind sharing the city with large amounts of tourists, and your budget allows, however, there's no bad time to book your trip.
What is the most expensive month to fly to London?
The most expensive month to fly to London is July. This is right in the midst of peak season.
Is Christmas a good time to visit London?
It's a beautiful time to be in London. The sparkling decorations, lights, and Christmas markets, make it a dreamy place to be during the holiday season.
What time of year has the best weather in London?
The time of year with the best weather is typically any time between June and August. The summer months tend to be sunnier with higher temperatures.
In Conclusion
Much like England, there is no "best time" to visit London. Your personal preferences, your interests, and the things you like to do are all key factors when determining the best time to visit London.
Whether you're obsessed with the holidays or looking for some city sun, there's something for you in London. That's part of the reason it is such a popular place. There's something for everyone in London. Now that you're prepared, it's time to pack your suitcase and get ready to enjoy an adventure to remember. Cheerio!