Forget about memorizing lists of dates and long-dead monarchs. This is history with a boozy twist. London boasts some of Britain's oldest pubs, pubs that are full of great stories as well as a great beer selection. You might even find spirits of the non-alcoholic variety in some of them.
Whether it's enjoying a pint in the same spot as Elizabeth I or consuming cocktails in Jack the Ripper's hunting ground, no trip to London is complete without a visit to one of these brilliant boozers.
You can learn more about these historical pubs by joining one of these food and drink tours in London. A trip to the pub is one of the best things to do in London at night…or during the afternoon!
Here's a list of 7 historic London pubs you won't want to miss.
7 Historic Pubs in London
Here's our list of the top 7 historic pubs in London that you need to visit. After visiting countless pubs in the city, we've narrowed down these based on food, service, location, ambiance and overall vibe.
1. The Spaniards Inn
There are loads of reasons why you should head north to Hampstead, and the Spaniards Inn is one of the best. Located on the edge of sprawling Hampstead Heath, this charming pub dates right back to the 16th century and is rumored to have once been owned by Dick Turpin's father.
In fact, the ghost of this feared highwayman is supposed to haunt both the pub and the road outside!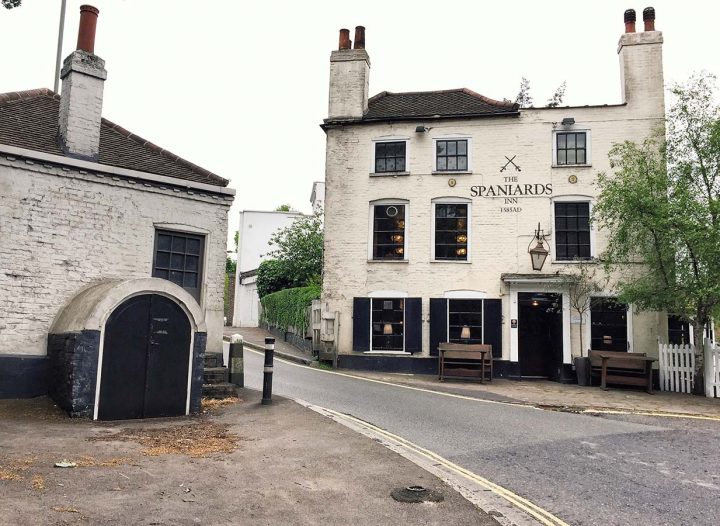 Less sinister, but no less notable visitors to the pub included Charles Dickens and John Keats, and the pub has been mentioned in The Pickwick Papers and Dracula.
It's made up of a handful of wooden paneled rooms, including a cozy little snug, and has one of the best beer gardens in town. Aim to visit on a weekend (Sunday) for one of their yummy roasts.
A great way to learn about all the hidden pubs of London is to join a pub tour with a local. This is definitely one of the more unique experiences to have in London.
Click here to learn more about the Spaniards Inn, and click here for directions.
READ MORE: Travelling With Family: A Road Trip from Edinburgh to London
2. Ye Olde Cheshire Cheese
When you first walk into this Fleet Street pub, you would be forgiven for thinking that it's a bit on the small side. A tiny front bar and "courtyard" are seemingly all the drinking space there is. But explore a little further and you'll discover a warren of cozy cellars, leading down to a cavernous "chop room" where you can enjoy some solid pub grub.
There has been a pub here since the early 16th century but what you see today was rebuilt shortly after the Great Fire of London in 1666.
Ye Olde Cheshire Cheese is perhaps best known for its literary associations — the likes of Samuel Johnson, Arthur Conan Doyle and that old gadabout, Charles Dickens, have all visited.
Click here to learn more and click here for directions to Ye Olde Cheshire Cheese.
3. The George Inn
Just a few minutes' walk from one of London's most modern buildings, the Shard, is one of London's oldest, the George Inn. It's easy to miss it, however.
This 17th-century coaching inn is tucked away in a courtyard just off Borough High Street. Look out for the sign on the main road because this is one beautiful boozer.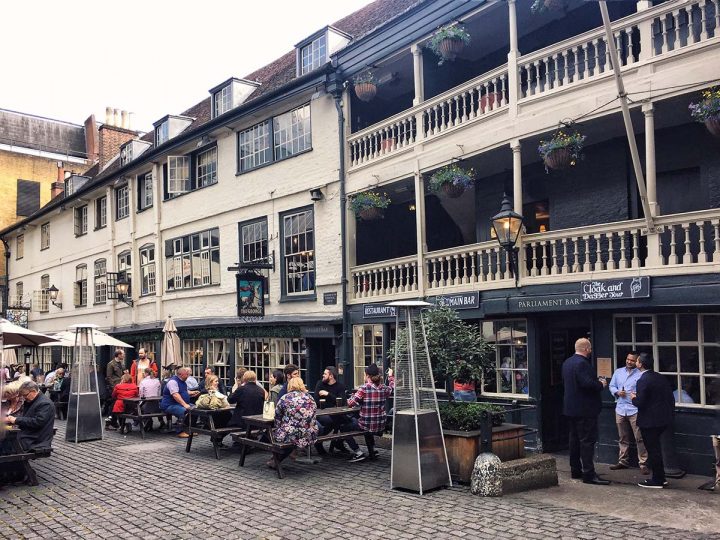 The first things you'll probably notice are the striking balconies running along the front of the building. This pub is actually the last galleried inn in London and is one of only two coaching inns in town.
Somewhat unsurprisingly, Charles Dickens used to drink here and it makes an appearance in his novel, Little Dorrit. Enjoy a drink in the courtyard when the sun's out or head upstairs for traditional British food in their restaurant.
Click here to learn more about The George Inn, and click here for directions to this pub.
READ MORE: How to Enjoy a Cheap Night Out in London's West End
4. The Ten Bells
One of the most gruesome episodes of London's history played out at the Ten Bells. Jack the Ripper is believed to have frequented this east London pub and at least two of his victims – Mary Kelly and Annie Chapman – are associated with it.
In fact, Mary Kelly was last seen here just one hour before she was murdered!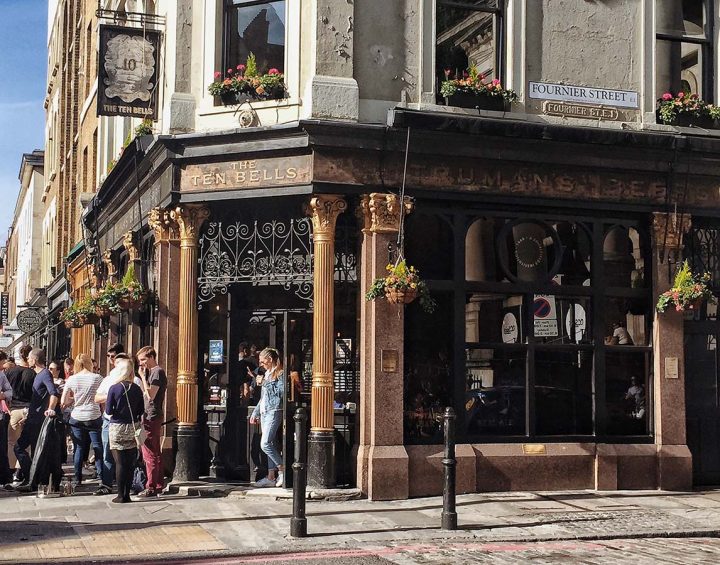 If you're looking to get a sense of gothic Whitechapel then this is the place for you. Soak up a few pints in the candlelit main bar or head upstairs for killer cocktails in what feels like a spooky old house — although these days the scariest thing about the Ten Bells is the toilets!
Click here to learn more about The Ten Bells, and click here for directions.
SEE ALSO: Where to Stay in London: A Guide to The Neighbourhoods 
5. Ye Olde Mitre
This is not only one of the oldest historic pubs in London, but it's also one of the smallest AND the most difficult to find. In fact, for centuries it wasn't even part of London, it was actually part of Cambridgeshire!
Ye Olde Mitre is tucked away down a narrow alleyway just off Ely Place — a street packed with history in its own right.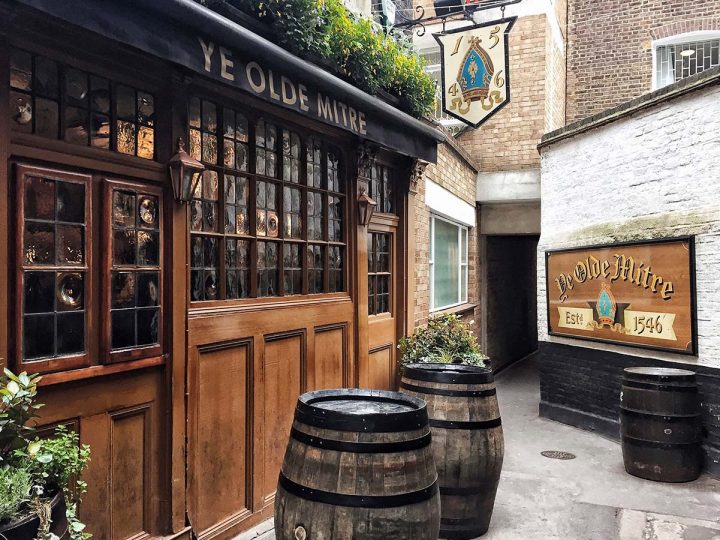 This area was once the domain of the Bishops of Ely (a town in Cambridgeshire) and Ye Olde Mitre was built for the servants of nearby Ely Palace, now demolished.
Past patrons include none other than Elizabeth I, who reportedly danced around a cherry tree with one of her favourite courtiers, Sir Christopher Hatton.
Part of the tree is preserved inside the pub but it's safely locked inside a glass case — in case anyone gets the urge to do a bit of pole dancing!
Click here to learn more about Ye Olde Mitre and click here for directions.
6. The Prospect of Whitby
A highlight of any trip to London is a drink at one of its many riverside boozers and the Prospect of Whitby should definitely be on your list.
This Wapping hostelry is apparently the oldest riverside pub in town, dating from 1520. Wapping was a melting pot of sailors, pirates, smugglers and all sorts of dubious characters — many of whom drank at the Prospect of Whitby.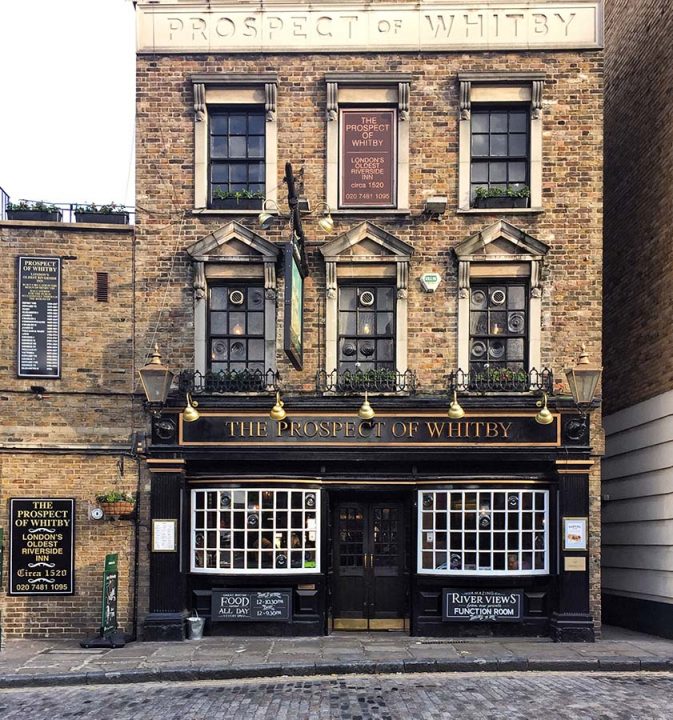 It's very likely that a few former customers met a grisly end at nearby Execution Dock — people who had committed crimes at sea were hung here. Noteworthy clientele included Judge Jefferies – known as "the hanging judge" – and, of course, Charles Dickens. Make a beeline for one of the outside areas and enjoy glorious views over the river.
Click here to learn more about the Prospect of Whitby and click here for directions.
☞ SEE ALSO: 25 FREE things to do in London you won't want to miss
7. The Seven Stars
This curious little pub can be found right in the heart of London's legal district, surrounded by some of the city's most historic and beautiful architecture.
It would be very easy to overlook the Seven Stars. Firstly, it's sandwiched between the magnificent Royal Courts of Justice and Lincoln's Inn Fields. Secondly, it looks a bit odd. The strange window display full of stuffed animals and weird knick-knacks gives the impression of a disused thrift shop.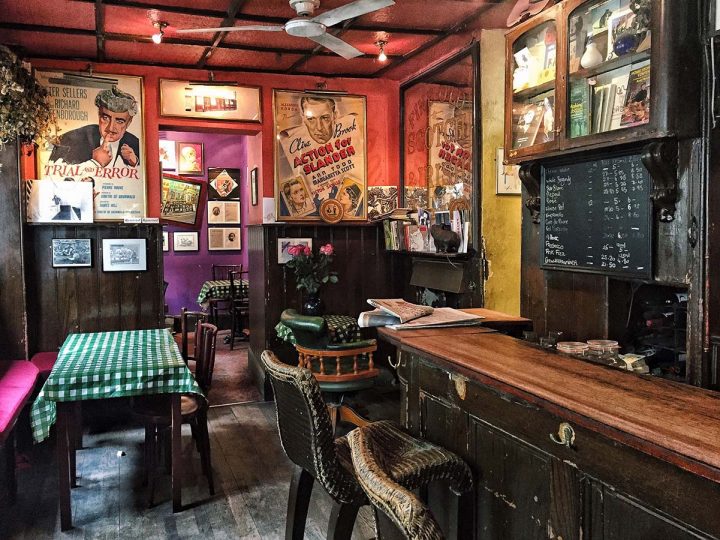 But don't be put off — once you're inside you will see that the Seven Stars has bags of quirky charm. It was built in 1602 and, unlike the other pubs in this list, there's actually not a huge amount to say about its history.
However, all you need to know is that this is a rather wonderful spot for a pint and a bite to eat. Oh and Charles Dickens used to drink here. Obviously.
Click here for directions to The Seven Stars.
Cheers to The Historic Pubs in London!
Grabbing a pint is a must-do when you travel to London. Not only is it a lot of fun, but visiting a pub is a big part of British culture. So, if you're going to drink, you may as well drink somewhere with a story behind it! Check out one, or all seven, of these pubs during your next trip to London. Cheers!
Like This Article? Pin it!