London is simultaneously one of the most modern cities on earth, while at the same time boasting a rich history that's clearly visible at every turn. Contemporary architecture like that of the The Morton Hotel, sits seamlessly alongside modern high-rise buildings like the Gherkin and ancient traditions are maintained as it embraces and develops cutting edge technology.
This curious mix makes the capital city of England a fascinating place to visit, and is part of the reason why it's home to almost 9 million people. There is so much to occupy your time here that it can be hard to narrow down the options.
Things to See and Do
Buckingham Palace
This is where the Queen of England actually lives when she's in London and has been home to the British Royal Family since 1837. Though you can't actually enter the grounds other than for a short period during the summer months, it's still a spectacular building to look at from the outside. It's also the location of the famous changing of the guard ceremony, whereby the soldiers charged with protecting the palace perform an exciting ceremony dressed in their formal regalia.
The Palace of Westminster & Big Ben
Alternatively known as the Houses of Parliament thanks to being the meeting place for the Parliament of the United Kingdom, The Palace of Westminster is a grand complex overlooking the River Thames. It's one of the most recognisable buildings in the capital city and is also home to Big Ben.
Though many people believe this to be the name of the clock tower, it actually refers to the enormous bell within it that has chimed out across the city for over 150 years. The Palace of Westminster looks particularly spectacular seen from across the river at night when its illuminated reflection appears in the River Thames.
St Paul's Cathedral
This vast cathedral dates back to the 17th century, and its giant dome dominated the London skyline for over 200 years throughout which it remained the tallest building in the city. Even though it has been eclipsed by the many skyscrapers that have been built over the past 40 years, it's still one of London's most impressive and recognisable buildings. It's a working church and services of worship are still held here at various times each day, as well as other significant ceremonies and celebrations.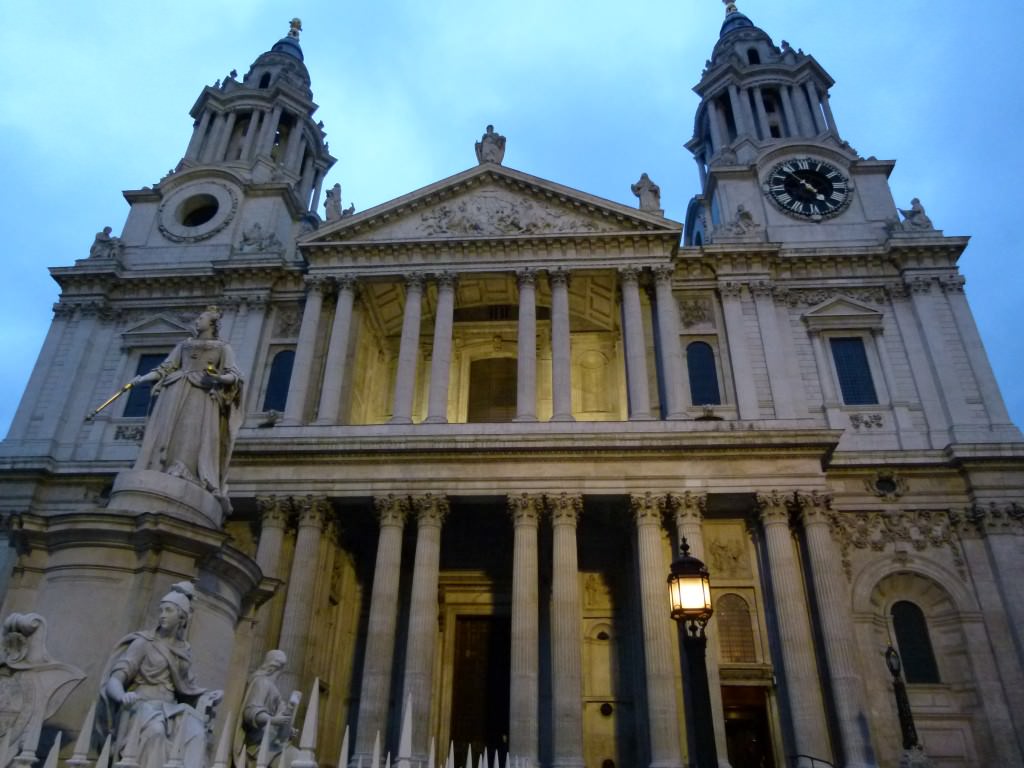 Visit the Art Galleries
London is home to some of the most famous and prominent art galleries in the world including the Tate Britain and its contemporary art namesake the Tate Modern, the Saatchi Gallery and the National Gallery. You'll find the works of virtually every leading artist on display at any one time in London making it the perfect destination for any art buff. Even if you don't know your Van Gogh from your Dali, many of the galleries are housed in impressive buildings and are free to enter.
The British Museum & Natural History Museum
Often referred to as the greatest museum in the world, the British Museum has a mind-blowing collection of historical artefacts, treasures from across the globe and artwork covering a two million year period. The Natural History Museum also has an impressive collection that spans even further, stretching billions of years. There's a large collection of virtually complete dinosaur skeletons, huge amounts of information on the history and formation of the planet, as well as the most up to date learnings on the natural world, spread out across 36 galleries.
The London Eye
Constructed to mark the turn of the millennium, the London Eye was at that time the largest Ferris wheel in the world. Though it's since been surpassed in height by various developments, today it still forms a prominent part of the London skyline. From the large glass capsules, you get a unique, uninterrupted bird's-eye view out across London.
Tower of London
One of the most historically significant buildings in the city, the Tower of London's 900 year narrative is as notorious as it is illustrious. Tours are conducted by enthusiastic and knowledgeable guides who will regale you with tales of betrayal, treachery and deceit. See the mesmerizing Crown Jewels which are on display here, learn about the gruesome events that have taken place within the walls as well as the ghosts that are said to inhabit the building to this day.
Where to Stay
Put simply, London is huge and as such has a wide variety of accommodation options open to you. Most of the major attractions are located within a relatively small distance of each other in the centre of the city, making Central London the best location to set up base.
The Morton Hotel in Bloomsbury is in an ideal starting point to explore the surrounding areas. Only a short walk away you'll find the popular areas of Russell Square, Oxford Street and Covent Garden as well as the British Museum and London's famous West End theatre district. There's also an underground station just a minute away from the hotel meaning it's extremely convenient to get further afield as well.
The rooms at the Morton Hotel are spacious and have recently been renovated to reflect the history of the area, in a modern yet traditional style. It has its very own lounge bar called The Library which is full of character and a great place to enjoy an afternoon tea in tasteful surroundings.
The hotel is also part of a small family run group that are all located in the Bloomsbury area and pride themselves on providing a personal, luxury service. Staying at any of their properties gives you access to the facilities at all the others as well, which include bowling alleys, health clubs and restaurants and bars.
No matter where you decide to stay in London, make sure it's in a central location. You don't want to spend your travel days on transportation when you could be out exploring the city.
What to Eat and Drink
Sunday Roast and Yorkshire Pudding – Traditionally eaten as a family meal each Sunday, this dish consists of roasted meat, vegetables and Yorkshire Pudding which is a batter cooked in the oven, all covered in a rich gravy.
Chicken Tikka Massala – Though chicken tikka masala is served up in Indian restaurants up and down the country, it was actually invented in the UK. This mildly spiced chicken in a creamy sauce has gone on to become the nation's favourite dish.
Ale – England has a reputation for serving up warm, flat beer, and to an extent this is accurate. Traditional ale is not fizzy but naturally lightly carbonated and has a slightly bitter taste.
Tea – You can't go to England without drinking a cup of tea, a national obsession amongst Brits. English Breakfast, Earl Grey and Yorkshire Tea are some of the most popular.
Also don't miss fish & chips, pie & mash, and a full English breakfast.
When to Visit
England has notoriously poor weather for much of the year, and though London is a year-round city, if you're after warmer, drier weather then it's best to visit during the summer months. June, July and August see warm temperatures and less rain than usual, although showers are still frequent. These months are also brighter with daylight lasting up until 9pm. Winter between November and January sometimes sees snow, as temperatures get low and daylight hours become much shorter.
How to Get Around
London is an extremely accessible city and there are various methods of getting around. The London Underground, or "tube" as it is locally referred to is an underground rail network that covers the majority of the capital and is easy to navigate. There is also a good bus system, although it can be more tricky to work out the routes. Within the centre you can hire self-service bicycles at docking stations across the city. There are also black cabs or taxis, but these can work out to be far more expensive than other methods of transport.
London is a city full of history, culture, entertainment and world-class attractions, and it's no surprise that over 30 million people visit each year from all over the globe. There is genuinely something here for everyone, from great restaurants, incredible architecture and classic hotels, it's a place that you can come back to again and again and keep discovering new things.
Like it? Pin it! 🙂
Disclaimer: This article is a paid advertisement for Luxury Escapes.
Disclaimer: Some links in this article are affiliate links, which means that if you purchase through them, we receive a small commission. This will never cost you extra and in many cases you receive a special discount. We appreciate your support!