As Britain's largest metropolis and the capital of England, London is one of the most celebrated cities in the world. Packed full to the brim of history and tradition, it simultaneously maintains its reputation as a thoroughly modern destination. London welcomes over 19 million visitors each year and with so much on offer it's easy to see why.
When you're visiting London it's important to stay in a prime location that's central to all of the major attractions and has great transport links. The Montcalm Royal London House is is right in the heart of the city giving you easy access to all of the unmissable attractions detailed in this post. Kick back in the comfort of the stylish rooms and suites, enjoy the luxury of the onsite restaurants and bars, or pamper yourself in the spa and wellness centre for the ultimate London experience.
If you're heading to the city, make sure you check out these 7 unmissable things to do in central London.
SEE ALSO: Where to Stay in London – A Guide to The Neighbourhoods
Watch the Changing of the Guard at Buckingham Palace
London is home to the British royal family, with Buckingham Palace being the Queen's official residence. There are a couple of months during the summer when it's possible to take a tour. Tickets are limited and sell out far in advance, but don't worry if you can't make it inside the palace.
The Changing of the Guard takes place around 4 times per week and is the perfect way to witness all of the royal pomp and ceremony you expect at the Palace. It happens when one section of the Queen's Guard is replaced by another to the sounds of a full marching band. It's absolutely free to watch, just be sure to get there early to secure a good spot.
Note:There are numerous day trips from London that you can do. After enjoying the big city, enjoy a day away. Some of the most popular spots are the Cotswolds, Bath and Brighton. Getting around by train is your best bet.
Visit the Tate Modern
This unmistakable central London landmark is based in a former power station on the south bank of the River Thames. Love it or hate it, the building itself is a striking, industrial looking construction marked by its huge central tower. It now houses one of the most notable collections of modern art to be found anywhere in the world.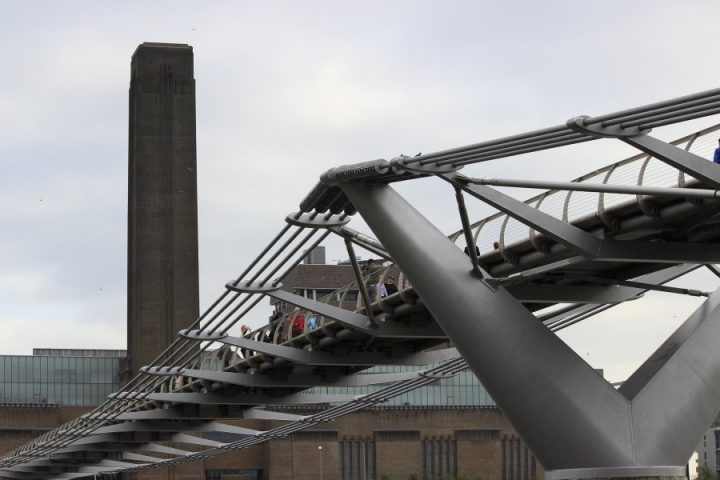 Take in works by leading, internationally renowned, contemporary artists including distinguished names like Pablo Picasso, Salvador Dali, and Andy Warhol. Even if you're not an art lover, the cavernous building alone is worth a peek inside. The main permanent displays are free for visitors, with fees only being charged for special temporary exhibitions.
Get a View From Above
Similar to Manhattan, Shanghai, and Dubai, London has an instantly recognisable skyline. Uniquely though, old and new buildings sit seamlessly alongside one another with centuries old constructions overlooked by modern skyscrapers. One of the best ways to take in this amazing panorama is from above, and there are plenty of options.
The London Eye is Europe's tallest ferris wheel and is a fun way to check out the vista. The Shard skyscraper has a viewing deck that's located on the 72nd floor as well as a number of restaurants and bars offering incredible aerial views. The OXO Tower and The Monument also provide brilliant ways to observe the vista.
☞ SEE ALSO: Travelling with Family – A Roadtrip from Edinburgh to London
Admire St. Paul's Cathedral
At more than 300 years old, St Paul's Cathedral still towers over much of the rest of central London. A strong contender for the title of the city's most famous building, the gleaming white brickwork is topped by a vast dome. You can see it from miles around and its baroque architecture wouldn't look out of place in Rome or Milan.
The spectacular interior is intricately decorated with golden detailing and stained glass windows. Perhaps the best view of St. Paul's Cathedral is from just in front of the Tate Modern. From this vantage point looking over the Millenium Bridge you'll see the imposing cathedral directly ahead in all its glory.
Hit Some Royal Parks
The Royal Parks were originally property of the monarchy and used exclusively by them for hunting and other leisure activities. These days they are picturesque, public spaces where you can enjoy some greenery in the middle of the big smoke. The lush, leafy landscapes are some of the capital's most prized open spaces.
There are eight Royal Parks in total, four of them lie in close proximity to each other right in the heart of the city. Kensington Gardens, Hyde Park, Green Park, and St. James's Park are perfect places to kick back, relax, and enjoy a change of pace as well as some of London's wildlife. You'll also find regular activities like running races, festivals and music concerts taking place throughout the year so be sure to check the events schedule.
Walk the Thames
The River Thames is the lifeblood of the city of London, running directly through its heart, separating it in two. It's impossible to miss when you're visiting central London and is in itself a beautiful attribute. It's likely that you'll be criss crossing it numerous times to get to different attractions on either side, and there are various bridges allowing you to do so.
A walk along the banks of the River Thames is a must when you're visiting London and in just a couple of miles you'll pass countless iconic landmarks. The Palace of Westminster which is where the UK parliament meets, the London Eye, the Tate Modern, London Bridge, plus many more are all a short distance apart.
There's no need for a guide, simply pick a starting point and walk until you've seen enough. There are plenty of typical English pubs lining the banks where you can stop off for a pint and some refreshments along the way.
Catch a Show
London's West End is also known as Theatreland and is the UK's equivalent of Broadway in New York. There are dozens of theatres of all sizes in this area where you'll be able to catch everything from small shows to huge international productions. Some of acting's biggest names of both screen and stage come from all over the world to perform here on a regular basis making it a real draw for tourists.
Maybe you'll want to catch a top musical like the long running classics of The Lion King, Cats, or the Phantom of the Opera. Or perhaps you could go for one of the smaller, critically acclaimed offerings that regularly turnover in the area. Either way, make sure you book long in advance if you require specific dates as tickets are frequently sold out for long periods.
Like This Article? Pin it!
Disclaimer: Some links in this article are affiliate links, which means that if you purchase through them, we receive a small commission. This will never cost you extra and in many cases you receive a special discount. We appreciate your support!