It's no secret that London is jam-packed with fun and interesting places to visit, but that doesn't mean a trip to England's capital should break the bank. In this list of the best free things to do in London, you'll discover some amazing attractions that won't cost you a penny.
With so many free museums, art galleries, parks, events, and more, you could spend a week touring London for free.
I've lived in and around London for most of my life and frequently spend time in the city; I'm always looking for fun free things to do in London, and below you'll find some of my top picks.
Below you'll discover a variety of things to do, places to visit, and famous landmarks that can all be enjoyed for free.
25 Free Things To Do in London
Whether you're interested in history, architecture, nature, or just looking for some fun sightseeing ideas, this list of free stuff to do in London has you covered.
1. Visit the British Museum
The British Museum is one of the top museums in the world and houses a collection of around 80,000 items on public display, (from a much larger collection on site).
Home to wonders such as the Rosetta Stone and Egyptian mummies, ancient Chinese artifacts, and a whole host of interesting galleries, there really is something to pique the curiosity of everyone, and is by far one of the best free things to do in London.
The great thing about the British museum is that you can just dip in and out as you please. Take a quick look at a new exhibit on your lunch break, or dedicate an entire day to learning about an ancient civilisation; there's always something new of interest to discover.
I've lost count of the number of times I've visited the British Museum, and I return regularly to check out new exhibitions. This is definitely one of my favourite places to visit in London for free.
☞ SEE ALSO: 15 Unique Experiences in London
2. Watch the Changing of the Guard
The Changing of the Guard is an ancient British ceremony that sees the changeover of the guards who are responsible for the security of the royal family and palaces.
This tradition dates back to 1689 and takes place at three locations across London; Buckingham Palace, St. James's Palace, and Wellington Barracks.
Soldiers of the Guard are recognisable around the world thanks to their red tunics and bearskin beefeater hats. These soldiers of the Household Cavalry change with a new guard at 11:00am daily in a ceremony that includes a marching band.
The best place to witness this unique pageantry is at the gates of Buckingham Palace. The Changing of the Guard is one of the best things to see in London for free as doing so doesn't cost a thing.
3. Walk Across Tower Bridge
Tower Bridge is one of London's most iconic landmarks with its two towers and gates that open to let ships pass by underneath.
This marvel of engineering was built between 1886 and 1894 and was officially opened by Edward, Prince of Wales, who would later go on to become King Edward VIII.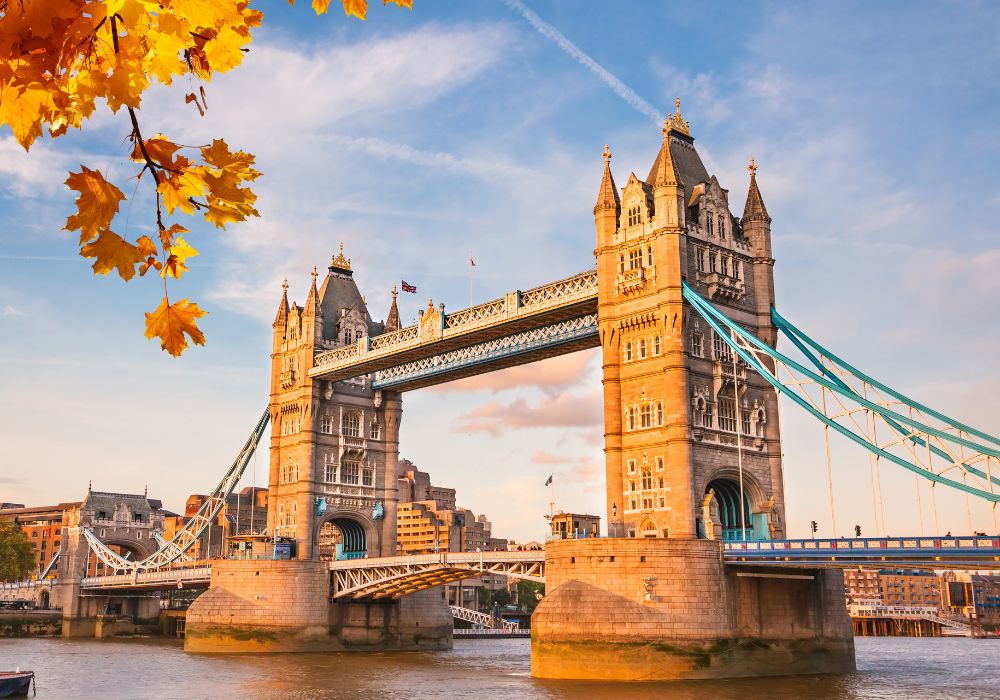 I used to walk across Tower Bridge almost every day whilst I was living in South London and the sight of this impressive structure never failed to captivate me, (and is still incredible for me to witness now).
Although you can pay to enter the towers and walk across the upper level, crossing the actual bridge itself is one of the free things to do in Central London.
For a nice circular walk that also takes in some other top London landmarks, start at the Tower of London and walk across the bridge. From here walk along the other side of the river until you get to London Bridge and cross back over.
In this one short walk, (under an hour), you'll see the Tower of London, Tower Bridge, HMS Belfast, the Shard, and London Bridge.
4. Get Back To Nature at Hampstead Heath
Hampstead Heath is a large area of semi-wild heathland in north London. It's a great place to escape the city for some time out in nature and one of the great free places to visit in London.
The heath covers an area of around 800 acres which includes parkland, lakes, forest, and rolling hills, and falls within Zone 2 – less than four miles from central London, (take the Northern line to Hampstead or Hampstead Heath).
There are swimming ponds to take a dip in if you're feeling brave, and the area up around Parliament Hill Fields offers some incredible views of the London skyline.
The parkland of Hampstead Heath is perfect for flying kites, playing frisbee, or kicking a ball around and I often find myself here during the summer.
Hampstead also has some great lunch spots and pubs such as the Magdala which has a solid menu at reasonable prices for London. If you're visiting on a Sunday, I can highly recommend trying out their Sunday Roast.
☞ SEE ALSO: 10 Best Day Trips From London (By Train and Car)
5. Discover the Collection at Tate Britain
London benefits from so many wonderful free museums and galleries, and Tate Britain is no exception.
Formerly known as the National Gallery of British Art, or Tate Gallery, this prestigious collection of British fine art has been attracting visitors since opening its doors in 1897.
Tate Britain holds the largest collection of pieces by renowned romantic artist J.M.W. Turner, who left his entire collection to the people of Britain to enjoy.
Other notable artworks on display include Ophelia by John Everett Millais, Flatford Mill by John Constable, and Newton by my favourite poet, author, and illustrator; William Blake.
If you're looking to indulge in a little bit of high culture, then a trip to Tate Britain is surely one of the best free places to go in London.
6. Watch Street Performers at Covent Garden
Buskers, mimes, jugglers, and tricksters can all be found in trendy Covent Garden. This popular part of the West End is famed for its bustling market, street performers, and top London restaurants.
Entertainers put on daily shows in the Piazza in front of the market, just as they have since as far back as 1662. Performances can also include opera, ballet, musical theatre, and drama, so there's never a dull moment and always something interesting to witness.
In addition to the free performances, (though don't hold back from leaving a tip if you enjoyed the show), Covent Garden market is another of the free places in London to enjoy as you browse the various stalls.
If you're looking for places to go in London for free, Covent Garden is an absolute must. It's also a great place to spend an evening enjoying any of the many wonderful eateries, West End shows, and hip bars.
7. Walk Along the South Bank
South Bank is one of the artistic and creative centres of London, best known for its galleries, theatres, and waterfront pubs.
The tree-lined Southbank boardwalk along the River Thames is the perfect place for a stroll and uninterrupted views of the London skyline across the river.
The "Undercroft", underneath the Southbank Centre, is a famous haven for skaters and graffiti artists – I used to skate there myself back in the nineties – and is synonymous with London's urban art scene.
The Tate Modern, sister to the above-mentioned Tate Britain, is London's premiere modern art space housed in a disused power station. This London icon is also free to visit, and the old turbine hall is well worth seeing.
With so much to see and do, exploring London's South Bank is definitely one of the most fun, free things to do in London. Also worth checking out is the Founder's Arms pub which has a terrace overlooking the river and cityscape.
8. Visit Regent's Park
Regent's Park is one of London's royal parks and is centrally located between Camden and Westminster. The park benefits from wide open green spaces, tree-lined paths, and many areas for sports and recreation.
You'll find a large boating lake, open-air theatre, tennis courts, children's play areas, and cafes scattered throughout this charming central London park.
There is a wetland in Regent's Park that attracts over 100 different species of wild birds and spending time here is a great way of getting back to nature, whilst still being in the heart of the city.
If you're in London's West End and want to visit Camden, then consider foregoing the tube and walking. The walk will take you past gorgeous Georgian townhouses and through Regent's Park and will take around 40 minutes from Soho.
9. Cross the Zebra Crossing on Abbey Road
Whether you're a Beatles fan or not, it's likely you'll be familiar with the famous zebra crossing on Abbey Road that was featured on the cover of their album of the same name -Abbey Road.
Recreate the famous image with your friends crossing the street in unison and you're sure to liven up your Instagram feed. Make sure you get the right street, (St John's Wood, northwest London), as there are at least seven other Abbey Roads across the city and a DLR, (Docklands Light Railway), station also carrying the name.
Abbey Road is within walking distance of Regent's Park, so why not combine these two free places to visit in London at once?
10. Marvel at the Curiosities of the Wellcome Collection
If you're looking for unusual places to visit in London for free, then this museum of medical and other curiosities is just the thing for you.
Named after Henry Wellcome, a 19th Century collector of antiquities, the Wellcome Collection explores the human body and medical science through a series of exhibits and interactive displays.
Visiting these exhibits is one of my favourite free things to do in London and I often have a nose around when I'm in the area. There's usually always a new presentation or event going on, so be sure to check the website and see what's happening.
For more unusual things to do in London, check out this guide of unique things to do in the city.
11. See the Street Art in Shoreditch
Shoreditch is one of London's most hip suburbs and is well-known for its street art, quirky bars, and hipster scene.
This is where you'll find works from some of the top talents in graffiti and street art, both British and international.
This handy free guide points out the best destinations for street art in and around Shoreditch. Be sure to check out Brick Lane, which is also famous for its market.
For those who have a real interest in street art, this tour hosted by someone directly involved with both local and international street artists is one of the best cheap activities in London.
12. Admire the Gothic Beauty of Brompton Cemetery
Some people find graveyards and cemeteries to be a little spooky, but there's a quiet beauty to them that has always attracted me – I even used to volunteer at the famous Highgate Cemetery in north London.
Brompton Cemetery, run by London's Royal Parks, is one of the most beautiful in the country. The Cemetery first opened its gates in 1840 and is home to over 35,000 gravestones and monuments, set within 39 acres of gothic, Victorian grounds.
If you're looking for a little bit of solitude after days of sightseeing and shopping, then Brompton is the perfect antidote. The site is a haven for wildlife and is surrounded by greenery making it a great place for some quiet contemplation.
13. See the Magna Carta at the British Library
The British Library is one of the largest libraries in the world and houses over 170 million texts comprised of books, journals, manuscripts, and more.
The library is the national depository for all books published in the UK and Ireland, so if there is something specific you're looking for, you have a fair chance of finding it here.
Many of the texts are available as digital media and there are specific reading rooms open to the public. There are also different exhibitions throughout the year, as well as permanent exhibits of some of the library's most famous texts.
Arguably the most famous of these is the Magna Carta; the "Great Charter" created by King John in 1215 to hold the monarchy to account. This document can be considered the first declaration of human rights and one of only four surviving copies is held here at the British Library.
14. Listen to a Speech at Speakers' Corner
Speakers' Corner in London's Hyde Park is something of a British institution. Since the mid-19th Century people have been coming here to give and listen to speeches; engaging the public in often deep debate/discourse.
Speakers' Corner is synonymous with free speech in Britain and it has seen the likes of Karl Marx, Vladimir Lenin, and George Orwell among those who have graced this little corner of London with their oratory skills.
Speaking here was even enshrined in law thanks to an 1872 act of parliament protecting free speech.
Every Sunday morning you can see people gathered to listen to a range of views and topics from politics to conspiracy theories, and it can be quite entertaining to watch.
Visiting Hyde Park itself is also another of the top free things to do in London and well worth an hour or two of your time. The park is home to Serpentine Lake which is free for bathers and there are plenty of picnic benches, pleasant walkways, and cafes too.
15. Visit the Natural History Museum
The Natural History Museum is another of the big hitters in London and makes a great day out for all the family. This is one of the best places in the country to learn all about our natural world through a series of interesting exhibits, galleries, and interactive displays.
From dinosaurs and fossils to a giant blue whale and a piece of a real meteorite, these fascinating exhibitions are great for those wanting to learn a little more about our planet and beyond.
The museum also has its own wildlife garden to explore with over 3,000 species of native British plants. The Natural History Museum should be on the bucket list of everyone coming to London and it's easy to spend hours among the displays.
16. See the Lights at Piccadilly Circus
Piccadilly Circus is another of London's iconic landmarks that's known all around the world. This junction of Coventry Street and Regent Street in the heart of the West End is known for its large illuminated advertising hoardings.
The lights make a great backdrop for that London selfie, and the location is perfect for exploring all the West End has to offer. The shopping areas of Oxford Circus and Tottenham Court Road are a short walk away, as are the nightlife spots of Soho and Covent Garden.
17. Attend a Free Event in London
No matter what time of year it is, there are always a host of free events in London. From exhibitions and carnivals, street parties, parades, and sporting events, there is sure to be something happening.
London's New Year's celebration is one of the most famous events, and it's easy to see the festivities and fireworks all across the capital. When is it: 31st December.
Notting Hill Carnival is London's biggest street party and is held every summer to celebrate Caribbean culture. When is it: August bank holiday weekend.
St Patrick's Day sees lots of free events and parades across the city. Be sure to wear something green! When is it: 17th March.
Wimbledon is one of the most famous Tennis tournaments in the world and happens in London every summer. Although you have to pay to enter the courts, the matches are shown on giant screens around the city for free. When is it: June/July.
Trafalgar Square is a great place to watch British and world sporting events, (including Wimbledon), on giant screens. I passed through a few years ago when there was a football match between England and Germany and the atmosphere was electric.
There are always exciting events happening across the city, so be sure to check the local press when you visit to see what's going on.
18. Take a Selfie in Front of Big Ben
Does anything scream "London" more than Big Ben? This iconic clock tower in the heart of Westminster has been wowing visitors since its completion in 1859. The striking gothic tower is 316 feet tall and rises majestically above the houses of Parliament and the River Thames.
Taking a selfie in front of Big Ben should be a bucket-list item for anyone visiting London and will be sure to impress your followers and family alike. Visiting on New Year's Eve is even more special as the backdrop will include the celebratory fireworks illuminating the tower and Westminster skyline.
19. Catch a Lunchtime Performance at the Royal Opera House
The Royal Opera House is located within a large neoclassical building in the heart of Covent Garden in London's West End. It was built in 1732 and was used as a theatre before later becoming home to the Royal Opera and Royal Ballet.
The building has been used for prestigious events such as the British Academy Film Awards between 2008 to 2016. It has hosted top performances such as Don Giovani and Madama Butterfly and is one of London's top cultural destinations.
One of the best things about the Royal Opera House is that it offers free performances during its "Live at Lunch" events, featuring house and guest performers. You'll get to witness artists from the Royal Opera, the Orchestra of the Royal Opera, and the Royal Ballet, completely free of charge.
These events are usually hosted on a Friday at 1:00pm and are unticketed, so you can just show up, (though limited spaces are available). Check the website for the next performances.
20. Walk Along Camden Lock
London is a great city for walking. There are so many exciting streets, squares and parks to discover that it could take you a lifetime to see them all.
Camden Lock forms part of the Regent's Canal across north London and is a wonderful place to sit and relax day or night. During the weekend the lock is busy with tourists and locals shopping at the nearby market.
Pick up a drink or a snack to take down to the river bank and watch as canal boats navigate the lock system.
At night it's a popular place for people to go with a few drinks and relax away from the busy streets nearby. This is something I often do with friends when in London, (in fact I was there not long ago).
21. Visit the Barbican Conservatory
The Barbican is a cultural centre in the heart of the city and surrounded by shiny skyscrapers.
The Barbican Centre is used as a theatre and hosts regular cultural events which you must pay for, however, hidden within is a gorgeous botanical garden known as the Barbican Conservatory that can be visited for free.
This wonderful space juxtaposes tropical plants with the brutalist architecture of the Barbican Centre to resemble something a little like an apocalyptic landscape where nature has taken over.
As admission is free, and to keep the space open for everyone to enjoy, it's not somewhere you can stay for a few hours, but it is definitely worth seeing as one of the more unusual places to visit in London for free.
You must book the (free) tickets online and they become available one week in advance. The conservatory is open daily from 12:00pm to 7:30pm.
22. Explore the 2012 Olympic Park
The Queen Elizabeth Olympic Park was built to house the 2012 Olympics in London. It contains the Olympic Stadium, (now West Ham United's grounds), an Olympic Swimming Pool, a velodrome, and mile upon mile of waterways, gardens, and green spaces across east London.
The Olympic Park is located close to Stratford and is a piece of cake to get to with train and tube rides taking just ten minutes from London Liverpool Street. It's a very pleasant place to walk around, or sit and relax with a book.
One of the most striking features of the park is the ArcelorMittal Orbit; a large series of interconnecting red frames that look like a demented spider's web. After the Olympics, it was turned into the world's tallest and longest tunnel slide, (tickets are needed for the slide).
23. See the Lions at Trafalgar Square
Trafalgar Square is a large pedestrian square in the West End. It's famed for Nelson's Column; a large pillar commemorating the Battle of Trafalgar in 1805.
The square is home to Nelson's Column, four famous bronze lion statues, two large fountains, and (once upon a time) a lot of pigeons that have now emigrated elsewhere since feeding them was banned in 2001.
One of the hidden gems that most people pass by is the Trafalgar Square police box, (think Doctor Who's tardis), which was once the smallest police station in the country.
Trafalgar Square is always a hub of activity and hosts events throughout the year, featuring big screens when large sporting events happen. It's a great meeting point to see friends and then head into the West End to grab food or see a show.
If I'm meeting friends in central or west London, this is always my first choice as there's always so much going on, (not to mention some decent pubs nearby like the Admiralty).
24. Visit the Science Museum
The Science Museum is another great free London attraction and is popular with all the family thanks to its hands-on displays.
There's so much to see and do at this great London museum; from the onsite IMAX theatre to VR simulators, science labs, and much more.
Collections and exhibits include objects from space, women in science, communication, robots, and computing to name but a few.
I loved visiting the Science Museum as a kid, (and a bigger kid), as the displays are such a treat for the senses. You can't help but leave with many questions answered, and many new ones forming. I'll be back to check out some more of their awesome exhibits in the near future.
25. Take in the Views at Greenwich Park
Greenwich Park is another of London's royal parks, and certainly one of my favourites thanks to its expansive views across the river to the city. The park covers a whopping 180 acres and forms part of the Greenwich UNESCO World Heritage Site.
This 17th Century Park is home to the Prime Meridian which is where Greenwich Meantime, (GMT), is set. The whole area has an interesting history tied up with space, time, and Britain's naval history.
The park is also home to the Royal Observatory, another of the free tourist attractions in London. Here, you can view the interactive displays and learn all about space and the universe.
The park includes a herb garden, a rose garden, miles of undulating grassy meadows, and much more. There's also a traditional bandstand where you can catch live music on weekends throughout the year.
Quick Travel Itineraries For London
With so many great places to see and things to do in London, it can be a bit overwhelming to know where to start. Below I've laid out itineraries for 1 to 7 days in the city which include some of the most unmissable attractions.
1 Day in London Itinerary
Start your day at Big Ben and see the Houses of Parliament and Westminster Abbey. From there it's a short hop to Buckingham Palace where you can witness the Changing of the Guard (be there for 11:00am).
Cross St James's Park and make your way to Piccadilly Circus. Take the tube to the British Museum and discover some of the impressive exhibits, before making your way south to Covent Garden for dinner, and an evening in Soho.
Weekend in London Itinerary
Follow the above itinerary for your first day. On day 2 make your way to the South Bank to explore this vibrant artistic area with a visit to Tate Modern and a walk along the river to London Bridge.
From London Bridge hop on the northern line to Camden and explore this bohemian suburb and the Camden lock. From there it's a short walk to Regent's Park where you can catch a tube from back to the West End for the evening.
On day 3 explore Hyde Park before hitting the Natural History and Science Museums in and around Kensington, which is also home to plenty of great dining options. Check out this weekend in London guide for the perfect 2-day itinerary in London.
1 Week in London Itinerary
Day 1: Start your week in London in Covent Garden and explore everything the West End has to offer. Buckingham Palace, the Houses of Parliament, and many of the museums and parks are all within easy reach.
Day 2: After exploring the west end, head to the South Bank and areas around London Bridge. Be sure to check out Borough Market for some great foodie options.
Day 3: From London Bridge, you are within walking distance of Tower Bridge, the HMS Belfast, and the Tower of London so this area deserves at least one whole day.
Day 4: Next head to the City of London where you can see St Paul's Cathedral before checking out hip Shoreditch.
Day 5: Explore north London. Vibrant Camden, quaint Highgate, and Hampstead Heath/Parliament Hill Fields for the best views of the city.
Day 6: Make your way back south for a day at the British Museum and then hit the shopping district of Oxford Street and Tottenham Court Road.
Day 7: Make your way back to the West End and Covent Garden.
Where to Stay in London
These are a few of the best neighbourhoods in London for tourists.
Covent Garden – Best for First-Time Visitors
Covent Garden is a great place for first-time visitors to base themselves as there is so much to see and do on its doorstep. It's one of the liveliest areas of the city day or night and is packed with eateries, markets, theatres, and museums.
Many of the city's top attractions are within walking distance of Covent Garden, (Big Ben is about a twenty-minute walk away), and there are plenty of tube stops around the West End to get you farther afield.
Soho – Best for Nightlife
Soho is one of London's hottest nightspots and is a great place for couples and friends to stay thanks to the number of great bars, cafes, and restaurants in the area.
It's just a few minute's walk from nearby Covent Garden and the rest of the West End so getting back there at the end of the day's sightseeing is easy.
Stratford – Best for Budget Travellers
Stratford is a great budget option where you'll find cheaper accommodation compared to Central or West London. However, with the City of London just 10 minutes away by tube, it's a perfect base for those looking to save a little.
There are also plenty of things to see and do, like visiting the above-mentioned Olympic Park, as well as Westfield Shopping Centre, which has lots of cool eateries.
You can read more about the best areas to stay in London in this handy accommodation guide, which includes some top recommendations of places to stay.
Free Things To Do in London: FAQs
Here are some answers to commonly asked questions about visiting London.
What is the Most Popular Free Tourist Attraction in London?
The British Museum is by far the most popular free tourist attraction in London with seven million visitors a year exploring its hallowed halls. This is a must for anyone visiting as you can not only learn about the history of Britain, but of many places around the world.
What is the Cheapest Thing to do in London?
The cheapest thing to do in London is to walk. London is a great city for walking and it's possible to take in many truly iconic buildings as you do so. In just a few minutes you can walk past Big Ben, Westminster Abbey, the Houses of Parliament, and Buckingham Palace for example.
What Things Can You Do for Free in London?
There are so many things to do in London for free; from visiting many of the top museums in the world to art galleries, the royal parks, carnivals, and much, much more.
Is London Expensive?
London can be as expensive or cheap as you want it to be. Accommodation will be the number one expense, but there are certainly bargains to be had, (see this article for tips). With so many parks and green spaces, picnicking is a great way to save money and enjoy the fresh air and beauty of London all at the same time.
In Conclusion
You should now know about some of London's best free tourist attractions and cheap/free activities in London. From the best attractions to magnificent viewpoints and a few hidden gems, which one will you visit first?
Like This Article? Pin it!