While London may not precisely be known as a beach destination, many easily accessible beaches near London can be reached by train or car. So, if you're looking for a day trip from London to escape city life or a weekend retreat to dip your toes in the sand, this blog is for you.
Unlike Cornwall or Newquay, London may not come to mind when you think of a beach getaway, but I'm here to inspire you for a relaxing break close to the city. I'll also give you tips for local restaurants and recommend places to stay so your trip can be as smooth sailing as possible.
I've lived in England my entire life, so I know that a beach getaway is perfect when you're looking for some much-needed R&R. From a genuine sandy beach in London City to a Sussex beach featured in Hollywood films, there are plenty of places worth exploring within easy reach of the capital.
Though London isn't known for its great weather, the skies won't stop you from having some seaside fun – pack your sunnies, pray for some sunshine, and get ready for a trip to one of these beautiful beaches near London. It might just be one of the best things you do in England!
15 Best Beaches Near London
Having spent over 25 years traveling to London, I've spent many weekends in the city and taken countless day trips to beaches and nature spots in the city and its surrounds. Here, I've narrowed down my favorite seaside destinations near London, all of which can be reached by either train or car:
1. Ruislip Lido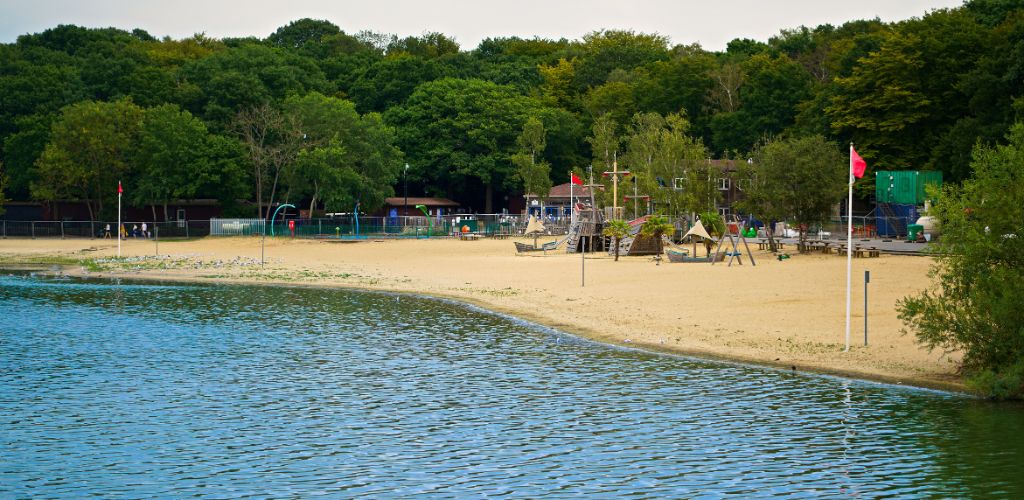 As the closest beach to London, and the only beach in London accessible by tube, Ruislip Lido is a go-to for families and those looking for seaside fun without breaking the bank. The beach is set aside a sprawling 60-acre lake and certainly feels a million miles away from the bustle of central London.
See Also: 25 Best Places To Visit in London (By a Local)
While the sand is perfect for building castles, the lake isn't swimmable and visitors aren't allowed in the water for safety reasons.
I've visited Ruislip Lido several times in the past and it can get very busy during peak times, especially as it's the closest sandy beach to London. Though there is on-site parking, it's limited and relatively expensive, so I would encourage you to use public transport where possible. If you're looking for one of the best beaches in London, this is your best bet.
Accommodation Near Ruislip Lido
You won't find chain hotels or big brands in Ruislip like you find with hotels in London. However, there are plenty of cute guest houses and private apartments that are perfect for short getaways to Ruislip Lido.
Apple Garden B-5: A comfy and spacious 3-bedroom apartment in a quiet area, complete with a fully equipped kitchen and dining facilities. What's more, there's an on-site garden, perfect for families. Click here to book.
Denham Guest House: Just a 12-minute drive from Ruislip Lido, Denham Guest House offers cozy accommodation with free private parking. Make use of the quaint sun terrace and complimentary breakfast made from locally sourced ingredients. Click here for more information.
Tilehouse Lodge: Enjoy commodious rooms set inside a peaceful cottage in a semi-rural location, where you can make the most of your daily breakfast in bed. Click here to find out more.
See Also: The Best Airbnbs in London
Restaurants Near Ruislip Lido
Following a fun day at the beach, refuel at a local restaurant or cafe. You'll find everything from quick bites to hearty meals – there's something to satisfy all palates.
San Remo Lakeside Cafe: San Remo Lakeside Cafe is the closest place to the beach to grab some food. Just a 5-minute walk from the car park, it serves up snacks and light meals to keep you full for a day of exploration. Click here for directions.
The Water's Edge: Situated within the Ruislip Lido grounds, this traditional pub serves up dishes such as roast dinners, Stonehouse pizzas, and plenty of family-friendly food. Click here for directions.
Miller & Carter: Miller & Carter is a restaurant for those looking to splurge a little. Indulge in hand-cut, aged steaks paired with cocktails or wine, or opt for the Sunday set menu for a great value, traditional roast. Click here for directions.
See Also: The Ultimate London Travel Guide
2. Camber Sands
Camber Sands is arguably one of the best sand beaches near London, and it takes just 90 minutes to get there by train. This beautiful 5-mile stretch of unspoiled beach also houses the only sand dune system in East Sussex.
The beach's sea breeze is perfect for those looking to get involved in watersports such as kitesurfing or windsurfing, with lessons available from the local Kitesurf Center or Rye Watersports. It's also known as one of the best beachcombing sites in the UK.
The beach itself is so amazing that it's been featured in the likes of Hollywood blockbusters such as 'Dunkirk' and 'The Theory of Everything'. While you can paddle in the water, beware that it will be cold! The area is split into zones for different activities to make it safer for visitors, so be sure to pay attention to signage.
Accommodation Near Camber Sands
There are plenty of excellent accommodations near Camber Sands ranging from beachfront cottages to fun-filled holiday parks.
Oystercatchers: Oystercatchers holiday home offers everything you need for a self-catered stay, including free parking. Not to mention, it's just 700 meters from the beach. You'll have all the benefits of a beachfront stay – without the sand. Click here for more details.
Beach Walk House Camber Sands: This snug home complete with a games room and beach-themed garden is perfect for larger families. Furry friends are also welcome. Click here to book.
Saltwater Cottage: Saltwater Cottage is a seaside escape within walking distance of Camber Sands, complete with everything you need for a comfortable beach getaway. Click here for more information.
Restaurants Near Camber Sands
There are endless options for pub grub or light snacks in Camber Sands, just steps away from the beach. Further afield in Rye, a plethora of restaurants, pubs, cafes, and even tea rooms await.
The Owl: The Owl is my and my family's favorite place to stop after a walk on the beach. It's a quintessential British pub just over the beach's dunes, serving up local seafood and ales from nearby breweries. Click here for directions.
Rye Bay Bar & Grill: Stop off at Rye Bay Bar & Grill for fish & chips in an ambient setting with a seaside vibe. You can also pick up some homegrown vegetables to take home with you. Click here for directions.
The Ypres Castle Inn: The focus is on craft beer at Ypres Castle Inn, referred to locally as "The Wipers Inn". Great drinks are accompanied by homemade pies, local cheeses, and upscale bar snacks. Click here for directions.
See Also: The 15 Best Castles in England You Can't Miss
3. Botany Bay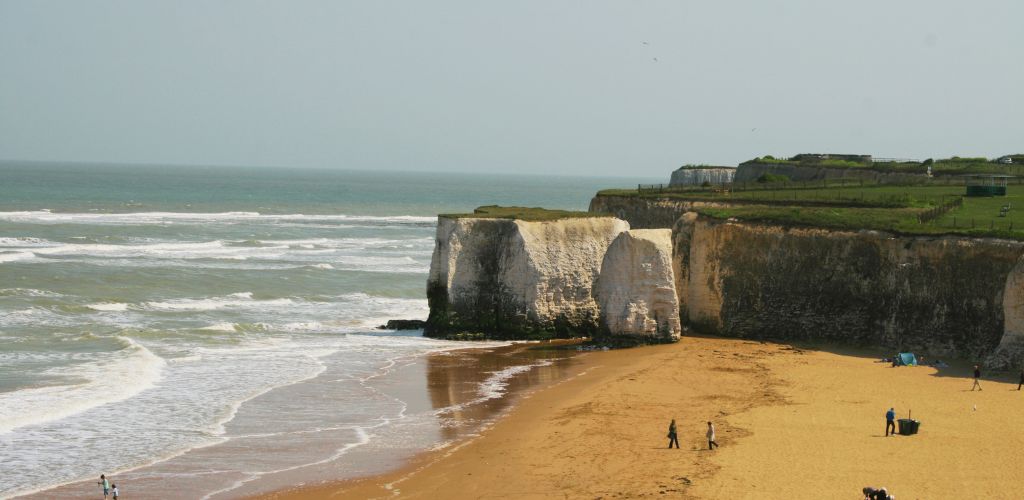 Located in the eastern corner of Kent, Botany Bay is one of the best-hidden beaches near London. There are gorgeous views of imposing white cliffs and unique chalk formations rising from the sand. It's without a doubt a real secret gem.
The golden sands of the beach make it ideal for building sandcastles. Blue Flag waters make it a popular spot for water sports such as kayaking, canoeing, body boarding, and swimming. For something a little different, you can try your hand at fossil hunting and rockpooling when the tide is out.
Head to the nearby Viking Coastal Trail for spectacular views of the bay, or make the most of the deck chair rental available for visitors and simply relax.
Accommodation Near Botany Bay
Whether it's a hotel perched on a clifftop or beachfront accommodation with sea views, there are plenty of options for a stay close to one of the most beautiful beaches near London.
Botany Bay Hotel: Unwind in bedrooms offering charming views of the English Channel and beyond at Botany Bay Hotel. Sip cocktails in the lounge bar and try local cuisine at the property's sea view restaurant for a relaxing break by the sea. Click here to find out more.
Rooms at Number One: Stylish and comfortable, Rooms at Number One is just 150 yards from the beach in the heart of Broadstairs. The boutique bed and breakfast accommodation also features beautiful interiors and complimentary parking for guests. Click here to book.
Broadstairs House Boutique B&B By The Sea: This hidden gem is within walking distance of the beach, shops, and public transport. Expect welcoming hosts and a hearty breakfast to fuel fun-filled days by the beach. Find out more here.
Restaurants Near Botany Bay
The areas of Broadstairs and Margate, near Botany Bay, boast a fantastic variety of restaurant options. If you're looking to indulge, one restaurant has even been named in the Michelin Guide…
The Captain Digby: If you're looking for delicious, home-cooked meals and excellent service, The Captain Digby should be your first port of call. The beer-battered fish & chips are a must-try. Click here for directions.
STARK: This unique restaurant has just four tables, so securing a spot may require some forward thinking! Their ever-changing menu features a seasonal six-course tasting menu from the area's first Michelin-starred chef, paired with carefully selected wines. Click here for directions.
Bottega Caruso: Family-owned and operated, Bottega Caruso serves modern Italian cuisine in the heart of Margate. The menu changes every day, but the quality never falters. Be sure to try their homemade fresh pasta. Click here for directions.
4. Cuckmere Haven Beach
Cuckmere Haven Beach is one of the quietest beaches near London, close to the Seven Sisters chalk cliffs. The pebble beach here boasts incredible, sweeping views of the cliff faces and sea, and it's a great spot for a fresh seaside walk.
Whether you're a professional or an amateur wanting to give it a go, the beach is popular among anglers. The waters here are teeming with marine life thanks to its position at the mouth of the Cuckmere River.
Wet your feet in the chilly sea water, and see whether you recognize the beachscape from films such as Harry Potter. I'd recommend walking along the beach from Seaford town (the nearest town to the beach) to Eastbourne.
Accommodation Near Cuckmere Haven Beach
The local town of Seaford is the best place to rest your head when visiting Cuckmere Haven Beach. No matter where you stay, there will be other beaches in the wider area of East Sussex within easy reach.
Pebbles Beach House: This serene beach retreat boasts sea views from the garden and balcony, and sits conveniently equidistant between Eastbourne Pier and Brighton Marina. Click here for details.
Saltmarsh Farmhouse: This beautiful home is conveniently located within walking distance of Seven Sisters Cliffs. After a day of adventures, settle down in Saltmarsh Farmhouse's relaxed garden or shared lounge area with like-minded travelers. Find out more here.
Luxury 3 Bathroom Cinema Sauna: For a little slice of luxury, opt for this 3-bedroom home in Seaford. It's a fantastic option for families, who can relax and unwind in the cinema or sauna after a day spent on the beach. Book here.
Restaurants Near Cuckmere Haven Beach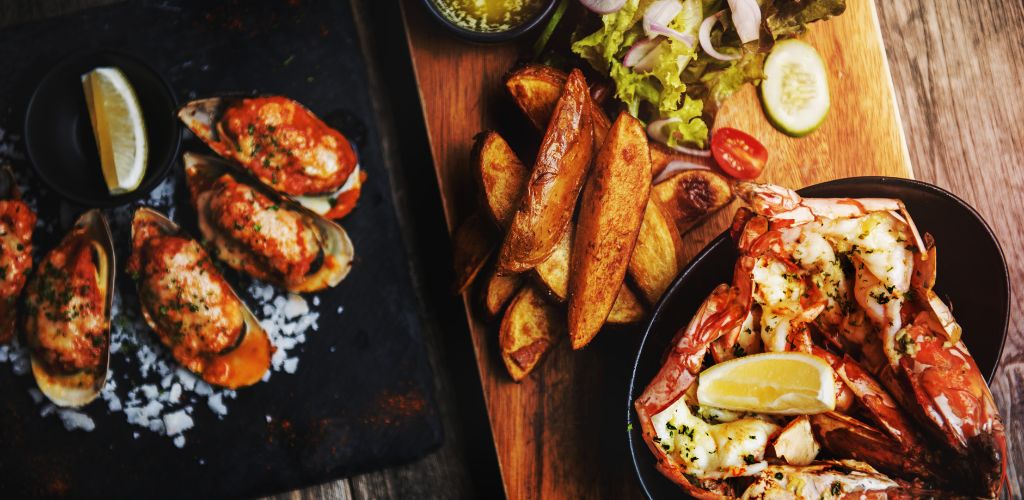 With Eastbourne, Seaford, and West Dean all within reach on foot or by car, you'll never be short of options for places to eat near Cuckmere Haven Beach.
The Grumpy Chef: A relaxed bistro-style cafe/restaurant serving up light bites and dishes made with locally sourced ingredients. This is a firm favorite among locals and tourists alike, so book ahead. Click here for directions.
Pomegranate Cafe: This Meditteranean-inspired cafe in Seaford is vegan-friendly and dishes up everything from delicious cakes to tasty small plates. Click here for directions.
The Cuckmere Inn: Head to the Cuckmere Inn to try classic country pub grub just steps away from the beach. This is a great place to try out a British classic – pie and mash, for example. Click here for directions.
5. Brighton Beach
Renowned as one of the most famous beaches in England, Brighton Beach is a must-see for anyone looking for a beach getaway near London. The pebble beach lends itself to relaxing on a deckchair, whilst heading to the promenade is perfect to grab an ice cream and watch some entertaining street performers.
The water is known to be chilly, but that doesn't stop it from being one of the best swimming beaches near London. On sunny days, expect to find the beach bustling with visitors who swim, sail, paddleboard, and wakeboard in the ocean. Or perhaps try your hand at Frisbee-ing or beach volleyball.
In my opinion, the best part about Brighton beachfront is the nearby Victorian pier with its old-world fairground rides and traditional British fish and chip shops.
Accommodation Near Brighton Beach
As one of the best and most popular beaches near London, there are endless accommodation choices in Brighton.
A Room With A View: Situated on the Brighton seafront, this Grade II-listed property is a short walk from Brighton Pier. Bedrooms offer views of the sea and pier, while the shops and restaurants of the city center are all just a short walk away. Find out more here.
Kemp Town Sea View Balcony Apartment: This comfortable apartment overlooks the city and sea, and is a great self-catering option with popular points of interest and hiking routes nearby. Click here to book.
27 Brighton Guesthouse: The adults-only 27 Brighton Guesthouse welcomes you to an elegant terraced Georgian townhouse, where you can expect luxury amenities and a continental breakfast basket delivered to your room every morning. Click here for more information.
Restaurants Near Brighton Beach
Brighton is known for its vibrant food scene, fusing traditional British dishes and contemporary cuisine to create endless possibilities for an amazing dining experience.
Palm Court Restaurant: The glass-fronted Palm Court Restaurant's prime location on Brighton Palace Pier lends itself well to watching the sunset. Expect modern fare, British classics, and sumptuous seafood. Click here for directions.
Cafe de la Mer: Cafe de la Mer is my favorite spot for lunch in Brighton. Serving up tasty flavors from around the world, it has a great vibe and a fabulous location at the seaside. Click here for directions.
SHELTER HALL: The chic SHELTER HALL houses an impressive seven kitchens at its seafront food market. Sip handcrafted cocktails and choose from the likes of Neapolitan pizza, juicy smash burgers, delicious grilled meats, and more. Click here for directions.
6. Chalkwell Beach
Chalkwell Beach is possibly the nearest beach to London by car, taking just over one hour to reach. Part of Southend-on-Sea at the mouth of the River Thames, it's home to a promenade, theme park, and much more.
Families will relish the chance to swim in a seawater paddling pool. Plus, there's an opportunity to search for crabs and other marine life in the seaweed along the beach. Look out to sea and you may just spot 'The Crowstone', a large granite statue that can be seen up-close when the tide is out.
After a day of paddling, make your way to the world's longest pleasure pier, where traditional fairground rides and rollercoasters promise a thrilling experience at the nearby Adventure Island.
Accommodation Near Chalkwell Beach
Southend-on-Sea boasts not one, but eight beaches (including Chalkwell Beach). Thanks to the abundance of beaches, visitors are spoiled for choice when it comes to properties within close proximity to the seafront.
5 Bedroom Beach Front Property: Larger families and groups of friends will love this property, which sleeps up to 10 people and has its own ping pong table, garden, and barbecue. Perfect for summer nights. Find out more here.
Ilfracombe House Hotel: Meters away from the Southend seafront, Ilfracombe House Hotel promises clean, cozy rooms and exceptional family hospitality. Guests love the daily home-cooked breakfasts from hosts Bertie and Drita. Click here for more information.
Woodgrange: This beachfront apartment comes with free parking, a fully-equipped kitchen, and comfortable bedrooms where you can rest your head after a day roaming Chalkwell Beach. Click here to book.
Restaurants Near Chalkwell Beach
Expect nothing less than excellent dining options around Chalkwell Beach and the wider Southend-on-Sea area. The seaside resort has numerous seafood eateries and cosmopolitan spots.
Baboush Grill and Lounge: Choose to eat inside, outside on the terrace, or take your meal from Baboush Leigh back to your accommodation. This is traditional Turkish food at its best, and I'd definitely recommend trying their Humus Kavurma starter. Click here for directions.
The Beach Hut: Set on a stunning beach with coastal views and excellent food to match, The Beach Hut at Westcliff-on-Sea dishes up old and new classics alongside freshly caught seafood to hungry visitors. Click here for directions.
Akropolis Restaurant: If you love live music and a lively atmosphere, this is the restaurant for you. Dine on tasty Greek cuisine as you soak up the ambiance just minutes away from the Southend seafront. Click here for directions.
7. Whitstable Beach
Whitstable Beach is a classic among British holidaygoers, and, in my opinion, is one of the top beaches near London. Any person who is used to family beach holidays in the UK is likely to have visited before.
The beach represents the quintessential British seaside, with fishing boats docked on the pebbled beach, brightly colored wooden beach huts, and a seafront restaurant serving just-caught oysters.
It's also somewhat of a wind trap, so you'll often find windsurfers and sailors taking to the seas to make the most of the gusty weather. It's definitely in my top five beaches close to London.
☞ SEE ALSO: Best Shows In London's West End
Accommodation Near Whitstable Beach
As previously mentioned, Whitstable Beach is a staple destination for UK beachgoers. There are an overwhelming amount of accommodations to choose from, so here are a few of my favorites to help narrow it down:
The Old Schoolhouse: The standout feature of this upscale holiday home has to be the hot tub and picnic area; additionally, it boasts a fantastic location close to the town and its amenities. Click here to view.
Passengers House: This beachfront property is a firm favorite among families thanks to its recent refurbishment, specifically the lush furnishings that make the holiday home a cozy seafront retreat. Find out more here.
Whitstable Townhouse by the Sea: Delightfully modern and with pretty garden views, Whitstable Townhouse by the Sea is an undeniably relaxing getaway just 400 meters away from one of the best beaches close to London. Click here for more information.
Restaurants Near Whitstable Beach
A visit to Whitstable wouldn't be complete without dining on fresh seafood, or, more specifically, oysters. Whether you visit a fine dining establishment or a no-frills seaside shack, the Whitstable seafood scene is undoubtedly one of the best in the country.
The Forge Oyster Shack: Lobster for lunch? Fresh oysters with a squeeze of lemon juice? Beer on the beach? You can get all of this and more at The Forge, a gem along the seawall that is favored among locals and tourists alike. Click here for directions.
Ossie's Best Fish and Chips: This traditional fish and chip shop is a favorite among my family. Rather obviously, I'd suggest you try their famed fish and chips made with locally sourced, fresh fish, which has earned them a nomination in the 'Good Food Awards'. Click here for directions.
Birdies Restaurant: Though Birdies isn't known for its cheap eats, the traditional French cuisine served at this revered Whitstable establishment is worth every penny. The chefs here work with local fishermen and farmers to source remarkably fresh and sustainable meals for their customers. Click here for directions.
8. Bournemouth Beach
Widely regarded as one of the best beaches in the UK near London, Bournemouth Beach sits amidst a 9.5-mile stretch of stunning golden sands. Bournemouth's southerly location means it's often blessed with good weather meaning this beach can occasionally get pretty busy, however, it all adds to the atmosphere.
The cleanliness and quality of the water make it a fabulous spot for swimming, while its proximity to the pier allows for endless fun at the nearby amusement arcades and beach shops.
Accommodation Near Bournemouth Beach
Bournemouth is known for its range of quality accommodation options, ranging from bed and breakfasts to self-catering apartments and boutique hotels.
Hampton by Hilton Bournemouth: Conveniently located a short walk away from some of Bournemouth's most popular attractions, this contemporary hotel has everything you need for a great night's sleep. Click here to book.
Sea Breeze Apartments: Personalized service and well-equipped rooms are to be expected at Sea Breeze Apartments, where even the smaller details such as custom-built furnishings have been taken care of to elevate your living experience. Click here for more information.
See Also: 15 Things To Know About Living in London
Restaurants Near Bournemouth Beach
Regardless of whether you eat by the seafront or in the town center, there are myriad choices for excellent dining. No matter what you're craving, you're sure to find it in the seaside town of Bournemouth.
Côte Brasserie Bournemouth: This French brasserie chain has been well received in Bournemouth, where you can dine on meals such as rustic French onion soup and rope-grown British mussels. Click here for directions.
NEO Restaurant: The menu at NEO features an array of fine-dining dishes with a focus on seasonal ingredients, all of which can be enjoyed from a glass-front restaurant overlooking the sea. Click here for directions.
Crab at Bournemouth: The self-proclaimed 'finest seafood restaurant in Bournemouth' is a two-rosette awarded fine dining restaurant, with delectable seafood elevated by crafted cocktails and a resident pianist playing live music. Click here for directions.
9. Frensham Great Pond & Common
At Frensham Common, a 1000-acre woodland situated between Farnham and Hindhead, you'll find Frensham Great Pond. This 13th-century lake complete with man-made sandy beach is a hit with families and sunseekers on warmer days and has ample opportunities for swimming and relaxing with gorgeous views of the lake.
When I visited recently, the water was closed for swimmers due to the amount of blue algae in the lake, though it is expected to re-open for visitors at some point in the near future so be sure to check their website before planning a trip.
This is potentially my favorite white sand beach around London and is perfect for a picnic. Plus it has a really lively yet tranquil atmosphere on sunny days.
Accommodation Near Frensham Beach
Frensham itself is home to very few accommodations, but venture a little further afield to Farnham and you'll find an abundance of cute cottages and homes fit for a beach retreat.
Claremont Coach House: This is a private hideaway tucked away in a secluded setting, with a beautiful garden and terrace providing a surprisingly serene countryside escape close to Frensham Great Pond. Click here for details.
The Devils Cradle: The Devils Cradle is a luxury B&B complete with a wood-burning fire, charming front porch seating area, and lush furnishings. Nothing quite says 'British countryside' like a stay in a quaint cottage. Find out more here.
The Princess Royal: Surrounded by scenic countryside, The Princess Royal was awarded a 4-star accolade by Visit Britain. It's a traditional British pub at its best, featuring elegant decor in a historic setting. Click here for more information.
Restaurants Near Frensham Great Pond
Frensham and the nearby area of Farnham are the ultimate classic British towns, meaning pub grub and hearty dishes are always on the menu.
The Watermark Restaurant: Dine on local produce at The Watermark Restaurant, where you can enjoy views across Frensham Pond as you dine on seasonal dishes such as parmesan-crusted salmon and refined roast dinners. Click here for directions.
The Bluebell: A rustic pub that's full on flavor, The Bluebell Dockenfield is family-owned and run and is perfectly set among the charming countryside. Feast on classics such as burgers and steak, then head out for more exploration of the beautiful local area. Dogs are allowed here too. Click here for directions.
Yiayias at The Fox: Fuelled by a love for great food, Yiayia's kitchen opened owing to the owner's Greek Cypriot heritage. The Cypriot-style kebabs are a must-try, as is their charcoal grilled halloumi. Click here for directions.
10. Walpole Bay
If you're fascinated by rock or tidal pools and want to head to the seaside near London, Walpole Bay should be on your must-visit list. Situated in Margate, it's home to one of the last tidal pools ever built.
I've visited Walpole Bay many times in the past, and it's worth mentioning that you need to time your arrival very carefully. When the tide is in, there's very little sand at Walpole Bay, so if you're looking to sunbathe on the beach, be sure to plan ahead.
You can swim in one of the largest tidal pools in the country here, or take to the water to try out jet skiing. Nearby, there are plenty of cafes to fuel up at, plus activities such as crazy golf, tennis, and a bowling green.
Accommodation Near Walpole Bay
The charming area of Margate is home to a variety of properties fit for every type of traveler. A beachfront retreat is never too far away.
Walpole Bay Hotel: Transport to a bygone era at Walpole Bay Hotel, which has been described by guests as a 'living museum'. The attentive staff and eccentric decor make this hotel a unique seaside stay. Click here to view.
Old Barrel Store: My family and I stayed at this cozy cottage recently. Close to the seafront and the shops of the Old Town, it's filled with home comforts and made for a super relaxed stay. Find out more here.
Margate Seaside Retreat: Margate Seaside Retreat is a private, serene getaway within walking distance of local shops and restaurants. Expect comfortable furnishings and a charming outdoor deck area. Click here for more information.
Restaurants Near Walpole Bay
Walpole Bay offers a range of dining options from across the globe. Whether it's Mexican quesadillas or Thai curries, you'll find plenty of exotic flavors to fill you up.
HOMW Margate: Mexican-inspired dishes such as tiger prawn tacos and quesadillas are on the menu at HOMW Margate, where you can stop by for brunch, lunch, or dinner. Click here for directions.
The Bangkok Thai: Taste the authentic flavors of Thailand at this cozy, no-frills restaurant, where attentive staff and excellent quality food will leave you feeling nourished. This is my go-to when visiting Walpole Bay. Click here for directions.
Buoy & Oyster: The name might be a bit of a giveaway, but this family-run restaurant serves up some of the best seafood in Margate. Working with local fishmongers, they dish up responsibly sourced prawns, oysters, scallops, and more. Click here for directions.
11. Sunny Sands
Sunny Sands is one of the best beaches near London by train, and understandably so. On sunny days, visitors from the Big Smoke flock to Sunny Sands to sunbathe and cool off in the sea.
When the conditions are right, this is a great beach for surfing as it's long and shallow, and you can hire kayaks during the summer season too. The sand here is so good that there's even an annual sandcastle-building competition, but you'll need some serious skills to be able to enter.
Accommodation Near Sunny Sands
Sunny Sands is a popular seaside resort, so there are markedly more hotels, homestays, and apartments to choose from.
View Hotel Folkstone: Situated on The Leas promenade, this 4* boutique hotel is within easy walking distance of the town center and only a 3-minute walk from the beach. Click here to book.
Beachborough Park: Restored outbuildings have been lovingly transformed into comfortable rooms just a 5-minute drive from the Eurotunnel. So when you're done at the beach, maybe you'll hop on the train to Paris! Find out more here.
The Wycliffe: This gem sits just 500 yards from the beach and is in close proximity to Folkestone's other points of interest. Guests here are particularly warmed by the friendly and welcoming hosts. Click here for more information.
Restaurants Near Sunny Sands
Sunny Sands is the place to find incredible seafood such as oysters and king prawns. It's also home to a variety of restaurants cooking up Kentish cuisine.
Chummys: Chummys has served only the freshest shellfish since 1958. It was voted the 'Best seafood stall in England' and is a must-visit on your trip to Folkestone. Click here for directions.
Rocksalt Restaurant: Fill up on Kentish cuisine at Rocksalt Restaurant, which boats incredible panoramic views across Folkestone Harbour. The menu is prepared with only the freshest, locally sourced ingredients. Click here for directions.
Sotirio's Restaurant Folkestone: Enjoy made-to-order food at Sotirio's, where sumptuous seafood takes center stage. Try the calamari made with tender fresh squid. Click here for directions.
12. Dungeness Beach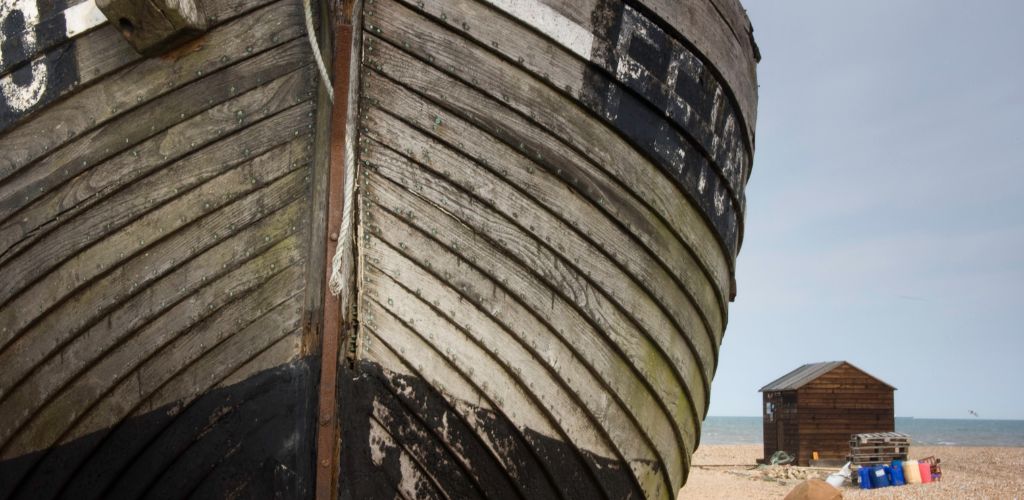 This may be an odd one, but I think that Dungeness Beach deserves a mention on our list of beaches near London. This shingle beach is overlooked by a power station and is officially classed as a desert, yet houses over 600 species of wildlife.
The flat landscape of Dungeness is somewhat eerie, but you can keep an eye out for two lighthouses that rise out of the ground in the distance. I visited Dungeness Beach when I was a child, and I still remember it thanks to its rather unique appeal. You'll often spot fishermen here, who go to a spot affectionately known as the 'patch', which is where wildlife congregates.
Accommodation Near Dungeness Beach
Though situated in the affluent area of Kent, the accommodation in Dungeness Beach hasn't quite reached the scale of its other Kentish beach counterparts. You can, however, still find quaint fishermen's cottages and lovely homes for a beachside stay.
Charming Original Fishermens Cottage on Dungeness Beach: The clue of the location is in the name, but, essentially, you couldn't get any closer to the beach than with a stay in this charming cottage. Click here to view.
Ps1 Dungeness: Boasting stunning, modern interiors and a prime spot just 600 meters from the beach, Ps1 Dungeness is a fabulous option for families. Find out more here.
Fog Signal Building: Further afield in Littlestone-on-Sea, Fog Signal Building offers a sea view retreat with floor-to-ceiling patio doors that open onto a large deck area, perfect for evenings spent watching the sunset. Click here for more information.
☞ SEE ALSO: The Best Neighbourhoods To Stay in London
Restaurants Near Dungeness Beach
Again, Dungeness itself doesn't have many of its own eateries, so you may have to venture a little further to neighboring towns for some more restaurant choices.
Dungeness Snack Shack: Caught by their own boats, the seafood here is as fresh as you can get. The lobster and crab rolls go down a treat with locals and visitors alike. Click here for directions.
The Pilot: This unique restaurant is named after the downed World War 1 propeller and engine that sits in the garden of the pub. A fantastic spot for classic pub grub with a little bit of history for good measure. Click here for directions.
The Mulberry: Pop to the nearby town of New Romney to visit The Mulberry, just meters away from the beach. Enjoy home-cooked meals on the outdoor terrace and lap up the beachside atmosphere. Click here for directions.
13. West Wittering
West Wittering is a favorite among city slickers looking for good beaches near London. Situated near Chichester Harbour, the beach features soft sand, vibrant beach huts, and calm waters safe for paddling.
You'll often find visitors surfing, windsurfing, or kite-surfing when the weather permits, and if you'd like to try for the first time, there are surf lessons available to book. It's also a great spot for sunbathing on sunnier days, and you may see a birdwatcher or two looking out for birds in the migratory season.
Accommodation Near West Wittering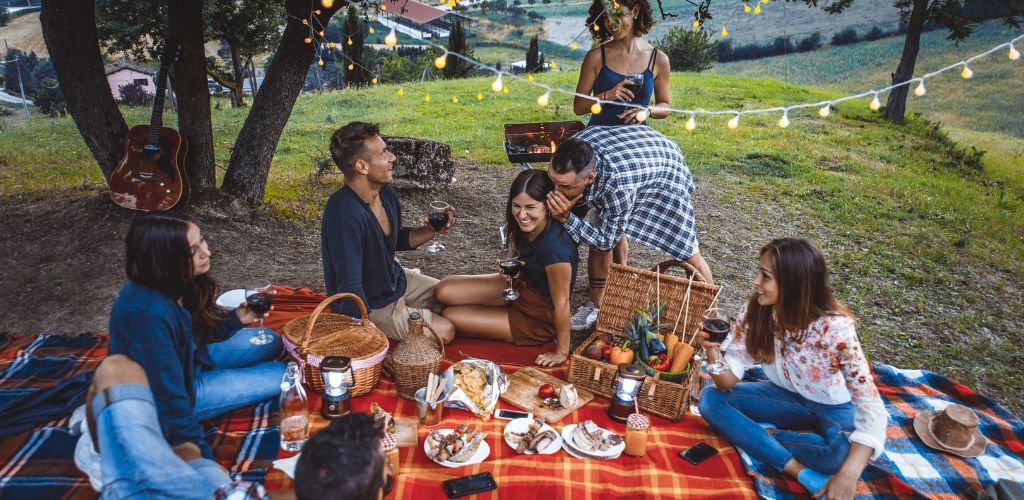 You can make the most of the sandy shores of West Wittering with a longer stay in the area, but it's worth noting that it's also doable as an easy day trip from London.
Willow House B&B: The charming Willow House B&B is a fabulous base to explore one of the best beaches around London, whilst still providing the peace and quiet of the countryside. Find out more here.
The Beach Suite East Wittering: Quiet street views paired with a balcony, picnic area, and access to a terrace make this a perfect spot for a beach getaway. Click here for more information.
The Witterings Shepherds' Hut: For something beyond the norm, opt for this beautiful, refurbished shepherd's hut surrounded by lush nature and greenery. Click here to view.
Restaurants Near West Wittering
West Wittering boasts a plethora of relaxed eateries and up-market pubs serving reimagined classics. Every palate will be fed here.
The Boulevard East Wittering: This family restaurant in East Wittering is open every day for light bites and hearty meals, and you can choose to sit in or take away their tasty treats. Click here for directions.
Drifters: A relaxed, rustic restaurant serving up contemporary dishes such as stonebaked rolls and signature flatbreads in a cozy setting just a stone's throw from the beach. Click here for directions.
The Lamb Inn: Eat, drink, and be merry at The Lamb Inn, where delicious pub meals and classic drinks combine in a lovely atmosphere. Opt to sit in the outdoor beer garden for a chilled evening with friends or family. Click here for directions.
14. West Mersea Beach
Located on Mersea Island, West Mersea Beach sits just outside of Colchester. The 'island' is connected to the mainland, however, high tide can block access to it.
The beach is a mixture of shells and stones, so it may be worth keeping your shoes on along the shore. The calm waters make it a popular spot among kayakers and paddleboarders, and there are hundreds of beautiful, colored beach huts to admire too.
Accommodation Near West Mersea Beach
West Mersea is blessed with numerous seaside properties, which make for a pleasant stay while exploring the beaches of the area.
Salt Lodge: Fabulous walks and an excellent location in the center of the old town characterize this property. It's a great choice for those looking to get active or explore the local area. Click here to see more.
The Mariners Suite: You couldn't get closer to the beach without actually being on the seafront at The Mariners Suite. A one-minute walk from this stylishly decorated home will take you straight to the ocean. Find out more here.
The Nook: A small but comfortable 'nook' awaits. You can expect highly accommodating hosts, a comfortable living space, and a cute outdoor seating area. Click here for more information.
Restaurants Near West Mersea Beach
West Mersea benefits from a plethora of exciting restaurant venues, each with its own distinguished style and food offering.
The Coast Inn: This friendly pub mixes old and new-style furnishings with gorgeous views over the nearby estuary. Their classic British menu items, such as scampi and fish and chips, are particularly popular among visitors. Click here for directions.
Titash Restaurant: Titash Indian Restaurant fusions Indian, Bangladeshi, and English cuisine. It caters to a variety of dietary requirements, so is a great choice for vegetarians. Click here for directions.
The Company Shed: Known as Mersea's original seafood restaurant, The Company Shed serves up small plate, sharing-style dishes. You can also pair them with your own wine choosings, as this is a Bring-Your-Own-Booze venue. Click here for directions.
15. Minnis Bay
Yet another Kentish beach, Minnis Bay is a family-friendly, sandy beach with a play area and paddling pool nearby.
It gained a Blue Flag award in 2023, meaning the waters are safe for swimming. You're also likely to catch people engaging in watersports activities such as sailing or windsurfing. When the weather permits, it's a lovely place to play beach games too.
When I was younger, me and my sister used to love running up and down the sand dunes that border the bay. We'd also be the first to get an ice cream from the kiosk, which sits near a designated picnic area. Ideal for family bonding time.
Accommodation Near Minnis Bay Beach
Minnis Bay itself doesn't have a significant amount of accommodation options. However, the wider area of Birchington does if you're struggling to find availability during peak months.
Seven Seas Beach Retreat Studio Flat: This highly-rated, compact holiday home acts as a great base to explore beaches in the vicinity. You can also rent bikes from the property to see more of the area. Click here for more information.
The Waves: The Waves is a fabulous choice for those looking for a beachfront, dog-friendly stay. Enjoy stunning views across Minnis Bay from your comfortable room. Click here to book.
Bay Lodge: This cozy lodge is situated on a road with direct access to Minnis Bay. It has a prime location close to the restaurants and attractions of Birchington too. Find out more here.
Restaurants Near Minnis Bay
Dining around Minnis Bay is both a delight and a dilemma. There are so many restaurants to choose from, you may have a hard time picking which to visit!
The Cow Shed Bar & Grill: Delicious, home-cooked food in a warm and welcoming environment. What more could you want? Stop by for breakfast and try the avo toast. Click here for directions.
Christies Wine Bar & Bistro: Sip on wine and craft beers at this family bar and restaurant. Excellent drinks are elevated with classic dishes such as creamy mushrooms and breaded whitebait. A seaside classic! Click here for directions.
Smugglers: This authentic Kentish restaurant serves high-quality meals in the pretty village of Birchington. The emphasis is on presentation here, so get your camera at the ready. Click here for directions.
Best Beaches Near London: FAQs
Here are some answers to commonly asked questions about the best beaches near London:
What is the best beach near London?
In my opinion, Camber Sands is the best beach near London. The picturesque sand dunes and white sand beach are hard to beat!
What are the best beaches near London for partying?
Brighton Beach is great for those looking to party. The city has a thriving nightlife scene and you'll also find a few beach bars with music and a lively atmosphere.
What is the best beach in London for families?
Frensham Great Pond is my favorite choice for a family beach day. It's a lovely spot for picnics, and the calm waters also make it a great place for swimming.
What is the best beach near London for couples?
I personally like Dungeness Beach for a couples day out. It's a unique beach and not one I'd take children to. There's lots of history in the surrounding area, and it offers something a little bit different from your usual beach spots.
What is the best off-track beach around London?
Botany Bay is one of the nicest beaches near London and is somewhat of a hidden gem. The views are spectacular and the opportunity to hunt for fossils is something not to miss.
What is the best time to visit London for sunbathing?
The weather in the UK is unpredictable at the best of times. You're more likely to have sunshine between May and September, though it is definitely not guaranteed.
What beach near London has the clearest water?
Botany Bay has clear water, as do many of the beaches in Margate and Broadstairs. Sunny Sands in Folkestone is also known for its clearer sea.
Are there white sand beaches close to London?
It depends on what you class as 'white'… But yes, there are many sand beaches close to London, some of which are featured in this blog.
What beach in London has the whitest sand?
West Wittering and Sunny Sands would be my top two recommendations for white sand beaches near London.
What beach in London has the bluest water?
Blue and clear water are interchangeable here. As previously mentioned, Botany Bay and Sunny Sands are good beaches near London with clear/blue water.
Are the beaches in London safe for swimming?
Each beach is different, however, there are many Blue Flag beaches outside London. Be sure to pay attention to signage and ask at the tourist information desks if you are unsure.
Are there sharks at the beaches near London?
No. While there are many species of sharks in UK waters, you are extremely unlikely to find them in the waters of beaches near London.
What's the closest beach to London by train?
Ruislip Lido is the closest beach to London by train and is possibly one of the best beaches in London too. Take the train to West Ruislip from London Marylebone to reach Ruislip Lido.
Is Brighton beach near London?
Yes, Brighton Beach is near London. It takes 90 minutes to get there via public transport, or approximately 1 hour and 45 minutes by car.
In Conclusion
Summer in the UK hasn't quite cracked up to be as sunny as usual. With that in mind, a beach getaway to one of the aforementioned beaches near London may be just what you need to escape the rainy blues. Or, a simple hike near London will do.
There's nothing that brings you together quite like a seaside retreat. Frolick in the sand, build a sandcastle, and seek out thrills on fairground rides. After all, you may just find that a trip to the beach will release your inner child!