Are you considering living in London? Find out what it's like to live in the UK capital, plus useful tips and information in this article.
London has to be one of my favorite cities in the world. Growing up in Kuwait, I went to a school where most of my teachers were British. As a journalism student, watching news channels such as BBC was akin to homework.
My first visit to Londontown was when I went there for a business trip in 2012. However, my dream came true when in 2015 I moved to London with my family and spent 4 years living in the city.
In this article, I'll share my firsthand experience and tips for living in London as an expat.
1. Finding a House in London
It is no secret that London has some of the most expensive real estate in the world even though the average house size is much lower than most developed countries.
When arriving in the city, I soon realized that many people actually choose to live in home counties such as Surrey, Kent or Berkshire instead of living in London itself.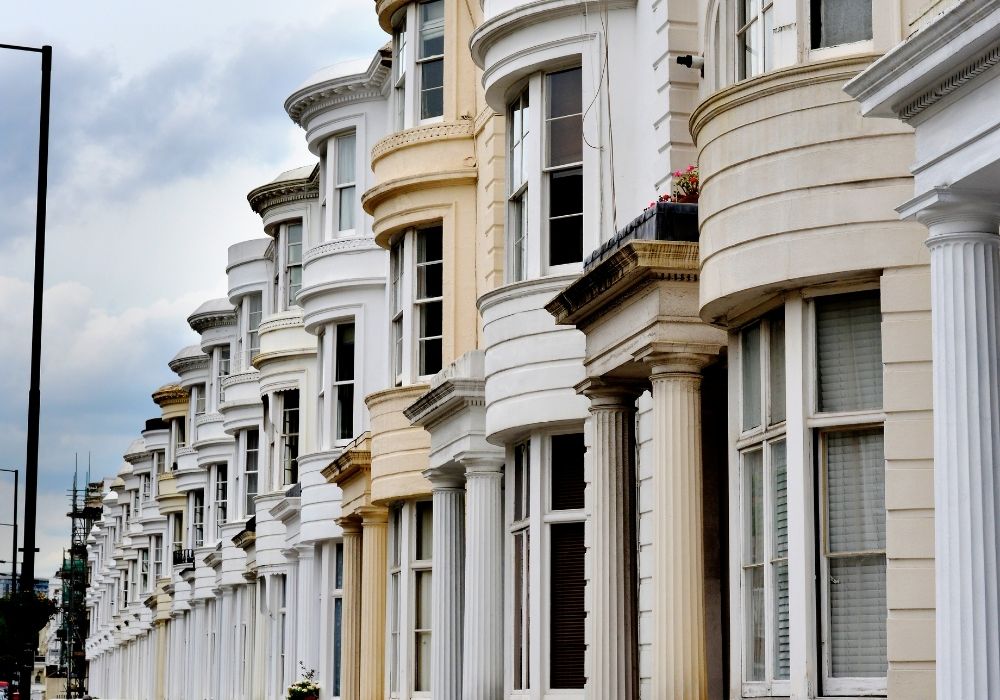 You might spend more on transportation but that is usually offset by the bigger space you're able to afford. Your decision depends on factors such as how long your commute is and how many rooms you need.
Both my husband and I worked in zone 1 when we were living in London. So we chose to look at neighborhoods in South West London especially in zones 4-6.
We managed to find a beautiful 4-bedroom house in Sutton within our budget. That meant that our friends and family members could stay with us when they visited.
Consider living just outside of the city to save yourself some money. The high cost of real estate is definitely one of the cons of living in London.
2. Getting to Know the Neighborhood
Your local council website is where you will find information about recycling, rubbish collection, parking permits, etc. You can also use it to find out more about the local parks, libraries and events in your borough.
Introduce yourself to your neighbors — especially those living next door.
A box of biscuits or a bottle of wine can go a long way. You never know when you need their help looking after your plants or signing for a package.
Neighborhoods typically have a "high street" which is the main road where most of the shops are located. Some allow traffic while others are pedestrian-only.
Our house was a 15-minute walk from the high street and I frequented it a lot to go to the bank, hairdressers, nail salon and post office.
3. Getting Around London
One of the benefits of living in London is that you really don't need to own a car!
Public transportation – buses, trams and the infamous London Underground dubbed the Tube – is very reliable and affordable.
One of the first things you should do after moving to London is get an Oyster card and top it up. You can also just use a contactless bank card but beware of card clash!
When you are not commuting to and fro, you can always ride a bike or walk around. Not only is it great for the environment, but it saves you thousands of pounds (£) in car insurance, road tax, congestion charges, and parking fees.
4. Landing a Job
While my husband moved from Egypt to the UK with his employer, my job hunt was not that straightforward.
When I was done unpacking and we all settled in, I created profiles on job sites such as Monster and Indeed, and updated my LinkedIn profile. I also reached out to a couple of recruiters who specialized in the career fields I was interested in.
Meanwhile, I tried to keep myself busy by joining the parents association at my daughter's school and attending networking events.
I even started a travel blog when I was between jobs to promote family holidays in Egypt.
My advice would be to volunteer at a charity or join a community based on your interests. That way you can make some friends, practice English if it's not your first language, and even add some local experience to your CV (resume).
Another option is to take on some online work and start earning a living from home.
5. Surviving London Weather
For someone like me who has only lived in hot climates, the weather in London was the biggest shock.
I didn't have any winter clothes or footwear suitable for living in London. I didn't even own an umbrella of my own and had to borrow my mother's!
But I have to say once I mastered the art of holding an umbrella, my daughter's hand, my dog's leash and my purse with only two hands, I was able to walk out of my house in confidence regardless of the weather.
The key to surviving London weather is to dress in layers.
Wellies (gumboots) are a must-have if you enjoy walking or gardening and don't want to ruin your shoes. Raincoats can be used throughout the year and I noticed that women wear cooling tights in the summer and thicker ones when it is cold.
You can honestly experience all four seasons in one day so you better be prepared.
6. Getting Healthcare
The National Health Service (NHS) is a true blessing because its healthcare services are free for anyone who is a legal resident.
Once you arrive in the UK, visit the NHS website and find your nearest general practitioner (GP) surgery.
When you register with your GP, they will ask you to complete a form with your medical history and you can tell them what medications you already take so they can give you a prescription.
If you opt in to be an organ donor you get a card to keep in your wallet.
There are private hospitals and clinics as well but they can be prohibitively expensive. Some employers offer private health insurance as one of their perks. This could come in handy if waiting times are long for a specialist or if you want a second opinion before getting a procedure.
Free healthcare is one of the great perks of living in London, and the UK as a whole.
7. Holidays in London
Public holidays in the UK revolve around Christmas and Easter. Most people get Christmas Day, Boxing Day, New Year's Day, Good Friday and Easter Monday off depending on what they do for a living.
There are three other bank holidays — the first and last Monday in May and the last Monday in August. Public transportation might not run as normal and many shops or restaurants have reduced hours or close altogether.
So before any of these public holidays, make sure you fill your prescriptions and stock up on any essentials.
School holidays are longer during Christmas and Easter and children can get 2-3 weeks off. There are also half-term breaks which are 1-week holidays during each school term.
8. Pet-friendly London
I was so happy we were able to bring our dog with us from Egypt because London is just so pet-friendly. Most landlords allow pets on their property. Dogs can ride taxis, trains, buses, and even the Tube.
A lot of hotels, beaches, restaurants, cafes, and pubs are dog-friendly. They can run around in parks or swim in the streams. There's dog beer and dog ice cream available to buy as well.
Just make sure you keep them on a leash near any ducks, swans, sheep, and deer and also near any children, playgrounds, or car parks.
You have to clean up after your dog otherwise you can be fined £50-£80 on the spot! Another piece of advice is to get pet insurance.
Not only are vet bills in London expensive, but you can get covered for accidents, theft or loss. You can shop online or ask your local vet for a recommendation.
9. Fun Things to See and Do
Working in a university in the heart of London, I was so lucky to be surrounded by opportunities to experience the very best in British history and culture.
You can attend a comedy night or a West End musical. You can go on a themed walking tour or a scavenger hunt. If you are a fitness freak, you can join a gym, take up jogging, or go to a fitness or dance class.
Living in London means one day you could be at the posh Ascot races or a tennis match in Wimbledon and another day you could be having a drink in a beer garden or grilling at your friend's barbecue.
There are many pros and cons of living in London, but the variety of things to see and do is one of the many benefits of living in this city.
10. Living in London on a Budget
There are a ton of cultural and social activities in London that you can attend for free.
Most museums, galleries, and parks have free entry. If you are a carer or a student you are entitled to a discount almost everywhere.
There are seasonal sales all year round to celebrate Mother's Day, Father's Day, Valentine's Day, Boxing Day — you name it!
You can visit price comparison websites and check out better prices for your energy bills, mobile phone packages or insurance policies.
11. Eating and Drinking
With London being so multicultural, it is no surprise that there are restaurants showcasing cuisines from all around the world.
Supermarkets proudly stock British produce but are also mindful of catering to people from different backgrounds and ethnicities.
So if you are homesick and want to cook a traditional meal you are likely to find most of the ingredients for your mother's recipe. There are products that are vegan, kosher and halal in every major supermarket.
With their black and gold signage and quirky names, English pubs are hard to miss. During the day, it's normal to see people getting a cheeky drink or two during their lunch break.
In the evenings, there is live music, trivia nights, poker tournaments, and 2 for 1 cocktails. During weekends, families meet each other for a Sunday roast and you can even bring your doggo along.
12. Quirky Things About Living in London
These are quirky things that I have personally experienced living in London as an expat:
People do not talk to each other on the Tube or train. They listen to music, read their books, or live stream their favorite shows.
People are obsessed with greeting cards and are keeping the postal service alive! Every occasion seems to have its own card.
You have to pay for a TV license every year if you own a TV even if you don't watch any of the free-to-air channels.
There is no such thing as a British accent but rather many regional dialects. Very few Londoners actually speak like the Royal Family. As an expat, I found British slang so unfamiliar but fascinating!
Living in London for Families
Here is some more specific, useful information if you're planning on moving to London with your family.
13. Finding a School
The majority of Londoners send their children to state schools and academies. The rest pay exuberant fees at independent schools.
There are also a few international schools that offer German, French and IB curriculums. Children join reception class at age 4 and then the school years run from year 1 to year 13.
Some schools are faith-based where they are managed by the Church of England or a Catholic church for example and have more entry requirements such as a parents interview.
Some state secondary schools such as grammar schools require an entrance exam. These are usually segregated rather than mixed.
Once you arrive in London, visit the website of your local council. Fill in the form to register your child(ren) and name your preferred schools.
However, bear in mind that you are assigned a place based on availability, catchment area, as well as the school's selection policy.
I recommend you have a look at school inspection reports published by Ofsted. Aim for a school that has received a rating of "outstanding" or "good".
Your school's website will have information about the color and style of the school uniform. You can buy basic items such as shirts, trousers, skirts, and socks from high street shops or supermarkets.
For branded items such as book bags, ties, jackets, jumpers and blazers, you can buy them through the school.
14. Finding Childcare
Childcare in London can be very costly. Unless you are rich, there is no way you can afford a full-time and/or live-in nanny.
You can find babysitters in your local area on specialized websites or through word of mouth and they can charge anything between £20-30 per hour. Make sure you interview them and check their references.
Most schools have a breakfast club and/or an after-school club where you can drop off your child(ren) if you work full-time. They are more affordable at £5-15 per hour.
During school holidays, you can enroll them in a holiday camp where they can enjoy activities such as swimming, sports, cooking and arts and crafts with other kids their age.
If you have more than one child you might want to consider a childminder. They typically pick up your kids from school and take them to their home where they can give them a meal, help them with homework and entertain them until you finish work.
I have friends who have tried au-pairs and swear by them. I guess it is a win-win situation if they are happy with a room, food and pocket money as compensation.
15. Child-friendly London
If you have children, there are endless options of theme parks, city farms, and activities to explore. Your teens might be interested in summer concerts, escape rooms or indoor climbing.
There is a leisure center in almost every neighborhood with facilities such as soft play, a swimming pool, and sports courts.
Children ride for free on buses and the Tube and you can get a child ticket for trains. In the morning, cinema tickets are much cheaper and the local libraries usually arrange arts and storytelling sessions.
Conclusion
Living in London is a great experience and I hope you found this article helpful for planning your move.
My advice is to avoid getting trapped in the daily grind. Meet new people, try a different hobby, or do an activity you have not experienced back home.
Carve out time to explore London and even other British cities and towns. If you have not been to Europe, you can easily hop on a plane or train and visit the mainland.
Most Londoners are fascinated by other cultures and are open to learning about other traditions. They are used to mingling with people from around the world.
Our next-door neighbors were South African and Portuguese. I had work colleagues from Australia, New Zealand, Cyprus, Germany, France, India, and the Philippines.
Even if you think you have a thick accent, don't let that intimidate you. To quote another expat; "In London, everyone is different, and that means anyone can fit in" – Paddington Bear.
Like This Article? Pin it!