Madrid has a long list of attractions for travelers exploring it. An often overlooked aspect of Madrid is the sheer number of day trips you can take from this capital city.
Given its central location in Spain, there are numerous day trips around Madrid. Traveling from the capital also means there are plenty of options for getting to your destination, be it by car, train, or bus.
In short, Madrid is the gift that keeps on giving. Once you've hit the major spots that the city has to offer, try taking a day trip outside of Madrid to add some more memorable stops to your itinerary.
I spent 5 months living in Madrid while teaching English and enjoyed my experience. During my days off, I was able to head out of the city and enjoy some of these fun day trips.
Here are the 15 best day trips from Madrid.
1. Toledo
Toledo rightfully leads off the list of best day trips from Madrid. This UNESCO World Heritage site is only a half-hour away from Madrid by train and offers impressive sights throughout.
Since it's so close, even if you're just visiting Madrid for the weekend, you could head to Toledo.
Deemed "The City of Three Cultures", Toledo is home to churches, synagogues, and mosques – each as impressive as the last. Explore the winding medieval streets as you climb your way to the panoramic views waiting at the top of the city.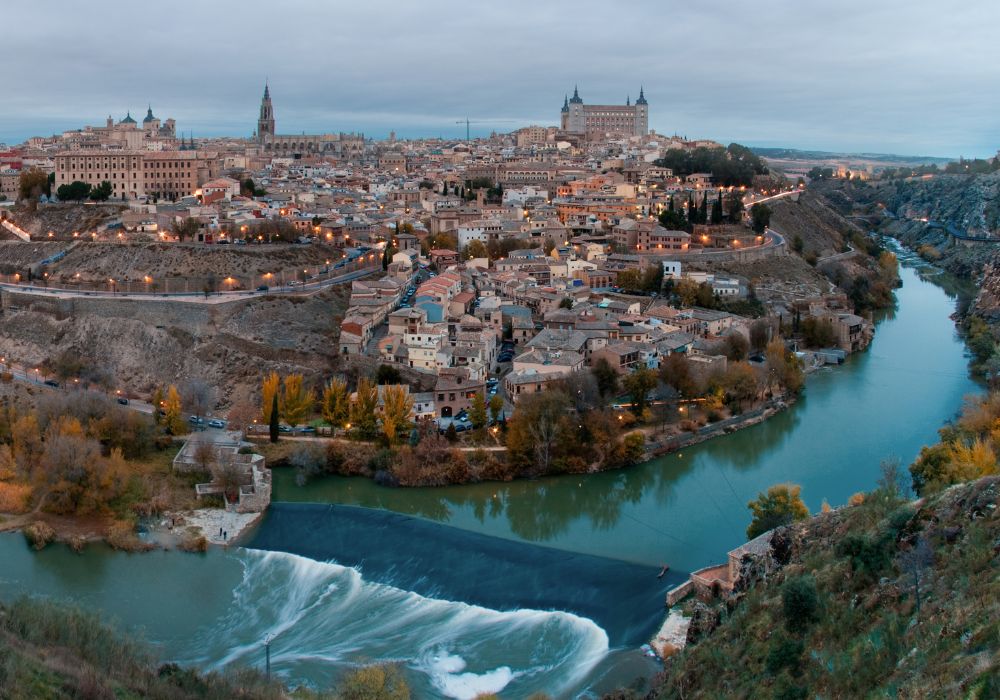 To get a mix of history and gastronomy, take this Wine and Tapas tour of Toledo from Madrid. You'll and learn about this interesting location while sipping on wine, and snacking on local favorites. Find out more here.
Getting there: By train, go to the Puerta da Atocha station and board the AVANT train, which takes you directly to Toledo (no other stops). Tickets start at €13.90.
If you're driving, head south on the A-42 and you'll be in Toledo in one hour.
Of course, there are planned excursions you can sign up for to get the most out of the day trip to Toledo.
This highly-rated tour of Toledo includes visits to the prominent Cathedral, the 13th century Santa María La Blanca synagogue, and a visit to El Greco's The Burial of the Lord of Orgaz. You'll also visit Segovia and Avila (optional). Click here to learn more about this interesting day trip from Madrid.
2. Segovia
In a similar vein to Toledo is Segovia – another one of Spain's world heritage cities. The prominent Alcázar fortress claims the best views of the city, but many who visit are equally impressed by the remarkably intact Roman Aqueduct that dates back to 50 A.D.
Segovia is easily walkable, and among the twisting streets and various balconies, you almost always have a picturesque view.
With that in mind, you'll want to take in the sights at all times during your day trip, so here are some restaurants that offer outdoor seating:
Restaurante Narizotas
Asador David Guijarro
Restaurante Teteria Tuma
Getting there: You can drive, take the train, or join a day trip.
Driving will take you about an hour and fifteen minutes, via the A-6 and AP-61.
Taking the train to Segovia is easy enough. Start at the Chamartín-Clara Campoamor station and board the AVANT train. Get off at the Segovia Guiomar and transfer to the Yellow 12 bus for a non-stop ride to the José Zorrilla station. From there, you can walk into Segovia. The whole journey takes one hour.
Another option is to take this day trip with a guide, which includes transportation, tickets, and visiting Segovia and Avila. If you'd rather see Segovia and Toledo on a day tour, this is an excellent option.
☞ SEE ALSO: 15 Best Things To Do in Barcelona
3. Aliva
Aliva, located northwest of Madrid, is yet another world heritage city.
Its walled perimeter instantly transports you back to its medieval roots, and the 1.7-kilometer walkway along the walls is open to the public. The cathedral, allegedly Spain's oldest Gothic church, is built into the city walls.
When it's time to eat, check out any of these delicious stops:
Gloria Bendita (traditional Spanish food)
El Molino de la Losa (Steakhouse – definitely a splurge as it's pricey)
Revolutum (Casual bites, like salads and burgers)
If you're there in the summertime, the city hosts plays and performances that are open to the public.
Getting there: Aliva is a bit of a haul from Madrid so prepare and plan accordingly. Getting there will take around 5 and a half hours by car on the A-1. A better option to have everything arranged for you so you can sit back and relax is this excellent day trip.
4. Salamanca
At this point, it'd be easier to point out which cities in Spain aren't World Heritage sites. But, just one look at the awe-inspiring sandstone architecture that composes Salamanca gives it away. The city is over 2,000 years old, pre-dating any occupation by the Romans.
You'll want to spend most of your time in the old city, which is home to the University of Salamanca, and the old Cathedral. Like Madrid, Salamanca has a Plaza Mayor which serves as a scenic place to grab a bite and people-watch.
If you're looking to switch it up from gazing at architecture, check out the Museum of Automobile History to see vintage luxury and racing cars, or go to the Museum of Contemporary Art, which heavily contrasts the motifs of this ancient city.
Getting there: Drive from Madrid to Salamanca on the A-6 and A-50. The trip takes a little over 2 hours.
Salamanca is one of the better day trips from Madrid by bus. You could take one from the Moncloa station to Salamanca which will take 2 and a half hours and cost $26.
5. Patones De Arriba
Take a day to hike up to the old mountain town of Patones De Arriba. Its mountaintop was so secluded that it operated as it's own independent kingdom until the 18th century.
Passing by olive groves and remnants of shepherd's huts, you can't help but feel like you're being transported back in time.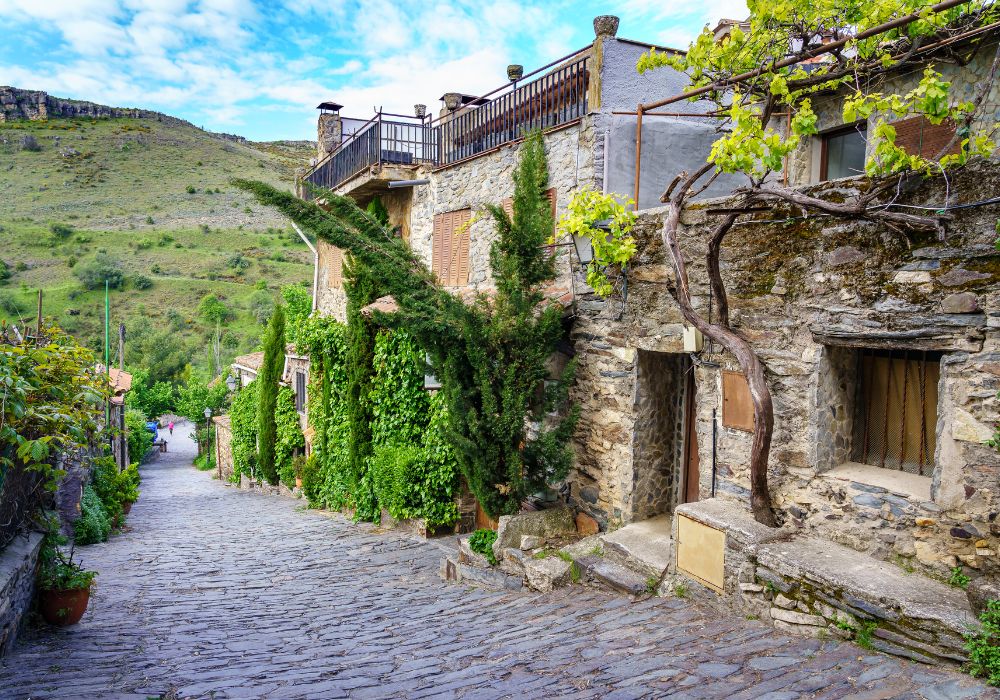 Assuming you've worked up an appetite during your hike up to the town of around 520 inhabitants, stop in to refuel at El Lavadero de Patones or El Rey de Patones. Both offer affordable and delicious steaks, Mediterranean dishes, and more.
Getting there: By bus, go to the Castellana – Nudo Norte station in Madrid and ride the ALSA 197 to Malacuera-san Francisco, then transfer to the 197 bus and ride until the Patones-av. Madrid stop.
6. Córdoba
Córdoba is located in the sunny (or sunnier) south of Spain. The city was a focal point for the Romans, and later the Moors, as made evident by the impressive mosque-turned-cathedral which has stood since 784 AD.
To explore the sights of the city, you can take this fully guided walking tour, or opt for a bike tour that hits the highlights of Córdoba.
Foodies in Córdoba should check out this wine tasting, or go for the olive oil tasting to really hone your palette. If you're looking to get your hands dirty, take this paella cooking class and learn some skills to take home with you and share.
Getting there: You can take the train from Puerta De Atocha to the Cordoba-Central station. The prices range from $60 – $110, and the ride will take an hour and forty-five minutes.
By bus, go from the South Bus Station in Madrid to the Córdoba Bus Station. The trip takes roughly 4 hours and costs $20 – $30. By car, take the A-6 to E-5. The drive will take approximately 4 hours.
7. Royal Palace of Aranjuez
As one of the shorter day trips near Madrid, the Royal Palace of Aranjuez is an easy addition to your itinerary.
The palace is one of the places that the Spanish royal family calls home – mainly during the spring months. It was built during the reign of Philip II in the 16th century, around the same time he moved the capital of Spain from Toledo to Madrid.
To get the most out of your visit to Aranjuez, make sure to see the following:
Plazuela de la Mariblanca
Chapel of San Antonio
Courts of Aranjuez
Plaza de Couples
Royal Palace (of course!)
The Kings and Queens' garden
To fuel up along the journey, you'll be stopping at various tapas bars for drinks and food. A day trip like this is a fun and easy way to explore a lot of what's just outside of Madrid.
Getting there: By car, take the A-4 to the E-5. The trip will take 50 minutes. By bus, take the green 432 bus down to the Infantas-estacion de Autobuses, which is a short walk from the Palace.
8. Cuenca
The city of Cuenca is perched atop the mountains in eastern Spain. It was established back when the Moors occupied the country.
Many of the houses take after the castles and churches of other cities around Madrid in that they're built along the edges of cliffs. A walk on the San Pablo Bridge will give you the best views of the cliff houses (aptly named the "hanging houses").
You could also spend some time at the ruins of the Cuenca Castle, but make sure to check out the secret tunnels that Alfonso the 8th had constructed during the Spanish civil war.
If you want a fine dining experience, reserve a table at Figon Del Huecar or Trivio. For budget-friendly eats, go to Meson Fidel or Meson El Tormo.
Getting there: Driving to Cuenca from Madrid will take about 2 hours along the A-3 and A-40. I recommend taking the train for ease – begin at Puerta De Atocha in Madrid, and in 54 minutes, you'll be at Cuenca Fernando Zobel.
Puerto de Navacerrada is part of the Guadarrama Mountains and it offers some casual slopes for a day of light skiing.
If you're not visiting in the winter, you can still take the chairlift up for a scenic ride, or hike up the 1,858-meter mountain (there are three different hiking trails).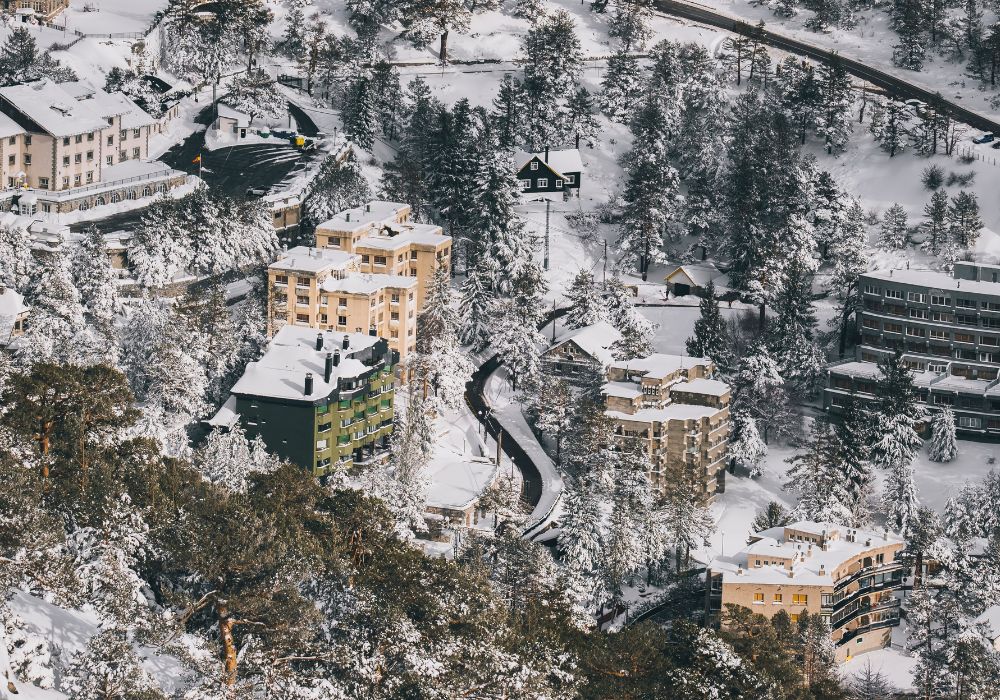 Getting there: If you're driving, take the A-6 to the M-601 which will take you about an hour. Otherwise, you can take the green 691 bus from Moncloa from Puerto de Navacerrada which will be roughly an hour and a half ride.
10. Valencia
Located on the southeastern coast of Spain, Valencia was built up at the junction of the Turia River and the Mediterranean Sea.
Valencia boasts numerous museums, beautiful beaches, and is the birthplace of paella; making it one of the best weekend trips from Madrid.
Regarded as one of the more bike-friendly cities in Europe, getting a lay of the land on this popular bike tour is a great start to your day trip.
If you're looking for more active experiences, you could take this walking tour of the city, or just hangout at the beach.
Otherwise, explore the various museums that the "City of Arts and Science" has to offer, including:
The Art and Science museum
Almoina Archeology Center
National Ceramic Museum
Museum of Military History
Museum of Modern Art
and many more…
Within the center of Valencia is Blanqueries, a Michelin-starred restaurant offering modern cuisine in an environment that's casual enough for a decently dressed traveler.
If the timing works out, go to Valencia during the "Las Fallas Valencia" festival in mid-March.
This party stretches over five days to welcome the spring season and is celebrated with colorful costumes, floats, and a boatload of fireworks. Las Fallas attracts over 2 million people per year, so the city reserves hundreds of streets for pedestrian traffic only.
I had the pleasure of being among those 2 million people a few years ago. The parade floats are more works of art than floats, the crowds at times mimic those of Times Square on New Year, (as a heads up, kids get a kick out of wantonly tossing percussive fireworks on the streets).
Getting there: By train, start at the Puerta de Atocha station in Madrid and get on the AVLO train to Valencia, which runs non-stop to the destination and gets you there in under 2 hours. Tickets can range from around $40 to highs of $100 and more, so plan accordingly.
Driving is a less appealing option as taking the A-3 will take a little more than twice as long as the train, at 4 hours in total.
11. Hiking Trails Outside of Madrid
Some of the best day trips around Madrid include various hiking trails and a short ride outside the city. Chief among them is the Sierra de Guadarrama National Park.
The park is home to numerous hiking trails of varying difficulty, with some of the shorter ones taking two and half hours, and the longest taking around 5 hours.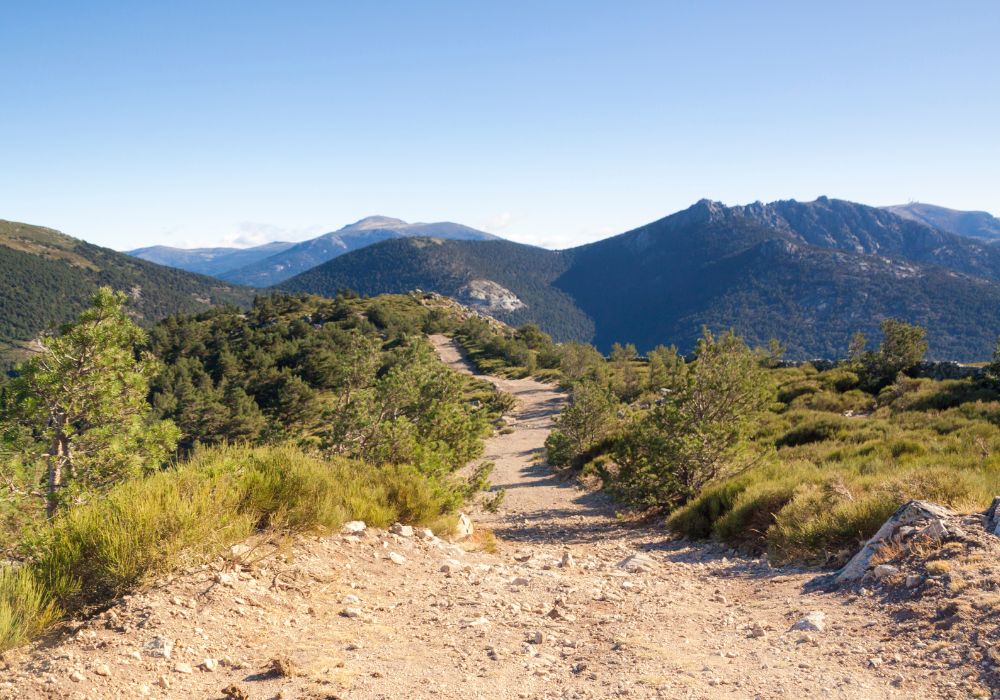 Make sure to bring food and water, as there are limited options once you're out there.
Getting there: Driving takes an hour and forty-five minutes via the A-6 and M-604.
Or, you can catch the Green 691 bus near the Moncloa station in Madrid, which despite having 23 stops to Ctra. valdesquí-puerto de Cotos only takes an hour and forty-five minutes.
12. Seville
As the largest city in southern Spain, Seville has a lot to offer and is certainly worth a visit.
Some of its top sites include the Real Alcazar of Seville (you may recognize the area from Game of Thrones), the Plaza de Espana, and the park of Maria Lusia.
Get a guided tour of the city on electric scooters to help beat the heat and once you've soaked up the sun, hone your cooking skills in this paella workshop.
After building up an appetite, check out these great restaurants:
Bodega Palo Santo
La Sede
Infanta Sevilla
Antonio Jesus of Oducia
Pizzeria da Simona
Getting there: Driving takes about 5 hours along the A-4 and E-5. Taking the train from the Puerta De Atocha to Sevilla-Santa Justa takes just 2 and a half hours. You can also take the bus from South Bus Station to Sevilla Coach Station, but the trip is over 6 hours long.
13. Bilbao
An industrial port town with a resurgence of culture, Bilbao is a great day trip from Madrid. Bilbao's Guggenheim museum is the main attraction, but along with its art scene comes a great restaurant scene.
Foodies should check out this fun food tour with wine!
To get a lay of the land, amble about the city (Bilbao is very walkable), or hop on the recently installed Metro system. However you get around, make sure you stop by the old town.
Getting there: The bus will take you 4 hours and 15 minutes from Madrid, and is pretty cheap (tickets max out at €45, and sell as low as €19). The train ride is just under 6 hours and averages around the same price as the bus.
14. Valley of the Fallen Monument
The Valley of the Fallen Monument stands an hour outside of Madrid. It's a somber memorial with a dark history, a history that tends to be overshadowed by World War II.
The monument is closely related to Francisco Franco, the dictator who ruled Spain from the end of its civil war in 1939 until his death in 1975. The monument was built under his regime and is the resting place of over 33,000 people, most of which were victims of Franco's militant forces.
Franco described the monument as "an act of atonement", and it even served as his resting place, albeit temporarily. Given the juxtaposition of Franco sharing a tomb with people he victimized, public outcry led to the removal of his body years later.
Getting there: Driving to the Valley of the Fallen will take you about 50 minutes via the A-6.
Otherwise, you can take the train from Principe Pio in Madrid to El Escorial, then take a cab to the monument – all of which takes around an hour.
15. Wine Country
Madrid (the autonomous region, not the city itself) is home to some world-renown wines. The vineyards responsible for these famous grapes are a short day trip from Madrid.
To learn about (and taste) a lot of wine, you can book a wineries tour which departs from the city of Madrid. You'll visit three vineyards, try wines of all varieties, and learn about the history of winemaking in Spain – you can't go wrong!
Getting there: Booking the wineries tour is the best way to see numerous vineyards and the trip is only 40 minutes outside of Madrid.
☞ SEE ALSO: 15 Romantic Activities in Barcelona
FAQs About the Best Day Trips from Madrid
Here are some answers to commonly asked questions about day trips from Madrid.
1. Is Valencia a day trip from Madrid?
Valencia can be a day trip from Madrid as the train ride is only 2 hours. However, given the number of museums, beaches, and city markets, it may be better as a weekend trip from Madrid.
2. Is Salamanca a day trip from Madrid?
Salamanca is one of the best day trips from Madrid. At 133 miles (214 kilometers) away Salamanca is fairly easily accessed from Madrid.
3. Can Seville be a day trip from Madrid?
If you take the train (2 and half hours), Seville can be a day trip. However, it couldn't hurt to make it a weekend trip out of it so you don't feel rushed.
4. When is the best time to visit Madrid?
Some of the best months to visit Madrid are April, May, September, and October. These months have great weather while avoiding the peak heat of the summer.
Now You Know the Best Day Trips From Madrid
Madrid's central location primes it for great day trips. From outdoor adventures to historic cities, there are day trips around Madrid that suit every kind of explorer.
If you have enough time when visiting Madrid, make sure to include some of these day trips into your schedule.
If you had a great day trip from Madrid and it's not on this list, let me know in the comments!
Like This Article? Pin it!