Teaching English in Madrid, Spain is a solid way for ex-pats and digital nomads to earn some money whilst exploring the city.
Compared to most of western Europe, Spain doesn't have as many English speakers. This is particularly true for Madrid, which has an older population that didn't grow up learning English. As a result, TEFL jobs in Madrid are in demand.
I taught English for a few months while living in Madrid as a student. It was a rewarding experience, and the extra income was certainly welcome.
So, if you're looking to earn some money while travelling, or living abroad, read on! Madrid is one of the best places to teach abroad.
Here's my guide to teaching English in Madrid, Spain
About Teaching English in Madrid
There are ample opportunities to teach English in Madrid. This is due to the high rates of unemployment in Madrid.
While the employment data has improved over the years, there are still a lot of native Spaniards who are hoping to expand their job prospects by learning English.
With an emphasis on learning English in schools and for working professionals, you can find yourself teaching English to any age group.
Plus, some of these programs have high turnover rates, (it is a travel job, after all), so even if you don't start teaching at the beginning of the school year, you could get called in at any moment. Check to see if your program or various schools have waiting lists that you can get on.
While living in Madrid, you can expect to be immersed in culture at every turn, surrounded by gorgeous architecture, and of course, spend your evenings dining on numerous tapas and fantastic wine.
Not to mention, there are many fun day trips from Madrid for you to enjoy on your days off.
You'll meet many people while teaching in Madrid, both locals, expats, and fellow teachers as well. It's always fun to enjoy a night out in Madrid with new friends!
At around 3.5 million people, the population of Madrid is quite large, but you can still find some quiet places. Considering the city is the economic, political, and cultural center of Spain, the cost of living here is affordable compared to other European capitals.
☞ SEE ALSO: 12 Best Companies to Teach English Online
Qualifications for TEFL Jobs in Madrid
You can get a TEFL job in Madrid fairly easily, assuming you have a visa or student visa.
You don't need a four-year degree to teach English in Spain unless you apply for specific programs, (more below). You will need a TEFL certification, but that can be obtained through various short courses or a series of classes.
For an affordable 120-hour TEFL, have a look at MyTEFL. For a Level 5 TEFL course, the TEFL Academy is the best option (and typically discounted at 60%). And, if you're looking for a more in-depth, affordable course, check out Uni-Prep.
I took four in-person classes over two weeks to get mine, so the barrier to entry is simple to meet. Since I was on a student visa, I couldn't work more than 20 hours per week.
If you plan on working more than 20 hours, then you will need to get a working visa, (assuming you aren't an EU citizen, in which case you're exempt).
How To Get a Job Teaching English in Madrid
There are a couple of approaches you can take to teach in Madrid. Let's review some of the options.
1. North American Language and Culture Association Program (NALCAP)
Given the high demand for native-speaking English teachers in Madrid, the Spanish government has created the North American Language and Culture Assistants Program, or NALCAP, to help attract teachers.
The program will pay around €700 – €1,100 per month. This amount isn't quite enough to live in Madrid without roommates, but you can always seek out private tutoring gigs in addition to this.
NALCAP will assist with your visa setup and fees, which can be very reassuring. You do require a four-year degree for this program, however.
Lastly, you're not guaranteed a spot in Madrid, but you can select both the region and type of school by order of preference. The earlier you apply, the higher the likelihood you'll end up in Madrid.
2. Unión Cooperativa de Enseñanza de Trabajo Asociado de Madrid (UCETAM)
Another option specific to Madrid is UCETAM. They have various tiers of pay depending on how many hours you'd like to work, which grants a good deal of flexibility.
With UCETAM, you won't be the only teacher in the classroom so you don't need to worry about going it alone.
3. Canterbury English
Canterbury English is the program I used to find my TEFL job in Madrid. I was part of a study abroad program that had an existing relationship with Canterbury English, which made getting started a breeze.
They also have virtual TEFL certifications which allow you to prepare ahead of your visit.
3. International TEFL Academy
The International TEFL Academy covers more than just Spain, but you can certainly be placed in Madrid through this program.
You can earn your TEFL certification and teach entirely online, which can help expand the number of jobs you work, even if all of your online students are in Madrid.
This is one of the most highly acclaimed TEFL companies around, with excellent student reviews.
The Academy is highly rated and they have a lot of resources to help you throughout the TEFL process. Again, it's not specific to Spain, so you might miss out on some of the perks that the federally sponsored programs have.
4. TEFL-Madrid
TEFL-Madrid is a four-week on-site course that combines seminars and live interaction with its students as part of the 120-hour curriculum.
As there's no online option, TEFL Madrid helps a lot with the paperwork and visa side of the operation.
They also partner with an English teacher recruitment agency, so you'll benefit from guaranteed job interviews with local schools.
5. Council On International Educational Exchange (CIEE)
CIEE requires a little more planning as they take applications for the following year, but it's a good option nonetheless.
The standard teaching course includes 130 hours online, 20 hours in-person, and costs $1,100. They have a more flexible self-paced option that only costs $300 and takes 60 hours.
Summary for Finding Teaching Jobs in Madrid
With the exception of one-on-one tutoring, when you're teaching in a public school you won't be the only teacher in the classroom.
Given the part-time nature of the teaching jobs, you'll most likely be an assistant teacher to a Spanish-speaking teacher. Oftentimes, you won't have to deal with grading or disciplining the students, which can save a lot of stress.
Regardless of the option you take, make sure to do your due diligence before agreeing to a teaching position. You want to find a company that will pay well, land you in the schools and areas you want, and serve as a consistent source of work and income.
How Much Do English Teachers in Madrid Make?
If you sign up through the federally sponsored NALCAP program, you can expect to earn €700 – €1,100 per month. That payment is a stipend, so you're exempt from taxes.
If you have roommates, this amount should be enough to live in Madrid, but you won't be living in excess. Rather, it's a good way to maintain your bank account.
In non-classroom, one-on-one environments like I experienced, I earned €20 per student per hour. As I was tutoring two students, it came out to €40/hour and I was paid in cash.
The best way to make money in a TEFL job in Madrid is to land one of the sponsored programs where you're placed in a school, then pick up some tutoring side gigs to supplement your income.
Let's go through an example of how much you could make.
If you work the sponsored job for 16 hours per week, which at best tops out at €1,100 a month, and you manage to pick up an additional 4 hours of private sessions per week at €20 per hour, (€80 per week/€320 per month), you'd end up making €1,420 per month.
Not bad for 20 of work a week!
Pros and Cons of Teaching in Madrid
Of the various ways to make money abroad, how do you know if teaching English is the right choice? Let's review some of the pros and cons so you can make the best decision for you.
Pros of Teaching ESL in Madrid
Here are some of the upsides of teaching English in Madrid.
1. Earning Income While Traveling
Perhaps the most obvious benefit is being paid to live and work in a foreign country.
Despite being the nation's capital, the cost of living in Madrid is manageable, so a TEFL job is enough to experience the city and a good chunk of all it has to offer.
If you missed out on an opportunity to study abroad, (which can be very pricey!), TEFL jobs are a great way to spend extended amounts of time in Madrid whilst making money.
2. There's a Strong Job Market
English is the closest thing to a global language there is – it's spoken in most parts of the world, used heavily in international business and scientific communities, and more.
With that, comes an extremely high demand for English teachers. You'll have plenty of job opportunities for TEFL jobs in Madrid, so you can be certain the TEFL course you take won't go to waste.
3. Immersion in the Local Culture
As an English teacher in Madrid, the school setting will expose you to countless aspects of the local culture.
You'll see first-hand how the school systems differ from what you grew up with – the class size, curriculums, and how students interact with teachers; it'll all be a new experience.
As you interact with the teachers, you'll learn how working professionals in Madrid live their daily lives. Chances are, you'll be invited to their local spots – skipping the tourist traps entirely.
These insights will be unique to your TEFL job – these are things that remote workers in Madrid may miss out on.
4. Flexibility
TEFL jobs tend to come with a good amount of flexibility. So, if you need to pick up a little extra cash, or pad your bank account, you can largely control how much you're working.
Between all of the ways to earn a TEFL license, the various settings you could teach English in, (school, private tutor, etc.), and the general flexibility with hours you can work, you're in control of most of the process yourself.
5. Teaching Experience
Whether it's your first TEFL job or one of many, the teaching experience is always valuable. Not only will you learn a lot while on the job, but it'll make it easier to get other jobs teaching English and you could even potentially raise your rate.
6. Learning the Local Language
While you're working to teach others English, you'll invariably pick up a lot of the Spanish language. You'll use it day in and day out, and that much practice will really help your language skills.
7. International Experience
Memorable life experiences like this also come with the benefit of intriguing people you may meet later in life. Even if you're back in your home country, doing something other than teaching, your TEFL experience can serve as a good rapport builder.
It's a story people tend to be interested in, and it's often a good experience to list when applying for schools or programs. You may be surprised with the lasting benefits of your time as an English teacher abroad.
Cons of Teaching ESL in Madrid
All jobs have their downsides – let's review some of the cons of TEFL jobs in Madrid.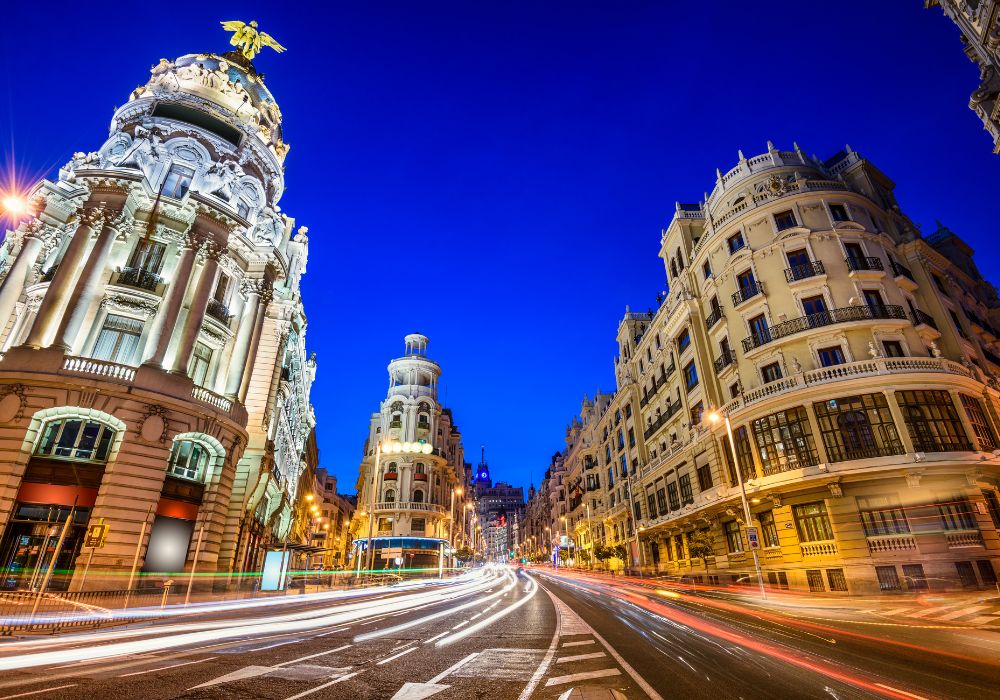 1. Teaching Can Be Hard – Particularly For Your First Job
Teaching English is widely available around the world, so it's understandable that a native English speaker could think it's an easy enough job. However, teaching requires its own skills that take time to hone.
It's not as simple as showing up and speaking English – you'll have to lesson plan, make changes on the fly in the classroom, explain abstract linguistic concepts, and much more.
2. Getting Paired with Various Age Groups
When I was working my TEFL job, I was assigned to tutor a pair of sisters; one was in third grade, and the other in first. They were at different ability levels and it was difficult to keep both engaged and interested simultaneously.
I didn't anticipate that kind of setup, so it didn't go particularly well as I wasn't best prepared.
For me, figuring out how to teach different ages (and English levels) at the same time was a challenge I experienced while teaching English in Madrid.
If you're better prepared than I was and have some ideas for English games and lessons that would work for a range of age groups, you'll be fine.
3. Not Teaching The Age Group You Were Expecting
If you end up teaching an adult who's trying to learn English for their career, you can expect a good amount of dedication and effort.
If, however, you're teaching a young student, you may face a whole other set of challenges.
Not only did I not have prior teaching experience, but I'd never worked with kids in any capacity before that. It was a stark adjustment.
Of course, there are always people who are eager to learn at every level, but I found some kids were just watching the clock until the lesson ends.
Remember how you felt about school growing up, and try to adapt your teaching methods accordingly.
4. You May Not Be Able to Pick Where You Teach
When I was teaching one-on-one, my student's family lived way out on one of the Metro lines. It took me roughly an hour each way – which certainly cut into the value of the hourly pay rate.
If you can't find a remote TEFL job in Madrid, then make sure you factor in the costs, (both time and money), of your commute.
5. It May Not Pay Enough
While teaching English is definitely a good way to make money, it may not be enough to live exceptionally well in a city like Madrid. If you have lavish travel goals, you may want to look into other ways of making money while travelling.
Conclusion
I hope you enjoyed this guide to teaching English in Madrid, Spain. Madrid is a fantastic city, and the demand for English teachers is high, so it's a great spot to pick up a TEFL job.
A lot of the programs will help you get a visa, line up job interviews, and of course, train you to work with students. The more you can get out of the training, the better your initial teaching experience will be.
The pay is modest, but with some basic budgeting, you can certainly get by and still enjoy most of what Madrid has to offer.
Teaching English in Madrid will present a vast array of exciting opportunities – I wish you the best of luck with your journey!
Like This Article? Pin it!