In this complete guide, you'll learn what it's like to live in Madrid, Spain, as a digital nomad.
Expat life in Madrid means being immersed in rich architecture, delicious cuisine, and incomparable nightlife – all without breaking the bank.
Whether working remotely, or picking up local gigs, Madrid is a fantastic place for expats to live. I spent 5 months living and working as an English teacher in Madrid and really enjoyed my stay in the city.
Spain has many excellent cities for digital nomads, with Madrid being one of them.
Let's dive into the insights of costs, accommodation, things to do, and more when living in Madrid, Spain.
About Living in Madrid
Founded in the 9th century, Madrid has grown into the cultural, economic, and political center of Spain. The city population is around 3.5 million, and that number climbs to 6.7 million when you include the greater metropolitan area.
Its relatively high elevation of 2,000ft above sea level, often brings cool mornings for most of the year, accompanying the famous Spanish heat.
You won't be lacking for sunny days in Madrid, which explains the black-out shades that are commonplace in bedroom windows across the city!
Among the grand attractions Madrid has to offer are moments of bliss. Be it a glass of freshly squeezed OJ to start your day, an array of complimentary tapas with a glass of Rioja wine, or the eclectic street markets.
In short, expat life in Madrid doesn't disappoint. Not only is it a beautiful city filled with things to see and do, but there are lots of great day trips from Madrid also. Let's get into the details of living in Madrid as a digital nomad.
Cost of Living in Madrid
For a capital city, Madrid isn't nearly as expensive as other Western European capitals. Even after rent, groceries, and a few restaurant visits, you'll likely find that you have plenty of flexibility within your budget. Overall, Spain is one of the cheaper European countries to visit.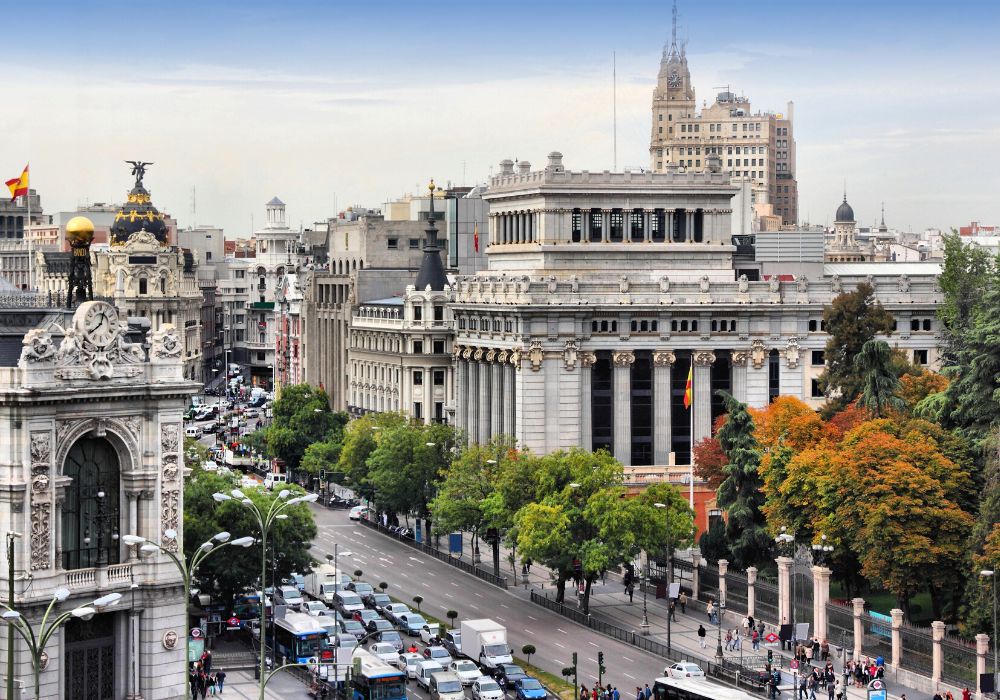 Cost of Rent in Madrid
Studio and one-bedroom apartments can range from €900 – €1,600 per month. Generally speaking, the closer you are to Puerta del Sol, or Retiro, the more expensive apartments are.
Cost of Groceries in Madrid
The groceries and markets are delightfully affordable across all categories. Here are some prices for popular grocery items in Madrid:
Loaf of bread (baguette): €1
Kilo of Chicken (2.2 pounds): €4,25
Water (1.5 litre bottle): €0,65
Mid-Tier Bottle of Wine: €5,00
Domestic Beer (1/2 litre): €0,90
1/2 Kilo of most produce (onions, lettuce, tomatoes, oranges, etc.): €0,60 – €0,90
As you can see, cooking at home won't eat up much of your budget. The produce is fresh, and the alcohol is affordable – what's not to like?
Cost of Transportation in Madrid
Getting around Madrid is a breeze, thanks to their top-tier Metro system.
A monthly metro card, with full access to all forms of public transit in the city center, costs €54,60. You may pay differently based on age or zone, but it won't be more expensive than the city center pass.
A one-way ticket will cost you €1,50, so if you're not riding public transport every day, paying for individual rides might be best.
Other Common Costs
Here are the prices for other expenses you may be interested in:
Gym membership: €42
Movie Ticket: €9
Fast Casual Restaurant: €13
Combo Meal at Fast Food Restaurant: €8
Monthly Internet: €30 – €50
Overall, Madrid is reasonably priced for expats, but there are a few things to avoid.
For starters, skip restaurants directly located in touristy spots like Plaza Mayor and Puerta del Sol to avoid steep price hikes.
Spain has a steep retail tax, (called "IVA"), that charges 18% on retail sales. It's something to keep in mind if you want to go on a shopping spree.
Learn more about the cost of living in Spain, here.
☞ SEE ALSO: 15 Romantic Things To Do in Barcelona
Best Areas To Live in Madrid
If you're planning on living in Madrid as an expat, it helps to know some of the best neighbourhoods to live in.
Here's a breakdown of the top 5 neighbourhoods, (in no particular order), for digital nomads.
Sol
Any digital nomad looking to be in the heart of the city should set roots in Sol – assuming you're ok with being in a busier area.
The central location of Sol means ease of access to just about anywhere in Madrid.
Retiro
In addition to being park-adjacent, Retiro offers a neighbourhood that's often overlooked by tourists, despite its authentic restaurant scene.
Retiro is among the quieter neighbourhoods in Madrid, yet its charm still comes through in full force.
Malasaña
Malasaña is teeming with energy. Expats living in Madrid that wish to be steps from cafes, vintage stores, and raucous nightlife should consider this vibrant neighborhood.
Lavapies
As Madrid's most diverse neighbourhood, Lavapies is a powerhouse of food, music, and more. As an added bonus, Lavapies offers expats cheaper rent options, and bar tabs!
Salamanca
Feeling fancy? Salamanca is the place for you. Sitting on the north side of El Parque de Retiro, Salamanca is home for many of Madrid's wealthier residents. Here, you'll find luxury boutiques and high-end restaurants.
How to Find Accommodation
There are a handful of fast and easy ways to book long-term rentals in Madrid. Here are some of the top options:
5 Best Things to Do in Madrid
There are many things to see and do in Madrid, whether you're visiting for a weekend, a month, or living here, don't miss out on these top 5.
Parque del Retiro
Walking the Parque del Retiro, (or simply "Retiro"), is a great way to spend a sunny afternoon. The immaculate gardens and grand sculptures make for memorable sightseeing.
Make sure to check out the Palacio de Cristal, (Crystal Palace), which is an iron and glass building marked as a World Heritage Site by UNESCO.
Bike Tour
A bike tour is a great way to see the core sights of Madrid in a few hours. A standard bike tour will get you to Retiro Park, Puerta del Sol, the Royal Palace, and the Plaza Mayor. Each of these spots are must-sees during your first trip to Madrid.
Visit the Museo del Prado
As Spain's national art museum, the Museo del Prado is home to one of the finest collections of European arts, with works spanning from the 12th century, right up to the 20th.
Fans of art history, particularly works of Goya and Diego Velázquez, can marvel at the volume of famous paintings that adorn the walls.
Located a few blocks from Retiro park, the Museo del Prado is easy to get to, and is a great attraction to build into your itinerary.
Watch a Real Madrid Game
Little compared to the energy of 81,000 Real Madrid fans during a match at Santiago Bernabéu Stadium. The student section constantly pounds on an array of drums, and the rest of the fanbase can be heard chanting, singing, and generally going wild. Simply put, futbol is religion – and it makes for a one-of-a-kind experience.
Eat at the World's Oldest Restaurant
Join a long lineage of diners by having a meal at El Sobrino de Botín – the world's oldest restaurant.
Alongside its record tenure is its famous dish of suckling pig. The staff showcase this dishes' tenderness by cutting the pig with a dinner plate, whilst a small authentic band fills the space with lively music.
Despite its often famous clientele and world-renowned reputation, El Sobrino de Botín manages to avoid price-gouging its diners – making it a must-see for travellers of all budgets.
☞ 15 Best Things To See and Do in Barcelona
Transportation in Madrid
Getting around Madrid is easy. Here are a few of the most popular modes of transport.
Flying into Madrid
Madrid's main airport is Adolfo Suárez Madrid Barajas, (MAD), but it's locally known as simply "Barajas".
From there, you can take the 8 line on the Metro, (the light pink line), or the N27 bus to any number of connecting routes that will get you into the city. Either method will take roughly an hour.
Madrid's Metro System
Madrid's Metro, (subway), runs from 6am to 1:30am every day. There are 15 lines, marked by colour and number, that serves over 300 stops. It's very clean and well-lit too, making it the preferred method for getting around the city.
The Metro is closed between 1:30am and 6am daily, which is important to note for anyone interested in nightlife; specifically when considering leaving clubs.
Spaniards do things much later than most other countries – getting to a club before 2:30am instantly puts you as a tourist. So, if you're out clubbing – expect to take a taxi home.
Taxis & Rideshare Services in Madrid
There are some ridesharing apps available in Madrid, including Uber and Cabify. Lyft is not yet available in Spain.
There are, of course, standard taxis, (which in Madrid, are white cars with green top-lights), that accept both cash and card payment. Tourists are better off using rideshare apps since they provide more transparency in price, and additional safety features.
☞ SEE ALSO: Top 12 Things To Do in Seville, Spain
Food and Dining out in Madrid
Madrid boasts a great culinary scene. From churros to paella, tapas to shawarma, and not forgetting world-class wine, foodies will fit right into Madrid. Some of the best food in the world can be found in Spain.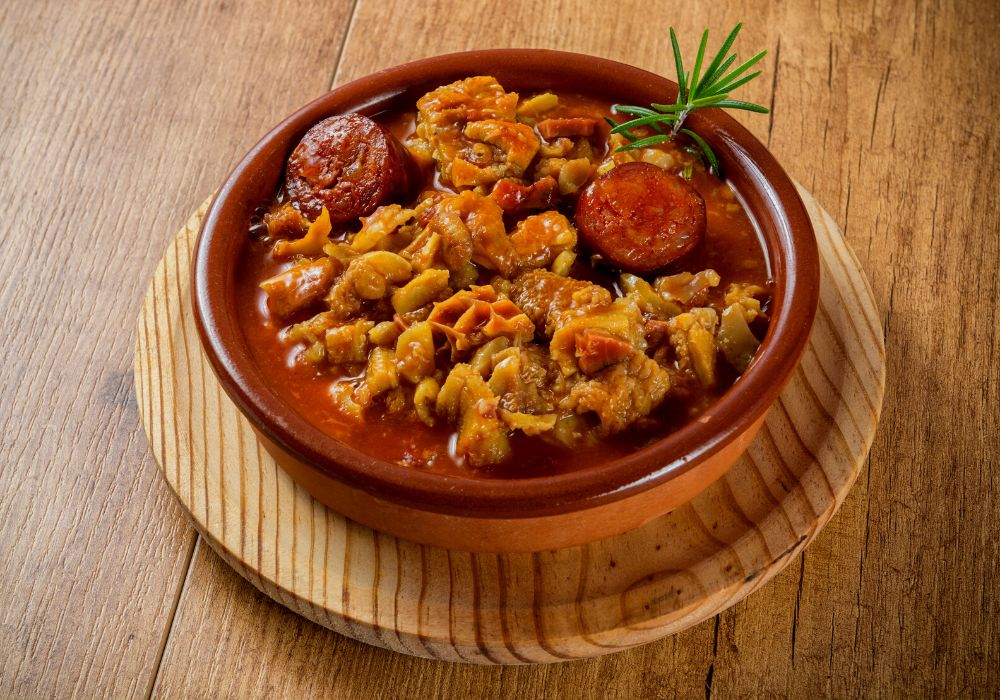 Quick Dining Tips in Madrid
It's worth noting Spain's peculiar eating habits, especially if you're someone who eats early and often.
Let's review some of the key differences for dining in Madrid:
People regularly eat dinner at 10pm – many local restaurants don't open until 8pm.
Ordering a "coffee with milk" will get you a 50/50 blend of the two ingredients; request milk on the side.
Tips aren't expected, but a 10% tip can be a nice gesture.
Service is slow – locals will often spend hours sipping a drink or two, and the pace of service reflects that.
Most Famous Foods in Madrid
Every city has its signature dishes, and Madrid is no different. Here are some of the meals and drinks that are the cornerstones of Madrid's cuisine:
Paella – a seafood and rice dish that comes jam-packed with any combination of seafoods, as well as chicken, other meats, and veggies.
Sangria – a blend of red wine and soda, with various fruits and spices.
Tapas – tapas isn't a specific food, but you'll often be pleasantly surprised to receive a small plate of food to snack on, (for free!), when ordering drinks.
Zumo or jugo de naranja (orange juice) – as a major producer of oranges, nearly every coffee shop or restaurant has made-to-order orange juice. You can't be the freshness, or the flavour!
Must-See Tapas Restaurants in Madrid
Casa Toni – Despite being in the tourist center, Puerta del Sol, Casa Toni offers a gimmick-free authentic tapas experience without the touristy price tags.
El Tigre – This makes the list for its sheer volume of tapas. A drink costs €10, and it comes with a massive plate of bread, cheese, and cured meats. I've even received a second plate entirely free on occasion! As a standing-room only venue, you're bound to meet new people when visiting.
Taberna Real – Located by the royal palace, this tapas bar was once the quarters for palace servants.
Cultural Differences in Madrid
Every place has its quirks. Whether interesting, surprising, or off-putting, here are some cultural differences that are prevalent in Spain:
PDA (Public Display of Affection)
In Madrid, it's very rare for friends, family, or partners to ever visit someone else's apartment. As a result, you'll frequently see couples passionately kissing in public places.
Nobody Cleans Up After Their Dog
It helps to keep an eye out for dog mess in Madrid – people don't really clean up after their pets.
Staring Isn't Considered Rude
If you're on the Metro and somebody is looking directly at you, don't worry – they may just be lost in thought and happen to be looking in your direction. To the people of Madrid, it isn't rude or discomforting to stare.
Siesta Is Taken Pretty Seriously
Siesta, in essence, is a nationally recognised nap time. It stems from the days before air-conditioning when it would simply become too hot to focus in school, or to conduct business.
So, between 2pm and 4pm, people went home to have lunch and cool off. That tradition has mostly carried over into the modern day, and for someone that's used to around-the-clock access, it can be inconvenient.
For example, I went to the second largest commercial district on a Saturday afternoon to buy shoes, and nearly every store was closed for an hour or two. Plan accordingly!
Is Madrid Safe?
Madrid is a very safe city overall, but be wary of pickpockets – particularly in the busy tourist destinations like Puerta del Sol, and the Plaza Mayor.
Be particularly mindful in busy areas, and take caution of people getting into close proximity when innocently asking for things such as a lighter or directions. Be more aware when in clubs especially, as you're naturally closer to one another, and are often drinking.
To put your mind at ease, police do actively combat pickpocketing where it's most prominent.
Ideally, you will never have to experience pickpocketing, but it's an unfortunate reality when living in Madrid, and other major cities. Stay vigilant, and always keep backup documents and money at home.
Pros and Cons of Living in Madrid
Living in Madrid can be an experience like no other, which of course comes with its pros and cons. Here are some of the key upsides, and downsides of life in Madrid.
Pros of Living in Madrid
Clean, safe, and efficient public transportation
Short flights to most of Europe
Great weather for most of the year
Great food and wine
Great (albeit late) nightlife
High demand of native-speaking English teachers
Cons of Living in Madrid
Pickpocketing is common
Older population leading to high unemployment
Madrid shuts down during the daily siesta
What is the Visa Situation?
Here's some information about obtaining a visa to live and work in Spain.
Length of Stay with Spanish Visa
While Spain doesn't currently offer a Digital Nomad Visa, U.S. citizens (and citizens from many other countries) can enter Spain for tourism or business for up to 90 days without a visa. If you want to stay any longer than 3 months, you'll need to apply for a visa.
Required Documents for Spanish Visa
To apply for a Visa, you'll need:
Application Form
Passport
Additional passport-quality photo
Flight information (arrival & departure)
Proof of accommodation (hotel booking, airbnb receipt, even an email from your host family works)
Medical certificate
Proof of financial means
As with any important document, having backups is crucial. Make digital and physical copies of everything you can in order to prevent potential issues during the application process.
For more information, have a look at this post.
FAQ's About Expat Life in Madrid
Here are some answers to commonly asked questions about expat life in Madrid.
How much do you need to live comfortably in Madrid?
If you're living alone, you can live comfortably on roughly €1400 – €1800 per month.
As is the case everywhere, sharing a living space will cut costs down to something even more affordable.
Keep in mind, the average salary in Spain is €23,000. So expats with remote work from higher-income countries can live well in Madrid.
Is Madrid good for expats?
Madrid has a huge international community which makes it great for expats.
Madrid is safe, affordable, and easy to get around – all whilst experiencing a plethora of sights and activities.
Furthermore, you can sign up for "Intercambios" around the city. These casual events pair native English speakers with native Spanish speakers. You'll spend time speaking only English, and time speaking only Spanish. It's a fantastic way to meet locals and practice your language skills!
Where do most expats live in Madrid?
Expats with a bigger budget tend to stay in Sol, for its centralised location and access to bars/restaurants. Other expensive neighbourhoods include Retiro, since it surrounds the park.
Malasaña is an up-and-coming neighbourhood, packed with art and trendy cafes, and is a bit cheaper to live in.
Lastly, for those looking to save money, Lavapies is the most affordable neighbourhood in Madrid. There are nearly 100 different nationalities living in Lavapies, which means great restaurants and cultures are in abundance.
Is Madrid Expensive to live in?
Madrid is fairly affordable for a capital city in Western Europe. Not including rent, (which can range from €900 – €1,600), you can expect to have around €700 in expenses.
For expats deciding between Madrid and say, Paris or London, Madrid is the obvious choice for affordability.
Conclusion
Madrid is an often overlooked beacon of culture in Southern Europe, but any expat living in Madrid will quickly learn how much it has to offer. It's no wonder that Ernest Hemingway called Madrid "the center of the world."
Whether you're into food and wine, sports, art, history – the list goes on – Madrid offers it in magnitude. The ease of public transport, and moderate cost of living, makes it an ideal location for remote workers and wandering travellers alike.
Like This Article? Pin it!