Seville, the cultural gem of Spain and hands down one of my favorite cities in the world. Filled with breathtaking architecture, picturesque streets, passionate locals, and ancient traditions. There is no shortage of things to do in Seville.
From stunning palaces and bustling markets to soulful Flamenco performances, and mouthwatering tapas bars, there's enough to do in Seville to fill a month-long visit.
Seville not only offers fantastic sights and tourist attractions but is also extremely affordable when compared to cities like Paris, London, and Barcelona.
After multiple visits to Seville, I keep expecting it to lose its charm or become one of those cities that is hyped up in my memories. Instead, I fall more in love with Seville each time I visit.
This city is not to be missed and should be included in every Spain itinerary. As an added bonus, Spain is one of the cheapest European countries to visit and offers excellent value for money.
Continue reading to discover the 10 best things to do in Seville. These sights and activities are not to be missed during your visit and will give you a healthy taste of the city and everything it has to offer.
1. Walking Tour or Bike Tour
A walking or bike tour is one of the best things to do in Seville to get oriented with the city and learn interesting history and cultural facts along the way.
The local guides are passionate about their city and a great resource after the tour for recommendations on restaurants, bars, and their favorite hidden gems.
Try to schedule your tour on your first day. This will allow you to get comfortable with the city layout, which is especially important for Seville. The city center and ancient neighborhoods like Santa Cruz can get a little confusing with the twisting narrow streets.
Seville is the perfect city for a biking or walking tour. All the main sights are easily within walking distance and the highlights of Seville can be covered in one walking tour. Check out the free walking tour, which starts at Plaza del Salvador at 10:00, 11:00 and 2:00pm.
The only problem with free walking tours is that there can be a lot of people joining. Another great option is this highly rated (and affordable) walking experience with a local guide.
A bike tour is a great alternative if you want to explore a little further out, like the Triana neighborhood across the river. I joined this 3-hour bike tour which covered a lot of ground and wasn't too difficult if you aren't an experienced rider.
The tour departs from Mercado Arenal at 10:30 every day and costs around $30. One of my favorite parts of this tour was riding through Maria Luisa Park and learning about the buildings representing countries like the United States, Peru, and Portugal.
2. Visit Barrio Santa Cruz
Wandering around the Santa Cruz neighborhood, or barrio, is easily one of my favorite things to do in Seville. Feel free to get lost in the narrow twists and turns in Seville's Jewish Quarter, with Calle Agua and Calle Mateos Gago being the two main streets to focus on.
Go early in the morning as this area can get crowded in the afternoon.
Stop at my favorite coffee shop in the Santa Cruz neighborhood, Jester, for perfectly prepared coffee, acai bowls, sandwiches, and baked treats. La Bartola and Vineria San Telmo are my favorite tapas bars for something more traditional.
3. See the Alcazar Palace and Gardens
The Alcazar Palace is one of the most popular things to do in Seville. Buying tickets in advance is a must if you don't want to spend hours waiting in line.
Visit in the late afternoon as tour groups crowd the palace in the morning. The palace is built in a lavish and intricate Moorish style, similar to the infamous Alhambra in Granada.
Plan on at least 2 to 3 hours here as you'll want time to enjoy the lush gardens.
If you're a Game of Thrones fan the palace and gardens will look very familiar as they were the filming locations for Dorne. The general tour with the audio guide is €18.50 with discounts available for students, children, residents of Seville, retired, and disabled people.
The best way to learn about Alcazar is to join an interesting and informative experience with a local guide. This tour is very highly rated and affordable, it also includes skip-the-line tickets, and a 2-hour guided tour.
☞ SEE ALSO: 15 Best Things To See and Do in Barcelona, Spain
4. Visit the Cathedral and Giralda Bell Tower
Like every major European city, a visit to the main cathedral is a must. Book your skip-the-line tickets in advance and plan on spending a good hour here.
The Catedral de Seville is the 3rd largest church in Europe and houses the tomb of Christopher Columbus. Climb the Giralda bell tower, originally a Moorish minaret used to call Muslims to prayer 5 times a day, for stunning views of the city below.
The cathedral is open for visitors Monday 11:00am to 3:30pm, Tuesday through Saturday 11:00am to 5:00pm, and Sunday 2:30pm to 6:00pm. July and August have slightly longer hours. Monday 10:30 to 4:00, Tuesday through Saturday 10:30am to 6:00pm, and Sunday 2:00pm to 7:00pm.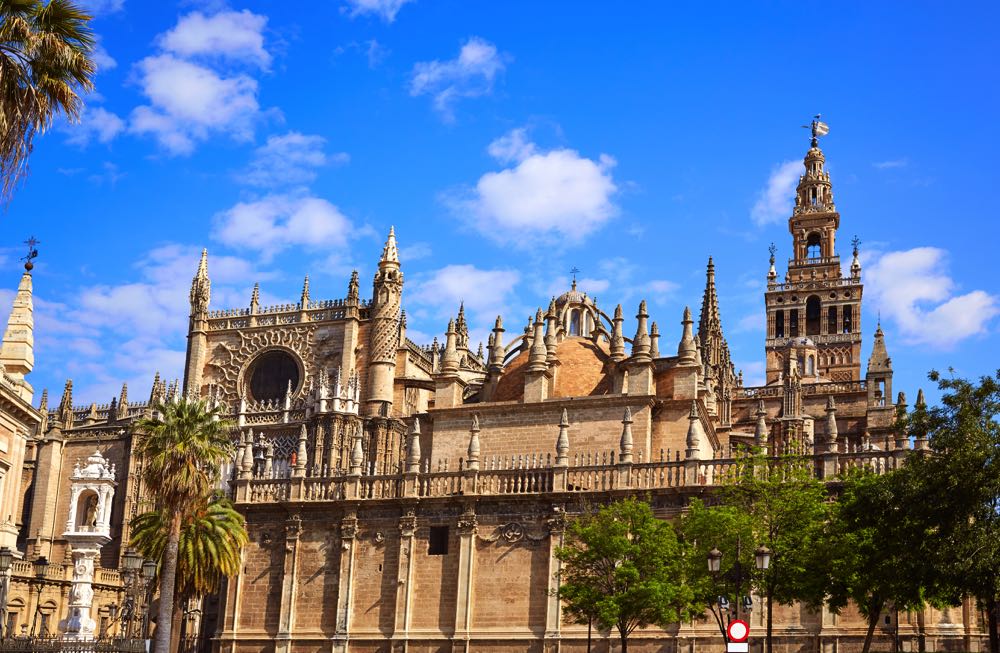 Tickets are €12 with discounts offered for students 15-25, minors 15-17, and retired individuals. Free admission is available to residents of Seville, unemployed, disabled, and children under 14.
Or, if you'd like to join an informative, highly-rated, affordable tour, click here to book tickets.
☞ SEE ALSO: Digital Nomad Guide to Living in Madrid
5. Visit Maria Luisa Park and Plaza de España
Maria Luisa Park is nestled along the river and is just a quick 15-minute walk from the cathedral. This is the perfect place for a morning jog or afternoon stroll. Enjoy the hidden gardens, fountains, and exquisite buildings as you wander around the park.
Plaza de España is the highlight of Parque de Maria Luisa and the all-day crowds prove it. If you want to escape the crowds and get some spectacular photos, go before sunrise.
Not only will Plaza de España be completely void of tourists, but you'll be rewarded by an almost magical sunrise as the sky turns a brilliant pink and blue.
Spending the early morning hours in this park are some of my fondest memories of Spain and easily one of the best things to do in Seville.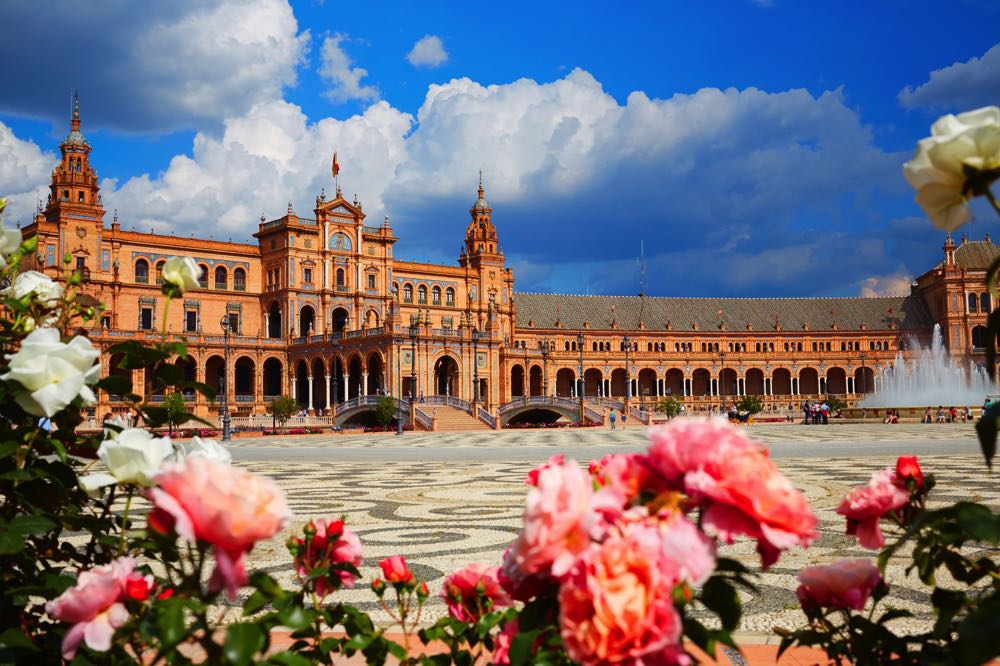 ☞ SEE ALSO: Cost Of Living in Spain – A Guide For Digital Nomads
6. Watch a Flamenco Dance Performance
Catching a Flamenco show while in Seville is a must. Even if you aren't a fan of performances, the intricate footwork, heartfelt guitar strumming, and passionate singing mixed with improvisation and traditional rhythms will entrance any spectator.
Clap along to the beat and partake in a tradition that plays a major role in Seville's soulful culture. Watching a Flamenco show is one of the cultural things to do in Seville that you won't want to miss.
La Casa del Flamenco is a formal show in the courtyard of a 15th-century residence. They offer shows at 7:00pm and 8:30pm (some days a 5:30pm show is also offered) in autumn and winter. 7:00pm, 8:30pm, and 10:00pm are the available showtimes in spring and summer. Tickets are €20.
La Carboneria Bar is a casual and lively option where admission is free. Locals showcase their skills and there is always an enthusiastic crowd. Shows don't usually start until around 7:30pm. Arrive at least 20 minutes early to get a good seat. Check their Facebook page or call +34 954 22 99 45 to confirm what time the performance will start the night you plan on visiting.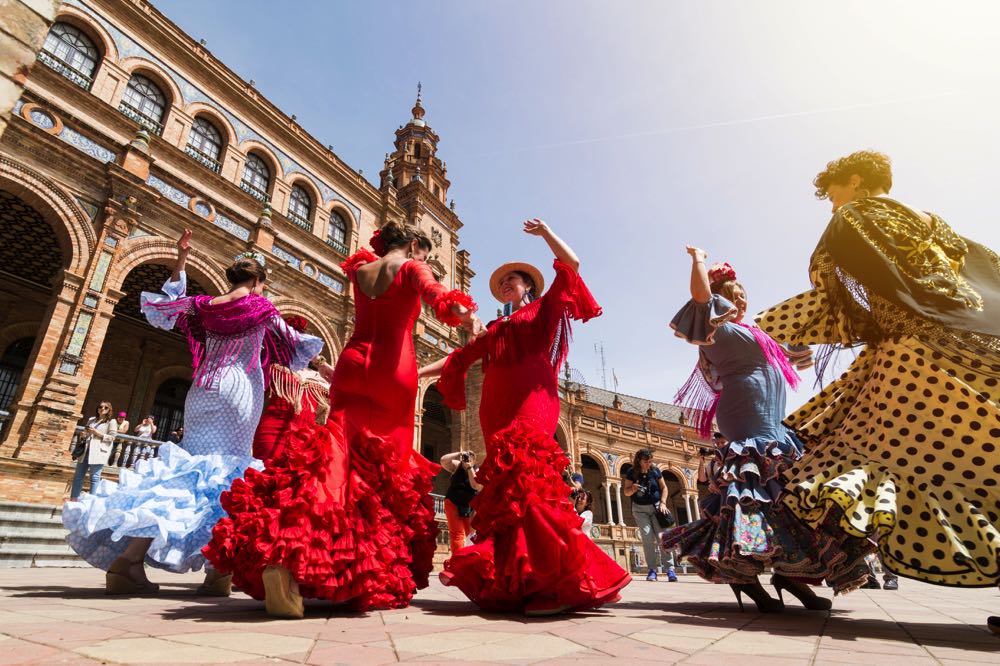 Another great option for the Flamenco show is this experience. At around $25, it's a great price and includes a drink, plus meeting the artists at the end.
7. Go On a Tapas Crawl
No visit to Seville is complete without a tapas crawl or two. Pick a neighborhood and hop from bar to bar. Order a sangria and one to two tapas at each spot before moving on to the next. This is a fun way to experience several restaurants and bars in one night. La Bartola, Vineria San Telmo, and Bodega Santa Cruz Las Columnas are the best tapas bars in the Santa Cruz neighborhood.
Las Columnas is more for the experience than the food as it's usually packed with locals and tourists and the prices are cheap. Duo Tapas, Antojo, and Eslava are some popular options in the Feria barrio. Do as the locals do and start your tapas crawl around 9:00pm.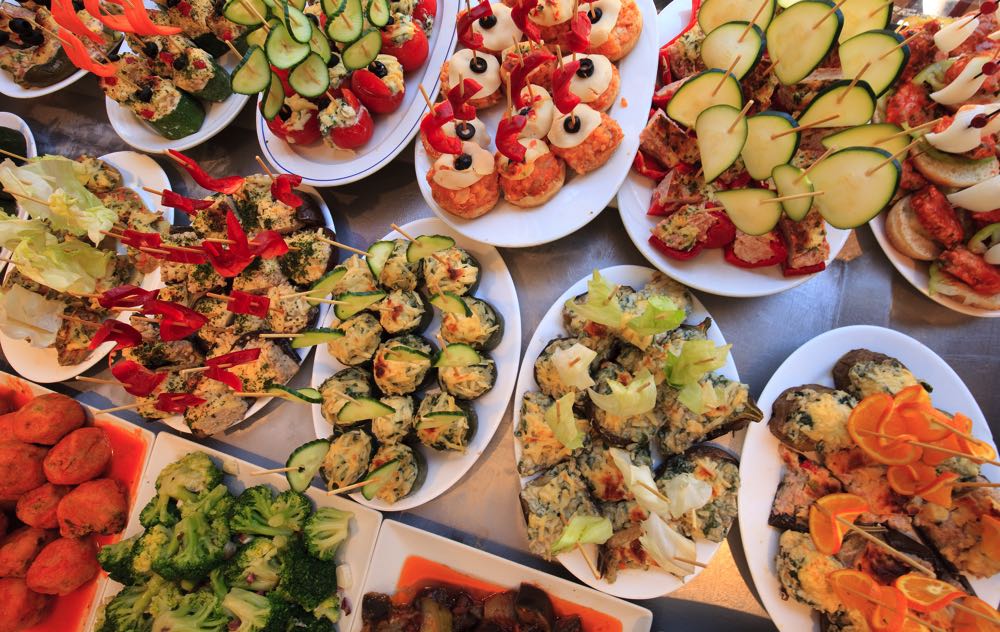 ☞ SEE ALSO: 15 Best Things To Do in Madrid at Night
8. Sip on Rooftop Cocktails
Seville has several rooftop bars right next to the cathedral. Sunset is the perfect time to enjoy views of the city and then watch as the cathedral is lit in a golden glow from the lights below. La Terraza del Eme at Hotel Eme and La Terraza Hotel Dona Maria are closest to the cathedral and offer spectacular views.
Keep in mind that prices will be higher at rooftop bars because you are paying for the view, but it's absolutely worth it at least once during your trip.
Depending on where you go you can expect to pay around €9 – €15 for a drink. To save money, skip the cocktails and order a beer or glass of wine. Read this post for the top 5 rooftop bars in Seville.
The best value way to enjoy drinks on a rooftop is to join this experience. You'll be on an exclusive rooftop, sipping on sangria and/or wine, and eating olives and cheese. All for just $25. Find out more and reserve your spot here.
9. Shop at The Mercados
Seville has several food markets worth visiting. The two best markets are Mercado Lonja del Barranco and Mercado de Triana. Mercado Lonja is a renovated food hall located right along the river and the perfect stop for lunch.
If the weather is nice, sit outside on the patio and go for a walk along the river after your meal of tapas.
Choose from traditional items like paella and croquettes to sushi, bao buns, and gelato. This market has something to please everyone's tastes and preferences.
Mercado de Triana is located on the other side of the river in the Triana neighborhood. This is a traditional market where you will find locals shopping for fresh produce, meat, and other staple items. Grab some picnic items to-go and walk around the neighborhood once you're done browsing the stalls.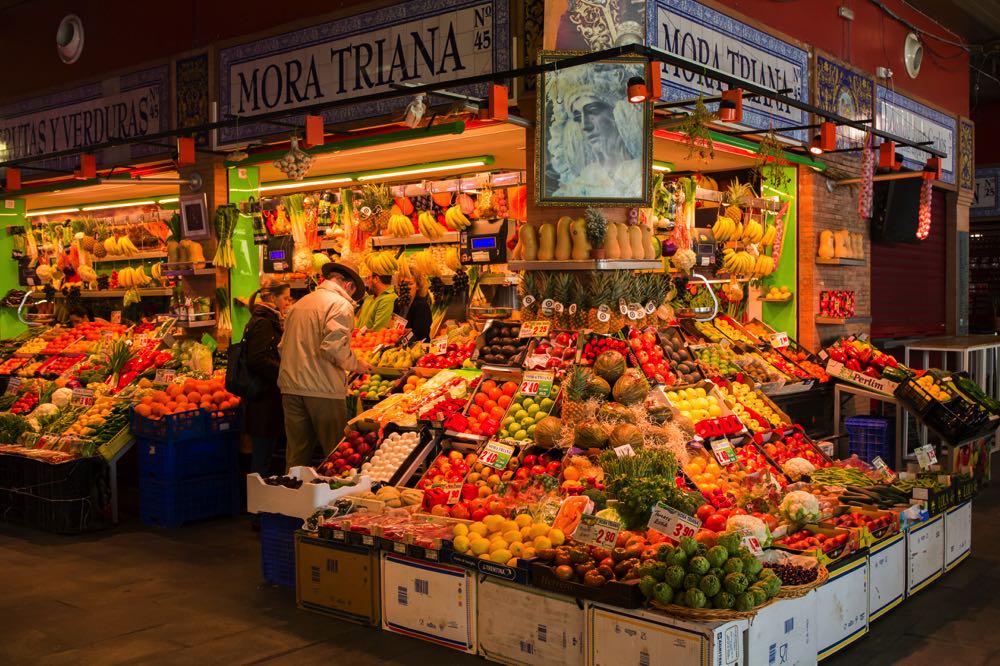 10. Check Out The Setas de Seville
The iconic Setas de Seville, or Seville mushrooms. This large wooden structure is located in Plaza de la Encarnacion and resembles, you guessed it, mushrooms. Snap a pic of this quirky modern square.
Walk through the market selling trinkets and snacks below the wooden canopy or visit the rooftop for views of the city. Stop at Virgin Coffee around the corner for a quick pick-me-up after your visit and continue down Calle Regina to explore the Feria neighborhood.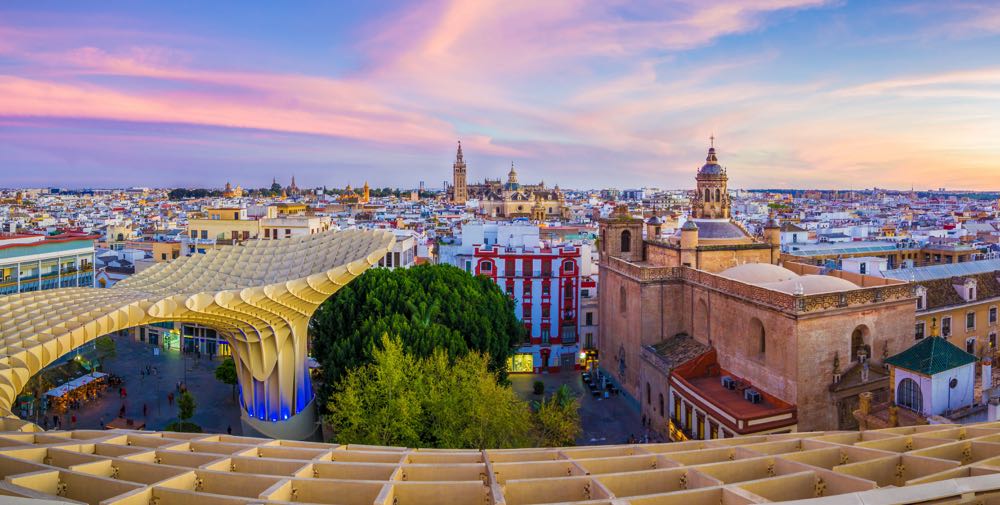 11. Eat Churros con Chocolat
Atrip to Seville is not complete without partaking in the tradition of churros con chocolat. Bar el Comercio is the best place to get churros in the city. These are actually some of my favorite churros con chocolat in all of Spain!
The hot chocolate is thick and perfect for dipping and the churros are the big fat kind that arrives piping hot. These are not the churros we are used to in the USA where they are thin sticks covered in sugar and cinnamon. These churros are the traditional kind with no sugar and made fresh all day long.
Spaniards typically do not eat churros and chocolate past 11:00am and this is not something they eat often. Many locals will joke that they would be fat if they ate these all the time.
If you have churros once during your trip to Spain, make it be at Bar el Comercio. You won't be disappointed!
*If you aren't super hungry order the half portion. This smaller portion is still plenty big to share between two people.
12. Wander Around The Triana Neighbourhood
Located on one side of the Guadalquivir river, the Triana neighbourhood can be reached by crossing one of the city's many bridges. This traditional neighbourhood has narrow streets and several ancient churches. A castle that was used during the Inquisition is located in this area as well.
Don't miss the traditional Mercado de Triana near the Isabel II bridge, which is known for its amazing food and eateries. Some of the city's most tasty tapas are served on the many terraces that have views towards the Guadalquivir river.
After having dinner, you can visit an authentic flamenco bar. Don't miss the Triana Neighbourhood, a visit here is one of the top things to do in Seville.
A great way to explore the Triana neighbouhood while learning about the sights along the way is to join this tour. You'll learn about the historical importance of the area and the market from the knowledgeable, friendly guide and then cook a delicious meal after.
☞ SEE ALSO: Weekend in Madrid – The Perfect 2 Day Itinerary
Tips For First-Time Visitors to Seville
I recommend a minimum of 3 nights, preferably 4, to really experience Seville. This will allow enough time to experience the city and slow down and enjoy the good life, Spanish style!
Take a few walks along the river lined with colorful buildings, visit a few markets, and partake in several tapas crawls.
Getting to Seville
Seville is located in the Andalucia region of southern Spain. If you are coming from outside of Europe the cheapest option will be to fly into Madrid (MAD) and take the 2.5-hour highspeed Renfe train to Seville. If you book tickets in advance you can score tickets for as little as €20.
Trains usually depart from the Atocha train station in central Madrid. Take a 20 minute Uber (around €35-€45) or the 30 to 40-minute metro (around €8). Just put "Madrid – Atocha Cercanias" in your Google or Apple maps app and it will direct you there.
If you are flying from within Europe, you can find flights that fly directly into Seville's airport (SVQ). Grab an Uber for around €10 to get to the city center. Also, take a look at Eurail to see if you can travel to Seville by train.
Getting Around Seville
The city center of Seville is compact and 100% walkable. All major attractions and top restaurants are within walking distance and never more than 20 to 25 minutes away on foot.
Uber is available if you need a lift with your luggage to the airport or train station. Lime scooter also just arrived in the city if you want to scooter around town, or you can always hop on the tram.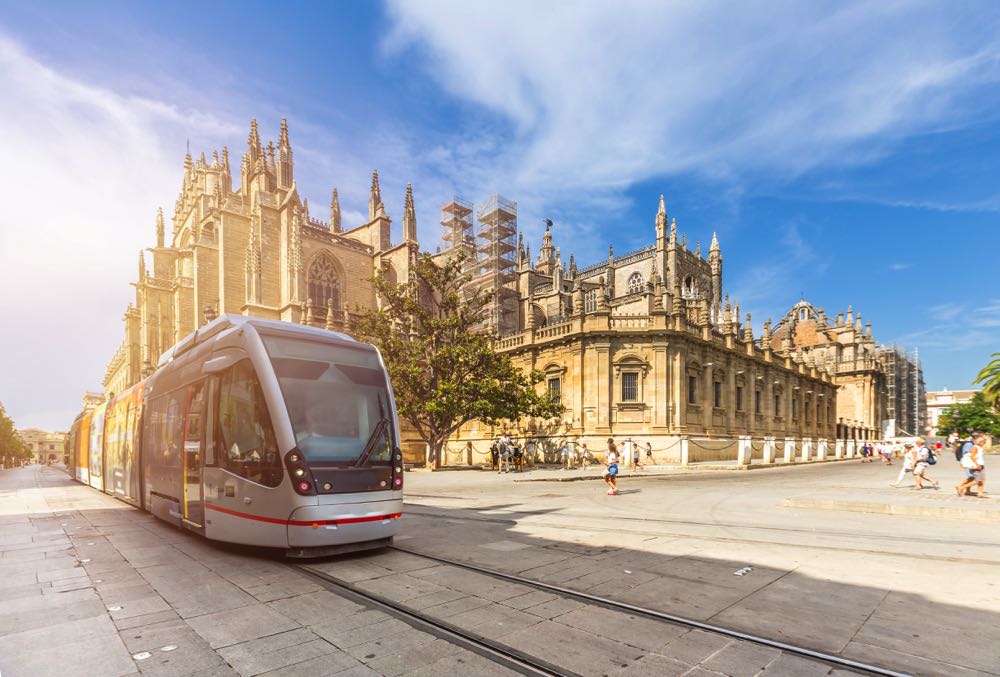 Where to Stay in Seville
If it's your first visit to Seville you will be spending most of your time in the city center. Barrio Santa Cruz is my favorite area to stay as this old Jewish quarter oozes charm and personality.
All the main sights and attractions are minutes away by foot.
I've stayed Hotel Casa del Poeta (which includes breakfast) and loved it. It's a Moorish riad-styled hotel where there is a central courtyard and the rooms circle around it about three stories up. The breakfast was beyond amazing.
The Arenal neighborhood is also an ideal area to stay as it's smack dab in the city center. This is perfect for those that want to go jogging along the river since it's less than 5 minutes away. Hotel Gravina is similar to Hotel Casa del Poeta with its riad styled design.
Click here for a list of the best places to stay in Seville on Booking.com. Seville also has plenty of Apartments to choose from if that's your travel style.
When to visit Seville
My absolute favorite time to visit Seville is spring and fall. The mornings are crisp and the afternoons are warm and sunny. The days are still long and there is plenty of sunshine. The crowds are far less than summer and you'll have an easier time getting into top restaurants and popular attractions.
Spring has a far less chance of rain than fall, which is Seville's rainiest season. If you visit in fall try to go in October where the chance of rain is less. I've actually visited three times in early October and it didn't rain once.
Winter weather is pretty mild, but the atmosphere is a bit drab compared to the other seasons. Many locals stay indoors this time of year so you'll miss out on the fun of evening strolls with streets brimming with locals and restaurant patios packed with patrons.
Summer is hot, often above 100 degrees. Combine that with heavy tourist season and you've got yourself one sticky, stifling, crowded experience.
Reservations and pre-booked tours are an absolute must this time of year. Make sure your hotel has air conditioning and dress in light and breathable materials. Save outdoor activities for the morning and evening and do as the locals do and take an afternoon siesta during the hottest part of the day.
☞ SEE ALSO: 15 Fun Day Trips From Madrid
Now You Know What To Do in Seville
I hope you enjoyed this list of the best things to do in Seville and it helped plan your time in the city. You can easily see all the top sights in three days without feeling rushed. The pace of life is slower in Southern Spain and I highly recommend you follow suit.
Enjoy an evening stroll, sit at a park bench in Maria Luisa Park and people watch, and sip sangria as you plan your return visit to Seville.
I wouldn't be surprised if Seville ends up being your favorite city in all of Spain…like it is with me. The people, traditions, food, views, and way of life in this city is truly something to experience.
If you do ever tire of Seville, Malaga is only a 2 hour train journey away. Its Old Town certainly is a place with plenty to do.
Images in this article are courtesy of Shutterstock. Check them out for beautiful images and videos.
Like This Article? Pin it!