"No dar papaya!" This was a term that we heard many times during our two-day stay in Bogotá. "No dar papaya" is a common saying in all of Colombia, and it directly translates to: "Don't give papaya".
You're probably wondering why you can't share a delicious fruit with someone, but in the case of Colombia, what this saying means is more like "Don't offer up something sweet, or it'll be taken". Be careful and don't make yourself an easy target for theft.
We had been to the infamous city of Medellín and we hadn't had any papaya issues, and we knew to be extra cautious in Bogotá. The receptionist at the hotel we were staying at, our friends who live in Bogotá and numerous Uber drivers told us to be careful with our belongings while in the city.
And you know what? We had no problems whatsoever and actually found the capital city of Colombia to be a very interesting, culture-rich destination with lots to see and do!
The historic old town area of La Candelaria is where all of the cheap hostels are. It's also where you can find most of the sites, plazas, street art and bars. However, we had heard one too many stories of people being robbed in this area, and impromptu hostel drug raids, so we decided to stay in the trendy (more upscale) area of Chapinero, which turned out to be a great idea.
During our stay in the coffee region of Salento, we met up with Andres and Carlos, a couple of guys from the Bogotá who told us to contact them when we arrived in their city. We had instantly hit it off with these guys, and definitely wanted to hangout with them again. So, we messaged Andres on WhatsApp and told him where we were staying. Within minutes he was at our hotel – it turned out that his house was just a 5 minute walk from us.
It was so serendipitous!
There's no better way to travel than with a local, or at least using the advice of a local, and luckily for us, Andres and Carlos were eager and willing to show us around the area. First up was a very cool, dimly lit pub with craft beer on tap. We sampled the honey and ginger beers before moving on to our next stop – dinner with their friends at an Italian restaurant.
We arrived and were warmly greeted by nine people sitting at the table. Andres and Carlos made the introductions and we spent the evening eating fantastic food, enjoying the conversation (many of them spoke English), and drinking lots of red wine. The night was perfect, and we were so thrilled to have been invited!
This is why we travel. It's all about meeting new people and learning more about the countries we're in.
The following morning we made our way to the old town. To get to the La Candelaria area of Bogotá, we hopped in an Uber and (due to traffic) in about an hour we made it there. Even though we were glad to be staying in Chapinero, the old town was very charming.
We checked out the Gold Museum, which has the largest collection of Pre-Colombian gold and other metals, and we wandered around the cobblestone lanes.
Highlights included the candy-cane striped El Carmen Church (Iglesia del Carmen), the massive Plaza de Bolivar and La Catedral Primida which is one of the largest churches in Colombia.
Lunch was also a highlight! At the incredibly popular La Puerta Falsa restaurant we dined on three dishes that are traditional to Bogotá: Ajiaco, Chocolate con Queso and Tamales.
Ajiaco is a chicken, potato and corn soup, with a side of avocado, rice, sour cream and capers. Since Bogotá is at an altitude of 2,644 meters (8,675 feet), having a bowl of piping hot soup was a great way to warm up.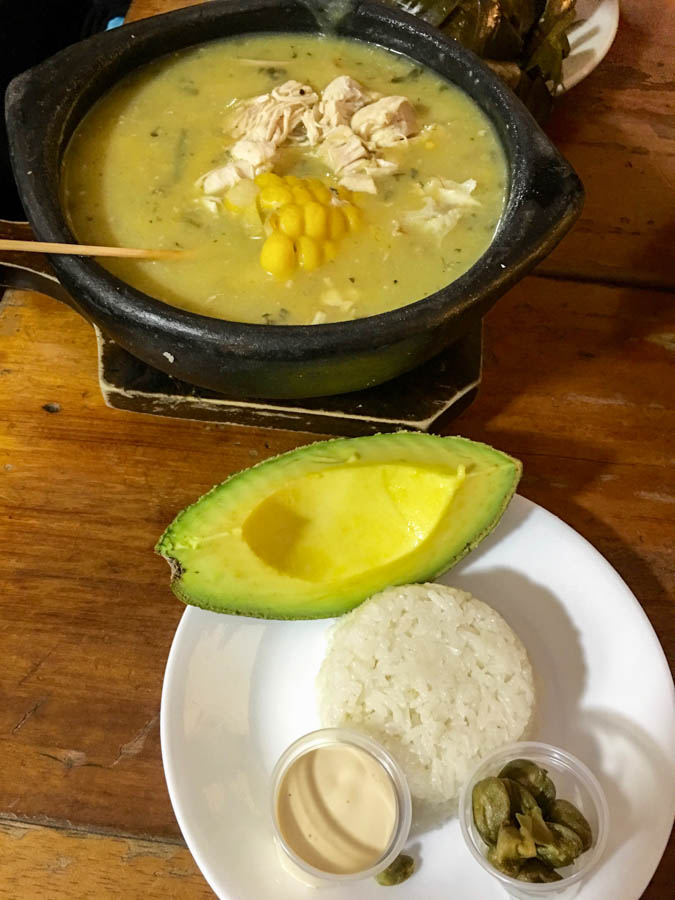 Chocolate con queso literally translates to "chocolate with cheese", and that's exactly what it was. A cup of hot chocolate arrived at the table with a few cubes of white cheese on the side, and some bread. You're meant to add the cheese to the chocolate so that it becomes soft, and dunk the bread into the drink. An odd mix, but tasty!
The tamales here were divine! We've eaten so many tamales in Latin America, we've even made our own in Mexico, but the ones here were the best we've ever had.
If you're going to eat anywhere in the old town and want to sample the traditional dishes of Bogotá, I highly recommend Puerta Falsa. The restaurant was packed with locals and tourists and the turnover is very high. Even if you're waiting in line outside of the restaurant, you'll be inside in no time. For 36,000 pesos ($11.50), we were both full and satisfied.
After stuffing ourselves with delicious food, we made our way to Parque de los Periodistas (Journalists Park), and waited for the free street art tour to commence. We've been on numerous free walking tours and graffiti tours (Plovdiv, Sofia, Tirana, Berlin, Prague, Sarajevo & Medellín), and the maximum amount of people on each of those tours was 25.
For the street art tour in Bogotá, we counted over 60 people!
We thought that this was ridiculous and that there should have been two more guides so that the group could have been broken up into three. But, we stuck with the tour anyways and the massive mob of foreigners made our way down the street to learn about the political and social messages of the artwork found around Bogotá.
Regardless of the size, the tour was actually really good and when we learned about what the street artists of Colombia have gone through in order to be allowed to create artwork, we were blown away. One artist was even shot by the police in Bogotá after being spotted with his spray can.
In 2013, Justin Bieber played a huge role in the Colombian street art scene.
After completing his concert in the capital, the pop artist drunkenly painted a Canadian flag with a marijuana leaf replacing the maple leaf. He created his masterpiece on 26th street in downtown Bogotá.
Surprisingly, in a city where street art was supposedly "illegal", Justin had a police escort while he was painting and a lot of press and photographers were filming "the Beebs" in the act.
Why was it OK for Justin Bieber to "vandalize" the city, while the local artists couldn't?
The Santafereño artists rose up and said "If Justin Bieber can do it, so can we!" The following day, hundreds of artists took to the streets and there wasn't much the police could do. First the group painted over Justin's artwork and the crowd quickly grew.
Soon there were hundreds of artists painting on the 40 meter wall and they continued their creations for 48 hours straight. By the end of it, there was an entire gallery on 26th street and the police were completely helpless to stop it.
And from then on, the question of whether or not street art is legal in Bogotá has been a bit of a grey area.
Even though it was a bit awkward moving around the streets with so many people in our group, the tour was still quite interesting and worthwhile. Many of the cities in Colombia have street art and murals painted on the buildings, which really adds some colour and character to otherwise dull looking neighbourhoods.
We spent just two nights in Bogotá and while we really liked the look of the old town, the great restaurants we found, and our night out with friends, having to be "on alert" and extra cautious was a bit irritating.
Rather than walking, our friends and hotel receptionist insisted that we take taxis, buses or Ubers (even if we were going just down the block). So not only was it a bit annoying not having the freedom to move around as we pleased, it became more expensive (luckily taxis are quite cheap)!
Bogotá is a city that is definitely worthy of a visit and there are lots of incredible sites to see. It's also an excellent place to see a concert or a football game. Many people also study Spanish here. We had no issues with security and if you're mindful of your belongings, and which areas you're walking in, you will be just fine.
Disclaimer: No portion of our stay, food or activities in Bogotá were sponsored. We paid our own way and wanted to share our experiences with you 🙂
Traveller Tips & Advice
Uber is technically illegal in Bogotá, but everyone uses them. Make sure to get in the front seat of the car so it looks like the driver is just driving around with a friend! Rush hour (mornings and after work) the prices are more expensive.
Eat at Wok for really good Asian food (try the Thai red curry!), and at La Puerta Falsa for Colombian food.
The street art tour is free and even though our group was huge, we were told that they normally aren't that big.
We stayed at Viaggio Salle Bed & Breakfast and the room was nice & affordable.
A taxi from the Bogotá domestic airport to the Chapinero area costs around 24,000 pesos ($7.75). There is a line-up of cabs right outside of the arrivals hall. Our taxi used the meter, but we made sure to follow the route on our Google Maps app.
Ask your hostel / hotel where to go and not go. Find out which areas are best avoided.
To move north from Bogotá (Villa de Leyva, San Gil, etc.), head to the north terminal which is actually just a sidewalk with buses lined up. For Villa de Leyva, a minibus costs 22,000 pesos ($7) and takes about 3 hours.
Like this Post? Pin it!