Blending ancient history with sophisticated urban life, Beijing is one of the fastest-growing cities in Asia. Although the cost of visiting and living in Beijing has recently become more expensive, it's still affordable compared to other western and Asian cities around the world.
Your cost of living in Beijing depends entirely on how you choose to spend your money. It's possible to spend a hefty amount on clothes, goods, and food in Beijing (have you ever heard of the thousand-dollar bird's nest soup?). On the other hand, you can spend a mere $4 on a meal, or $15 on a night out.
The truth is, Beijing doesn't have to be that expensive at all, especially if you know what things should cost on average.
I'm here to discuss the actual cost of living in Beijing. I'll explain how much you should spend on rent and food, and what you can expect from living in China's vibrant and historic capital. In this article, you'll get the information and tools to decide if living in Beijing is right for you.
Why Choose Beijing?
When people find out that I lived in China, they're usually curious about a few things.
First, they wonder how an American with zero Mandarin language skills was able to survive in Beijing for a year. That thought is then followed up by questions about cultural differences between Western and Asian cultures. Finally, they want to know about the cost of living, and if Asia is really as cheap as they imagine.
The truth is, there are plenty of reasons to live in Beijing. This bustling city blends ancient, traditional culture with modern, urban life. You could easily spend the day in a peaceful, lotus-filled park, or lighting incense in a colorful Buddhist temple. Or if you prefer, you could hit the town for bargain shopping, gourmet dining, and dancing under the stars. There are endless things to do in Beijing to keep you busy.
China's vibrant capital is ultimately a city that you can make your own. No matter what sparks your interest, you can find it in Beijing! Besides the fun things to do, and the chance to learn about an ancient culture and history, here are a few more reasons to live in Beijing.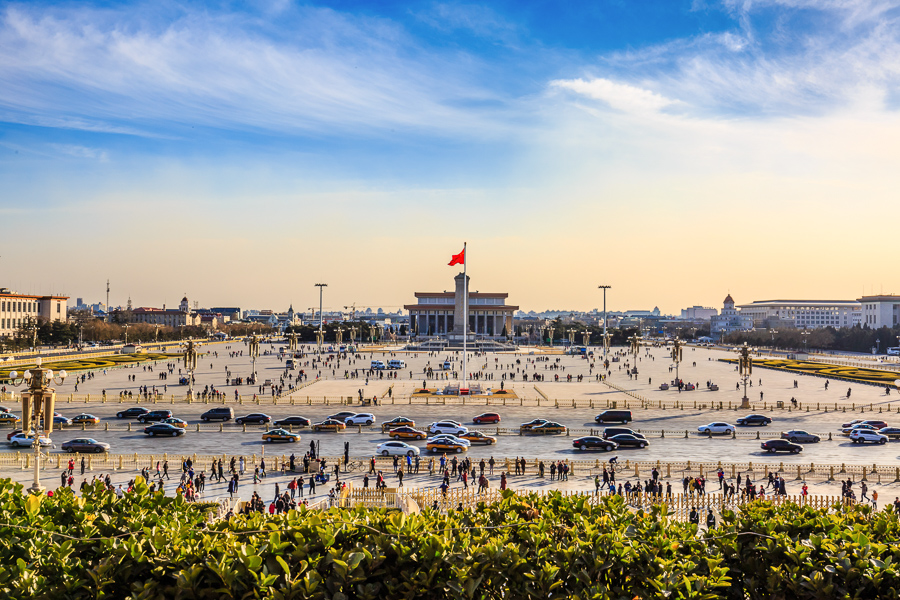 Work Opportunities
Take a look in the classifieds section, and you'll see thousands of job opportunities for expats and English speakers. As one of the biggest cities in China, you'll find that many international companies are eager to set up satellite offices and branches in Beijing. For this reason, there are multitudes of job opportunities for foreigners and English speakers.
It doesn't matter if you're working in tech, finance, or hospitality. If the company is based outside of China, then the primary language of the business is probably in English.
There are also plenty of service-industry opportunities available in Beijing. With the booming growth of tourism, many hotels and shops are looking to hire English speakers.
Teaching English is another popular career, not only in Beijing but all over Asia. In order to study abroad or to increase their hiring potential, Chinese students and residents are eager to learn English from native speakers. You can teach privately, for a school, or even live as an au pair for a family!
Beijing is also an excellent destination for digital nomads. There are plenty of co-working spaces and creative outlets for you to expand your freelancing business.
But don't get me wrong; while English is widely spoken, it's still beneficial to learn Mandarin while living in Beijing. Not only will you gain a deeper appreciation for the culture, but you'll also expand your job prospects with Chinese companies.
Unique Culture
Despite what many people think, Beijing is a diverse and multicultural city. Ever since it hosted the Summer Olympics in 2008, Beijing has seen tremendous growth in tourism and foreign expats.
While it's common to see westerners and other foreigners, Beijing is also an ideal destination for immersing yourself in Asian and Chinese culture. China has done a fantastic job of preserving its traditional heritage.
There are seven different UNESCO World Heritage Sites, including the Great Wall of China, the Forbidden City, and the Summer Palace. If you want a taste of authentic Beijing, then I recommend visiting one of these impressive attractions.
Intertwined with the traditional sites is one of the biggest defining characteristics of Beijing — urbanization. That means you'll see towering skyscrapers and modern highrises dotted in between the centuries-old temples, parks, and pagodas in Beijing. This gives the city an eclectic flair, unlike any other place in the world.
☞ SEE ALSO: The Villages of Dacangzhen: Southwest China's Best Kept Secret
State-of-the-Art Public Transportation
In a city known for its technological advancements, it should come as no surprise that Beijing has an incredible public transportation system. Your options for getting around the city (and getting around China in general) are virtually endless. There are subways, rail trains, buses, taxis, bicycles, electric scooters, and even rickshaws.
Best of all, all these options are relatively affordable. We'll discuss the cost of transportation a little later in this article, but take my word for it; transportation costs in Beijing should be the least of your worries.
On the other hand, there is one significant downside to public transportation in Beijing. With over 21 million residents living in Beijing, transport can be crowded and overwhelming to some. Renting a car or taking a scooter can be dangerous, especially considering how congested and populated the roads are.
Although you might be rubbing shoulders during rush hour or dodging bicyclists during your drive to work, you can still easily get from one place to another.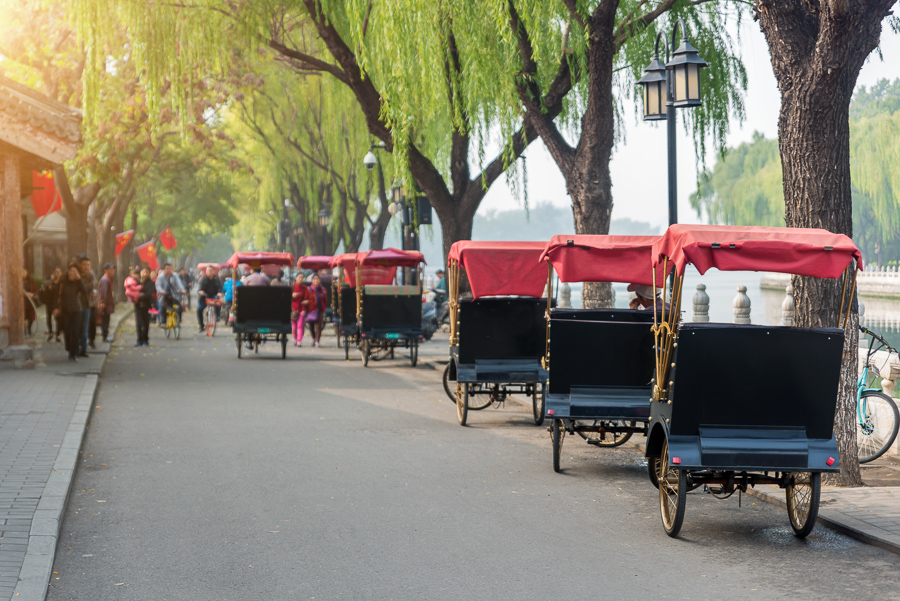 Crime is at an All-Time Low
Beijing is incredibly safe for foreigners, solo travelers, and women. As a young female in my early 20s living in Beijing, I never once felt unsafe walking alone or at night. Serious crime and violence against locals and foreigners are infrequent.
On the other hand, petty theft can be an issue, especially in big cities and touristy areas. However, if you take the right precautions, you can avoid being pickpocketed or robbed during your stay in Beijing.
When you go out, make sure to leave any valuables such as passports, jewelry, and large amounts of cash at home. You should also keep your wallet in your front pocket, or your purse zipped up and in plain sight at all times. By being aware of your surroundings, you can avoid thieves and pickpockets.
Amazing Food and Snacks
Beijing is known to serve some of the most mouth-watering dishes on the planet. From gourmet dining experiences to sizzling street foods, you'll have no problem finding something delicious to eat in China. The only problem you'll have is deciding exactly where to eat!
Food in China is entirely different than the mediocre Chinese food that's probably served in your home country. In Beijing, you won't find Orange Chicken, Beef and Broccoli, or Fortune Cookies on the menu. Instead, you'll have the options of steamed pork buns, spicy noodles, and succulent duck to indulge in.
Besides the plethora of dine-in restaurants, you'll also have access to freshly cooked street food in Beijing. All you have to do is find one of the street carts that whip up meat skewers, savory crepes, and sweet pastries, and you have yourself a cheap and filling meal!
The food here is so amazing that it remains one of my favorite aspects of living in Beijing.
Cost of Living in Beijing
Although many people believe that China is the cheapest country in the world, this reputation has changed slightly over the last few decades. While it is possible to find great deals in Beijing, your cost of living will depend entirely on how you choose to spend your time.
Let's break the expenses and see if life in Beijing is within your budget.
Cost of Accommodation in Beijing
Your biggest expense when living in Beijing will likely be the cost of the rent. There are several different accommodation types to choose from, including private studios, shared flats, and even single-family houses.
Unlike most things in Beijing, the cost of rent is actually very high. To many local residents, renting a flat or house is actually out of the question, since the price is much higher than the average income. However, if you're living on a western salary, you can live quite comfortably in many places in Beijing.
If you're looking to cut down on costs, you can consider sharing an apartment or housing with one or more roommates. You might also look for an apartment outside the busy city center districts.
When it comes to finding a place to live in Beijing, there are several websites to check out.
The Beijinger
is an English website with dozens of furnished and unfurnished apartments added each day. Besides housing, you can also use the Beijinger to find events, employment opportunity, and other items for sale.
The downside to using an English site is that most listings are targeted towards expats, which means prices tend to be much higher. If you know Mandarin (or know someone that can read Mandarin), I recommend using
58.com
or
Soufun
.
If you move to Beijing for work, your employer might help you find accommodation in the city. More often than not, these places are already rented by the company, which means you might have little choice about the neighborhood or facilities in your flat.
Here are some estimates of what you'll spend on accommodation when living in Beijing:
Private 1-bedroom in an expensive area: 7500RMB (~$1000 USD)
Room in shared flat in an expensive area: 5000RMB (~$700 USD)
Private 1-bedroom outside the city center: 4500RMB (~$630 USD)
Room in shared flat outside the city center: 3000RMB (~$420 USD)
Cost of Food and Drink in Beijing
The cost of food will depend on where you choose to eat. You can eat like a King in a hotel or high-end restaurant and pay the same as if you were dining in a western or European restaurant. However, if you know where to look, you can fill up on meals for just a few dollars a day.
If you're looking to save big on food, then eat in one of the smaller, local, family-run establishments dotted around the city. Remember, it's a good sign if you see lots of locals eating there! Just make sure to bring a dictionary or translator, because most local restaurants only have Mandarin menus (if they have a menu at all).
Meal for one in a mid-range restaurant: 30RMB (~$4 USD)
Street food snacks: 10RMB (~$1.50 USD)
Meal for one in an inexpensive restaurant: 20RMB (~$2.50 USD)
3-course meal in an expensive restaurant: 100RMB (~$15 USD)
Bottle of beer: 10RMB (~$1.50 USD)
Glass of wine: 30RMB (~$4 USD)
Bottle of water: 10RMB (~$1.50 USD)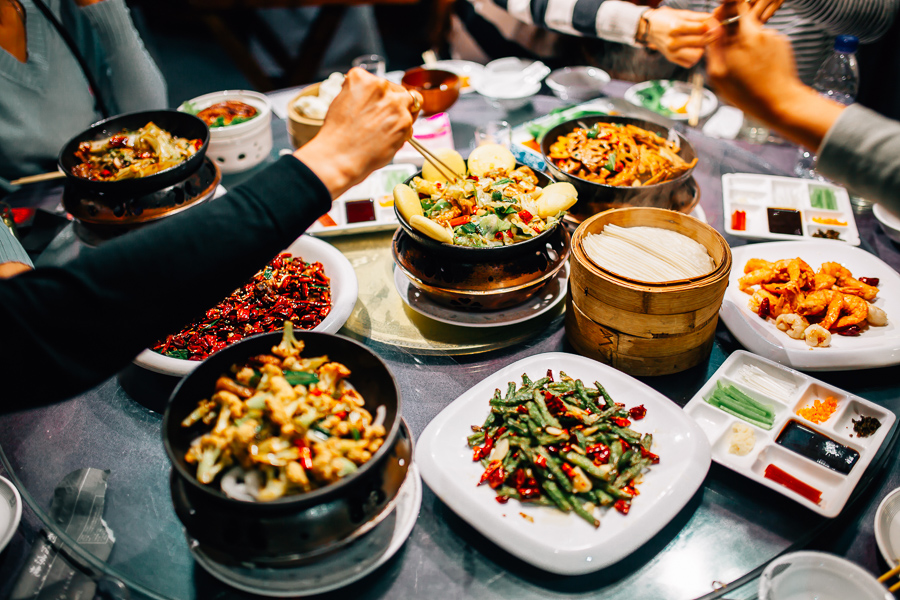 Spending a night out in Beijing can also be fairly affordable. Although you'll find plenty of western cocktail lounges and bars (most of which charge western prices), you can still drink and party in Beijing withing spending too much.
One cocktail in an expensive club: 60RMB (~$8 USD)
One cocktail in an inexpensive bar: 30RMB (~$4 USD)
One beer from kiosk: 10RMB (~$1.50 USD)
One beer in a pub: 30RMB (~$4 USD)
As a general rule of thumb, you can save even more money by cooking at home. When shopping for groceries, Beijing has several western stores and markets, including Carrefour, Walmart, and METRO. You can also shop at a local produce market, or in a Chinese store for even more significant savings.
Loaf of bread: 10RMB (~$1.50 USD)
1kg of apples: 15RMB (~$2 USD)
1kg of chicken breast: 20RMB (~$2.50 USD)
12 eggs: 10RMB (~$1.50 USD)
Bottle of beer: 5RMB (~$.75 USD)
Bottle of wine: 30RMB (~$4 USD)
Utility and Household Costs in Beijing
Compared to other western countries, utilities are much cheaper in Beijing. The biggest utility cost will be electricity, which is usually prepaid before moving into an apartment. You can expect to pay around 200-300RMB ($30-40 USD) per month for electricity.
Gas and water may or may not be included in your rent. If not, then you will need to pay 70-80RMB (~$10 USD) for each, which is a minor cost, in my opinion.
If your flat requires that you prepay your utilities, then this can be done at the bank or local management office.
Transportation Costs in Beijing
Navigating through Beijing can be confusing at first. But once you get the hang of where you're going, you'll be traveling around the city just like a local. And it's okay if you get lost every once in a while, because the cost of using the public transportation system is very affordable.
One-way ticket: 3RMB (~$.40 USD)
10-minute taxi ride: 30RMB (~$4 USD)
Taxi from airport to city center: 100RMB (~$15 USD)
Cost of a new bicycle: 350RMB (~$50 USD)
Cost of 10-minute rickshaw ride: 50RMB (~$7 USD)
On average, you should aim for spending around $30 USD a week on transportation. If you live near the subway station, then taking the train is an efficient option for getting around Beijing. However, I ended up taking a taxi to most places, especially if I was grocery shopping. The price of a taxi ride is fairly low, especially compared to other countries in the world.
Cost of Entertainment in Beijing
When living in Beijing, you'll inevitably want to spend some of your hard-earned cash to let loose and enjoy the fun and exciting aspects of the city. After all, seeing the sights and immersing yourself in Chinese culture is one of the best ways to get a feel for Beijing. Most importantly, entertainment in Beijing is actually reasonably inexpensive!
One movie ticket for the cinema: 50RMB (~$7 USD)
1-month gym membership: 400RMB (~$50 USD)
Standard haircut: 70RMB (~$10 USD)
One ticket entry to Summer Palace: 30RMB (~$4.20 USD)
One ticket entry to Temple of Heaven: 35RMB (~$5 USD)
One ticket entry to Forbidden City: 60RMB (~$8 USD)
Full-day private tour of Beijing: 640RMB (~$90 USD)
Remember, it's relatively easy to spend most of your money on entertainment and activities in Beijing. All those cocktails, excursions, and ticket prices can add up quickly. I recommend sticking to a monthly budget, so you don't run out of money while living in Beijing.
What to Expect When Living in Beijing
Moving to Beijing can be an exhilarating experience. After all, you're in one of the most buzzing capital cities in the Far East. To help make your transition to a new country a smooth one, I've put together a list of essential things to expect when living in Beijing.
It's Okay if People Stare
Not being of Asian descent in a predominantly Asian country will inevitably attract stares and glances from locals. While most people that live in the big cities are familiar with Westerners, this might not be the case if you travel to small villages or towns.
Therefore, it's quite common for Chinese locals to stare. To outsiders, this may come off rude, invasive, or strange. But in reality, it's just a curiosity that makes them interested in learning more about a different culture other than their own.
As long as you're friendly and smile at them, you'll have no problem traveling around China.
☞ SEE ALSO: A Travel Guide to Experiencing the Tibetan Monlam Festival
Carry Your Own Toilet Paper
Public bathrooms in China leave something to be desired. It's not uncommon to find bathrooms without toilet paper, toilet seats, or even barriers or walls between stalls. Not to mention, you'll have to get used to Chinese squatter toilets, which are more like holes in the grounds rather than seats.
For this reason, it's essential to always carry around your own toilet paper. High-end hotels and malls might provide toilet paper, or at least make it available for purchase before entering the bathroom. But on the flip side, most public restrooms will not offer such a luxury.
In addition, you should also carry around hand sanitizer. Many public bathrooms are full of grime and dust, and soap is rarely provided. If you bring your own toilet paper and sanitizer, you'll be prepared for even the dirtiest of public bathrooms.
Prepare for the Great Firewall
Censorship throughout China can be a major issue, especially when it comes to journalism, television, literature, and even the internet. The Chinese government limits access to many foreign websites, including Facebook and Wikipedia, Google, and Twitter. Plus, you won't be able to access websites like Netflix or Spotify.
For this reason, you also won't see any information online regarding China's tumultuous events in history. Information about food safety scandals, political corruption, Tibet and Taiwan independence, and the 1989 protests at Tiananmen square are strictly banned in China.
If you're looking to use these sites during your stay in Beijing, you should consider purchasing a VPN — virtual private network. This would allow you to tap into another IP address so you can freely surf the web at your leisure.
Learn a Few Chinese Words
Although English is spoken in many tourist sites and hotels, Mandarin Chinese is the primary language in Beijing. Taxi drivers, street food owners, and retail associates probably won't speak any English. Knowing a few words in Mandarin, like hello, thank you, no thank you, can go a long way with Chinese locals.
To put it simply, learning Mandarin is not for the faint of heart. Not only do you have to learn different tones and vocabulary, but you'll also have to master an entirely new form of writing. Unless you're adept at learning new languages, it's unreasonable that you'll learn Mandarin in just a few months. However, you can still pick up a few survival phrases to help make your time abroad easier.
Be Prepared to Bargain
In Beijing markets, it's perfectly normal to bargain for a lower price. Whether you're shopping for counterfeit shoes and watches or fresh vegetables and fruit, the price you see on the tag may not be what you end up paying.
Generally speaking, you can save up to 50% by bargaining. If the shop owner is unwilling to go lower, then you can always use the "walk away" tactic!
Of course, you shouldn't bargain in grocery stores or shopping malls, as these prices are set and regulated. However, if you go to a farmers market or knock-off market, you can haggle your way to better deals. It's even believed that some shop owners will be offended if you pay the full price.
Final Thoughts on Living in Beijing
As you can see, it's definitely possible to live in Beijing without burning through your salary and savings. However, the cost of living will be different for everyone that decides to move here. Like I mentioned before, it's up to you if you want to spend $5 or $500 on meals and clothes!
Beijing can be affordable if you have a decent income, some savings, and most importantly, an open mind. And don't forget to put your bargaining skills to the test if you're looking to score even better deals.
But costs aside, living in Beijing is one of the coolest experiences you will ever get to have.
Personally speaking, I loved my time living in Beijing, and I still go back every year just to eat at my favorite, cheap dumpling shop and see how the city has grown over the years.
For the rest of my life, the Chinese capital will always have a special place in my heart. And if you decide to take the leap and move to Beijing, then you'll see exactly what I mean.
Like This Article? Pin it!