If you're heading anywhere in the South of Spain, you should consider adding beautiful Ronda to your travel itinerary. We spent two weeks in the Andalusia province in 2011 and we absolutely loved it, but a real highlight of our trip was the day trip from Marbella to Ronda. In this article, we're going to show you exactly how you can day trip to this enchanting, cliff side town.
A Bit About Ronda
The magic of Ronda isn't really a secret anymore. It is the third most visited city in Andalusia and it has been featured on many "Best of Spain" lists all over the internet. The town itself is set around a deep gorge that is connected with a breathtaking (and somewhat chilling) bridge.
The town has a population of around 36,000 (as of 2014), so it's a quint enough place to explore and escape some of the more popular towns in Andalusia. It's at an elevation of around 730 meters above sea level, so the air can be pleasantly cool here in the summer months.
Renting a car is the best way to explore the Ronda and the southern, autonomous region of Andalusia. From the popular Costa del Sol town of Marbella, it's a short, 40-mile journey to Ronda and from the town of Estepona, it is a 45-mile ride. Malaga and Seville aren't as nearby, but from those towns it is still possible to visit Ronda for the day, without feeling too rushed.
Getting There & Away
If you're coming from Marbella, there are some easy bus routes that can get you to Ronda, but if you hire a car for the day, you can add some other great side trips into your journey. Nearby Sevilla, Jerez de la Frontrera, Córdoba, Estepona or Cadiz, to name a few.
Car rentals in Spain are of good value. Remember, if you pay for the car on a major credit card, you don't have to pay for the damage collision waiver insurance at the rental office. Also, if you download the Google Maps App (for Android & iOS), you don't have to pay for a GPS unit because you'll have it on your phone.
Check out Alamo.com for good deals on car rentals in Spain.
Things To See & Do in Ronda
Ronda is a pretty small place, but there's actually a lot you can see and do here in one day. Consider allotting at least a couple of hours to walk around town, across the bridge and into the nearby countryside.
Puente Nuevo: This is the name of the Moorish-style bridge that impressively spans the 100 meter-high gorge. Construction of the bridge was completed in 1793 and it took over 40 years to construct. There's an interesting museum in the bridge that's worth checking out as well.
Plaza de Toros: This is the oldest and most famous bull rings in all of Spain. You really can't miss this round structure with a bull statue outside. To enter inside the ring (recommended) you'll have to pay a €6 entrance fee. The plaza was constructed in the 1700s, has a diameter of 217 feet and can hold up to 5,000 spectators.
Calle la Bola: The main shopping street in town (also known as Calle Espinel), Calle La Bola means: "street of the ball". It gets its name from a giant snowball that was rolled here long ago. If you want to do some shopping while in Ronda, this is where you'll want to be.
Water Mine Under the Casa del Rey Moro: This fascinating palace and mine dates back to the Moorish era and is a must-see on any trip to Ronda. The water mines were created to protect the water source for fighters and the people of Ronda during war.
In order to get to the water mines, you'll need to descend down 231 rock-cut steps! The trek is worth it though to see Islamic architecture, rock archways and the water down below.
La Ciudad: Located on the far side of the new bridge, this is the historical district of Ronda. Here you'll find a labyrinth of narrow streets and a few major sites that are worth visiting. Particularly the church of Santa Maria la Mayor and the Palacio de Mondragon. There are also beautiful examples of Moorish and Gothic architecture here including the Moorish-style mosque that's located in the center of La Ciudad.
The Gorge: Looking at this deep crack in the Earth's crust, you'll surely be blown away. Don't miss the chance to hike down to the bottom of the gorge and see the view looking up at the rocky cliffs. During wet season the river rushes though the gorge, while in the dry season, the dried up pools can give off a pretty funky odour.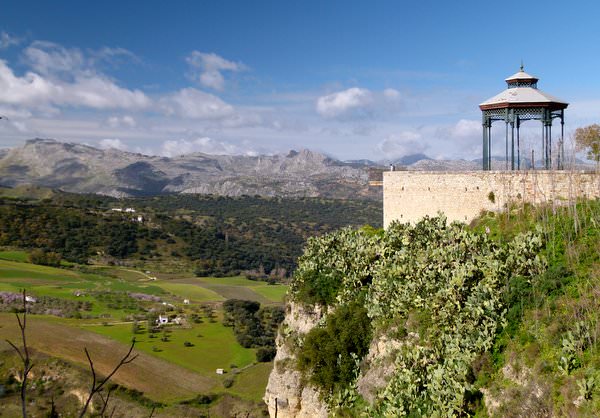 Pack a Picnic: When we visited Ronda in 2011, we packed a little picnic and sat on the edge of the cliff eating lunch with a beautiful view down the gorge. This is highly recommended and easy to do. You can pick up pre-made sandwiches from a grocery store in Marbella before you leave, or you can buy something in Ronda and just eat it somewhere along the rocky cliffs.
Food to Try in Ronda
We always like to try regional dishes while visiting different towns. Spain is a great place to taste varied dishes all over the country. Ronda is an excellent place to try the following meals:
Tapas: Well, tapas are found all over Spain, but Ronda has some excellent ones! Particularly at Restaurant Bodega San Fransisco where you can enjoy chicken skewers, smoked cod and palmeta with cheese.
Gambas al Ajillo or Gambas Pil Pil: Sweet and spicy prawns are sizzled on a hot pan with chilli oil and garlic. The meal is usually served with pan de pueblo (crusty white bread) perfect for mopping up the left over juices.
Jamon serrano: One of the most popular Andalusian dishes for sure, these wafer-thin slivers of soft and salty air-cured ham literally melt in your mouth. You will sometimes find jamon served in salads.
Convinced Yet?
Ronda was probably our favourite town in Spain and to miss this charming cliff side village would be a shame. Make sure you bring a picnic for lunch, and maybe stay through until dinner so you can sample some of the town's tasty dishes.
Have you ever been to Ronda? What was your favourite part about the city? Please share with us in the comments below!
Like it? Pin it! 🙂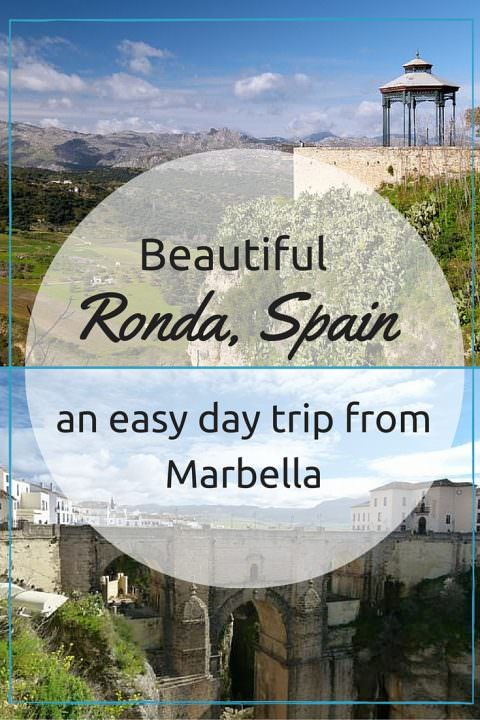 Disclaimer: Some links in this article are affiliate links, which means that if you purchase through them, we receive a small commission. This will never cost you extra and in many cases you receive a special discount. We appreciate your support!