After 3 amazing days in the desert oasis of Garmeh, we headed off to Yazd, the center of Zoroastrian culture and unique ancient desert architecture in Iran. Taking the taxi in from the bus station, we already had a good feel for what the next days would have in store. The sprawling old town was made completely of mud and mud brick, and our taxi had a hard time maneuvering through the tiny covered lanes.
We checked into yet another stunning Iranian building, Kohan Hotel. Hotels in Iran are usually converted old homes that center around a beautiful garden courtyard and Kohan was one of the most stunning places we had seen so far. The central courtyard was massive and perfect for spending our afternoons blogging. This was the place for us!
That night we did what we did most days in Yazd. We walked around the old town and got lost in the many lanes and tunnels that make up the ancient city. The smooth mud walls and caves slowly changed to a golden brown colour as the sun sunk low in the sky. For sunset, we headed to the roof of our hotel where we watched a gorgeous display of oranges and pinks paint the sky above the city.
Each rooftop has an ancient air-conditioning structure which consists of an extra tower, with large vertical slots that capture the breeze and force it down into the homes below. A perfect desert cooling system known as a Bagdir.
A Rooftop Bagdir
We happened to time or visit in Iran to coincide with the largest annual religious ceremony in the Shia Islamic calendar, Ashura. Men and women took to the streets in a very interesting display of mourning for the death of Imam Hussein. Read More About It Here.
Despite the intense religious fervor, we were able to find a guide who was willing to peel himself away from the nation-wide grief to take us for a trip to some surrounding sites. Our guide's name was Mr.Lorian and he was an animated, friendly and extremely informative Zoroastrian local.
"Zoroastrians believe that the devil only exists in the human mind"
-Mr.Lorian
Mr.Lorian took us to the major sites around Yazd. First up was the mud caravanserai of Kharanaq. We got out of the car and wandered around an interesting, 1000-year-old maze of mud walls. Kharanaq was like a tiny version of Yazd that has been left to decay over the past 50 years, when the locals up and moved to "the new city", where they enjoy modern comforts like running water and satellite TV.
Beautiful Kharanaq
After Kharanaq we headed to Chak Chak, an ancient Zoroastrian pilgrimage site. Zoroastrianism is a pre-Islamic religion that was once the main faith in Iran. They pray at fire temples and have many stories, much like the tales in the bible. Chak Chak means "drip drip" in Farsi and it is said that the water is the tears of the forgotten princess, who misses her family and cries eternally.
Mmm… Delicious Princess Tears.
Last on our day trip from Yazd was the city of Meybod which has 2 major points of interest. One is the oldest mud structure in all of Iran, the Narin Castle. Thought to be nearly 1800 years old, the castle was still in amazing condition. We passed from watch tower to watch tower, taking in the excellent views of the city.
View From Narin Castle
Also in Meybod was an ancient desert ice house. That's right, ice in the desert! Thought to be about 800 years old, the beehive-like structure was used to harvest ice even after the winter frost had lifted. They funnelled water into the building and allowed it to freeze during winter, then they sealed it off until late May / early June, when they would reopen it to sell the ice! Amazingly it remained frozen because the air was kept so cool inside the mud enclosure.
After Meybod we drove back to Yazd where we enjoyed another couple of days lazily wandering around the lanes. We spent 5 days in Yazd and we're loving the fact that we're travelling slower now. It's been nice to have 32 days in Iran, so that we can take our time and meet people along the way.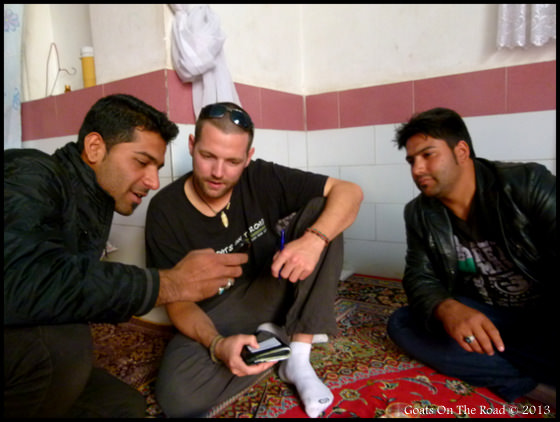 Next we're off to the holy city of Kerman where we will head out to visit some truly epic desert formations, as well as partake in Ashura, the amazing Shia ceremony. Stay tuned for pics of stunning desert and shocking displays of self-flagellation.
Like it? Pin it! 🙂
Disclaimer: Goats On The Road is an Amazon Associate and also an affiliate for some other retailers. This means we earn commissions if you click links on our blog and purchase from those retailers.