Jamaica is a tiny island in the Caribbean that's famous for many things. Perhaps you've been dreaming of laying on the best beaches in Jamaica, or swimming in the turquoise sea, but the country's rich culture offers travellers so much more.
Jamaica is home to the fastest man in the world, several genres of music including reggae and that genre's biggest international star, Bob Marley. The island is also known for giving the world the delicious meal of jerk chicken.
Jamaican cuisine offers many more tasty eats and this post will feature some of Jamaica's homestyle meals that you absolutely must try!
1. Jamaican Jerk Chicken and Pork: the most well-known Jamaican cuisine
Jerk-style cooking is the star of Jamaican cuisine. It has roots in the island dating as far back as the 1600s when maroons would use this method of cooking on wild boars caught in the hills.
Now, jerk chicken and jerk pork are the most common jerk dishes and you can get them anywhere from fancy restaurants to street-side metal drums.
It's a late-night favourite after a club or party, or for those who are backpacking Jamaica on a budget. Jerk chicken and pork are served in foil with bread or festivals, a slightly sweet cylindrical-shaped johnnycake (or dumpling).
If you're wondering what makes jerk authentic, it's all in the wood used to smoke the meat. Jerk relies on being smoked over pimento chips to get its true flavour.
The ingredients in the marinade should include lots of salt, scotch bonnet peppers and allspice. The recipe has since evolved to include onions, scallions, thyme, black pepper, cinnamon and nutmeg and now sweetwood can be used to smoke the meat as well.
Without the two main components of scotch bonnet (habanero) peppers and pimento or sweetwood, jerk just isn't authentic.
2. Ackee and Saltfish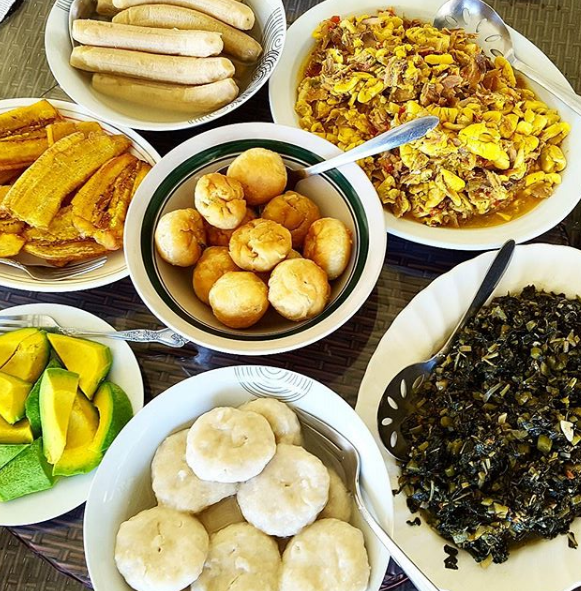 This is Jamaica's national dish and it is served mainly as a breakfast item, though it can be had at any mealtime of the day.
Ackee is a fruit that grows in pods on trees. It is actually poisonous when raw and must be left to open on its own on the tree before being harvested and prepared.
Once harvested, the seed and veiny inside are removed and the yellow flesh is lightly boiled to remove any harmful toxins left in the fruit.
It is then sauteed with saltfish and seasonings and often served with ground provisions like yams, green bananas and potatoes.
The dish looks a little like eggs when prepared and similar to eggs, it takes on the flavour of what it's cooked with.
The saltfish adds flavour to ackee and can be switched out for corn pork or left out entirely if you're vegan. Rastafarians are known to cook a well-seasoned ackee meal without any meat additive as an Ital dish.
☞ SEE ALSO: Things To Do in Montego Bay – Top 15 Things You Won't Want to Miss!
3. Stews and Soups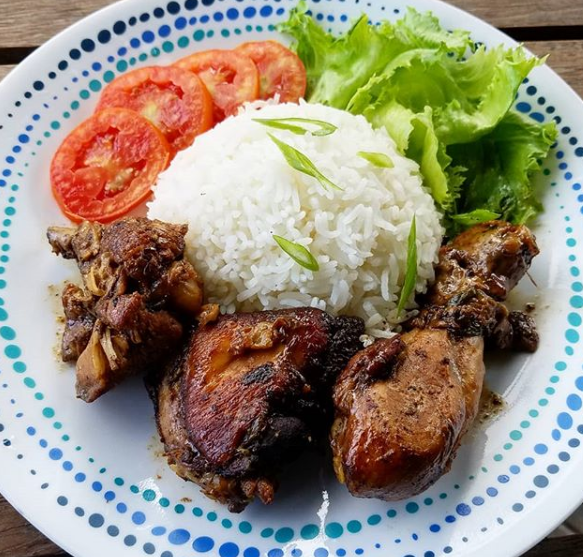 Stewing meat is another common way of cooking in Jamaica.
After being marinated in lots of fresh seasonings including onions, scallions, hot peppers, thyme and sweet peppers, the food will be stewed down, making the meat incredibly tender.
Common stewed meat dishes include brown stew chicken, pork, oxtails, beef and fish.
Stew Peas is also a favourite and can be made vegan with kidney beans and coconut milk but usually includes salted beef and pigtail.
Red Peas Soup is very similar to the Stew Peas dish. It's a rich and hearty soup made with kidney beans, coconut milk, pumpkin soup base and salted beef.
Red Peas Soup and Pumpkin Soup are the most common options for starters at most homestyle restaurants. As you can see, Jamaican cuisine offers numerous dishes for vegetarians and vegans.
4. Jamaican Rice and Peas
Jamaicans cringe when visitors refer to our rice and peas as peas and rice!
Our rice and peas are unique in flavour and a staple at our Sunday dinners and traditional holiday meals. It's the usual side dish for stewed meals, though some also eat it with ackee and saltfish and curry dishes.
To make rice and peas, kidney beans are cooked with rice in coconut milk, salt, butter, sugar and thyme. This side meal is the perfect accompaniment to any protein and is a key dish in Jamaican cuisine.
5. Curry Goat
Curry goat is another favourite on the island. Jamaican curry is a little different from the traditional Indian variety. It's also a little spicier.
Goat meat tastes a little bit like beef, but slightly gamey. It's a tender and juicy dish served with white rice and is also a favourite at house gatherings.
It can be seen on the table at Christmastime and is served at Nine Nights (the Jamaican equivalent of a wake) to friends and family paying their respects to the dead.
☞ SEE ALSO: Top 10 Foods To Try in Thailand
6. Mannish Water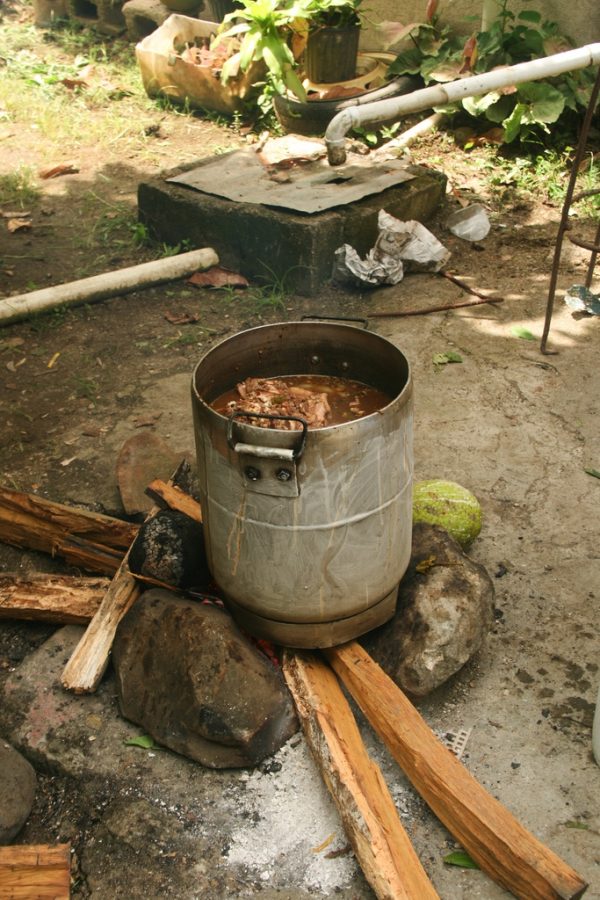 Speaking of goat, the head, testicles and other scraps of the animal are saved for a light soup called mannish water, which is a favourite Jamaica dish.
This spicy and flavourful soup is also a party and Nine Night favourite and is served as a meal starter.
7. Beef Patty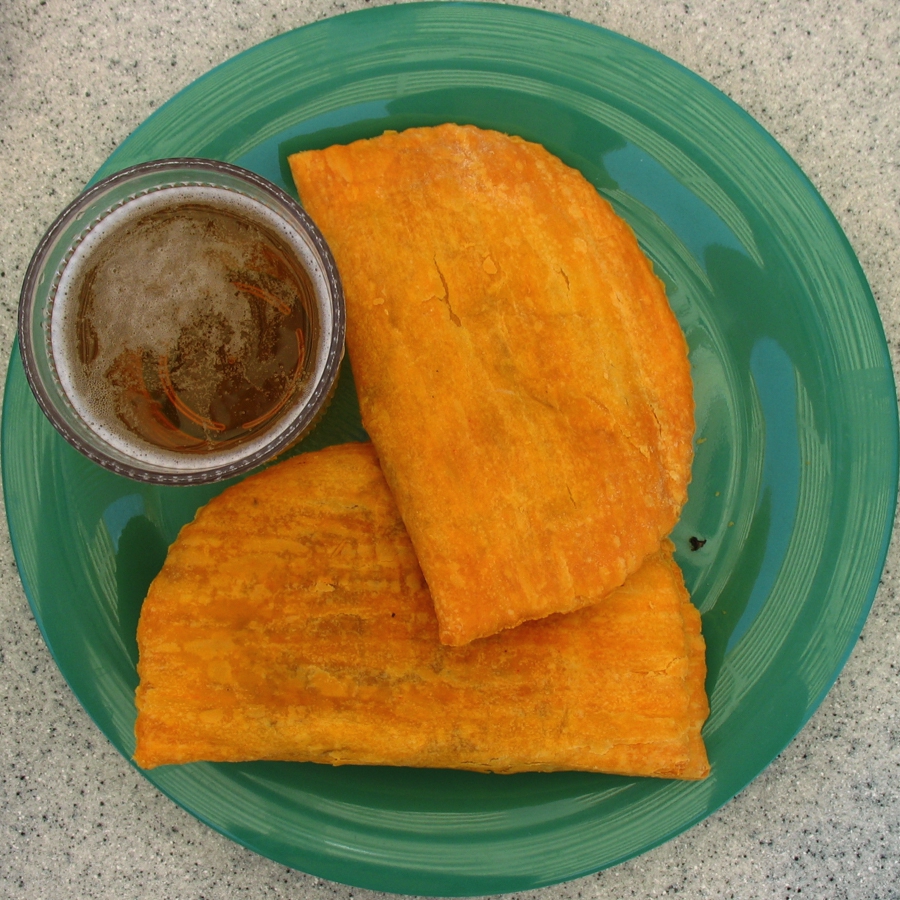 The Jamaican beef patty is another famous staple of the island that you must try.
The beef is seasoned with curry, onion, garlic and you guessed it, Scotch Bonnet pepper! The beef is then wrapped in a buttery dough, shaped as a half-moon and baked.
Beef is the original version though patties are now available with a wide variety of fillings.
Try the curry chicken patty or the veggie patty when you're in Jamaica. If you ever make it to Kingston then the lobster and shrimp patties at Devon House are legendary, as is the curry goat patty.
8. Escoveitch Fish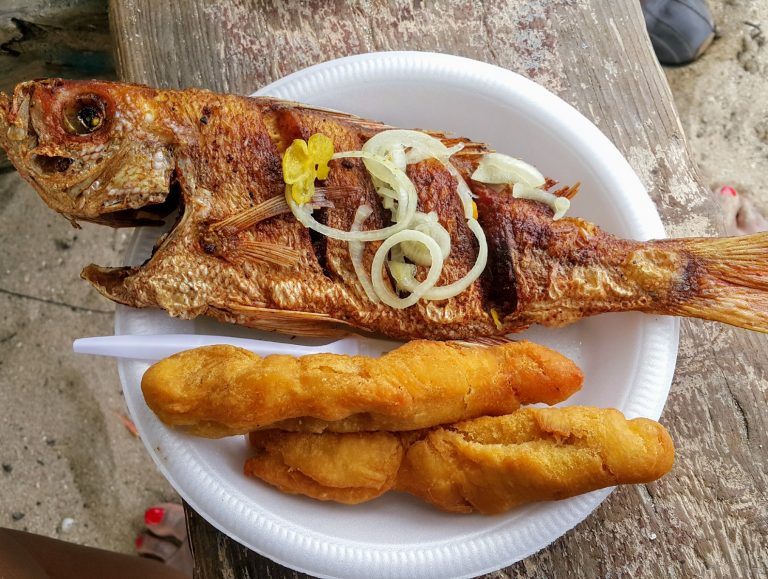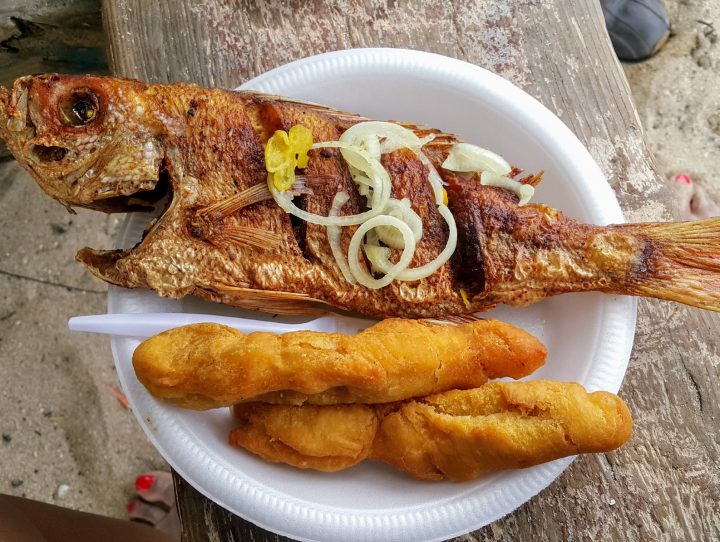 Escoveitch refers to cooking meat in an acidic vinegar-based sauce in Spanish culture. We've taken that and made it our own here in Jamaica.
If you visit a beach outside of your resort, you're likely to come across fish shacks serving up some of the best fried fish with escoveitch sauce you've ever tried.
The sauce is made from vinegar, onions, peppers, carrots and pimento (allspice). It adds a delicious flavour when poured over fresh fish — so fresh that it was caught that day.
The fish is usually served with festivals and bammy, a dense bread-like side dish made from cassava that is usually round in shape. This dish is a must on your list of things to eat when preparing for a trip to Jamaica.
9. Callaloo
Callaloo is the local cousin to spinach and is a breakfast staple in Jamaica. It is steamed and sauteed lightly and sometimes cooked with saltfish and served with johnny cakes or boiled ground provisions.
Breakfast is usually a heavy meal in Jamaica and this callaloo dish is one of the lighter offerings.
It's not uncommon for Jamaicans to have curry chicken, brown stew chicken, liver or kidney for breakfast with fried johnnycakes and yam and potatoes.
☞ SEE ALSO: Things To Do in Grenada – A List of 61 Awesome Things
10. Sweet Potato Pudding
Sweet potato pudding is a local delicacy in Jamaica quite unlike any pudding you've tried.
It's referred to as "hell a top, hell a bottom and hallelujah in the middle". It's cooked in a dutch pot on a coal stove with hot coals on top of the pot as well, explaining the riddle.
This method forms a sweet custardy layer on both the top and bottom of the pudding. It's a sweet treat that can be served warm with ice-cream at Sunday dinner.
If you visit Jamaica, seek out "Pudding Man" in Priory, St. Ann, near Ocho Rios who makes it in a little shop on the roadside. His famous pudding has been featured on local and international travel TV programs.
Jamaican cuisine may be heavy on the protein side but the food is mostly local and fresh. A purely organic experience is not difficult to attain since farmer's markets are common in all towns and it's very likely you'll pass stalls selling fresh local produce on the side of the road.
Farmers also provide fresh produce to many of the island's hotels so if you're staying at an all-inclusive resort, you're likely be eating locally as well.
Ready for Jamaica?!
Now that you know all about Jamaican cuisine and the best meals to try, all that's left to do is start planning a trip. Check out this infographic from DealChecker which gives you a few quick and useful tips for a trip to Jamaica.
Are you familiar with Jamaican cuisine? What's your favourite food to have from the island? Share with us in the comments below!
Like This Article? Pin it!