It took us about three hours to drive from the fairytale city of Dubrovnik in Croatia, to yet another magical place, Kotor in the small country of Montenegro. As soon as our little car rounded the bend and into the bay, we were in awe of the postcard-perfect landscapes.
The bay, which is also known as the Boka, is dotted with little villages, and is backed by towering, rocky mountains. This area is compact and the best way to see it is to pick a base and do day trips from there. You could easily spend a couple of weeks at the Bay of Kotor, exploring all of its natural beauty and historical sites.
We chose to base ourselves in the old town of Kotor and because we had a rental car, we could head out each day to visit the nearby towns. Unfortunately, our car mostly sat in the parking lot! Basically the entire time that we were in Montenegro, it rained…and I don't mean that it drizzled, we experienced torrential downpours.
Because the bay is backed by such grand mountains, the clouds just seem to get "stuck" and rather than blowing through, they hang around in the bay.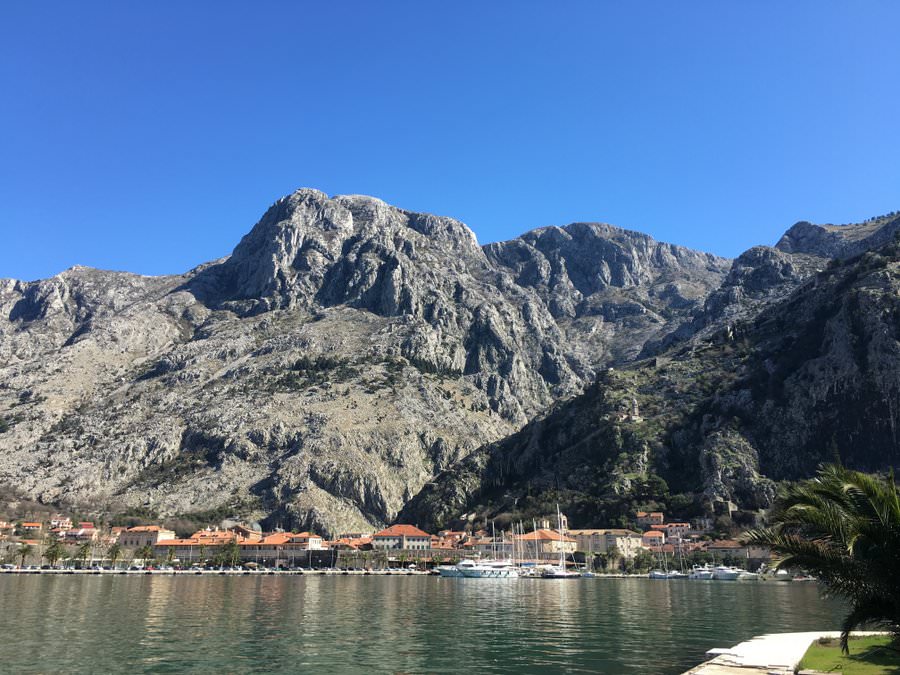 During the rainy days, we hung out in the common area of our hostel with other backpackers, while drinking wine and waiting out the storm. Not that there's anything unfortunate about drinking wine and meeting other travellers, but we would have preferred to be out exploring the area.
When the clouds would part, even if just for a couple of hours, we would run outside and see all that we could!
Kotor itself was absolutely incredible. The old town is fortified on all sides, and even though the backside of the town is protected by a massive rocky mountain, there is still a stone wall which runs along the hill, creating an extra layer of security I suppose.
How people were able to create such a vast wall on such steep terrain in the 9th century is beyond me.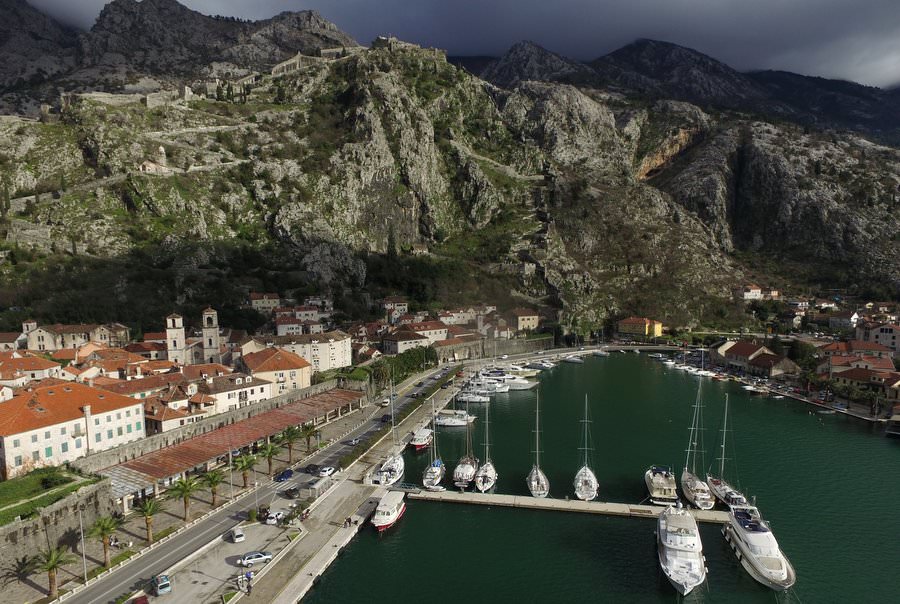 These medieval walls were added to over the years by whomever was ruling the city – the Byzantines or the Venetians, until it was eventually completed in the 15th century, creating a full loop around the city of Kotor.
In my opinion, this is what makes the city so incredible. I've never seen anything like it before in all of our travels. Hiking up the medieval walls offers the best vantage point over the bay, and when the rain cleared for a couple of hours, that's exactly what we did.
The climb started right near our hostel in the old town, and since we were visiting in the offseason, we didn't have to pay the entrance fee – one perk of dealing with the rainy weather I suppose!
We climbed up the mossy rock-cut steps until we reached the first lookout point. Ominous clouds hung over the bay, getting darker by the minute. We scrambled up the slippery steps until reaching the 15th century Church Of Our Lady Of Remedy, at around 100 meters high.
It's true that 100 meters isn't all that high, in fact, it's basically at sea level…yet, we were huffing and puffing on the way up. Considering the fact that in the past we've trekked for 8 full days in Mongolia, over a 3,860 meter pass in Kyrgyzstan, and up to 5,416 meters in Nepal, this was a pathetic showing on our part.
Having not done much exercise over the past couple of months, that 100 meters really got our hearts pumping and was exactly what we wanted (and needed) to be doing.
As luck would have it, the rain started and we became engulfed in low-hanging clouds. Unfortunately we couldn't make it to the top, so the Fortress of St. John would have to be seen via drone!
We flew Drago the Drone up over the mountains the following day and were able to get a bird's-eye view of what we missed out on – what a spectacular sight.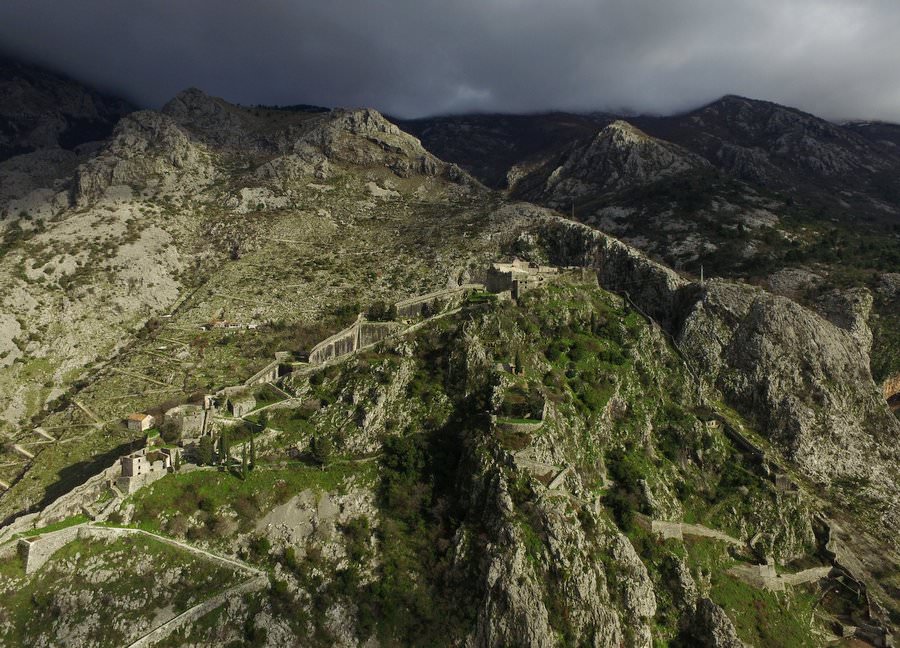 Apart from getting a tiny bit of exercise, we wandered the lanes of the old town of Kotor and marvelled at the beautiful churches. We stumbled upon the Carnival celebrations one night as well, which meant that there was free booze and food for everyone in the plaza! Unfortunately, due to the poor weather forecast, the rest of the weekend festivities were put off until the following Friday, after we had left.
We did venture away from Kotor a couple of days to the city of Budva and the town of Perast. In Budva, we were underwhelmed by the architecture. The old town there is smaller than Kotor and seems more touristy, while the surrounding city is filled with high rises and modern buildings.
However, there is a lovely promenade which runs along the water here, and many restaurants and bars to choose from, including our favourite one, Taste Of Asia. We found this gem after looking on Trip Advisor, and having been unimpressed with most of the food so far, we weren't expecting much.
We were greeted by a man from Serbia (not a good start to Asian cuisine), who handed us a menu filled with food from Thailand, Indonesia and China. It looked good, but you never know…
When the steaming plate of Pad Thai, and Massaman Curry came out, we were impressed by how it looked, and how it smelled. Upon tasting, we were blown away. Seriously! The flavours were spot on when it came to how these dishes would have tasted in Thailand – fish sauce, peanuts, chilli, coconut milk, chives, tamarind, etc etc. It was perfect.
This was the best meal we'd had in ages!
It turns out that the owner is from Hong Kong, and the manager who served us, and the chef in the back, were trained by the owner for three years. The restaurant has now been sold to the manager, and the standards have stayed I would say.
We drove 30 minutes to this restaurant three times during our stay in the old town of Kotor.
Perast may not have had the Asian restaurant, but it was just a quick 15 minute drive from Kotor, and has two churches on islands just offshore. This unusual setting for churches was pretty amazing. However, it was raining for all but 10 minutes when we visited, so we didn't want to take the boat ride, but the islands looked pretty cool from the shoreline.
The town itself is small, but lovely, and can be easily visited on a day trip.
After a seven night stay, it was time to pack up. As usual, the sun was shining as bright as can be on our day of departure! But, in this case, we were glad as we were going on a road trip back to Split, Croatia. But this time, we didn't take the coastal route, which would have been the same way we came to Kotor, we went via Bosnia and Herzegovina in order to see some more of the rural areas there.
We drove for seven hours that day through some of the most incredible scenery! The landscapes were epic. Starting in Montenegro we made our way up through the jagged cliffside and onto a nice highway surrounded by mountains. The highway soon ended and we found ourselves in the beautiful countryside on very narrow roads with a few potholes here and there.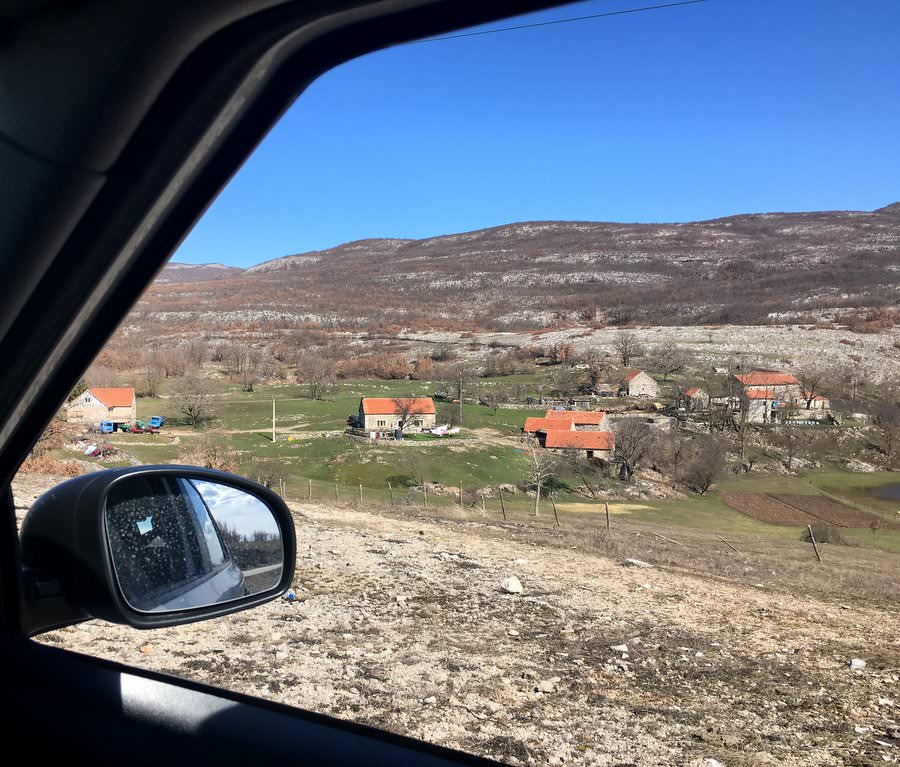 This driving was easy compared to our road trip in Albania!
After driving for a couple of hours, we arrived at Orah Lake, with a small church and a shepherd with his sheep. We were in the middle of nowhere and it was silent except for the "mehhh'ing" of the flock. We enjoyed a picnic here and carried on towards the border of Bosnia and Herzegovina.
The drive through that country was amazing as well. We passed marshlands, orchards, small towns and many shepherds with their sheep. The day was perfect. As soon as we arrived in Croatia, we found ourselves on a brand new toll highway, with a speed of 130kms / hour!
We made it back to Split in no time.
Our experience in Montenegro was very positive. And I think that the fact we loved travelling there so much, despite all of the bad weather, really speaks to just how incredible the country is. We definitely want to go back in the summer months and visit all of the sites that we missed out on.
Check out our video of Magical Montenegro!
Like it? Pin it! 🙂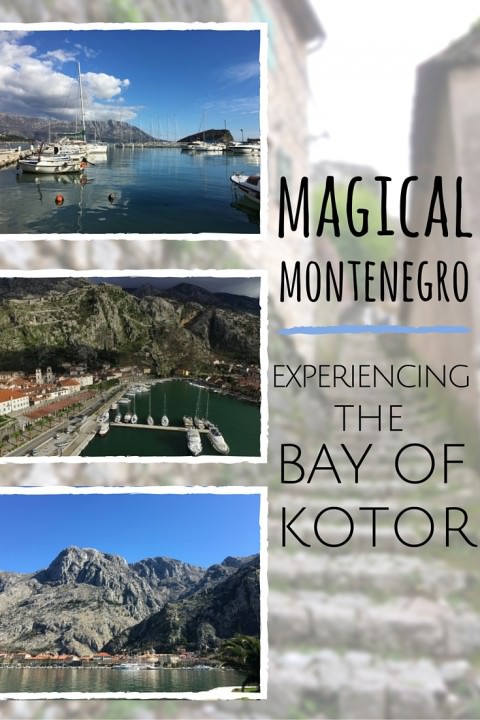 Disclaimer: Some links in this article are affiliate links, which means that if you purchase through them, we receive a small commission. This will never cost you extra and in many cases you receive a special discount. We appreciate your support!