We've now officially been living in Paxanax on Lake Atitlan, Guatemala for over a month and it's time to share how we feel about this place. We've been so busy getting caught up on our projects and other work that we haven't really written much about our life here on the lake.
Well, I have to say, our lakefront casita is the most spectacular place we've ever stayed in and the lake itself is indescribably serene and beautiful!
Our Life
Each morning at around 8 o'clock, we wake up and look out of the floor-to -ceiling window that points out towards the water, perfectly framing the enormous San Pedro volcano that stretches skyward on the other side of the lake. A cool morning breeze blows into the open windows, and the temperature in the room is sublime.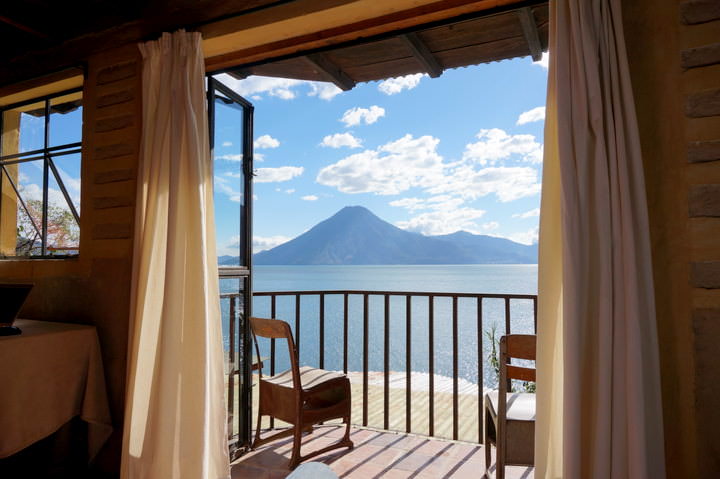 We get up, brush our teeth and slowly make a delicious pot of rich Guatemalan coffee, which we enjoy from our upper level terrace. We relax and chat about what we'll do on the site that day, before hitting the laptops for a couple of hours. Working on a computer sometimes comes with the assumption that the employee is in a stuffy cubicle with artificial flourescent lighting and the endless drone of photocopiers and fax machines, but our office is different. We look out to the volcano and the lake which is so jaw-droppingly beautiful that it's often hard to keep our eyes on our computer screens.
From there our day is a mix of work, walking, wakeboarding, drinking wine and enjoying aged cheeses, but Instead of describing our entire day in this article, check out the video below to get a good idea what life is like as a digital nomad.
The Lake
Lago De Atitlan is, without a doubt, one of the most visually breathtaking places we've ever seen. Three menacing peaks flank its southern shore with all of the elements that you would expect from prehistoric volcanos, minus the molten lava spewing from their ominous craters. All day we look out at these monstrous mountains and we never get tired of their tectonically shaped features.
The water on the lake can be as calm as glass on some days, perfectly reflecting the soaring volcanos, while on other days, when the Xocomil winds have picked up, the surface is rippled with white capping waves.
The cloud rainforest that surrounds the lake is browner than normal as we near the end of the dry season, but even now it is lush and beautiful. Tropical flowers bloom along many of our favourite waterfront docks and walkways, while colorful birds chirp and sing, the allure of their bright colours surpassed by the melodic beauty of their song.
The air is dryer than the typical equatorial climate here, thanks to the elevation of 1,562 meters, but it is not so dry that it scratches the throat or dries the skin. In fact, the lake enjoys a spring-like climate year-round and while there are heavy rains in May, September and October, the lake can be visited at any time of the year.
Although we love our casita, it's nice to get out once in a while! There are a couple of great places to spend the day, while enjoying a drink and gazing out at the lake. One such place is Isla Verde, an eco-friendly hotel with a massive chill-out deck with hammocks, a wholesome restaurant with locally grown products and (of course) you can also stay here in one of the many funky cabins with gorgeous views! This is one of the best spots in Santa Cruz to go and relax.
Our Apartment
We've already explained our apartment in great detail in the video below, so I urge you to check it out. Basically, we couldn't have asked for a better place. Every room is bright and enjoys wide open views of the lake and volcanos. We get a comfy bed, relatively reliable wi-fi and two massive decks where we can enjoy sunset with a glass of wine. What more could a digital nomad ask for?
Check out our Lake Front Casita in the video below!
The Costs
We were surprised to find out that Guatemala is more expensive than most parts of Mexico. At least around the lake and in Antigua (the only two places we've visited thus far). From what other travellers had told us, we figured that Guatemala was outrageously cheap, comparable to places like Thailand and India. This simply isn't true and the average cost of groceries, accommodation, restaurants and transport is more on par with places like Turkey and China. We spend around $1,250 USD / month living here on the lake. We do eat very well and drink a lot of wine, but we don't go out often and our groceries are mostly healthy and cheap produce.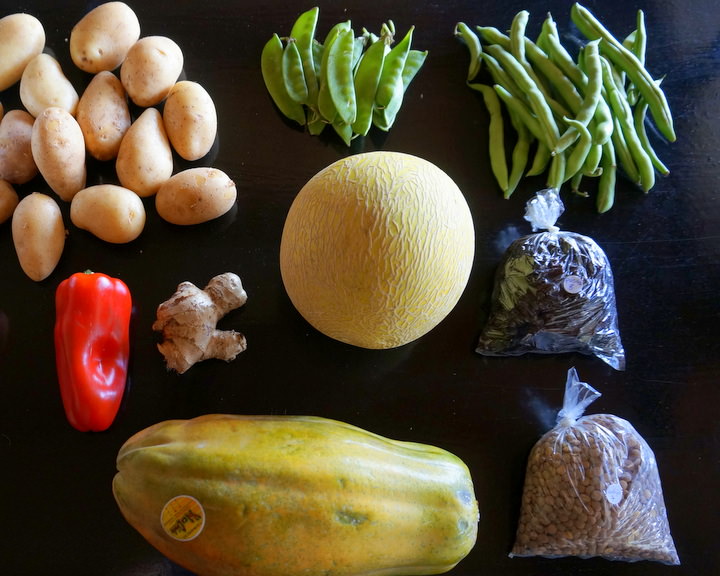 If we were travelling full-time here, I would expect that we would spend around $2000 / month for both of us. About $500 more than I had originally thought.
Having said that, Lake Atitlan is still a great value. Our apartment is $550 / month ($600 during high season), and our grocery bills come in at 3,962Q ($518) / month and we spend 975Q ($127) / month on alcohol. We'll be reporting more about the cost of living on Lake Atitlan in later articles.
Our Overall Opinion Of Lake Atitlan
For me, this is most satisfying destination I've ever lived in, while Dariece is torn between here and the Caribbean island of Grenada. Every day when I look out to the water and see the local fishermen in their wooden canoes, hear the sound of the tropical birds and gaze up at the mighty San Pedro Volcano, I feel like I'm home. As home as somewhere can feel when living there for just 2 months. There's no question that Dariece and I absolutely love Lake Atitlan and I would say it's the perfect destination for anyone looking for nature and calm serenity.
There are enough tourists and expats here to facilitate a reasonable amount of amenities, while not too many that the lake loses its character. A quick stroll into a village or a ride on a boat instantly reminds you that you're in the real Guatemala. I'd say that Lake Atitlan is as perfect as it gets.
Even though we are enjoying our time here so much, we may be peeling ourselves away from the lake two weeks earlier than expected. There is somewhere we've been wanting to go for quite some time and we fear that if we don't go now, we may never see it. We're currently looking at booking flights and partnering with companies in this amazing Caribbean destination, so stay tuned for more!
Like it? Pin it! 🙂
For More About Lake Atitlan:
Check Out Our Weekly Episodes of GoatLife TV
Read About Our Arrival To The Lake Here