Grenada seems to be the place where we make some of our biggest decisions – both personal and professional. It's probably because we have lots of downtime to reflect on what we've accomplished and to create goals for what we want to achieve.
This past year brought us to Central and Eastern Europe, and the Caribbean. We had wonderful experiences, most of which were documented through videos created on our Youtube Channel.
Nick flew the drone over beautiful Lake Ohrid in Macedonia, and we both crossed our fingers as we sent it on a precarious flight through the Azure Window in Gozo. The drone captured epic shots of the beaches in Barbados, Puerto Rico and Grenada.
We filmed waterfalls, rainforests, fortresses, cities, beaches, mountains and vineyards.
We've had a lot of good times and made some incredible videos over the past two years.
So, why did we decide to sell our drone?
First, I should say that it's not just the drone we sold. We parted ways with our Vanguard camera bag, our beloved Feiyu-Tech Gimbal, iPad Mini 2, and two GoPros as well.
The simple answer to why we sold this equipment is that these items were no longer bringing us any joy, and were taking away from our travel experiences.
Was Our Gear Ruining Travel Moments?
Picture this: a serene location on the border of Montenegro and Bosnia, with nothing (or no one) around except for a shepherd, his flock of sheep, a remote church and a glistening lake.
We pulled over to check out this gorgeous setting during our road trip. We sat down, had a picnic lunch and enjoyed listening to the baaing of the sheep and clanking of the brass bells around their necks.
But, then we both thought "we should be filming this for our round-up video".
Out came the drone. We twisted on the propellers, hooked up the iPad, turned on the app, set up the controller, calibrated the compass, sent it into the air, and zipped it over the sheep and the shepherd. Nick circled it around the church to get the perfect shot, while I co-piloted and kept an eye on it.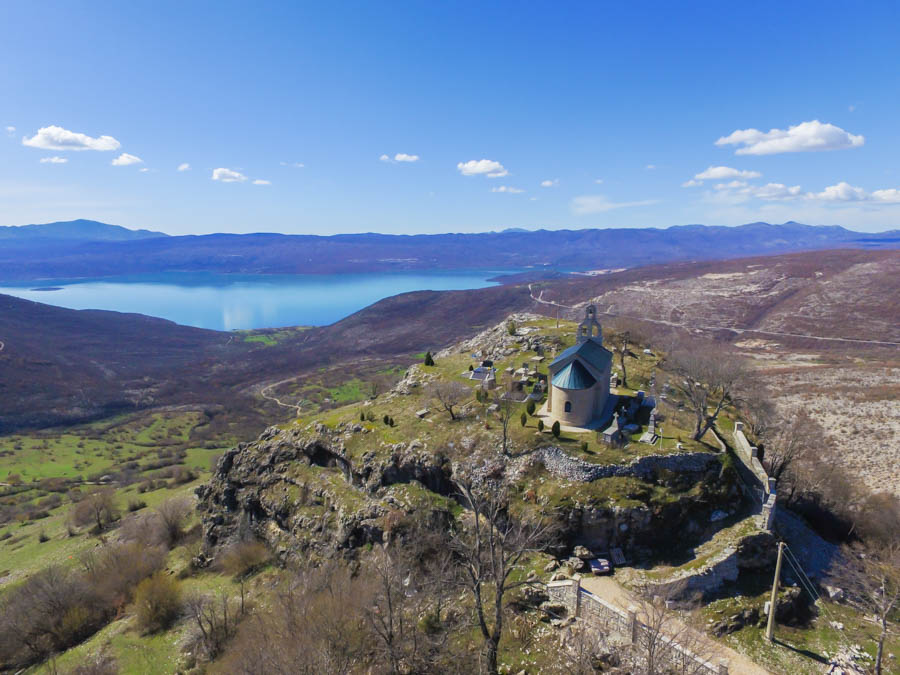 The drone is loud and obnoxious and was whizzing around for 20 minutes until the battery ran out, and we had the photos and clips that we wanted.
Our picnic and peaceful setting was disturbed, and surely the sheep weren't happy with the sound from the drone either. But, we did it because we felt like we had to… A magical moment – tainted.
While we were staying at Lake Ohrid, we ended up being there for the incredible Epiphany Celebrations. Naturally, we decided to film the event.
Nick stood out on the dock with his gimbal and GoPro attached, while I stood closer to shore with the Sony camera. This way, we could capture all angles of what was about to happen. Plus, we had flown the drone just moments before.
Men ran into the freezing cold lake and swam towards a cross that was tossed into the water by the priest.
I was bumping into people to try to get the best view that I could, while Nick was half ignoring the men who were on the dock with him as they tried to explain what the festival was all about.
The two of us didn't enjoy the holy ceremony together, but chose to be separate so that we could get the right clips. We didn't learn much about the event until after we were done filming, but worst of all, we weren't in the moment. A unique ceremony seen and experienced entirely through a lens. 
Another prime example was when we were enjoying a pasta making class in Rome. We arrived at an apartment with 2 chefs to greet us, and 6 other travellers. We were all there to learn how to make pasta from scratch, fill our faces with food, and wash it all down with wine.
The apartment was spectacular and so were the views of Rome. It was going to be a great evening.
But, we had to make a video of the class, right?
Out came the Feiyu-Tech Gimbal with GoPro attached, and the Sony Nex-6 camera.
Rather than laughing, learning and enjoying the evening with everyone, we were the annoying filmmakers.
The chef had to "wait a minute" for us to get the camera ready to get a good shot of him dropping the pasta in the pot. The other travellers had to "hold on just a second" while we spoke to the camera about what we were going to do next with our pasta.
Even though the food was delicious and the company was good, we were preoccupied with how the episode was going to flow, and which clips we needed in order to create a video of our pasta making class.
Seems strange, right?!
The fact of the matter is that our videos were starting to seriously get in the way of our travels and our overall experiences while on the road. We were starting to see the world through a lens. Our whole life was a storyboard and we felt like we were missing out on what makes this life so incredible… travel itself.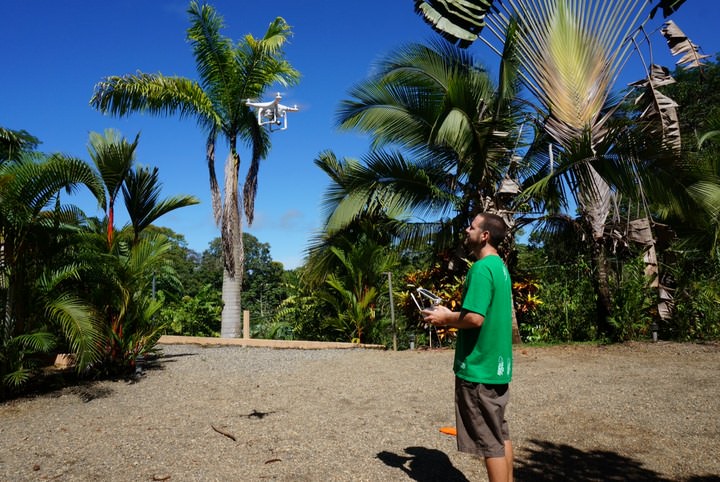 We also believe that to be good travel bloggers, we need to be good travellers first. If we're constantly trying to get the perfect shot, then the feelings that we're actually having behind the scenes will be tainted and different from those of a normal traveller.
This means that the adventures and lifestyle that we try to share with you will be less sincere and authentic. By putting travel first, we'll be able to share more accurately what each destination feels like for travellers.
We Felt Obligated To Capture Everything
We know that no one makes us take clips or photos, and that it's all by our own choice, but because we've gained an audience and have created a YouTube channel, we feel like we need to keep up with content.
Each time we arrived in a new city or country, we'd always think about which clips we needed to get to make our GoatLife TV episode. We would be excited for the new destination, but would then start stressing out and worrying about flying the drone.
We need the perfect weather.
Hopefully no one is around.
Are we allowed to fly it here?
Which is the best spot to take it off from?
These thoughts, and many more, would totally consume our visit.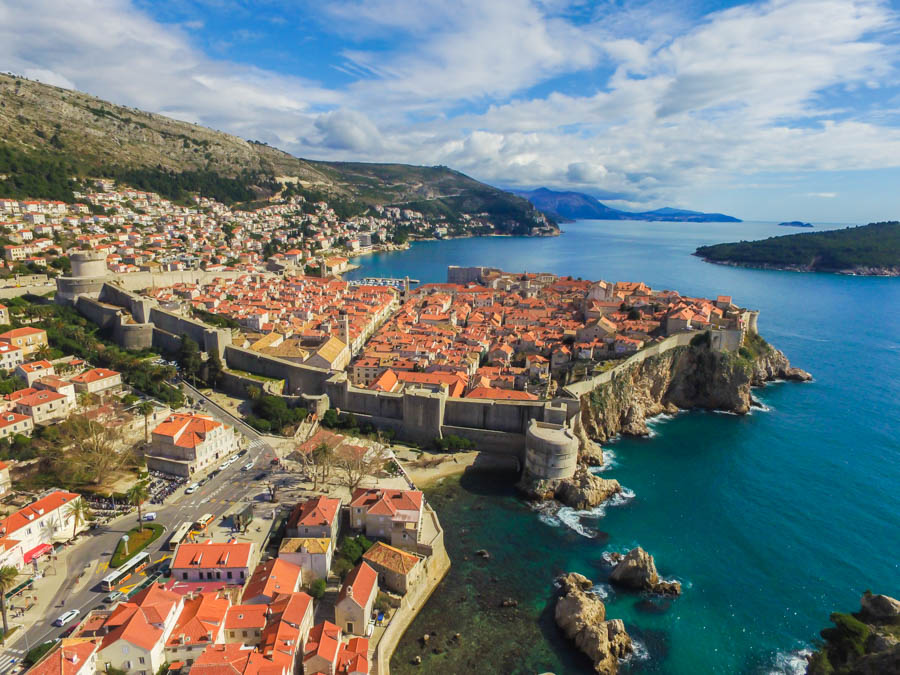 Is It Just Us?
I'm sure that not everyone who owns a drone and makes travel videos feels like we did. I'm also certain that many people can arrive somewhere new and not even worry about flying their drone.
Nick is a perfectionist when it comes to editing videos and getting the best clips possible, while I always worried about annoying the people around us with our loud piece of equipment. We both disliked the group of bystanders that would inevitably form a circle around us.
This is all behind the scenes. The stuff that isn't shown in our videos. But practically every time we would launch the drone up into the air, we'd receive a crowd of spectators. Fair enough though, as a drone is an interesting gadget that you don't see every day.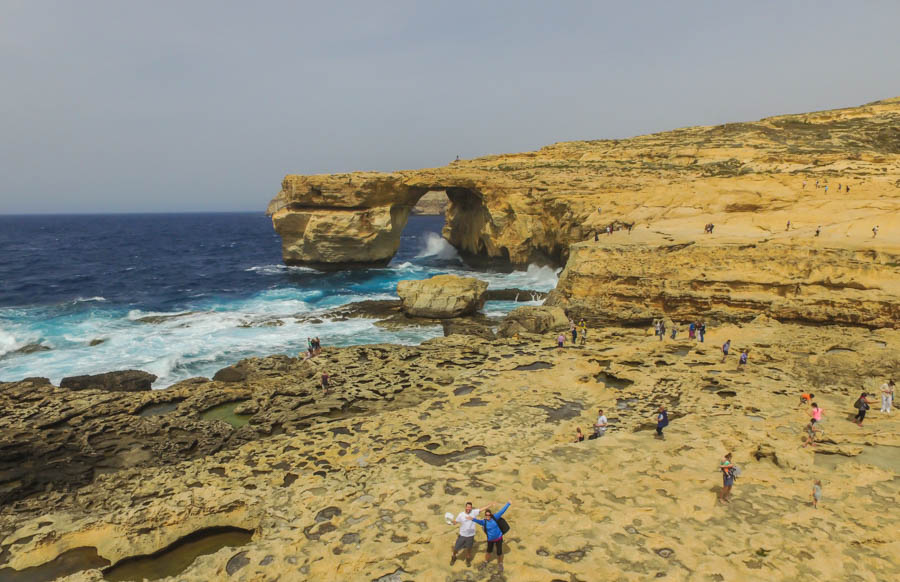 It's difficult to focus on not losing the drone while it's in the air, not crashing it into anything, and getting the best shot. But on top of that, we would have to answer numerous questions from people:
What is that?!
How much does it cost?
How far can it fly?
Where can I get one?
How long does the battery last?
Not to mention, when we were travelling in some areas of the world that maybe aren't as wealthy as many western countries, we felt awkward saying that it costs $1000.
One woman in Montenegro opened up her window, yelled down "How much does that cost?!" and when we replied, she shook her head and slammed the window.
Which brings me to my next point about why we decided to sell the drone and various camera gear…
The Rich Traveller
Even though our MacBook laptops cost more money than a drone does, there's just something about a flying camera that screams "Look at me, I'm rich!" I mean, we must be, right? We have a flying camera!
This obviously isn't how we think of ourselves, (not to mention the cost of drones has reduced significantly), and it certainly isn't what we want other travellers and locals thinking of us. This not only makes us feel uncomfortable, but makes us a target for theft.
Drones and motorized gimbals are a commodity, unlike laptops.
In 2017 we plan to visit a wide variety of countries, on numerous continents. First up is South America, which is known for having extremely high crime rates. Unfortunately, we've heard one too many stories of travellers having their gear stolen by fellow backpackers and locals.
We both know we wouldn't feel comfortable flying our drone in many spots there, and we also know that transportation isn't as nice (safe) as it was in Europe. Risking our drone being stolen, or us getting attacked for our gear, just didn't seem like something we wanted to deal with.
Selling our backpack full of expensive camera kit before heading to South America just seemed like a good idea, albeit not the main reason for our decision to sell.
Our Feeling of Relief
We said goodbye to our drone and camera equipment just yesterday. And to be completely honest, it feels like a huge weight has been lifted off of our shoulders…both literally and figuratively!
All of that gear was very heavy, and for "nomads" like us, having to carry that bag from place to place became a bit cumbersome. Now Nick doesn't have to lug around two large backpacks (one on his front and one on his back), he can just have his Osprey pack!
We couldn't be happier with our decision!
We want to travel.
We want to experience the world through our eyes, not a lens.
We want be more in the moment.
Having to create a weekly video with the expectation that there would be drone clips was a lot of pressure for us, and to be fair, we put that pressure on ourselves. Making travel videos is supposed to be fun, but instead it became a bit of a chore and really stressed us out over time.
As soon as the money and gear were exchanged yesterday, we were both smiling. The man who purchased it was very happy, and so were we. So thrilled in fact that we went out and celebrated with cocktails and sunset.
So, What's Next?
You may think that we're giving up on videos altogether, but we're not! We're just changing the style of how we do them.
If you watched our J'ouvert video from Grenada, you probably wouldn't have even known that it was filmed entirely with our iPhone 6s Plus, but it was. Normally we would have used a gimbal, GoPro, microphone, drone and even the Sony camera…but it was all done with our phone!
The video turned out great, editing was simple and the feedback was very positive. In fact, it received more comments and views than most of our more complex videos do.
This made us start to think about why we were spending so many hours and using advanced camera equipment to make a professional looking travel video. It seems like these days people enjoy simple, short, amateur shots just as much (or more).
We still have one GoPro camera with an underwater casing so that when Nick is scuba diving he can get a few clips. We still have our Sony Nex-6 camera which takes great video in low lighting. We also have our iPhone that I listed above, which takes really good videos as well.
Rather than doing a weekly video, we've decided to do "round-up" videos of the country / city that we're in. This way, we can just take clips at random as we are travelling around and then at the end of the trip, we can put together an awesome, easy to edit video!
We also think that in the long run, these types of videos will be much more useful for our viewers as they will get a better idea of the best things to do in a particular country, all within a 5 minute(ish) video.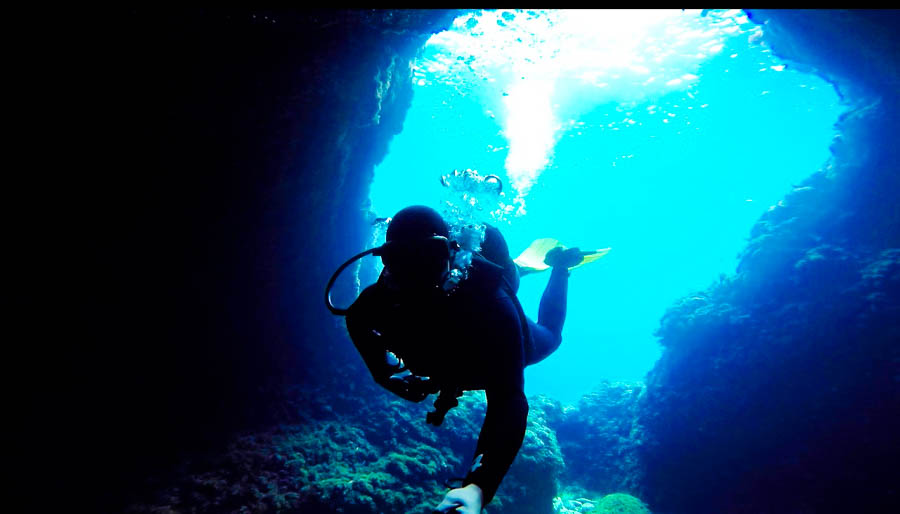 We'll show off the highlights, our favourite things, and the "must-do's" of every country we visit.
Our videos might be published weekly, bi-weekly or monthly. It all depends on how long we spend in each spot, and how many videos we feel like creating.
And who knows? Maybe Nick will miss having a drone we'll end up buying another one somewhere down the line. For now though, we're both just looking forward to travelling with less gear.
We will also be keeping up with our Facebook Live Videos because they are fun to make and are easy to do. We love sharing our interesting travel moments with you, and Facebook seems to be the way to go.
We're Hashing (hiking) through the neighbourhoods and bush of the Grand Anse / St. George area in beautiful #grenada! We're sweating, but the landscapes are unbelievably beautiful 😊

Posted by Goats On The Road on Saturday, July 23, 2016
We have however, decided not to do Instagram Stories anymore as they too were taking over our life. We realized the effects that video stories were having on us while we were capturing every moment of date night… how romantic!
We don't have any regrets about selling our gear, and we're glad that we were honest with ourselves, and one another, about what we truly want for the future of our travels, and our website. In the end, parting ways with our drone and extensive camera kit just felt like the right thing to do.
Do you think we're crazy for selling our drone…when everyone else is buying one? Do you think we should have kept our camera gear, or can you understand why we decided to sell? Tell us your thoughts in the comments below!
Like this Post? Pin it!