Today I'll be reviewing my current backpack, the Osprey Farpoint 55L. I've taken this pack on enough treks now that I feel it's time to grade its performance to help others who may want to purchase this bag.
Anyone looking for a backpack should strongly consider the Osprey Farpoint series as they are strong, durable and comfortable. I trekked for over 200 km in 8 days with this pack loaded to the max on my back and I was very impressed.
Let's go over this Osprey Farpoint 55L from zippers to hip straps, to see how it stacks up against other bags on the market.
READ MORE: Best Travel Backpacks 2017: The Ultimate Buyer's Guide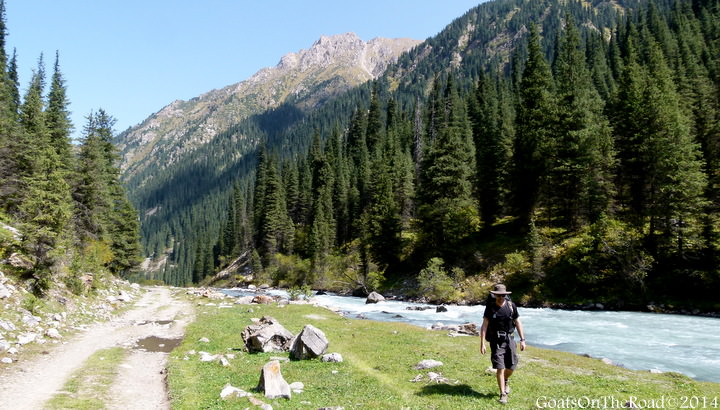 Comfort of The Osprey Farpoint
It's hard to beat an Osprey bag for form-fitting comfort and weight distribution. The bent shoulder straps curve perfectly to the body, while the hip straps do a good job of holding the bag in the right spot.
The compression straps don't actually wrap from the frame of the bag, they only really compress the load a small amount if the daypack is zipped on. I don't see why Osprey chose this design style, but the frame still holds the load nice and close to the body.
I would like to see a little bit more padding in the shoulder straps for extra comfort, but even when the bag was loaded to the max, it was comfortable because of well manufactured hip straps.
The bag comes in two sizes (small/medium and medium/large) to ensure a good fit for pretty much any body type.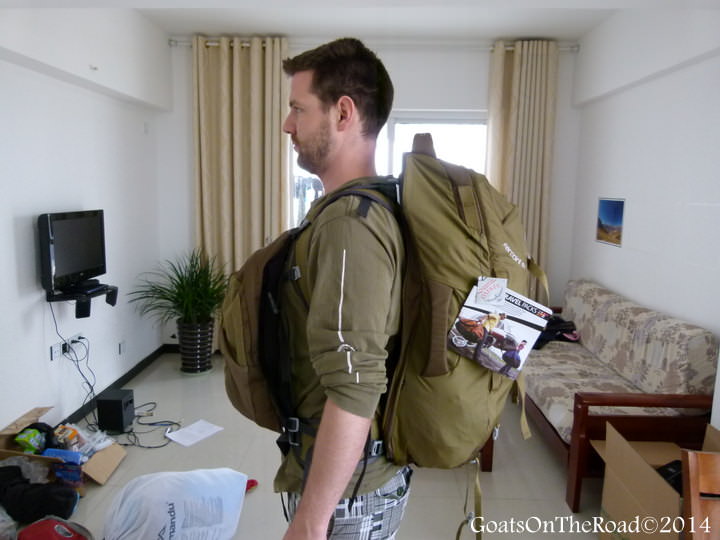 Design of The Osprey Farpoint
I do love the design of this bag. The reason I chose it is because it's a good size with lots of straps, making it easy to add extra gear to the exterior of the bag. The day-pack is a great size for everyday use and it zips on and off easily. The main pack is actually 40 L, while the zip-off daypack is 15 L.
The bag comes in 3 colors: Mud Red, Charcoal and Lagoon Blue. It also comes in 3 sizes 40 L, 55 L and 70 L, all with varying features. This is a unisex backpack.
*Update: the newer version comes in Lagoon Blue, Volcanic Grey and Jasper Red.
The Osprey Farpoint is full-panel access which is a must for us. We hate top-loader backpacks so a fully opening bag is essential so that we have easy access to all of our gear with one simple zip. We've seen too many people rooting around in their top-loaders, cursing at the items lost at the bottom.
There are plenty of places to clip things on the outside of the bag and the main bag has lockable zippers which is very important. The biggest flaw of this bag is that the zippers on the day bag don't lock. This seems to be a big mistake by the manufacturers because we all know that backpackers tend to keep their valuables close by in the day bag and it's essential to be able to lock it.
Update 2017 – Newer versions of this backpack do have lockable zippers on the day pack and the main pack. A great upgrade.
The bag weighs about 1.7 kilos by itself, which is very light compared to my previous backpack. It was still surprisingly comfortable when it was stuffed with nearly 20 kg of gear.
This size is perfect for any trip. If you're running out of space with 55 litres, then you're packing too much useless stuff! The bag has enough room for a tent, sleeping mat, shoes, clothes, electronics, cooking gear and more. We were packing for fully sustainable trekking trip in Mongolia, so on a normal trip this bag would have more than enough room.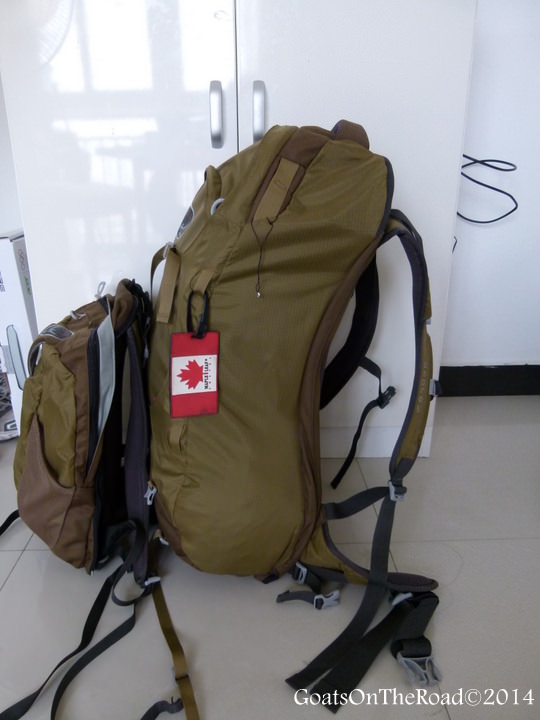 With dimensions around 64 x 34 x 30 cm (without daypack), the bag is just a little bit too large for most airplane carry-on restrictions. However, many people use it as a carry-on and get away with it, especially if it's not stuffed to the max, or has items hanging off of it.
The Osprey Farpoint 55 is amazingly manageable when loading onto buses, trains and taxis, especially when the daypack is zipped off and separate.
When you put this bag on, there is no doubt that it is well made. Osprey is so confident that this bag will never break down that they offer an "All-Mighty Guarantee" that is literally a full coverage, lifetime warranty. If ANYTHING goes wrong with this pack, they will replace it for you! Now that's an amazing warranty.
Features of the Osprey Farpoint 55
This bag is loaded with great features and it's far more advanced than other bags I've seen in the past. The entire backpack is made using a combination of 210D Shadow Box Rip Stop Nylon and 600D Nylon Pack Cloth (canvas).
Main Pack
The clip rings on the outside of the bag are very handy and the outer compression straps are great for strapping things to the exterior of the bag. There are also a couple of straps to hold a sleeping matt at the bottom of the bag, and they are big enough to hold a two-man tent!
The lockable zippers on the main bag are a plus as well and the zippers all have large, looping rings on them which make them easier to open and close with a full load.
The inside of the bag is perfect, with load compression straps and enough zipper pockets to be useful, without sacrificing too much space.
The bag doesn't have any stretchy exterior pockets like the Osprey Kestrel 32L, and although I would've liked to see at least side pockets, the bag does have plenty of extra carrying room with the outside straps.
Zipper pockets on the hip straps like the Kestrel 32L has would have been nice, but perhaps they sacrificed the pockets for extra strap strength.
The harness unit on the bag can be zipped away to avoid damage when being thrown around by airline staff. There is also a side handle which offers easy handling when the straps are zipped away.
Daypack
Osprey went an extra step on this bag. Noticing that a lot of backpackers carry their daypack on the front of their body, they added clips so that you can attach the day bag to the shoulder straps of the big bag.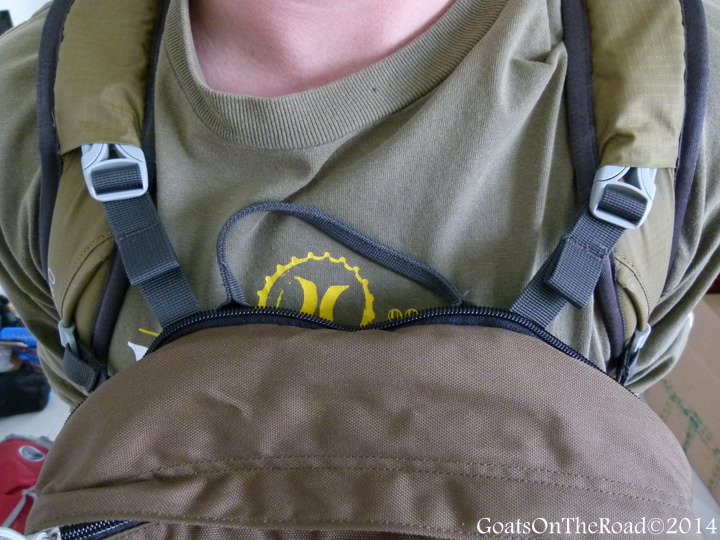 At first I thought this was a great idea, but for me the clips are in the wrong spot and the weight forces my shoulders uncomfortably forward. It's also a hassle to clip the bag on and off, so I just go the old school way of slinging the day pack straps over my shoulder in the reverse direction.
The inside of the daypack has a space for a hydro-pouch. This open pocket also dubs as a good divider when the water pouch is not in use.
*Update 2017, there's a nice space at the back of the daypack for a laptop.
There are a couple of zipper mesh pockets on the inside of the bag, as well as a handy zipper pocket at the top of the bag, which can be added too even when the bag seems completely full.
*Update 2017, there is one zipper inside, and one on the outside.
Cons:
As good as the Osprey Farpoint 55 bag is, there are a few cons and design flaws.
No zipper locks on the day pack (Update: the new pack has lockable zippers)
The clip-on-the-front day pack feature is uncomfortable
No pockets on the hip straps
No exterior side pockets
The bag does not include a rain cover, which can cost upwards of $50 when purchased from Osprey separately!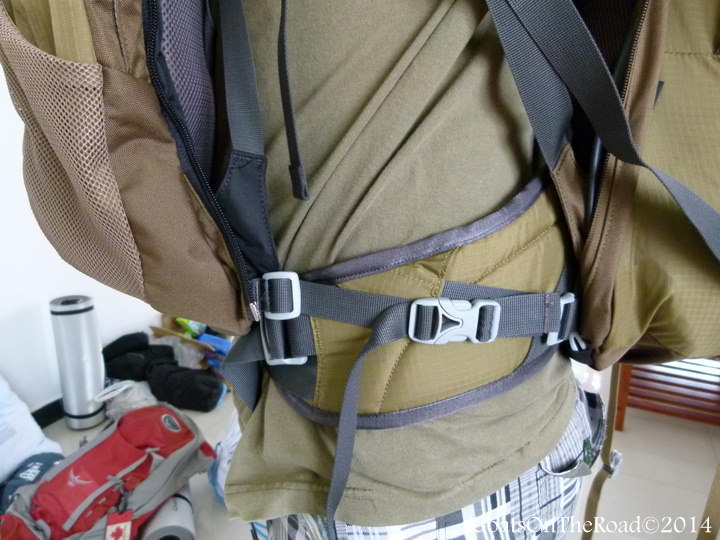 In Conclusion
The Osprey Farpoint 55L backpack has a few points that seemed to be overlooked by Osprey, but aside from the daypack not having zipper locks, they are pretty minor. This bag performed beautifully throughout our entire 5 month trip through Mongolia, Central Asia and Iran.
I carried it on long treks, over mountains, on planes and buses and it is incredibly manageable, comfortable and durable. With coverage like the Osprey "All-Mighty Guarantee" you really can't go wrong with this bag.
*Update, 2017: We've now taken our Osprey Farpoint 55L packs on two more epic treks through Chile and Kyrgyzstan and travel full time with them. We still 100% recommend these backpacks.
It's loaded with features and you won't find a backpack that holds a load closer to your body. I put this bag through the ringer on our last trip and it passed with flying colours.
This bag retails for between $130 – $180. Click here to see the latest price and read reviews on Amazon.
Check out Dariece's review of her backpack, the Osprey Kestrel 32 – another great backpack! Also, have a look at our latest post Best Travel Backpacks 2017: The Ultimate Buyer's Guide
Pin This Post For Later!