Wow, I can't believe it's over! Nearly 5 months of overland travel from China, through Mongolia, Russia, The Stans and Iran. What a trip! Even though we knew this journey would be intrepid, we could have never imagined just how adventurous it would be. We had some ups and some downs along the way, but our Central Asia Trip will go down as our most epic one yet.
So What Did We Do?
Well we started in Beijing where we took the Trans-Mongolian train through the Gobi Desert, over the rolling green hills of the Steppe and into Ulan-Bator, Mongolia's strange capital. We have always dreamed of taking that train and we've wanted to go to Mongolia since our first trip ended in 2009. Traveling Mongolia lived up to our expectations – and in fact, it exceeded them.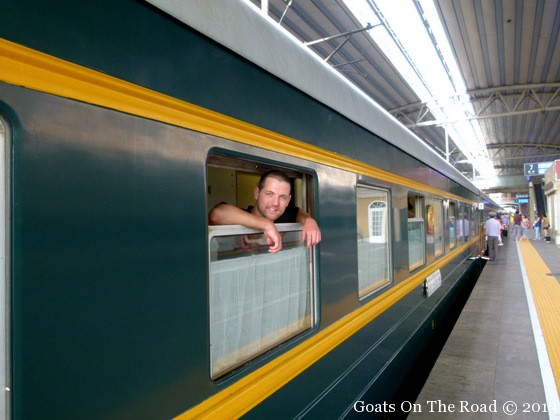 VIDEO: Taking The Trans-Mongolian Train
From Ulan-Bator, we hired a 4×4 and driver, and along with 4 new friends, we headed out into the vast emptiness of the Mongolian Desert. We rode camels, watched the sun set over the dunes, drank fermented mare's milk, and searched for dinosaur bones.
After 6 days in the desert we returned to Ulan Bator, only to take off again on the most adventurous journey of our lives. Armed with nothing more than a topographical map, fishing supplies, food and backpacks, we headed to a tiny village in the middle of nowhere.
Together, following a route we plotted on Google Maps, we trekked along the river for 8 days and over 200 km with no guide and no help. We met local nomadic families who had never seen foreigners before, and they brought us gifts almost every day. Despite the rain, blisters, sore muscles and frustration, this was probably the best thing we've ever done in travel and we are very proud that we completed it on our own.
On To Russia!
From Mongolia we hopped on another world-famous train, the Trans-Siberian railway. We made our way to Lake Baikal where we swam, explored beautiful Olkhon Island and camped on the shores of the crystal clear lake.
VIDEO:
Olkhon Island: A Piece Of Paradise In Russia
Next Was The Home Of Borat
We then got back on the train and crossed Siberia before cutting down into Kazakhstan, our first of many Stans. Here we explored the country's current and former capitals – Astana and Almaty. The ultra modern buildings in Astana were some of the coolest we've seen and the outdoors of Almaty were a breath of fresh air. We met some great Kazakh people who we still keep in contact with today.
Outstanding Kyrgyzstan
From Kazakhstan we took a minibus into Kyrgyzstan which was probably our favourite Stan of all (Why? Click Here). In Kyrgyzstan, we hired a guide and some horses and embarked on a 3 day trek to Song-Kol lake. It was easy on a horse, but our trek to Altyn Arashan on foot was one of the most difficult high altitude treks we've done to date.
We slept in yurts, ate copious amounts of mutton and learned an incredible amount about Kyrgyz culture and customs. Traveling Kyrgyzstan was an adventure we'll never forget.
VIDEOS: Horse Trekking To Song-Kol Lake Kyrgyzstan & Trekking Ala-Kol & Altyn Arashan
Then Was The Epic Road Trip In Tajikistan
We made our way to the city of Osh in the south of Kyrgyzstan where we met up with our now good friends Jason (England) and Jessica (Germany). The 4 of us hired a landcruiser and driver to take us on the region's most famed road trip, The Pamir Highway in Tajikistan. We spent 2 weeks with our new friends and we finished off this unforgettable journey with a helicopter ride over the mountains which took us back to the nation's capital of Dushanbe.
VIDEOS:
Travelling The Pamir Highway Pt.1
Travelling The Pamir Highway Pt.2
Travelling The Pamir Highway Pt.3
Travelling The Pamir Highway Pt.4
Helicopter Ride Over The Pamir Mountains
On To The Unforgettable Architecture Of Uzbekistan
After recharging and eating the best Indian food the world has to offer in Dushanbe, we took a shared taxi to Uzbekistan. The old cities and aging architecture of this Stan were worth the trip alone. We've never seen such ancient beauty as we did in cities like Bukhara, Khiva and Samarkhand. Wandering around old stone streets with enormous mosques and mausoleums towering above us, was a time-warp feel that we will never forget. We absolutely loved Uzbekistan.
When we felt that we were finished gawking at massive buildings, we transited through Turkmenistan for 4 days and entered a country we've been waiting to visit for a long time… Iran.
Iran, A Highlight In Itself
The reputation that Iran has in the media was immediately proven false, while the reputation it has with travellers who have been there proved correct. Iran will go down as one of the most fascinating countries we've ever had the opportunity to see. The people were friendly, the streets were unbelievably safe and the sites were absolutely breath-taking.
The best experience we had while backpacking Iran, and probably one of the best in all of our travels, was meeting our Iranian friends Soroush & Mehsa. The generosity and kindness they showed us was both humbling and enduring and we hope to always remain in contact with our two friends from Esfahan.
They showed us more than just their home and their city. They showed us just how hospitable the Iranian people can be and they gave us a real insight into the life of an Iranian family. Soroush & Mehsa if you're reading this, we thank you from the bottom of our hearts.
All-In-All…
This trip was all about the great outdoors and the people we met along the way. We've never been in a region where we felt so welcomed. The local people were always genuinely interested in us and our lives, and almost never expected money or business from us. The trip wasn't without its downsides though. We had some difficulty with weather for the first 6 weeks when heavy rains came almost every day. We became frustrated at times with the transportation and visa procedures and we had $1,500 USD stolen from us in the Pamir Mountains.
But when we look back on the trip, we see it as a life changing adventure that really encompassed everything we love about travel. It's these types of challenges that keep travel interesting and we are grateful to have been able to take such an amazing trip, and to have met such wonderful people.
For anyone who plans to visit Mongolia, The Stans or Iran, get ready for an expedition that will test your limits of travel, while confirming why you do it in the first place. We know now more than ever, that the road is where we want to be. Our planet is a limitless land of wonder, just waiting to be explored. Central Asia showed us a world of unparalleled beauty and re-ignited our lust for the undiscovered.
Thank-you Central Asia.
Like it? Pin it!