After a quick peek at Kazakhstan's new capital, Astana, we arrived in the gorgeous, former capital of Almaty. We decided to take the train from Astana to Almaty. After the sheer beauty of the Trans-Mongolian and Trans-Siberian trains, this train didn't compare. When we arrived at the train station at 4:30 in the morning, we were struggling to communicate with taxi drivers where we wanted to go and how much we wanted to pay. Luckily our cabin-mate from the train, Ary, offered us a ride with his friend right to our hostel. We were exhausted on arrival, so we had a quick nap before setting out on the town.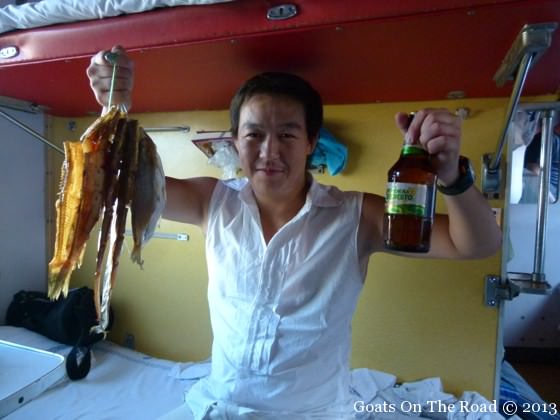 The first thing we decided to do was to take the Lonely Planet's walking tour of the city, for nothing more than to orientate ourselves with the major streets and sites. Due to a combination of poorly marked streets, and our basic ability to read cyrillic (the Russian alphabet), we missed much of the "tour" and basically just walked around the town aimlessly.
When coming to Kazakhstan, we pictured a land of desert and village life, as depicted by the pseudo-Kazakh, Borat, in his 2006 film. Kazakhstan does have vast plains of emptiness, interrupted only by small villages, but Almaty is a true, international, 21st century metropolis. With its broad leafy streets, cool shaded parks, open air cafes, sheesha bars, night clubs, world-class restaurants, spas and towering monuments, this is somewhere we could live.
Although the walking tour had us a little confused at first, the city itself is very easy to navigate. It gradually slopes upward to the south, towards the seat of the magnificently rugged Tien Shan mountain range, which can be seen towering over the city from almost anywhere. This means that if you're walking uphill in Almaty, you know you're going south.
We used this to orientate ourselves when we walked around and visited many of Almaty's sites. We walked to Panfilov Park, which we dubbed "panty-fluff park" for the sake of memory (hopefully the war vets the park was named after are okay with this). In Panty-fluff park stands the stunning Zenkov Cathedral. We entered the Cathedral just in time for some choir singing and devoted prayer.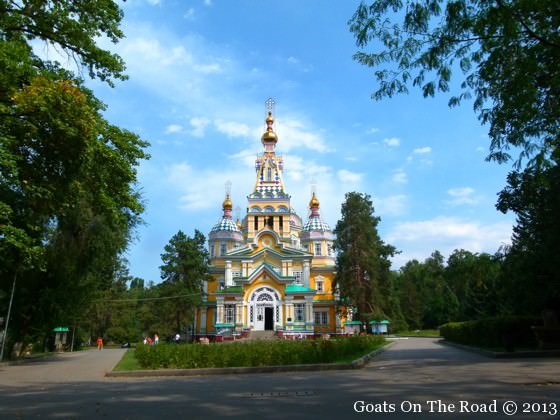 We also checked out the Central Mosque and a local market known as "The Green Bazar". It was no Istanbul Grand Bazar, but there were a lot of cool things for sale there. The horse and lamb meat section was both morbid and interesting. The fresh fruit stands had sellers as colourful as their offerings, while the pure, raw honey samplings forced us to buy a jar of the white, creamy, sweet mixture. We also bought Dariece some new pants at the market and we enjoyed bargaining with the locals like old times… We've still got it!
While in Almaty, we also visited the Arasan Baths, said to be the finest spa in all of central Asia. They were indeed fine! Sparkelling clean rooms with Russian Banyas, Turkish Hammams and Finish Saunas all built into one building… this was a relaxing experience. In the bath, whilst buck-naked and walking around awkwardly, I met Rassul, a Russian speaking Kazakh who has lived in Almaty for many years. Rassul offered to take me for tea, and from then on, he was my new Kazakh friend.
(sorry, no pictures of us naked in the spa)
The following day we met Rassul and his wife, Zhanna, and they took us to an exquisite Uzbek restaurant which was way out of our usual daily budget. They treated us to a delicious lunch and afterwards, invited to take us up to Ozero Bolshoe Almatinskoe (Big Almaty Lake) the following day. We graciously accepted and walked home excited to have made such kind Kazakh friends.
At 11:00 the next day, Rassul and Zhanna picked us up in their nice Volkswagen SUV and we headed up to Big Almaty Lake. We spent the day taking photos and chatting with our new friends about everything from fuel prices to Borat. We asked them what they thought of Borat and they said that the Kazakh government had made a statement to the public, insisting they not to take offence to the movie. It was meant to be a joke and Rassul and Zhanna agreed, although they haven't seen the movie yet. Maybe if we return to Almaty we'll give them a private screening on our Macbook.
After having a few down days due to weather at the start of our trip, we were very happy that the sun was shining for all 6 of the days we spent in Almaty. We spent every minute we could outside, including one of our favorite days in the city when we visited Chimbulak and Medeu. These are Almaty's mountain playgrounds and ski resort, just 30 minutes away. We took the public bus up to the lifts, where we took a ride up to Medeu, enjoying the spectacular mountain scenery from the window of our gondola all the way to the peaks of Chimbulak.
At the top of the gondola was the base of the Chimbulak ski resort, complete with restaurants and bars with patios that peered up at the soaring snow-capped peaks. We were in no mood for a restaurant however, we were here for the hiking. After our epic 8 day Mongolian trekking adventure, and our treks in Nepal, we had caught the trekking bug! We hiked for about an hour up the mountain and found a beautiful spot for a picnic. With the sound of the river roaring below us, we cut up our sausage, cheese and crackers and enjoyed a perfect lunch in the perfect spot. This is what it's all about!
After 7 days in Almaty we figured it was time to move on. Not because we had a train to catch, or because we had no more time on our visas, no, this time we were just ready. Almaty cured whatever travel-down symptoms we had and we would love to return one day. It was the perfect place to unwind and get settled after moving around so often at the start of our trip. Now we're off to a new country, Kyrgyzstan, which is often said to be the best "stan" for backpackers.
We took the bus from Almaty to Bishkek on September, 4th.
If you have any questions about "The Stans", Almaty or the Trans-Siberian Trains, Leave a comment below!
Like this Post? Pin it!