Without a doubt, Iran is one of the most fascinating, friendly and exotic countries that you will ever visit. In this guide, we'll tell you everything you need to know about backpacking Iran and even share some secrets that you won't find in your guide-book.
Iran is officially an Islamic Republic, so women travelling here will have to cover up their hair with a head scarf (as well as the rest of their bodies), but don't worry ladies, these days the head scarf laws are pretty relaxed and you'll get away with it being almost around your neck.
IMPORTANT: Since February 2014, the rules for Americans have been extended to include British and Canadian passport holders. This means that Canadians, British and Americans need to be accompanied by a guide while they are in Iran. Contact a tour operator to discuss an itinerary.
Jump To: Must-see Places | Must-Have Experiences | Off The Beaten Path | Pros | Cons | Transport | Visas | Health | Weather | MORE IRAN BLOGS
[widget id="text-70″]
How Much Will Iran Cost?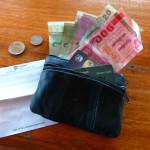 **IMPORTANT**
You will need to bring cash (US Dollars Only) with you into Iran to cover the full cost of your trip. ATM's will not work for foreign debit or credit cards.
Budget: $71/day for 2 people
Backpacking Iran is incredibly inexpensive these days, with the street rate for the Iranian Rial being around 31,850 / $1 USD (Click Here for official / street exchange rate history). Iran is a country that offers great value for money, even more so these days.
The official rate of exchange is 26,827, so rather than exchanging your US Dollars at an official bank, you're much better off heading to a legal street stall and exchanging your money there (which is totally legitimate).
$71/day is a good budget for two people (around $40/day for a solo-traveller). This will afford a nice double room in a budget hotel, good local meals, the occasional taxi and tour, and taking first class buses everywhere (1st class is only a couple of dollars more than lower classes).
Budget Accommodation: (Average $36 / night with breakfast)
The hotels and guest houses we stayed at cost between $20 – $40 and most included breakfast, while some even included a delicious dinner. All were beautiful budget hotels and many were built out of old homes that have been standing for centuries. You won't find too many dorms in Iran, but we were at one hotel in Yazd that offered single rates for solo-travellers. While we did stay in nice double rooms, that's the budget standard in Iran and you won't find anything much cheaper.
Hotels We Stayed In
Mashoud

Garmeh

Yazd

Kerman

Shiraz

Esfahan

Tabriz

Tehran

Hotel Meraj

Ateshoonie G.H

Koshan Hotel

Akhavan Hotel

Niyayesh hotel

Stayed With Friends

Morvarind Hotel

Golestan Hotel

$33 2bedroom apartment, wi-fi, kitchen

$35 per person w/breakfast, dinner, wi-fi, shared

$20 w/ breakfast, private bathroom & wi-fi

$36 w/ breakfast, dinner, private bathroom, wi-fi

$25 w/ breakfast, wi-fi, private bathroom

FREE

$24 w/ breakfast, wi-fi, private bathroom

$36 w/ breakfast, wi-fi, private bathroom
Eating: ($2-$7 / meal)
There are some cheap street meals to be had for backpackers in Iran and sometimes (especially during Ashura), you'll find free meals all over the place! But eating a nice meal in your hotel restaurant or at a restaurant in town will likely cost between $5 – $10. Food in Iran is delicious and well worth every penny! Don't miss the date milkshakes!
Entrance Fees: (Free – $10/person)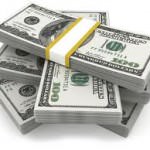 The entrance fee to Persepolis (one of Iran's premier historical sites) is around $10. Most people join a tour from Shiraz for around $20 – $25. Some mosques and mausoleums will charge around $3 – $5 for entrance, while parks and some museums are free.
Alcohol: (GOOD LUCK)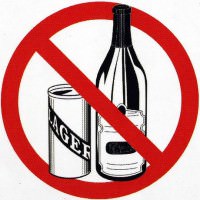 No reason to really put a budget for this here because alcohol is illegal for all Muslim Iranians, and you won't likely see too much of it, let alone be able to buy it. If you're really desperate for a drink, you can find wine in Shiraz. Expect to pay around $10 / plastic bottle, but keep it low-key and remember, it's illegal!
Tipping: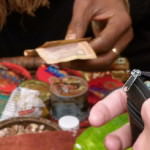 Tipping is not customary in Iran but services that cater to tourists will expect a gratuity. If you've hired a guide, a porter or a driver, expect to give a tip at the end. A few dollars should be fine.
Some restaurants, particularly in larger hotels, will add a 10% service charge to the bill. In other places, away from tourist areas, servers will be pleasantly surprised by any change you leave.
If you stay with a local family in Iran (which you most likely will), it's a good idea to leave a small gift. Something from your home country would be ideal, or you can purchase a nice item from the bazaar to thank your hosts (pottery, a vase, artwork, etc.) Stickers, pens and notepads from your home country are great to give to kids when you leave.
Money:
Current Exchange Rate:
$1 = 31,850 Rial
**IMPORTANT**
You will need to bring cash (US Dollars Only) with you into Iran to cover the full cost of your trip. ATM's will not work for foreign debit or credit cards.
The exchange rate in Iran is always changing quickly and has gone through some pretty unstable moments in recent years. In July 2013, after the Rial plummeted to its all-time low of around 40,000 to 1 US dollar, the Central Bank of Iran upgraded its official exchange rate from 12,284 to a more reasonable 20,750, and again in August to 24,500 to the USD, but this is still well below the street exchange rate (which is 31,850 Rial to 1 USD)
Basically, if you go into a bank to exchange your American Dollars into Rial, you will be paying a lot more than if you went into one of the many (legal) street stalls. The cheapest time to backpack Iran was surely July 2013, but it is still a very affordable place to travel.
[widget id="text-83″]
Must-See Places in Iran
There are far too many "must-see places" to list here. We spent a lot of time in this country and we still have much to see. While we do love seeing sites, the true beauty of Iran is in its people (more about them below).
Jump To: Must-Have Experiences | Off The Beaten Path | Pros | Cons | Transport | Visas | Health | Weather | MORE IRAN BLOGS
Mashhad & The Shrine of Imam Reza:
The city of Mashhad offers little for backpackers, but the immense labyrinth of the shrine complex containing Imam Reza's mausoleum, (read more about Imam Reza on Wiki here), makes a trip to the city well worth while. It is the largest mosque in the world by dimension and the second largest by capacity (next to Mecca in Saudi Arabia).
Also contained within the complex are the Goharshad Mosque, a museum, a library, four seminaries, a cemetery, the Razavi University of Islamic Sciences, a dining hall for pilgrims, vast prayer halls, and other buildings.
A visit here is an immensely powerful experience as many people sob and cry out to their lost hero, Imam Reza. Travellers are required to have a guide with them in order to enter this massive complex. We went two times, once by ourselves and once with a guide. It really just depends on how the people at the entrance gates are feeling on that particular day. Also, tourists are not meant to enter the shrine itself, but if you are respectful you may be invited in. Women must wear a chador (which will be provided to you at the entrance) and no cameras are allowed. Entrance is free.
We recommend a late evening stroll, as the shrine is open 24/7. Seeing the many mosaics and intricate carvings on archways and walls, dimly lit by the late evening moon, is a definite highlight.
Garmeh:
While you're backpacking Iran, you'll probably want to experience the desert, and there is no better place to do so than in Garmeh. Stay at the Lonely Planet recommended Ateshooni Guest House (they definitely got this one right), and meet Maxiar, a true desert man. Explore this lush, palm shaded oasis with hikes up to lookouts, waterfalls and farmlands.
Maxiar can organize trips to the nearby salt flats, sand dunes and villages, but the true appeal to Garmeh is at Ateshooni itself, where Maxiar will play numerous unique instruments and treat you like a VIP family member.
The Lonely Planet makes getting here sound a bit confusing, but call Ateshooni and they'll clear everything up for you.
The phone number is: +98 324 443 2156 or +98 913 223 0874 and they have a website: www.ateshooni.com
For our experience, Check out: Delightful Desert Days: We Love Iran!
Yazd:
With a population of nearly a half a million people, Yazd is an average-sized city for Iran and it's the center of the Zoroastrian religion. This labyrinth town of mud and brick is one of the most intriguing places in the country. Get lost in narrow alleyways, where the golden walls seem to close in on you, just before opening up into a beautiful park or mosque courtyard.
Head to the roof for an unforgettable sunset, when the entire city becomes illuminated and the rooftop bagdirs (ancient Iranian air conditioning towers) glow and change colour with the falling sun.
Make sure to do a day trip to the surrounding site of Chak-Chak, the abandoned mud village of Karnaq and the city of Meybod.
Some of the historical sites to see in Yazd:
Fort Mosque
Fortifications of Yazd
Haj Yousef Reservoir
House of Arab'ha
House of Larry
House of Malek al Tojjar
House of Mortaz
House of Rasoulian
Iran Shahr School
Jame Mosque of Yazd (Grand Mosque of Yazd)
Khan Bazaar
Mausoleum of Sahl Ibn Ali
Mausoleum of Seyed Rokn al Din
Mausoleum of Seyed Shams al Din
Mullah Ismail Mosque
Masoudi Reservoir
Rig Mosque
Sheikh Ahmad Fahadan Mausoleum
Shah Tahmasb Mosque
Zargari Bazzar
Ziaiah school
Kerman:
This fantastic, lesser-known city actually has quite a bit to see. Check out the 1,200 meter long "end-to-end covered bazaar", where you can sample spices and shop for pottery, hookah and textiles. Although Kerman is a nice city, the main draw for coming here is the Kalut Desert (Dasht-e Lut) which is about 100 km northeast of Kerman (2 hour drive).
Stay with Mr. Akhavan at the Akhavan Hotel and he'll set up everything for you. At just $36 / night, including breakfast and dinner, this place is definitely a good deal!
Hire a taxi and guide (around $30) and head out to the towering sand formations of the Kalut Desert for sunset. Some of these wind-forged sand castles are 10 stories high and their jagged formations take on an alluring golden hue at sunset. You can also arrange to spend the night out in the desert.
Don't come here in the summer or during the day as this is where the hottest temperature was ever recorded on Earth (70.7 °C)
Goat Note: The political situation is always changing in eastern and southeastern Iran. Make sure to check that it is stable before planning a trip here.
Shiraz:
The fifth most populous city of Iran and the capital of the Fars Province, Shiraz is another one of Iran's prime cities for backpackers to visit. This place has been an important trading stop for thousands of years and it is considered to be one of the oldest cities in ancient Persia.
Here you can stay in what is arguably the most beautiful ancient hotel in the country (the Niyayesh Hotel) and enjoy all that this somewhat liberal city has to offer. Shiraz is known as the city of poets, literature, wine and flowers. There are some lovely parks, Unesco listed gardens and stunning mosques. Don't miss the Ali Ibn Hamza Shrine with its interior of glistening mirrored walls and ceilings.
Shiraz is also where Hafez (the famous Iranian poet) was buried, so definitely check out his tomb and have your future read through one of his lovely poetry books.
Persepolis:
These impressive ruins are located inside of a vast, city-like complex and were built over 2,500 years ago. They are found near the town of Marvadasht, but most people take day trips to visit them from Shiraz ($20-$25). This ancient city was once set on fire and looted by Alexander the Great, and further destroyed by subsequent Arab invaders, but despite its rocky past, Persepolis remains one of the most evocative sites in the country and a symbol of the Iranian nationality.
Esfahan (Isfahan):
Esfahan is the third largest city in Iran with many interesting sights to see. Take your pick between parks, squares, palaces, bridges, mausoleums, churches, cathedrals, tombs, mosques, museums and bazaars!
Make sure to see the Khaju Bridge, the 17th century Shahi Bazaar, the Shah Mosque & Shah Square. Visiting the Armenian Quarter (New Julfa) is also recommended. There are some great restaurants, the lovely Vank Cathedral and interesting streets to get lost in. There are so many sites to see in Esfahan that you'll never be bored!
This city is a highlight of any trip to Iran.
Check out our article: Esfahan, Iran: Taking Hospitality to a Whole New Level
Tabriz:
Located in the far northern reaches, near to the border with Azerbaijan, is the city of Tabriz. This city may seem too far away to bother visiting, but it should definitely be on your Iranian itinerary.
The UNESCO Listed Bazaar of Tabriz is one of the oldest in the Middle East and is the largest covered bazaar in the world. This is a place that you can find anything and everything you might want, and you may get lost too! Make sure to see The Blue Mosque and the Poets' Tomb as well. The streets in Tabriz are bustling and make the city interesting to walk around. Plus, it's a very safe city.
As a day-trip, we recommend visiting the troglodyte village of Kandovan. Located in the mountains just two hours from Tabriz, the views here are lovely and the cone-shaped homes are very interesting. Make sure to wear good walking shoes!
Tehran
With stunning rocky mountains as a backdrop, great skiing and cool markets, Tehran is definitely worth lingering in for a couple of days (despite what your guide book might say). The anti-American graffiti at the former US embassy and the incredible collection of gold and diamonds at the Treasury of National Jewels are definitely worth a visit!

Must-have Experiences
Stay With Iranians:
Without a doubt, the most enjoyable part of backpacking Iran is having the opportunity to stay with a local family or friends and learn about the Iranian culture. Luckily for travellers, Iranians are incredibly hospitable and you'll probably be invited to stay multiple nights in many strangers' homes. SAY YES! This is the best experience you can have in the country and it will give you invaluable insight into the real Iran.
Jump To: Must-see Places | Off The Beaten Path | Pros | Cons | Transport | Visas | Health | Weather | MORE IRAN BLOGS
Witness Ashura:
If you can time your visit for the mourning ceremonies of Ashura, you'll have an amazing, first hand look at Iran's close connection with their faith, history, and lost heroes. Aside from the open sobbing and Self-flagellation in the streets, Ashura is a time to remember those who have made sacrifices. Imam Hussein, the grandson of the prophet Muhammad, was (and still is) a true hero to the Shia Muslim people. Witnessing their sheer devotion and mournful cries is a remarkable experience.
This is also a time for giving and during Ashura, people will often hand out free food and drinks – which can really help the budget!
Note: Make sure to have your transportation and hotels booked during this time as it can be a busy time with locals moving around.
Check out: Ashura, A Month of Sadness and Self-Flaggelation in Iran
Have A Deep Conversation:
You should take the opportunity to have a long and deep conversation with an Iranian. It's amazing how open and genuine they are. When a local strikes up a conversation with you on a bus or in a cafe, be open to it and you may find yourself truly connecting with them on a very personal level.
Goat Note: It is illegal for men to speak to unattended women in Iran, so don't go striking up conversations with pretty Persian girls or you may get arrested.
Witness Prayer Time:
A great time to visit mosques and mausoleums is during the time of prayer. Even if you're not a religious person, it can be a moving and calming experience to listen to the meditative chants of the muezzin, and the repetitive replies of the hundreds of people inside of the mosque. Outside of prayer time, the interior of all mosques and mausoleums in Iran are absolutely mind-blowing and definitely worth a visit.
Smoke Qalyan:
The Iranian water pipe is a popular social activity, especially amongst males (but increasingly amongst young females in more modern cities). The substance of choice is flavoured tobacco and it can be quite delicious. Of course it's not the healthiest past time but everything is okay in moderation! When in Iran right?
Goat Note: In some countries, tobacco water pipes are called Sheesha… not in Iran. Sheesha means crystal meth in Persian, so be sure not to use this term when ordering Qalyan!
Must Try Dishes
Food is a huge part of travelling to any country and backpacking Iran is no different. Although Iranian cuisine isn't world-famous, after travelling here you'll wonder why. The spicy stews, fruity sauces and sweet beverages in Iran are absolutely delicious.
Note: Islam is the dominant religion in Iran, so you won't find pork in many, if any of the meals.
Fesenjān:
This thick, tart stew is made from pomegranate syrup and ground walnuts. It is traditionally made with poultry (duck or chicken); but there are also variants using balls of ground meat, ghormeh, cut lamb or fish. Finding Fesenjān without meat is not unusual either.
Gormeh Sabzi:
This is often referred to as Iran's national dish. A delicious stew that literally translates to "stew of greens and herbs", the main ingredients are a mixture of sautéed herbs (parsley, leeks or green onions, & coriander), seasoned with the key spice of "shambalileh" (dried fenugreek) leaves. In Garmeh you can have Gormeh Sabzi with camel meat!
Date Milk Shake:
This seems to be more of a tourist delicacy than an actual Iranian beverage, but there's no doubt that these frosty, thick mugs of goodness are a hot seller in Iran. Don't leave without trying a Date Milkshake! You'll wonder why they don't have them at every fast food chain and milkshake shop around the world.
Dizi (aka Ābgusht):
Literally meaning "water meat", this tasty dish may not sound appetizing in its English translation, but it is one of the most delicious meals in Iran, and certainly the most fun to eat. It traditionally comes out in a clay or metal pot with a lid. The savory stew is always served with bread and a pestle on the side, and you are meant to tear up the bread into tiny chunks, put it into the stew and then mush everything together using the provided pestle.
This Persian / Mesopotamian stew is often referred to as "a peasants dish" but it is actually a hearty mutton soup thickened with chickpeas. Usually made with lamb, chickpeas, white beans, onion, potatoes, tomatoes, turmeric and black lime, it is a cheap and filling dish that backpackers can't get enough of!
Anything you sample in Iran will be delicious. Make sure to sample the street snacks as well!
Off The Beaten Path In Iran
Let's be honest, not many people visit Iran and by coming here, you're already "off-the-beaten-path". Some main places to note that are further away from the "crowds" are Garmeh, Kerman, Tabriz and Qeshm Island.
Jump To: Must-see Places | Pros | Cons | Transport | Visas | Health | Weather | MORE IRAN BLOGS
Pros Of Travel In Iran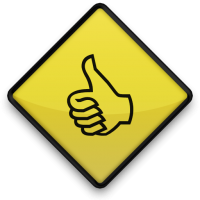 You're planning a trip to an amazing place and there are many pros to backpacking Iran. Travel is very personal and different for everybody, so you'll probably find many more pros when you're in Iran. We've only listed a few.
Jump To: Must-see Places | Off The Beaten Path | Cons | Transport | Visas | Health | Weather | MORE IRAN BLOGS
Incredibly Friendly People!
We've said it before and we'll say it again. Iran has the friendliest people in the world.
Safety:
Despite your friends' and families' reaction when you told them you were going to Iran, you'll probably never feel safer on your travels. The Iranians will treat you like a delicate piece of jewelry when you pass through their country, doing everything in their power to ensure you leave safely, and with a better outlook on the country, its motives and its people.
Amazing Sites:
This is ancient Persia. The historical sites, cities, shrines, mosques and mausoleums here are some of the most exquisite creations you'll ever see.
Diversity of Faith & Thought:
Before coming here, you may think that everyone in the country is very conservative and of the strict Muslim faith. This simply just isn't true. You'll meet friendly Bahai, Zoroastrians, Christians, Jews, Muslims, Agnostics, Atheists and so much more.
Smashing Misconceptions:
Iran will blow you away. No matter how much you think you know about this place, you will learn so much more when you travel here. When you enter into a family's home, you'll probably see men drinking wine and women wearing tank-tops and short skirts. This may throw you for a loop, but it's what makes Iran so special. There are two worlds here, outside and indoors, and to experience both will help you to shape a new mental picture of Iran and its people.
Amazing Transportation:
Given the current exchange rate, even budget backpackers in Iran will be able to afford to take luxurious 1st class buses and the occasional flight. Transportation here is easy to organize, comfortable and outrageously cheap.
Cons Of Travel In Iran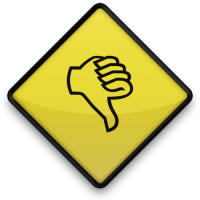 There are a few cons to backpacking Iran, but in all honesty, it's hard to think of more than just a few, so we're really reaching here.
Jump To: Must-see Places | Off The Beaten Path | Pros | Transport | Visas | Health | Weather | MORE IRAN BLOGS
Having To Be Covered Up:
Women will be especially affected by this law and it can be very annoying. You must cover your arms, legs, bum and hair at all times (no matter how hot it is) and this will really limit your wardrobe, and possibly your sense of freedom. Just know that many of the women around you don't want to dress like this either.
**Note: Although the younger generation of Iranian women are pushing the boundaries of the law by having headscarves barely hanging off the back of their heads, be aware of the Morality Police in Iran who drive (and walk) around, looking for people disobeying the law. You must have your head covered and wear appropriate clothing at all times when in public.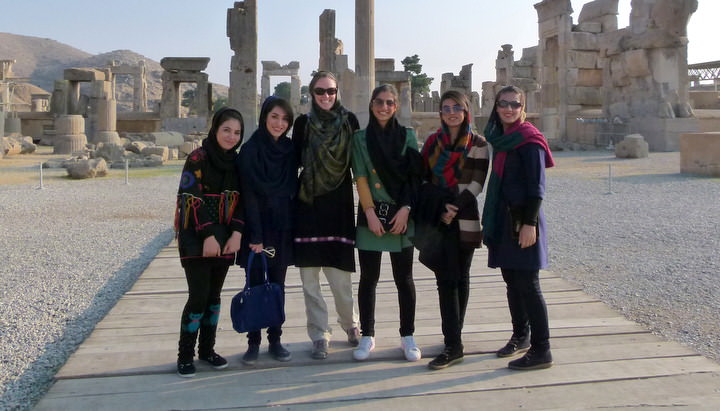 Typical outfits for younger Iranian women, look how far back on the heads those scarves are! As long as your shirt/jacket is covering your bum, you're ok. Many of the outfits in Iran are actually quite stylish.
No Alcohol:
Well, there is alcohol, if you know where to look, but you won't be going to bars and getting hammered with other backpackers in Iran. If caught drinking alcohol, you could be looking at some jail time, or a fine. At the same time, it's very interesting to see how young Iranians entertain themselves into the wee hours of the night, without a drop of alcohol.
No PDA:
If you're a couple, you'll have to keep your smooching and hand holding for when you're indoors. These are basic cons of travelling in a highly conservative country.
The Heat:
Iran is home to the hottest temperature ever recorded on earth (nearly 71°C!). This means that summer in the southern deserts and Persian Gulf can be unbearably hot.
Internet Restrictions:
You'll need a VPN (virtual private network) in order to visit websites such as Facebook, Twitter, Google, YouTube, BBC, etc. Somehow our website was able to be connected to in Iran without using a VPN, but most aren't.
The People In Iran
The people you encounter while backpacking through a country can have a profound impact on the way you view a destination. Not only the local people, but the types of other travellers as well.
Types Of Other Travellers: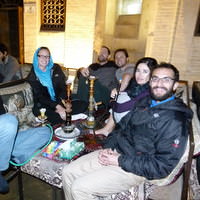 If you're heading to Iran, you're going for the same reason that most people are going, to find somewhere unique and off the beaten path. Other travellers in Iran can be a major highlight of your trip, with so many different backpackers on so many different adventures, you're sure to hear many amazing stories at every hotel and restaurant d