Making our plans to travel on the second highest highway in the world, the Pamir Highway, from Kyrgyzstan to Tajikistan left us shaking with excitement! The Pamir Highway runs from Osh (in Kyrgyzstan) to Khorog (in Tajikistan) and was built by the Russians between 1931 and 1934 in order to transfer military personnel, goods and supplies during the war.
Travelling through the Pamir Mountains is the trip of a lifetime. The border of Afghanistan is meters away, towering over the road are the 7,000m high snow-capped pinnacles of the infamous Hindu Kush which run through Afghanistan and Pakistan. Apart from mountains, we'd be looking for the rare Marco Polo Sheep, trekking over high passes, staying in homestays with local families, going to natural hot springs, visiting ancient forts, wandering around markets and exploring small villages.
Saying we were excited for this journey would be an understatement.

View Pamir Highway in a larger map
Many travellers make the choice to travel from Osh, through the border with Tajikistan, over two very high passes, ending in Murgab…all in one day. We made the decision to not drive straight from Osh to Murgab, we wanted to sleep at 2 different villages along the way. There is a serious risk of altitude sickness when travelling in these high mountains and we didn't want to take any chances. We thought it was best to properly acclimatize ourselves before continuing on.
We all agreed: going from 600m in Osh up to 4,600m on the highest pass in only one day was just plain stupid.
On September 24th it felt like Christmas, we were stoked to start this epic adventure. When our Landcruiser and driver pulled up at our guesthouse we couldn't wait to pack up our things and get on the road!
Unfortunately, Jason ate some not-so-sanitary mantis (Kyrgyz dumplings) the night before and was feeling really sick and Jessica's cough had become worse. Also, our driver was different from who we thought we were getting. According to CBT (Community Based Tourism), our driver had been a border guard for many years, but the guy that stood before us was 18, if that. I don't think he did much border guarding when he was in high school. Also, for some reason we had a 6th person in the vehicle, another guy about 18 as well.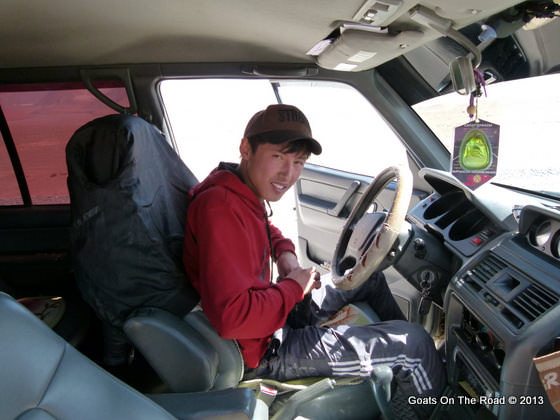 Immediately I knew something was up and none of us were too happy about having bags on our laps rather than in the back of the jeep (where the random passenger sat). We called CBT, and the man at the office said that he didn't know this would happen, blah, blah, blah and that if we could take our driver's friend, it would be nice of us. We all looked at each other, even Jason turned his head slightly and moaned, and we all decided screw that. We paid good money for the vehicle. We want to be comfortable.
We ditched the guy and we were off! Just us, our 18-year-old "experienced" driver and lots and lots of hilarious music, which would be played on repeat for the duration of the journey.
It was an interesting start to our much-anticipated journey, to say the least. From Osh all the way to Sary Moghul, there was this weird fog/haze/smoke laying low in the valleys, which prevented us from seeing any views of the massive Pik Lenin mountain. We were all slightly disappointed, especially Jason who had to make a few vomit-stops along the way. We just hoped that the fog would clear up the next day.
When we arrived in Sary Moghul, we dropped off our things at our homestay, had some lunch and drove out to the base of Pik Lenin. As we got closer to the mountain, we could actually see it! The peak was covered in snow, but all around the base it was dry. Nick, Jessica and I set off on a trek while Jason, feeling like he was dying, stayed in the vehicle.
As we were hiking, we realized just how much the altitude was affecting us. The three of us had taken altitiude-sickness pills (Diamox) so we weren't feeling ill, just very, very winded! At around 3,600m, every step we took was laboured. We wandered around to the base camp and took some photos of the massive mountain, before returning to the village.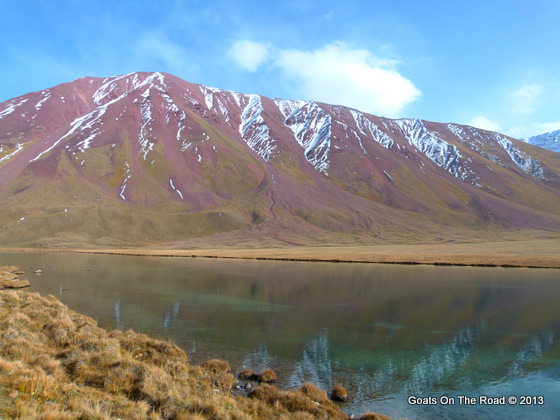 Even though Sary Moghul is a tiny village in the middle of nowhere, we loved it. There's something about village life that Nick and I really enjoy. People were riding donkeys, children waved shyly, men and women worked in the fields and all of the houses here were made of mud. It was a very photogenic place.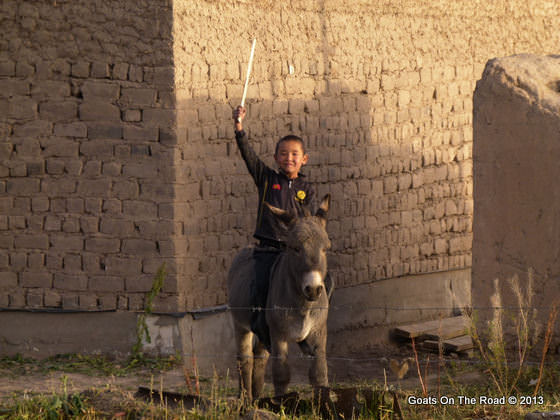 We had a meal at the homestay and after that, Jessica announced she had the German version of Yahtzee (Kniffel) and Jason had a Scrabble board with him! It was settled, it was a board game night.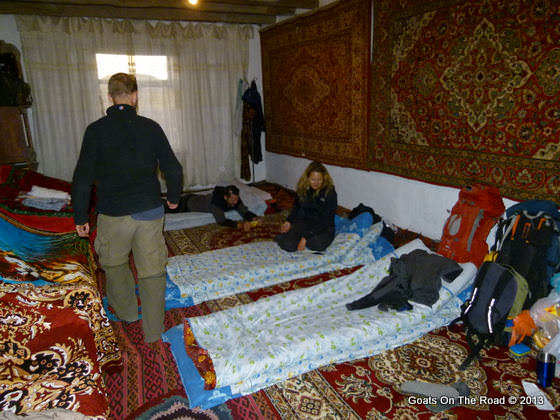 We all went to bed with our fingers crossed that the haze would lift from the mountains the following morning and that Jason and Jessica would be feeling better. Snow-capped mountains and small villages in the middle of nowhere filled our dreams that night. The best was yet to come…
What would you have done if your driver showed up and he wasn't who you were expecting? What about the fact that we kicked his friend out, would you have?! Comment below.
Like this Post? Pin it!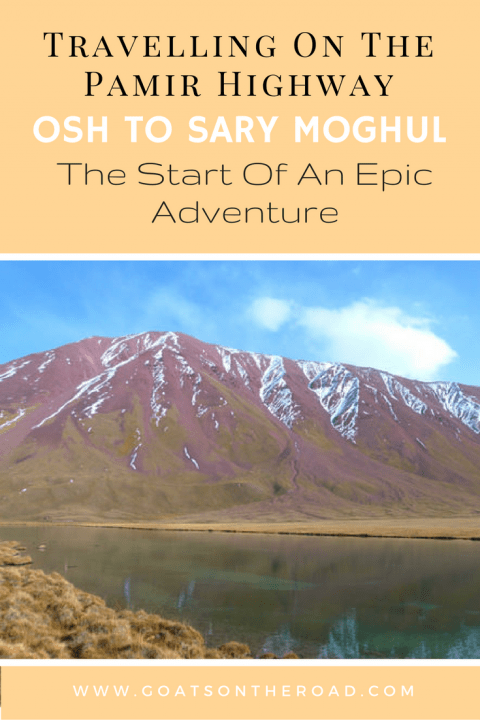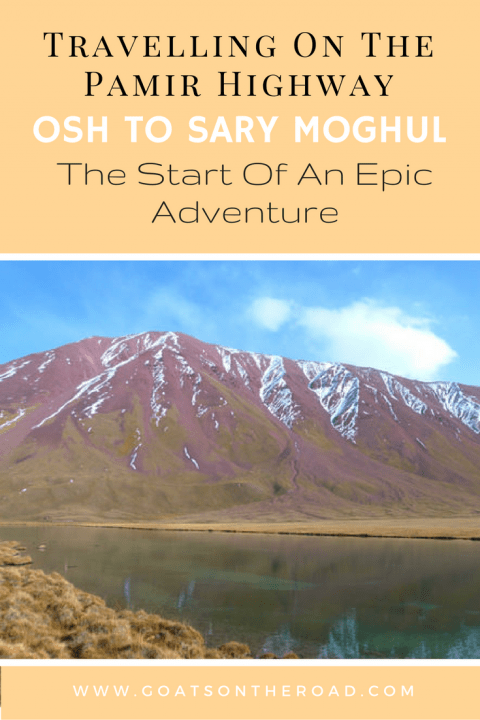 Disclaimer: Some links in this article are affiliate links, which means that if you purchase through them, we receive a small commission. This will never cost you extra and in many cases you receive a special discount. We appreciate your support!