In 2007, we went on our first vacation together to escape the freezing cold winters in Calgary. We packed our suitcases, put on our summer clothes and said goodbye to our jobs…for a week! We were off to Tulum on an all-inclusive vacation and we couldn't have been more excited. During that week together enjoying the sand and sun, we both contracted the travel bug! Just that little taste of Mexico was all it took, we were hooked.
Fast forward 7 years, and numerous countries inbetween, and we're back where our love for travel all began! After two weeks in Valladolid filled with Tamale making, Maya cultural performances and tequila drinking, we arrived in Tulum. This city is located in the Maya Riviera on a stunning stretch of pure white sand and turquoise clear waters. This is definitely one of the top places to visit in Mexico.
The town of Tulum has numerous options for cheap eats and sleeps and there are lots of fun things to do in Tulum. We're staying at Casa del Sol Hostel in a cute little room, which is actually attached to the main building, but they've cleverly made it look like a funky hut. The floors are tiled, the bed is comfy, there's a common area where all the backpackers get together for beers and they rent bicycles for only 50 pesos for the day. It's a pretty good hostel, we've seen better, but we've seen much worse.
Since we've been thoroughly enjoying every bit of cuisine that Mexico has been throwing our way, it has been nice to hop on our bright red bikes and get some exercise.
We've been riding 5 kms to the beach and back for the past two days and are seriously feeling the burn in our thighs…yes, we are slightly out of shape. Gone are the days of trekking through Mongolia and Central Asia, now we're laying on beaches and eating everything in sight!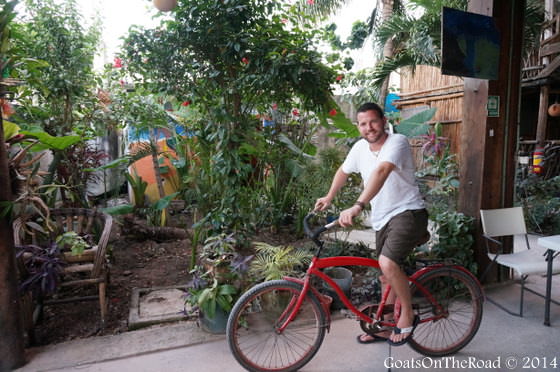 Tulum is such a great city. The main town is a bit of a dusty highway, but the portion near the beach is laid back and funky. It's not as built up and busy as Playa del Carmen or Cancun and it has lots to offer. Ancient Maya ruins cling to a cliff side overlooking the beach and there are numerous cenotes nearby. We haven't had a look at the ruins yet because we're partnering with the Riviera Maya Tourism Board who are taking us there in two days.
We have lots of upcoming plans including visiting a Maya village, watching traditional dance, visiting the ruins of Coba and Tulum and doing some cave exploration! After all of that exciting stuff, we're coming back to Tulum where Nick will be doing some unique scuba diving.
Stay tuned to hear about our adventures in the Riviera Maya!
Have you been to this part of Mexico? What was your favourite activity/sight in the area? Share with us in the comments below!
Like it? Pin it! 🙂