After an amazing 14 days travelling the Pamir Highway from Osh to Khorog, it was time to find our way back to civilization. We were originally planning a shared taxi ride but when we found out that a flight was just $90 while the taxi was $60, this one was a no brainer.
Seeing the small plane on the runway and knowing that it flies THROUGH the mountains rather than over them, really made this an easy decision. We usually book tickets online, but there was no online booking at this office. Just a hole in the wall with a grumpy man on the other side. We suddenly realized just how much we take the ease and efficiency of booking online for granted.
When we got to the "airport", we were disappointed to find out that the plane was sold out for 2 days! We really needed to get to Dushanbe within 24 hours to get our visas going for Uzbekistan, Turkmenistan & Iran, so we were slowly retreating from the idea and looking back at the long, uncomfortable taxi ride. It's not like we're not used to uncomfortable modes of transportation!
That's when the man at the "airport" (really just a patch of pavement with a luggage conveyer) asked if we wouldn't mind getting on a helicopter instead.
"Mind?! We would be stoked if we could get on a helicopter!"
He must've seen the glee in our eyes, because within two hours he had arranged for us to be in a helicopter with the owner of Tajik Airlines. There were no other tourists in the chopper, just a couple of other Tajik Air employees and the man behind it all, who spoke perfect English and even let us sit up in the cockpit with him for most of the two hour flight!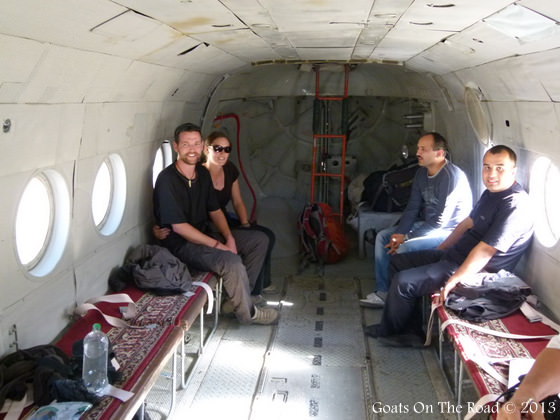 Sometimes in travel, things just come together and make for the perfect trip, this was one of those times. After having such an incredible trip through the Pamir Mountains, we were now flying through them. The cabin in the helicopter wasn't even pressurized, so the windows were open and we could put our hands (and our camera) outside for amazing views.
The smiles didn't leave our faces for the entire 2 hour flight, and for two days afterwards. Sometimes words lack the capacity to describe an experience, this is one of those times.
Check out the quick video below!

This was our first helicopter ride. Have you ever been in a helicopter? Tell us about it below…
Like this Post? Pin it!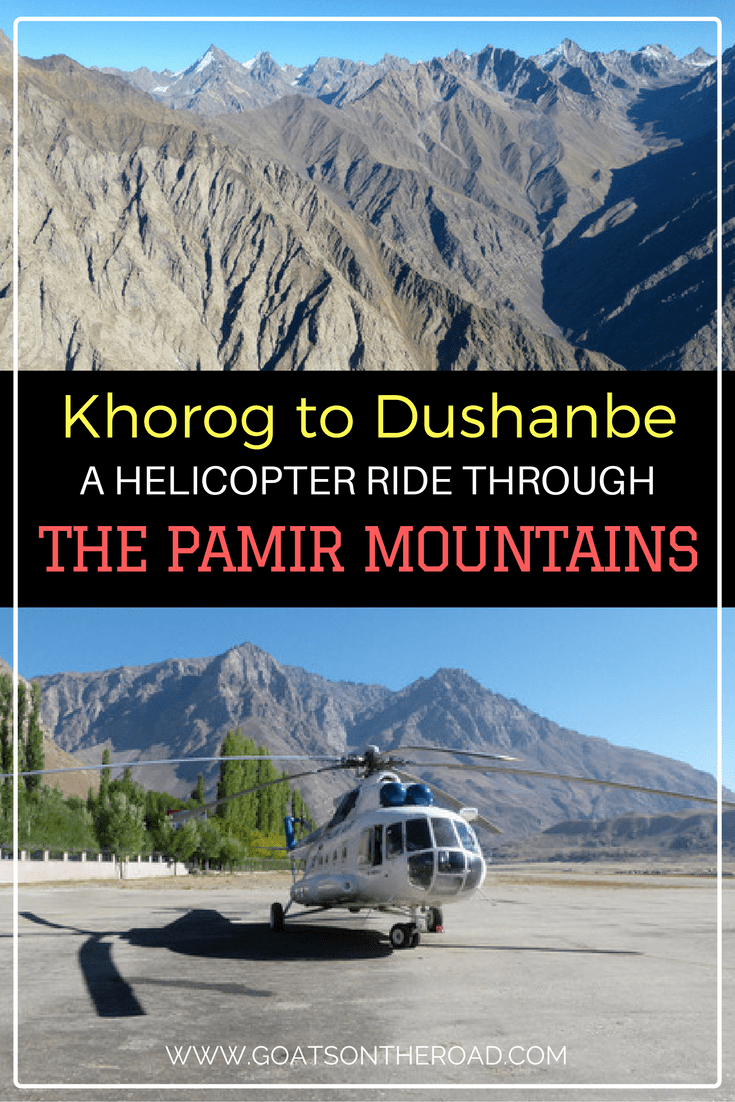 Disclaimer: Some links in this article are affiliate links, which means that if you purchase through them, we receive a small commission. This will never cost you extra and in many cases you receive a special discount. We appreciate your support!