Guanajuato state should be firmly planted on your Mexico travel list. Blessed with natural beauty, Spanish colonial cities, cultural and historical festivals, and fantastic shopping, Guanajuato has a little something for everyone.
Add to it the fact that there are more than 25 wineries in the state and you'll probably want to move here!
In Mexico, wine isn't as sought after as tequila, beer, or mezcal, but its consumption is on the rise and wine drinking is gaining popularity.
In Guanajuato, the Ruta del Vino (Wine Route) isn't as well established as the Valle de Guadalupe on the Baja Peninsula, but that's part of its charm.
Here, you can expect a more personalized experience, boutique wineries, and more bang for your buck.
Some small food pairings and a tour of the winery and vineyards are often included in the tasting price — something that's hard to come by in other wine regions.
We recently spent a few weeks in Guanajuato and absolutely loved it.
After visiting Guanajuato City, Dolores Hidalgo, La Gruta hot springs, and the city of San Miguel de Allende, we were looking forward to delving deeper into Guanajuato's food and wine scene.
We sipped, swirled, and sampled our way around the state while celebrating my birthday in style.
After experiencing this portion of the El Bajío wine region, I've put together this guide visiting the best 8 wineries in Guanajuato to help you plan your trip.
Note: Guanajuato is the name of the state, but to make it confusing, Guanajuato City is the capital of the state!
About Guanajuato Wines
As it only dates back to the late 1990s / early 2000s, modern winemaking in Guanajuato is a fairly new practice. But, due to its high altitude (6,500 feet above sea level), cool evenings, and hot days, the region is conducive to grape growing.
One of the more unique aspects of the wineries in Guanajuato is that winemakers here are trying to practice "old world" techniques. This means no additives or pesticides, low intervention, and a focus on providing the most natural wine possible.
As a consumer, organic wine means fewer headaches and hangovers after drinking!
Because Guanajuato is an up-and-coming wine region, the winemakers are still testing different grape varietals and seeing which ones work best with the land, and which grape blends compliment spicy Mexican food.
Based on what we sampled during our travels here, I'd say that the Cabernet Sauvignon, Merlot, Cabernet Franc, and Tempranillo are winners.
The Guanajuato Wine Route
The official Ruta del Vino stretches from the western side of Dolores Hidalgo to the eastern side of San Miguel de Allende, however, you can find many vineyards and wineries scattered all around the state of Guanajuato.
We made our way towards the historical city of Dolores Hidalgo and beyond, east towards Queretaro state, and west to Guanajuato city where we found numerous wineries, restaurants, and vineyards.
Unfortunately, we weren't able to visit the wineries in the south of the state…but, that just means we've saved something for next time.
Must-Visit Wineries in Guanajuato
It doesn't get much better than enjoying a fantastic meal surrounded by vines while sipping on premium red wines. After some research and discussion, we decided on our wine route — which we spread out over the course of two days.
Here's my list of the must-visit wineries that make great day trips, or weekends away from anywhere in Guanajuato.
1. Dos Búhos
If you're interested in 100% certified organic wines, you'll find them here at Dos Búhos (meaning "two owls").
As we passed through the white archways and alongside rose bushes, a towering mesquite tree with small tables and chairs underneath its branches greeted us in the distance.
Soft jazz music was playing on the speakers, setting the scene for our first wine tasting of the day.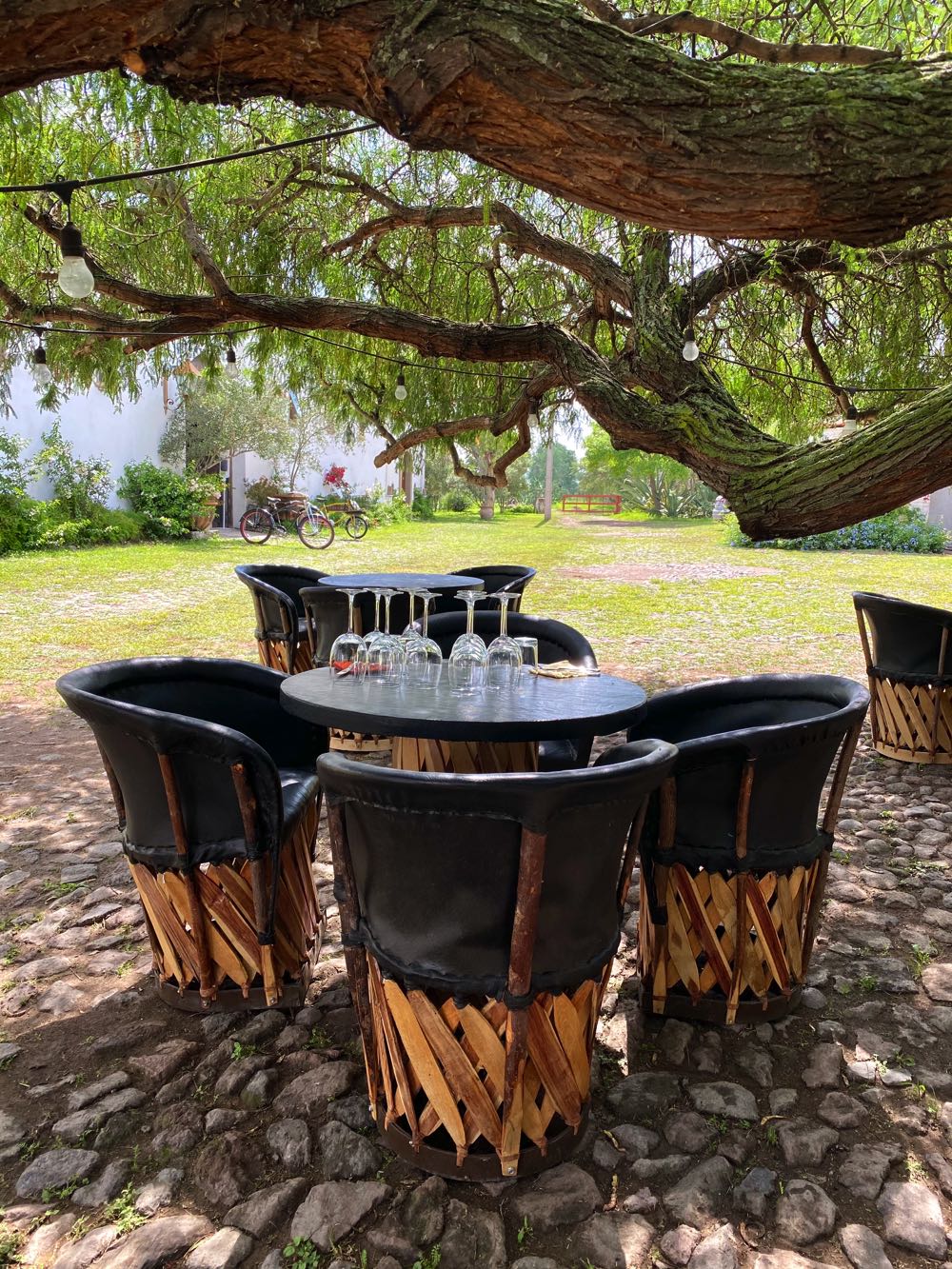 Edgar introduced himself as the sommelier and we were led on a journey through winemaking at Dos Búhos while pairing each glass with a bite from the platter of snacks we were offered.
Not only were the premium reds fantastic (in particular, the Aglianico and Cabernet Franc), but we enjoyed chatting with Edgar about how much he loves his job — he's turned his passion into a career, which we think is fantastic. He also handwrites the date and grape varietal on every label, which gives each bottle a nice personal touch.
A tasting of 5 wines here costs 650 pesos ($33) per person or 900 pesos ($45) for premium wines with a small pairing. You can contact Dos Búhos on WhatsApp at +524151247583 to make a reservation.
2. Rancho Toyan
For wow factor, Rancho Toyan is a must-visit winery.
As we pulled up to the entrance, three lion statues greeted us. That's unusual, we thought. But, as we would soon learn, "unusual" was par for the course here!
We continued walking under the archway to enter the property which was guarded by gargoyles, past a few statues of monks, before meeting up with Salvador, our wine guide.
Descending down 14 meters into the wine cellar and tasting room, we started to notice a pattern. Here, lining the pathway and protecting the cellar were monks illuminated by a very dim, bluish light.
At Rancho Toyan, every pathway above and below ground seemed to be guarded by lions, monks, or gargoyles — this was a very interesting place!
I won't give it all away, but Salvador informed us that the owner (who is from Mexico City) wanted a medieval theme to the winery as it was easier to have wine than water back in those days. Plus, when the Spanish came to Mexico they brought monks with them.
So, naturally, it all ties in.
The whole place is oozing in mythology and symbology and it's a great tour. A tasting of 5 wines here costs 800 pesos ($40) per person, including a tour of the cellar and a small plate of meats for pairing.
In keeping with the quirkiness of the winery, you can only purchase wines onsite, they aren't sold in any stores. Learn more here and find Rancho Toyan on the map here.
3. Viñedo Los Arcángeles (Vineyard Archangels)
Mexican-owned Vineyard Archangels offers visitors numerous experiences. From wine tastings, beer samplings, and cellar tours, to picnics in the vineyards, outdoor cinema, and camping under the stars — there really is something for everyone here!
Added to all of the activities above, this is a beautiful winery that you can actually stay at.
Viñedo Los Arcángeles offers three labels: Cabernet Sauvignon, Savignon Blanc and a Cabernet Savignon – Merlot blend.
The Cabernet Sauvignon is dry, medium-bold, and not too acidic, while the Sauvignon Blanc offers dried fruit flavours with oaky notes.
Learn more about Viñedo Los Arcángeles on their website and find them on the map here. To make a reservation and to find out the latest tour and tasting prices, contact them by email: vinedolosarcangeles@gmail.com or phone: +525518834801.
4. La Santisima Trinidad
Not only are the wines tasty and the Tuscan-style property gorgeous, but the tour itself is really interesting.
La Santisima Trinidad is part of a group that includes Viñedos San Lucas and Viñedos San Francisco. Together, these three places offer boutique hotel stays, restaurants, vineyards, wine tastings, and olive oil and lavender production.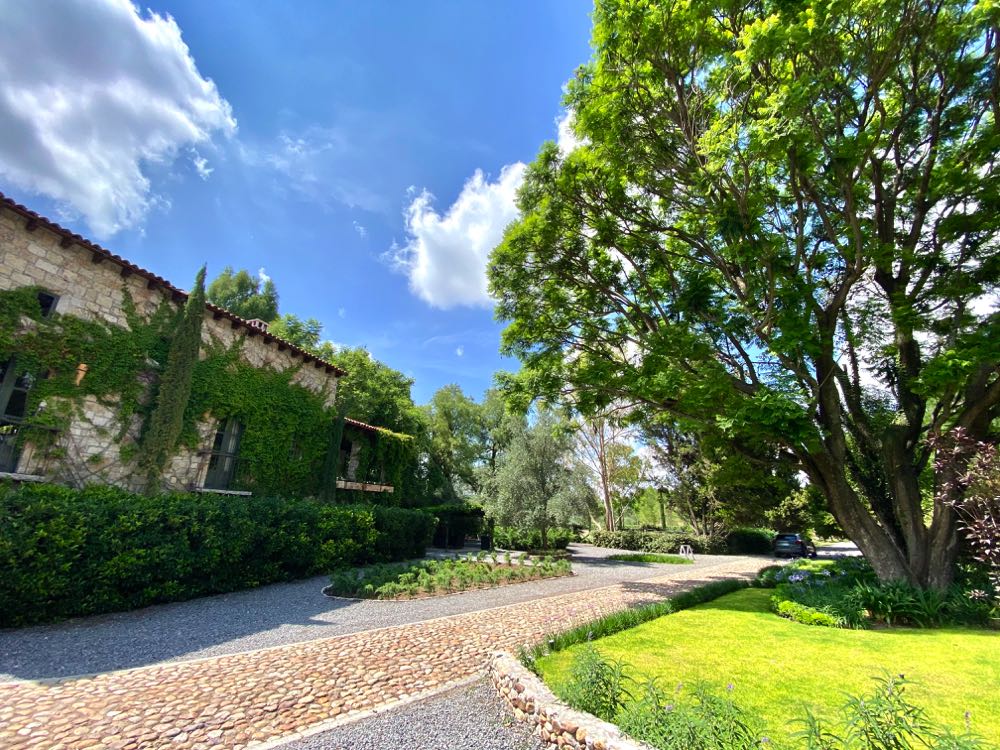 With a group of other travellers and wine lovers, we explored the small wine cellar at La Santisima Trinidad and learned about how lavender is processed onsite.
At the end of the property tour, we sat down at a long table outdoors to sample three wines, while perfectly pairing each sip with a bite of food and discussing tasting notes with the fellow wine lovers.
We also visited the sister property at Viñedos San Lucas for lunch and enjoyed a meal of grilled chicken and shrimp while gazing out at the vineyard. It's a beautiful setting for a meal.
The cost of a winery tour with tasting is 690 pesos ($35) including 3 wines, a tour, and a small cheese pairing.
Learn more about La Santisima Trinidad here and contact them on WhatsApp at +524181071761 to make a reservation. And, you can find the winery here on the map.
5. Tres Raices
Meaning "Three Roots" to honour the owner's three children, Tres Raices is a beautiful, modern winery.
Not only can you dine at the fantastic restaurant, wander through the vineyards and enjoy a tour of the cellar, but if you wanted to indulge a little bit more, you could spend the night here in one of the gorgeous villas with a shared pool.
Tres Raices opened in 2015, with their oldest vintage from 2017. As we walked around with our wine guide Mauricio, we were in awe of the natural beauty of the property, the grand entranceway, and the chic dining area.
After gawking at the expansive vineyards from the small observation tower, the stunning 600-year-old wooden door from India, the onyx decor, and the beautiful wine cellar, it was time to actually sample the wine.
We opted for the "full-bodied wine tasting" which included 5 oaked wines — 4 reds and 1 white.
Unfortunately, we weren't able to taste the Gran Reserva without purchasing the whole bottle (which we didn't do as we already had too many wine bottles in our suitcases!), but the wines we did try were quite smooth and flavourful.
This tasting cost 500 pesos ($25) each. For 200 pesos more ($10), you can join the property tour as we did.
If you have a chance, I recommend eating here as well at the Terruño Restaurant. Try the Wagyu sliders (small burgers) and the fettucini with salmon and burrata. You can thank me later!
Contact Tres Raices by WhatsApp: +524151135250, visit their website and find them on Google Maps.
6. Hacienda San José Lavista
We didn't hear about this winery until our last couple of days in Guanajuato and I'm so glad we didn't miss it.
As soon as we arrived at the entrance, we were blown away by the gorgeous adobe-built, earth-tone buildings and the 10 hectares they occupied.
On the property, there's the owner's home, a chapel, a villa for rent, and a restaurant with a wine cellar. The restaurant is surrounded by vineyards and a small lake, with rolling hills in the distance…oh ya, this is a stunning spot for a meal!
We were here at San José Lavista to sample the wines and enjoy a meal with a view, but many people actually get married at this romantic venue. With a perfectly picturesque chapel surrounded by vines, I can definitely see the appeal.
We were able to sample a few sips of the wines on offer before buying a bottle to enjoy with lunch. I recommend the 2017 Merlot and the 2017 Malbec. Both were great, but the dry Merlot was the winner with oaky flavour and notes of dried fruit.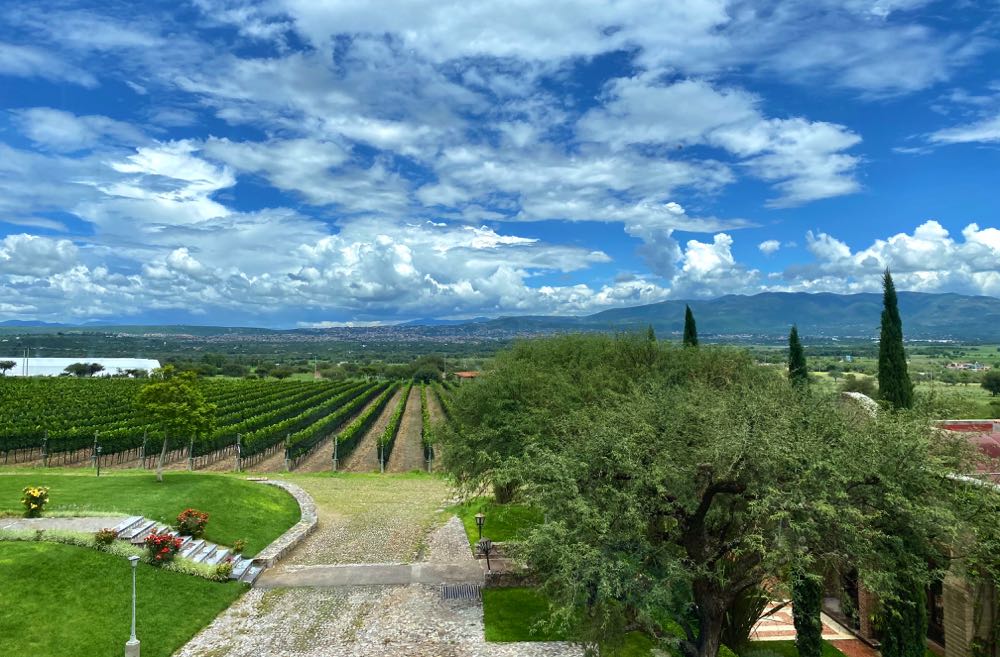 The wines were bold and full-bodied and the food at Hacienda San José Lavista was also fantastic. Guanajuato-born Chef José Francisco González runs the kitchen here and our meal did not disappoint.
Try the salad with pistachio dressing and aged goat cheese, the ravioli with water buffalo ragu, and the baked chicken breast with almond and roasted vegetables. We devoured and enjoyed each bite.
If you have time, I recommend visiting the wine cellar after your meal and wandering around the vineyards.
Contact the hacienda on WhatsApp: +524151264595 or phone: +524151559108 ext 132, or you can send them an email to make a reservation: administracion@restaurantetarragon.com.
7. Cuna de Tierra
Established in 1993, this is the oldest winery in Guanajuato. While we had high hopes for our visit, we were a bit letdown. But, since wine tasting is highly subjective, I still think Cuna de Tierra should make the list.
First, let me say that the winery and vineyard itself are stunning and the service was great. We also saw many groups of friends and families enjoying a meal and bottles of wine at the outdoor restaurant.
As we arrived at our perfectly placed table for two right alongside the Malbec grapes, I couldn't wait to do the tasting. After some explanation of each bottle from George the sommelier, we clinked glasses and took our first sips.
With many awards under their belts, this highly-rated winery produces 120,000 bottles of wine each year, so they're definitely doing something right!
Unfortunately, the wines at Cuna de Tierra just weren't to our liking and we found them to be a bit too astringent. Either way, it's a gorgeous setting and a great place to enjoy a vineyard tour and lunch.
Find Cuna de Tierra on the map here and learn more here. Or, contact them by email: enoexperiencias@cunadetierra.com.mx or phone: +524186880078.
8. Bernat
This family-run estate is smaller than the wineries listed above. So much so, that you'll be given the wine tour and tasting by the owner, Alvaro, himself! That's the joy of a boutique winery in Guanajuato.
Here at Bernat, you can take part in a wine tasting and tour of the vineyards and cellar, or if you plan to visit the area during the harvest (August – October), you can play winemaker for a day and create your own bottle of wine.
Bernat offers just three labels, one white (a minerally blend of Viognier and Chardonnay) and two reds (Grenache and a blend of Syrah, Malbec, and Merlot).
Learn more about Bernat on their website and contact them by email: bernatvinicola@gmail.com or phone: +525539547344. Find Bernat on the map here.
How to Visit the Wineries in Guanajuato
Before you set off to enjoy a wine-filled day, make sure you call ahead to each of the wineries to make a reservation. You'll want to ensure the wineries are actually open, and that you get a spot on the tasting and tour.
Most of the wineries are only open a few days a week. And, English-speaking guides and the sommeliers don't work every day. To avoid disappointment, contact them ahead of time.
When it comes to getting around, the best way to visit the wine route is to hire a driver for the day. Drinking and driving isn't a great idea anywhere in the world.
To find a reputable driver, you can either ask your hotel or Airbnb host or, join a day tour which should include all wine tastings, a tour of the cellar and winery, and pick-up and drop-off from your hotel.
Most tours with Viator, Get Your Guide, and Airbnb Experiences don't have that many reviews. It doesn't mean the tour isn't great, it's most likely because this region is still being discovered!
Finally, once you're actually at the wineries, many have bicycles on offer for you to enjoy cycling peacefully through the vineyards.
You can easily visit the wineries in Guanajuato from many cities in the state, including Guanajuato City, San Miguel de Allende, León, Dolores Hidalgo and Celaya.
Enjoy Guanajuato!
I hope this article helped you decide which wineries to visit during your trip to Guanajuato. Even if you're not all that into wine, the estates themselves and the restaurants are all worthy of a visit.
Leave the cities behind and experience a day amongst the vines. For more information on visiting the wine region and other useful information about the state, have a look at the Guanajuato tourism board website.
Like This Article? Pin it!